Editor's Note by Brian Kevin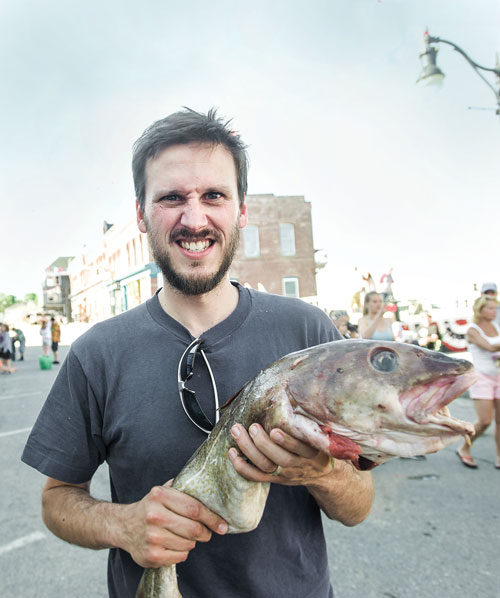 The intimidating thing about writing an editor's note this month is that I'm not going to say anything more charming or heartfelt about Maine and its pleasures than what the winners of last year's Great Maine Scavenger Hunt have already said, beginning on page 50. That dozens of readers devoted their whole summer to executing our weird stunt is something I find surprisingly touching, and I'm only a little embarrassed to admit I got emotional more than once reading scavenger hunters' testimonials of the time they spent crisscrossing the state, making memories with their spouses and kids and parents and friends. I wish we could have printed a dozen more of them.
Maine is the nation's 12th-smallest state. A lot of us tend to think of it as vast — maybe because of its circuitous routes or its geographic diversity, or because it dwarfs New England's other states — but you can drive from Kittery to Presque Isle in less time than it takes to watch two Avengers movies. And yet, I've found that many Mainers and visitors alike have a tendency to cloister in those parts of the state they know best. I know folks who've lived in Portland for 40 years and can count on one hand their trips north of Bangor. I know folks in The County who've never stood on Maine's southern beaches. After I moved here from Montana (yes, I'm a transplant, and yes, western states make Maine seem compact), it was five years before I really got around to exploring the Down East coast. (The pic above was taken in Eastport, after a codfish race — one of this year's scavenger hunt tasks.)
It's a missional thing for Down East to prompt people to experience the state in ways they wouldn't have if they hadn't picked up the mag. I guess that's why I found it moving to hear from the scavenger-hunting couple who said they'd rediscovered their love of hiking, or the woman who said she'd fallen hard for Madawaska (but kept accidentally calling it Madagascar), or the older couple who worried they weren't physically up to climbing Tumbledown, then couldn't have been prouder when they summited.
The degree to which York feels different from Rangeley feels different from Camden feels different from Lubec feels different from Stockholm is among the best things Maine has going for it — and it sets us apart much more than our acreage. Of course, you don't have to experience it all in one summer — the scavenger hunt is a fun way to learn and plan and daydream, even if you're not among the maniacs moved to attempt it — but we do hope it nudges you out of your Maine comfort zone. And we hope you'll tell us about it when it does.
Brian Kevin
Managing editor
Features
The 2018 Great Maine Scavenger Hunt
Once again, we're sending you out to search Maine high and low: 40 tasks in seven categories, maybe 2,000 road miles, at least a couple of boats. One unforgettable summer. Are you up for it?
Outdoors
Up mountains and down canyons, in the water and on the water, explore our state every which way.
Food & Drink
From a wee-hours breakfast to a shared bean supper to a lobster roll at sea.
Arts & Artisans
Get cultured at a frescoed rural meetinghouse, a coastal arts mecca, and an urban art walk.
History
Past is present at 2,000-year-old shell middens, the last Shaker village, and . . . your local Renys?
Events
Limber up for a codfish relay and boogie down at a Bangor street fest.
Family
Sheep and goats, candy, fishing, huggable mascot moose. What's not for kids (and grown-ups) to love?
Landmarks
Find a secret Down East seastack, a guerilla-art birdhouse, and the state's finest boulder roadside mural.
---
Departments
North by East
A ride-along with Maine's own ghost busters, the case for our grand old state flag, and wild wooden horses by sculptor Richard Allen. Plus, rogue chickens and a letter to Oprah in Maine Dispatches.
Food & Drink
We nosh on Amish charcuterie, fight the crowd at Caribou's Northern Maine Brewing Company, panfry flounder fillets, and crunch the numbers on mail-order lobster rolls.
Good Things from Maine
Form meets function with elegant handmade teapots, magic is made real with the fairy lady of Maine, adorable onesies from Pinecone+Chickadee, and a word from artist Peter Beerits, purveyor of fine jams and jellies.
Maine Homes
Step inside an airy passive-solar abode in Georgetown, meet SoPo's hardest-working fixer-upper, get a tour of rug designer Angela Adams' living room, and marvel at Maine's new crop of fancy-pants campgrounds.
---
+
Maine Moment
Dooryard
Editor's note, reader feedback, responses to March's Where in Maine, mail-order lobster rolls, and more.
Columns
My Maine: Happy Hunting. Room With a View. Conservation: Eagle Freaks.
My Favorite Place
Network TV star Noah Gray-Cabey on Umbagog Lake.
Literally (and littorally) brought to you by Maine Coast Heritage Trust — as in, these places wouldn't exist without the state's quietly dogged land-conservation powerhouse.
---
On the cover: Gulf Hagas, by Jerry Monkman.
Additional photos: Family fun at Freeport's Wolfe's Neck Center for Agriculture & the Environment Courtesy of Wolfe's neck Center; With delicate handles, lids, and spouts, teapots challenge even expert potters by Adam Detour; Maine Moment: "Robins, Lubec" by Marty Saccone