Editor's Note by Brian Kevin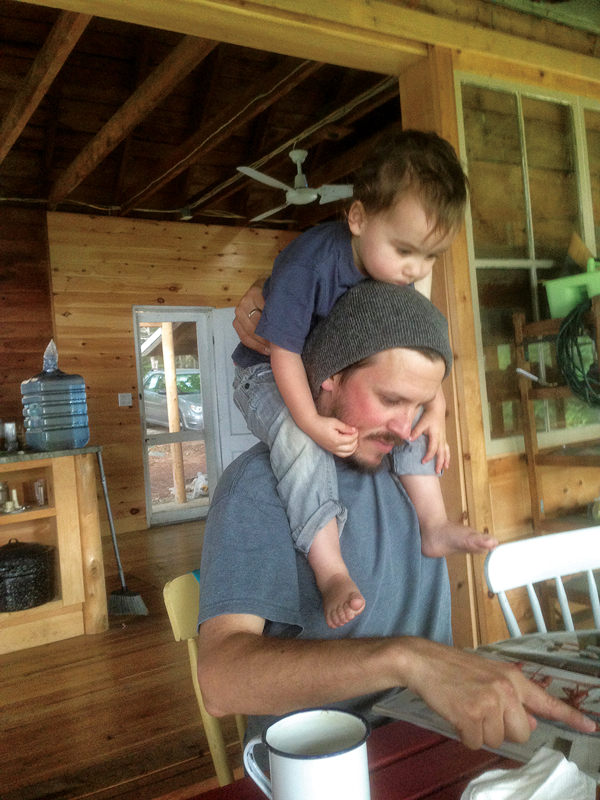 Before I moved here, a decade ago, the Maine of my imagining was much more lakes, moose, and woods than ocean, lobsters, and rocky coast. Maybe that's because the northern woods country was familiar to me from my Great Lakes upbringing, but probably it was because of E. B. White and "Once More to the Lake," the seminal 1941 essay that I think I read for the first time in college in the '90s.
If you're a regular Down East reader, chances are you know the piece, in which White revisits the lakeside camp where he spent cherished boyhood summers, then marvels at the surreal (but all too real) time loop that seems to be unfolding as his son experiences the camp and the lake much as he did. If there's an essay that gives better voice to the sort of mesmeric, bittersweet timelessness that Maine, in its finer moments, can evoke, which is not nostalgia exactly but is something related and better, then I have not read that essay.
In a twist I couldn't have foreseen at 19, my parents-in-law have a camp on Great Pond, in the Belgrade Lakes, and it's a reasonable morning's paddle from the very camp that inspired White to write the essay that shaped my early impressions of Maine. Ironically, during my first few years here, I didn't always relish spending time on Great Pond. Life is short and the world is big, I would tell my wife, not in so many words. Who wants to sit on a dock, doing not much of anything, on a lake you've been to 100 times before when Maine alone has a few thousand lakes you've never even seen?
What has won me over to weekends at the camp is, largely, the experience of watching my sons enjoy it. (That's my older son and me, at left, reading on the screened porch in the stretch between dawn and breakfast.) As E. B. White knew, there is something about family life against the backdrop of a lake that seems to throw into sharp relief the tension between constancy and change, and I guess I'm as held in its thrall IRL as when I read White's powerful essay.
I'm delighted to run lake stories in this special issue by Jenny Boylan (page 58) and Ron Currie (page 76), both of whom, I think, are inheritors of White's gifts and his insights on this topic. I hope that you have a Maine lake of your own, and I hope that, as summer begins in earnest, you are gearing up to visit it once more.


Brian Kevin
Editor in chief
[email protected].
Features
Pond ponderer Jennifer Finney Boylan offers a local's tour of the Belgrade Lakes — and a heartfelt ode to living where others vacation.
Maine is home to some 3,400 lakes — let our handy guide to our favorite 1 percent of them help you find the one that's right for you.
Illustrations by Jada Fitch
For author Ron Currie, childhood summers on McGrath Pond are the stuff of memories — wistful, fickle, and poignant.
+
Special Advertising Section: On the Water
We asked some of our state's most seasoned boatmen (and women) about their most memorable moments from lives spent on the water.
As told to Jennifer Van Allen
---
Departments
North by East
A father-son artistic duo revives the company town, the last flight of The Portland Phoenix, Maine's online database for outdoor adventure gets an upgrade, and Phish drummer Jon Fishman comes home. Plus, a town falls off the wagon in Maine Dispatches.
Food and Drink
A passing of the cone at Spencer's Ice Cream in Bradley, comforting Cajun cooking at Portland's Eaux, and a legendary Bangor eatery rides again.
Good Things from Maine
Straight shooting at Wilcox Bows in Machiasport and three other Maine crafters who can teach you a lesson. Plus, take a stroll through downtown Brunswick's fun and funky shops.
Maine Homes
A lilac lover's garden blooms in Northport, and acclaimed chef Andrew Taylor flips pancakes at home with the kids.
---
+
Maine moment
Dooryard
Editor's note, reader feedback, responses to April's Where in Maine, and more.
Columns
Bookshelf: Summer Reads with Maine at Heart; Room With a View.
Refinery29 founder Piera Gelardi on making memories at Saco's Funtown Splashtown USA.
---
On the cover: Pennesseewassee Lake, in Norway, by Jeremy Garretson.
Additional photos: Michael D. Wilson; Mark Fleming; Cait Bourgault; Greta Rybus