Editor's Note by Brian Kevin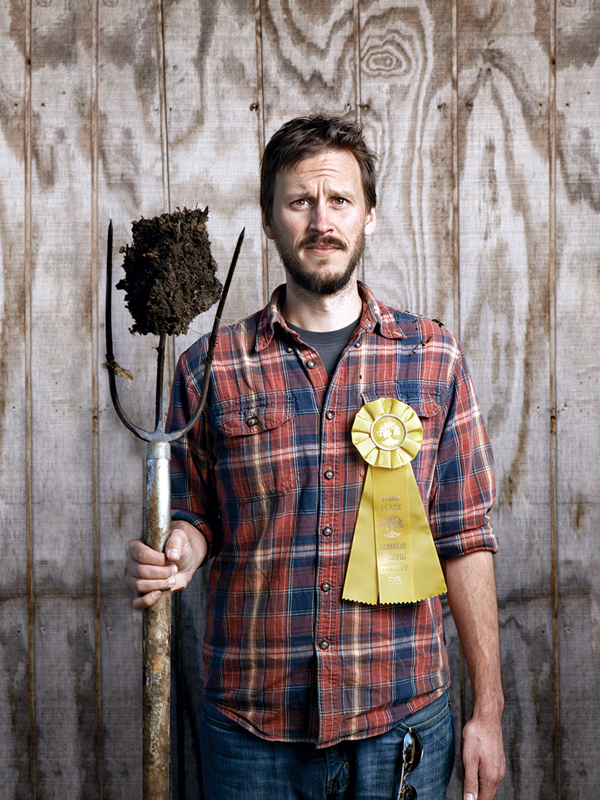 The Monhegan Museum, which celebrates 50 years this summer, houses some 1,500 pieces of art, including work by some genuine American giants: Rockwell Kent, Louise Nevelson, Edward Hopper, Andrew Wyeth. (Alas, no Grant Wood, to whom I pay homage above.) Monhegan has a year-round population of maybe 60. If you divied up the collection among the Monheganites, everybody would get a couple dozen pieces of world-class art, and you'd still have enough left over for a nice exhibit in the lightkeeper's quarters that the bootstrap museum uses as a gallery.
I like this bit of trivia because it illustrates the outsized impact the arts can have on Maine communities. In Monson, the philanthropic Libra Foundation is spending $10 million to rehab buildings and seed local business in the hopes of attracting artists, whose presence, they suspect, can catalyze further revitalization. (Read up on the town's new general store on page 34.) Rockland is already enjoying an economic boost from its long-percolating arts circuit, the arts increasingly at the heart of that town's identity. (See the "Art Spots" feature on page 72 and our chat with Rockland chef/booster Kerry Altiero on page 88.)
In Maine, you tend to hear more about the arts as part of the community than you do about the arts as its own community — rather than as a scene, a rarefied world inhabited by artists, buffs, and patrons. It's part of what I imagine attracted those first waves of painters to Monhegan in the 1800s. It's part of what prompted sculptor Bernard Langlais (page 76) to make Cushing his year-round home when he got fed up with the New York art world in the '60s. In Maine, there's refreshingly little distance between an artist like Langlais, who received a Guggenheim Fellowship, and Nathan Nicholls (page 47), who made art to avoid a blight citation for the junk in his Waldoboro front yard. Will Sears (page 29) has shown in galleries from Boston to San Francisco; he also made the sandwich board outside your fave burrito shop. The Gawler Family (page 144) are among the preeminent keepers of New England folk traditions; they also played for hire at my wedding.
The takeaway is that you don't have to be a regular gallery-goer to feel a connection to Maine arts. To move through the state is to move through its arts scene — they're refreshingly integrated, and it's in that spirit that we set out to make this special issue.
Brian Kevin
Managing editor
Features
Choose your favorite art trail! We've picked three of coastal Maine's most road-trip-worthy regions for art lovers and laid out stop-by-stop itineraries.
By Tina Fischer, Brian Kevin, and Carl Little
From big bands to indie bands, eight surprising times that the beat of popular-music history (and trivia) has thrummed through the Pine Tree State.
By Brian Kevin, Mary Pols, Buzz Poole, Josh Roiland, Rob Sneddon, and Andrew Vietze

On the 25th anniversary of his pioneering restaurant, Cafe Miranda, chef/owner Kerry Altiero talks with chef/blogger Malcolm Bedell about food trends, fast motorcycles, and Rockland's remarkable rebirth as an arts mecca.
+
Think you've got a handle on the Kennebunks? You might be surprised. Get ready to see the Bunks in a brand-new light.
By Caitlin Gilmet
---
Departments
North by East
Painting the town with Will Sears, the musical stories that move Maine Public's Susan Tran, and Atlantic correspondent James Fallows on the resilience of Eastport. Plus, adorable baby reindeer in Maine Dispatches.
Food & Drink
We investigate the lobster roll that isn't a lobster roll, take a culinary tour of Greece at Taverna Khione, and drop in on a few general stores that are raising the bar for road food.
Good Things from Maine
The family of late outsider artist Nathan Nicholls on his scrap-metal estate, and our contributors on their favorite retail discoveries from their Maine travels.
Maine Homes
A mid-century modern cottage at Pemaquid Point gets remade, neighbors pitch in on their Brunswick gardens, and Stephanie Towle's vintage camper will tickle you pink.
---
+
Maine Moment
Dooryard
Editor's note, reader feedback, responses to April's Where in Maine, and more.
Columns
In Memoriam: Barbara Bush, Vintage Tour: Maine Motor Courts, Room With a View.
My Favorite Place
The Gawler Family Band's Molly Gawler on Belfast Harbor and Bay.
---
Additional photos: Embracing mid-century modern style at Pemaquid, by Chris Becker; Little Deer Isle, by Freddy Bloy; Dark Matter #3: Wedding Flowers, by Jocelyn Lee