Editor's Note by Brian Kevin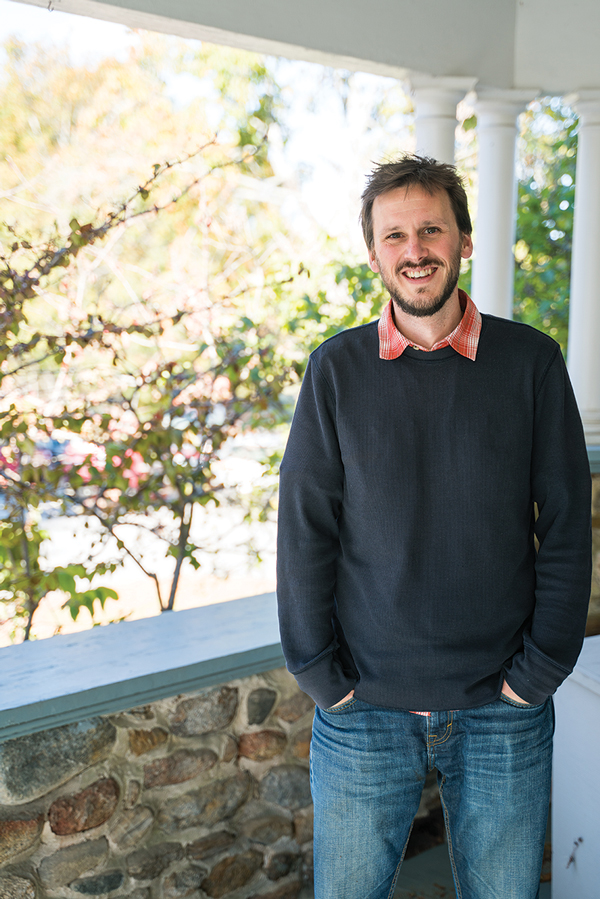 Like many of you who read this magazine, I am From Away. And like, I imagine, many of you, I sometimes take a look at my trajectory thus far and sort of nod bemusedly at the disparate and unexpected places it has brought me: mine goes Wisconsin to Minnesota to Montana to Oregon to Maine. I'm a 45th parallel kind of guy and try not to set up shop more than a couple of degrees from it in either direction.
My wife is a native Mainer, and when I followed her here almost a decade ago, I didn't know whether we were signing on for a long- or a short-term stay. I'll tell you honestly that no other place "back East" held any mystique for me — only Maine. Once, about 16 years ago, sitting in front of a computer at a job I didn't like, I was surfing MapQuest and happened to find myself hovering digitally over Aroostook County. I sent a friend the link with a note along the lines of, "Get a load of northern Maine. Looks like there's nothing up there. I think we'd like it and should move there immediately."
He got a job in The County not long after. It took me a few years to catch up. Turns out there is a lot up there, and I like it anyhow.
It's funny, when you like a place, how much you can surprise yourself while learning to adapt to it. The first time I saw a horseshoe crab, I just about fell out of my damn kayak — I was not saltwater savvy and had no idea what I was looking at. A couple of years later, there I was, learning to farm oysters in the same river. I have never had any particular fondness for country music, but lately I cannot stop listening to old Dick Curless LPs I buy off eBay. There was a time when I vigorously rolled my eyes at the notion of driving around and looking at trees as recreation, and now, every autumn, I tell my children elaborate lies to explain why we have to take rambling detours on the way home from school.
All those little ways of learning to love a place, if you pursue them doggedly enough, they circle back around and teach you about yourself. Of course, if you're holding this magazine in your hands (or, you know, reading it on your phone), then I am probably not telling you anything you don't already know, because you're invested enough in continuing to learn to love this place that you find some joy and value in a magazine like this one — even if you've lived here all your life. One reason I love Down East is that, in 65 years, this magazine has never made it its mission to be the authenticity police. Thank god. My favorite publications are those aimed at people who love a thing — gardening, hunting, food, books, jazz — and who want to make a regular practice out of learning to love it better. We love Maine, and we are always learning to love it better.
That's been our mission since the days of the mod and lively mid-20th-century covers we celebrate in this issue (page 78). One of my favorite things to do at Roxmont, Down East's headquarters in Rockport, is to head out to the archive and flip through the back issues. That's how you notice, for example, that the magazine first wrote in 1991 about Hall's Christmas Tree Farm in Sangerville, the property — and family — at the heart of this month's story on succession among Maine's Christmas tree farmers (page 74). It is no small privilege to be able to return to a story after 27 years (to say nothing of being welcomed back by its subjects). It is no small privilege to chronicle this state so deeply across the generations.
We are — and I am — grateful for it.


Brian Kevin
Editor in chief
[email protected].
Features
The easternmost village on the U.S. Atlantic coast charts a course between tradition and change, natives and newcomers, nature's beauty and nature's fury.
By Joyce Kryszak
Taking over a long-running Christmas tree farm is a daunting affair, but as a generation of Maine's tree farmers ages out, new growers like Sangerville's Abbey Bray are stepping in to make the fir fly.
By Willy Blackmore
These are a few of our favorite things: a look back at our first decade (or so) of vintage holiday covers.
By Brian Kevin
---
Departments
North by East
Christmas with children's author Ryan T. Higgins's grumpy bear, everything you've ever wanted to know about road salt, and a holiday rom-com set in southern Maine. Plus, runaway piglets and a grocery-bagging champ in Maine Dispatches.
Food & Drink
Celebrating Hanukkah in Gardiner, Italian comfort food (and dancing!) at Ada's Kitchen, a protein-rich salad for hearty winter appetites, the best Maine wines for your holiday table, and Kittery's restaurant transplants.
Good Things from Maine
Clothing and toys for kids with cochlear implants from Co·amplify, shopping for gifts from nonprofits, and Christ-moose-time is here.
Maine Homes
A Belfast home brimming with art, curios, and color, and how some Maine style-setters deck their halls. Plus, three very different Victorian Christmases.
---
+
Maine Moment
Dooryard
Editor's note, reader feedback, responses to October's Where in Maine, and more.
Columns
My Maine: Christmas 1968, Room With a View.
University of Maine paleoecologist Jacquelyn Gill on Acadia National Park's Gorham Mountain.
---
On the cover: Nubble Light at Cape Neddick in York, by Paul Rezendes.
Additional photos: Adam Woodworth; Meredith Perdue; Greta Rybus; Nate Parker