[T]hough they may not rise as high as their cousins, the Presidentials, across the border in New Hampshire, the Mahoosucs of Western Maine are a mountain range every bit as dramatic — and the trails that navigate them are as varied and challenging. Whether you're a hiker, a trail runner, or a mountain biker, there's a path in the mountains, foothills, and forests surrounding Bethel that'll have you eagerly grabbing your daypack. And if there's a drive-up vantage point that rivals any of these four trails for fall color, we haven't found it. Lace up your boots and check out one of these classic Maine trails.
For more Western Maine hiking trails and resources , be sure to visit the Bethel Area Chamber of Commerce.
Sponsored Content Presented By

---
[columns_row width="half"] [column]
1

Glassface Ledges Trail, Rumford Center

1.6 miles out-and-back, trailhead across from Hastings' Landing boat launch on Rte. 2, 17 miles northeast of Bethel. mahoosuc.org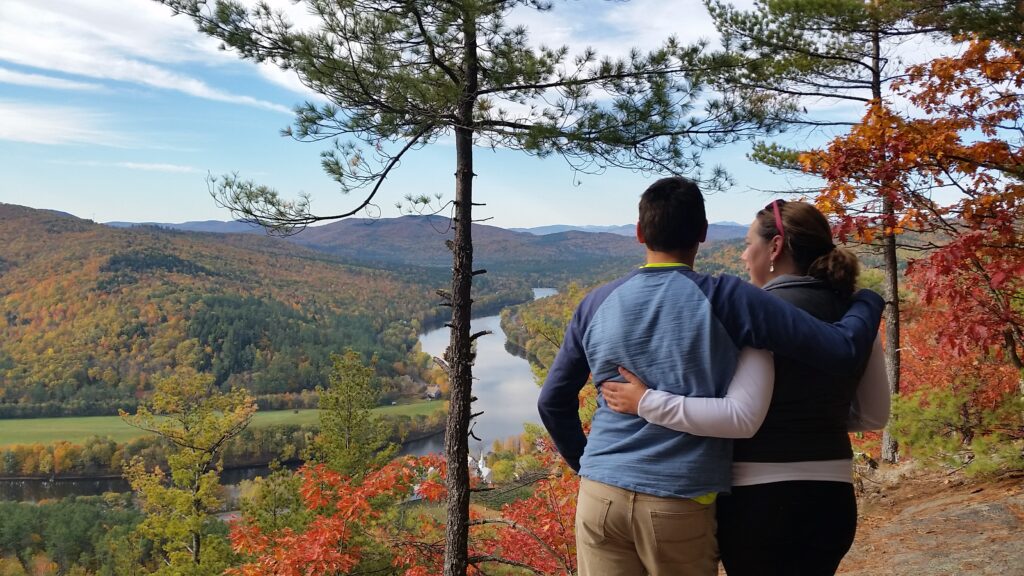 It's hard to imagine another spot that delivers so much payout for such comparatively little effort. After walking less than a mile through boggy woods (with boardwalks) and ascending some 700 feet up the side of Glass Face Mountain, along a few nice sets of stone steps, you'll step out onto some exposed outcroppings, where you can gaze down at peak color in the Androscoggin River Valley and the Mahoosuc Range beyond. The less-than-three-year-old trail is in terrific shape.
[/column] [column]
2

Lapham Ledge Trail, Woodstock

2 miles out-and-back, trailhead at Rte. 26 and Mills Rd., 7.5 miles east of Bethel.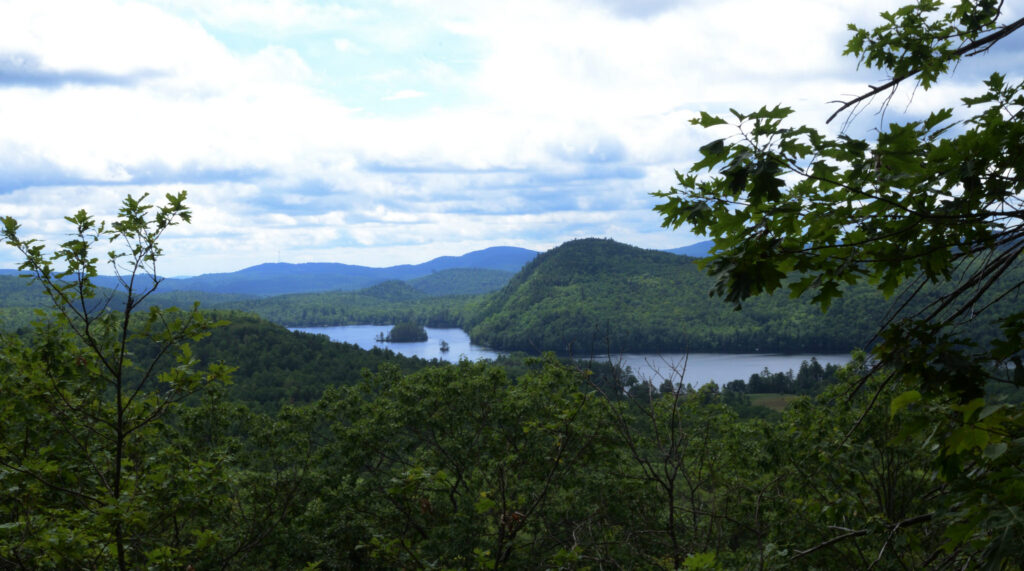 A short, family-friendly hike that, again, has an excellent sweat-to-reward ratio. It's all of a mile — half of it along a graded, gravel road — to reach Lapham Ledge, a 1,120-foot perch looking out over the rolling hills that surround shimmering Bryant Pond. The half-mile climb to the lookout is gentle as can be. For a longer day on the trail, pair this hike with the spur to Buck's Ledge, another half-mile up the gravel trunk road and .6 miles to a southwesterly view of Mt. Abram and the Whites.
[/column] [/columns_row] [columns_row width="half"] [column]
3

Bethel Village Trails, Bethel

4.8-mile system, trailhead The Bethel Inn Resort, 21 Broad St., Bethel. mahoosucpathways.org

This brand new trail network — the result of a partnership between The Bethel Inn Resort, Mahoosuc Pathways, and the Bethel Outing Club — welcomes hikers, runners, and mountain bikers to a wooded tangle of easy to moderate trails. It's a perfect ride for beginning mountain bikers, and since the trails are right at the edge of town, you can bike or jog straight over to a restaurant or pub afterwards for a bite or a pint. The Bethel Inn Resort's Millbrook Tavern even offers a beer discount for participants in the Outing Club's weekly summer trail runs.
[/column] [column]
4

Old Speck Trail, Grafton Notch State Park

7.6 miles round trip, trailhead 12 miles northwest of Newry at Appalachian Trail parking lot. maine.gov/graftonnotch

The strenuous trip up to the 4,170-foot summit of Old Speck Mountain is one of Maine's classic day hikes. Hikers ascend steeply along the Appalachian Trail, then enjoy about 3 miles of a moderately technical ridge walk, with views for miles. At the summit, an observation tower offers what is easily among New England's best panoramic photo ops — particularly in the autumn, with vibrant hues of the mixed forest spilling down into Grafton Notch and carpeting the Mahoosuc peaks beyond. Bring lots of water and a camera with plenty of battery life.
[/column] [/columns_row]