A longtime champion of local artisans and makers,
Martha Stewart

reveals her top product picks from around the state.
---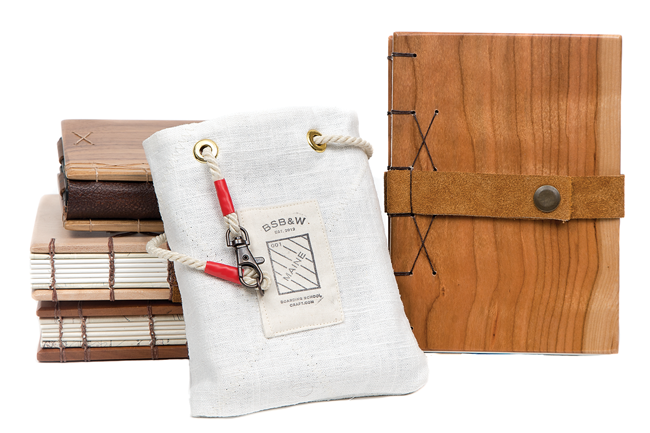 ▲ So many readers ask me where they can find beautiful scrapbooks and journals. One source I love is Portland's Boarding School Bindery & Woodcraft, which offers heirloom-quality, hand-bound books with wooden covers (plus stand-alone covers for your own notebook). $45–$85. 

▲ A 2000 story we ran in Martha Stewart Living on Lisa Hall's seaglass jewelry piqued my interest, so I traveled to her Great Cranberry Island studio to tape a TV segment. It was so inspiring to watch Lisa turning "trash" into her exquisite treasures. Seaglass Linked Bracelet, $525.
---
▲ Brian and Malia Haddock, the father-daughter team behind Furniturea, create contemporary cottage furniture (available in 40 stock colors) that will enliven any room. Be sure to check out their recently renovated showroom in Portland's Old Port. Small Nesting Box, $1,196. 207-774-7472. 
---

▲ A well-fitted, button-down shirt is one of my wardrobe staples, so I was thrilled to visit Jill McGowan's Portland studio on a 2009 road trip. Purchase her beautifully constructed basics online or in her Freeport shop. Astrid Shirts, $160 each. 207-865-0909.
---
▲ A favorite source for one of my favorite condiments has long been Raye's Mustard in Eastport, a maker of gourmet mustard that is cold ground and barrel aged the old-fashioned way. Old World Gourmet Mustard, $2.25. 800-853-1903. 
---

▲ A concrete salt cellar from Scarborough's Culinarium makes a perfect hostess or bridal shower gift. Husband and wife Jordan and Annastasia Castro use cement particulate, as well as granite and marble dust from the countertop industry, to create kitchen goods that resemble ceramic or aluminum. $52.
---
▲ We first featured a blanket from Northport's Swans Island Company in Martha Stewart Living nearly 20 years ago, and I still stand by their products, crafted with wool from locally raised sheep and hand-dyed using traditional techniques. Heritage Throw, $525. 207-338-9691
---
▲ Solvejg Makaretz, of Yarmouth's Tröskö Design, spent more than 25 years as a licensed architect before starting her cheerful, modern home accessories line, which emphasizes stylized nature-inspired motifs. Whale Pillow, $74.95. 207-838-9438
Photographs by Benjamin Williamson