But in a fun way! Quest for the Antidote, the first-time game designer's new fantasy board game, has players dicing with death.
By Brian Kevin
Photographed by Molly Haley
B
ad news: You've been poisoned by an evil king! And to make matters worse, you're stuck on an island filled with demented sorcerers, hungry dragons, and other nasty monsters. To find an antidote, you'll have to wander the island, collecting ingredients, fighting baddies, and outwitting other desperate, poisoned rivals. Also, you should hurry, because the poison is working and time is running out.
That's the conceit, in a nutshell, behind Quest for the Antidote, a new board game from Upper Deck, the California-based publisher known to many a '90s kid for its once-ubiquitous sports trading cards. Back in 2016, Portlander Tom Deschenes mailed a prototype of his epic tabletop quest to the company's games division, which puts out licensed games for high-profile franchises like Marvel Comics. Execs loved it, and now, Quest for the Antidote has found its way onto shelves at game shops, Walmarts, and other big box stores nationwide.
Deschenes, 35, is a former high school English teacher turned Kaplan University administrator who's been gaming since his 20s. In 2011, for the fun of it, he decided to (ahem) roll the dice on a game of his own, something he and his buddies could play on weekends. A part-time Harvard grad student in English lit (he got his master's degree earlier this year), Deschenes came upon a reference in a text to an obscure ancient Greek monarch called Mithradates VI, known as "the poison king" for his obsession with toxicology. Around that bit of trivia, Deschenes built up an elaborate storyline and gameplay.
Quest for the Antidote is what hardcore gamers call a thematic. Unlike games of pure strategy (chess, Battleship) or abstract world-building (Settlers of Catan), it hangs on a narrative premise, which is common among classic American board games. Consider Clue: Someone has been murdered! Or Candyland: You're on a journey to King Kandy's castle! Or The Game of Life: You have been born and therefore must accumulate money!
Consider also that all three of those games were released by a single company, founded by a certain Milton Bradley, proud 19th-century son of Vienna, Maine.
Not since Milton has a Maine game designer made a national splash. But after watching kids and adults alike enjoy a rough version of Quest for the Antidote at a Bangor game fest in 2013, Deschenes suspected his game might attract a wider audience. So he spent his next three years worth of free time streamlining the game and shopping it around at various industry conventions. Upper Deck, it turns out, saw potential for not only a popular game, but maybe a
whole franchise. Now, Deschenes and his publisher are exploring the possibility of expansion packs, a comic book, or maybe even an animated series.
"Quite a journey to go from, meh, I'll make a board game to now seeing it everywhere," Deschenes says. "I didn't set out for this to grow into a whole fantasy world. This is what I do for fun."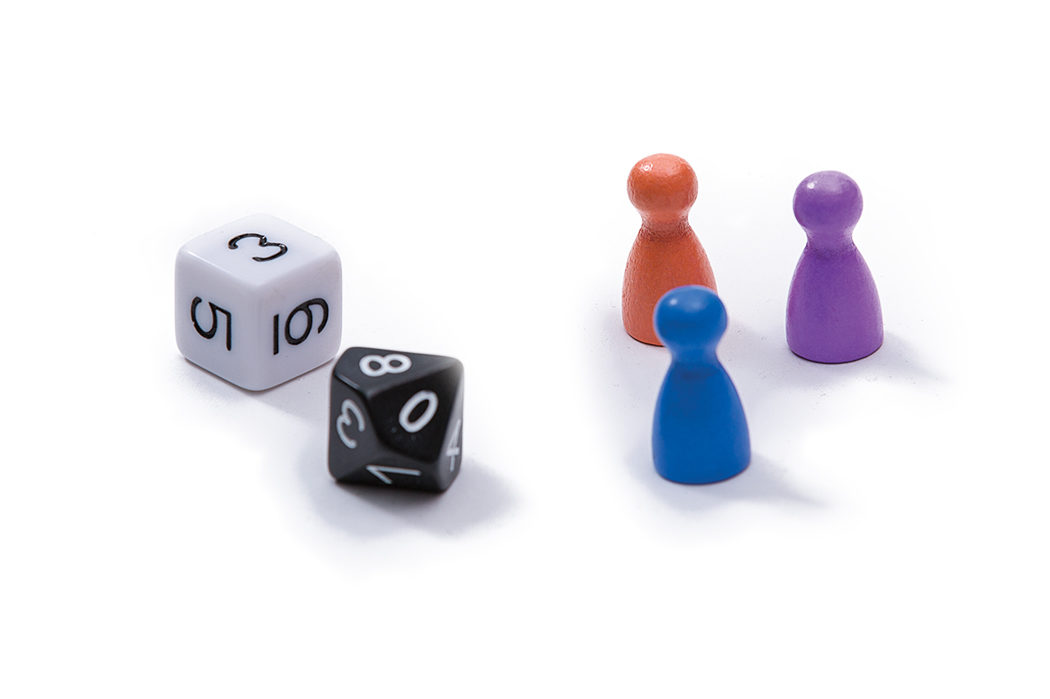 ---
A lot of people running these game companies are these nice, nerdy sorts. People like me.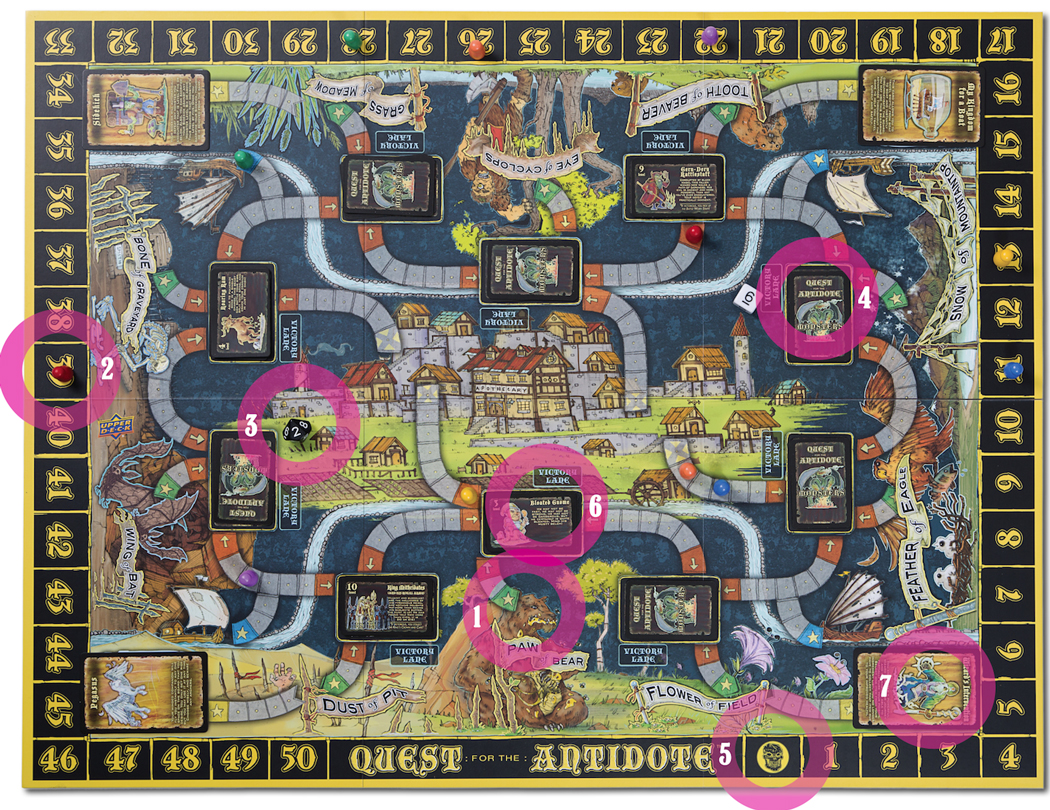 1.
Bangor artist Scott Sherman did all of the game's art, including a mini-comic that accompanies the 14-page rulebook. The comic explains how cruel King Mithradates was deposed and banished to the isle of New Pontus, where he subjected the townsfolk (that's you) to experiments with venoms and potions. But you escaped and seek a cure!
2.
When a player rolls a die, she moves her game piece on the board, along with a second game piece on the board's numbered periphery, counting down her remaining breaths until the poison does her in.
3.
Don't be intimidated by the 10-sided "battle die" or five different types of game cards. Deschenes describes his brainchild as a "gateway game," balancing complexity and accessibility. "It's not like Hungry Hungry Hippos, where really only kids like it," he says, "and it's not like a heavy-duty strategy game about farming in medieval Germany that takes three hours to play." Expect a game to run 45–90 minutes.
4.
Deschenes and Upper Deck took the game on tour to Comic-Con and various other fan and gaming conventions this summer, where Deschenes got a taste of rockstar treatment. "It's weird to me," he says, "but some people are thrilled by the idea of getting an autograph on a box or the board itself. I signed hundreds."
5.
Credit Bram Stoker for Quest for the Antidote's air of medieval spookiness — Deschenes was partway through Dracula when he started concepting. "I was reading the chapter where Van Helsing and his men were searching the graveyard for Lucy Westenra's tomb, finding weird little clues along the way. So I was kind of in that gothic, searching space."
6.
Sometimes Deschenes drew on outside inspiration for the creatures and characters on the game's 50 monster cards. The evil wizard Gern-Dern Rattlestaff? Deschenes is a Shakespeare scholar, and "shake"/"spear"="rattle"/"staff." And the sinister Bloated Gnome? "Some friends are like, you based that on Eddie, didn't you? I'll never tell."
7.
Loot cards give players special advantages, tricks, and shortcuts. Some of Deschenes' tweaks and additions to the game came from helpful folks at publishers that nonetheless turned him down. "One great thing about the gaming industry," he says, "is that even though it's a billion-dollar industry, a lot of people running these game companies are these nice, nerdy sorts. People like me."