Any old bar can pour you a pint. Where do serious beer lovers settle in among their tribe?
[A]
brewery's taproom is a beautiful thing.
Really, it is — and not just because "local sourcing" is the buzz phrase of the millennium. There's something undeniably cool about sipping a beer where it was brewed, about a physical space that aesthetically complements the suds you're sipping. Maine has great taprooms, and you should visit as many as possible.
But for my money, drinking beer in a taproom is like eating steak on a ranch — a cool novelty, if you're visiting Argentina or something, but really, how much steak are you going to put away, out there in the middle of the pasture? Sure, you'll have a lot of cuts to choose from, but isn't it all the same beef? For serious meat consumption, I want a world-class steakhouse. And for serious beer drinking, give me a great beer bar any day of the week.
For serious beer drinking, give me a great beer bar any day of the week.
Luckily, Maine has its share of those too. A great beer bar impresses with the breadth of its offerings, but it's more than the sum of its tap list. It's someplace where the clientele is chummy, the food comforting, the bartenders beer-geeky but not snobby. If the taps are listed on a chalkboard, then huzzah. If you can throw peanut shells on the floor, then so much the better. And if you need elaborate directions to find the place, then you're almost certainly on the right track. Here are a few favorites (you'll have to ask around for directions).
Nocturnem Draft Haus
Taps: 16, mostly locals with a few hard-to-find imports, plus 200ish bottles. Vibe: Sophisticated coffee bar. Dim lighting, exposed brick, old tin ceilings, couches, piano. Wash down: Knockout charcuterie board (above). Of note: Lots of tap takeovers featuring local brewers; summer beer garden out back. 56 Main St., Bangor. 207-907-4380. nocturnemdrafthaus.com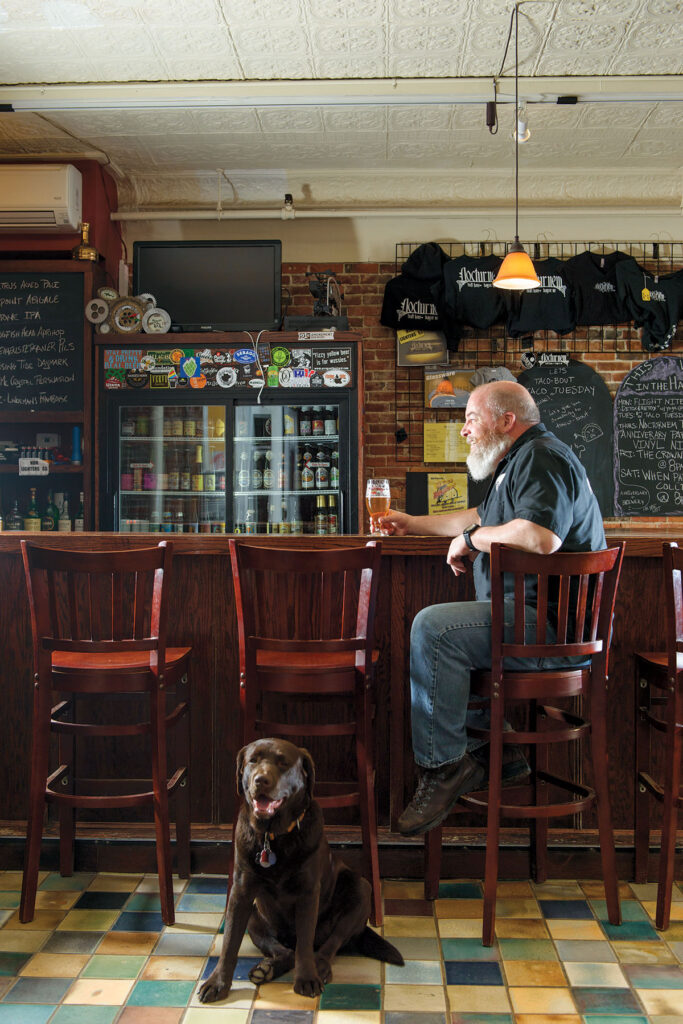 The Black Birch
Taps: 24, skews regional, some adventurous imports. Vibe: Upscale-rustic gastropub, guys in flannel next to guys in blazers. Wash down: Attractive small plates, like potato pancakes with house-cured salmon. Of note: Turntable behind the bar spinning classic vinyl. 2 Government St., Kittery. 207-703-2294. theblackbirch.com
The King's Head
Taps: 40, plus a great bottle list, about 50/50 locals and imports. Vibe: Small-town British pub on Portland's waterfront. Wash down: Short rib pot pie. Of note: Great exposed-brick room was once a cannery. 254 Commercial St., Portland. 207-805-1252. thekingsheadportland.com
Ebenezer's Restaurant & Pub
Taps: 35, mostly Belgian, plus 1,000ish bottles. Vibe: If Cheers were filmed in Europe. Wash down: Chimay burger, with stinky British garlic cheese. Of note: Repeatedly annointed country's best beer bar by BeerAdvocate magazine; way knowledgeable staff; seating in a barn. 44 Allen Rd., Lovell. 207-925-3200. ebenezerspub.net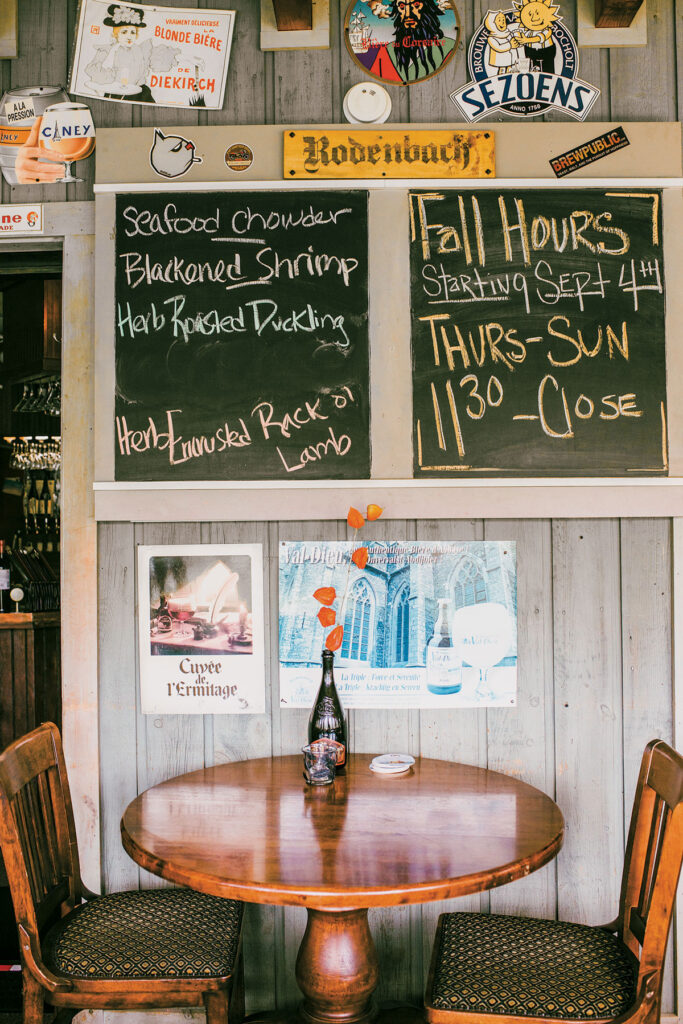 The Great Lost Bear
Taps: 78, largely American microbrews. Vibe: 1990s brewpub, with lots of crazy stuff on the walls and a cast of regulars. Wash down: The Almighty Cheesus Burger, which replaces a bun with two grilled cheese sandwiches. Of note: Been doing this since 1979. 540 Forest Ave., Portland. 207-772-0300. greatlostbear.com
Novare Res Bier Café
Taps: 31, plus 2 hand pumps and more than 300 bottles. Many Belgians. Vibe: Hipster rathskeller. Wash down: Plate of sausages with Morse's sauerkraut. Of note: Perennially among the country's best beer bars, according to Draft magazine. 4 Canal Plaza, Portland. 207-761-2437. novareresbiercafe.com
Standard Gastropub
Taps: 11, all regional, plus another 200 or so bottles and cans in a wall-length cooler. Vibe: Indoor picnic. Wash down: House-smoked pulled pork sandwich with Sriracha slaw and a cone of fries, one of several excellent sandwiches. Of note: Former gas station; still sells gas. 233 Main St., Bridgton. 207-647-4100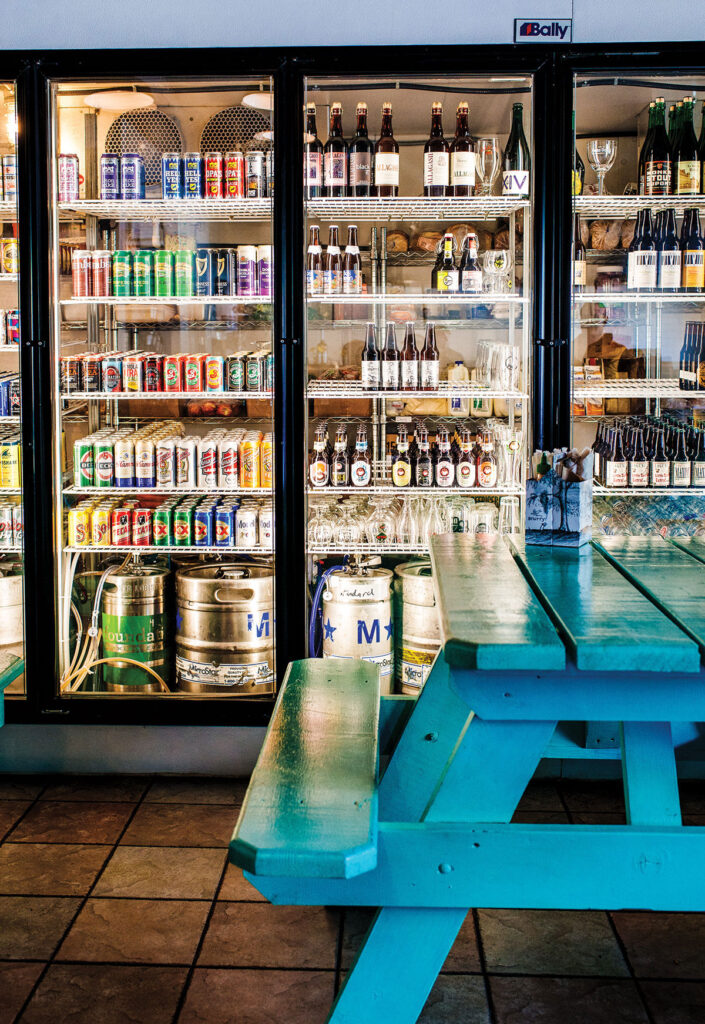 Newcastle Publick House
Taps: 23, skews regional, plus a rotating list of 10 cans, mostly American micros. Vibe: Classic New England pub with crunchy granola coating. Wash down: Oysters, several varieties pulled from the Damariscotta River out the front door. Of note: Great live music schedule; mellow upstairs lounge with pool table. 52 Main St., Newcastle. 207-563-3434. newcastlepublickhouse.com
The Badger
Taps: 6, but with 50-plus bottles. A mix of imports, locals, American microbrews, and ciders. Vibe: Small-town café, kind of place where waitress calls you "hon." Wash down: Super rich mac 'n' cheese topped with local ham. Of note: Fun and welcoming trivia nights in winter and spring. 289 Common Rd., Union. 207-785-3336. badgercafeandpub.com
Additional reading from our June Maine Beer feature story:
5 Essential Maine Summer Beers
5 Maine Beers That May Surprise You
Maine's Craft Beer Scene Fuels Entrepreneurship
---
Get the best of Maine Travel, Food, Culture, and Homes & Gardens every month, with a subscription to Down East, the Best of Maine. Gift subscriptions available.