[dropcap letter="O"]nce again, we asked this year for you to send us the photos that best represent your personal vision of Maine — and, man, did you ever respond. Readers submitted more than 1,500 photographs across three categories: landscape, wildlife, and lifestyle. Then, we turned your work over to a crew of eager judges: professional photographers Charlie Widdis, Mark Picard, Paul Cyr, and Brian Fitzgerald, along with
Down East's
editor-in-chief Kathleen Fleury and director of photography Ben Williamson. Readers had their say too, with nearly 10,000 of you voting at downeast.com for a special readers' choice award.
We hope you're as blown away by these 10 photos as we are. Thanks to everyone who submitted — keep on loving Maine! To stay informed about next year's Down East Reader Photo Contest, subscribe to our email newsletters.
---
Grand Prize: Landscape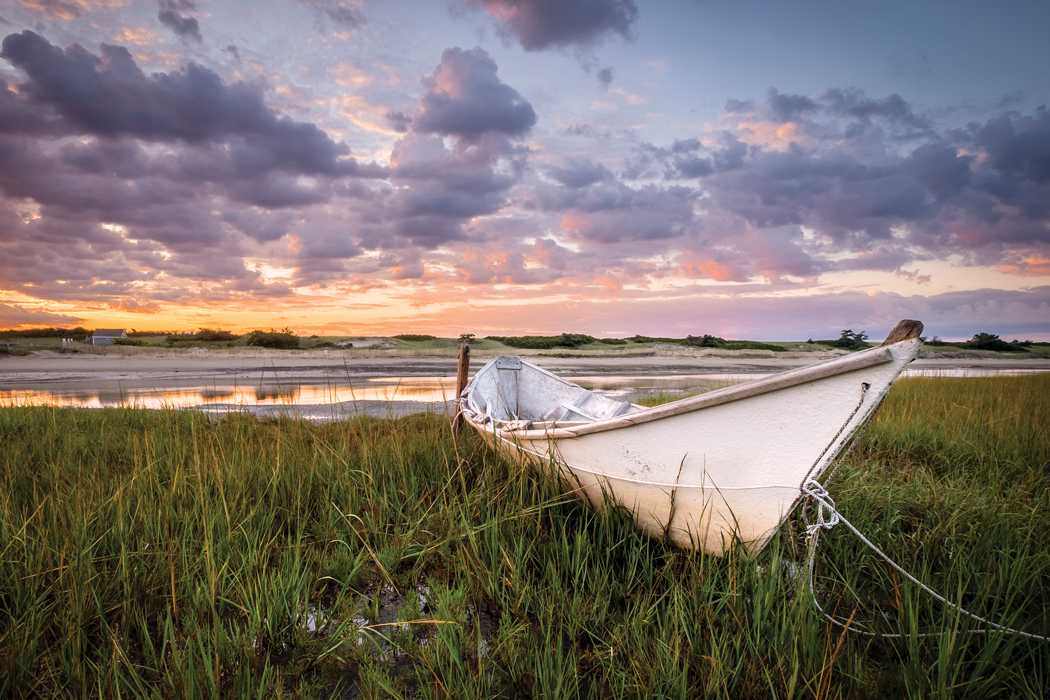 Steven Perlmutter, North Andover, Massachusetts
Footbridge Beach, Ogunquit
Fuji X-T1, 10–24mm
I've been coming to Ogunquit since I was a child and have photographed it countless times, but this location at the entrance to Footbridge Beach is one I've paid far less attention to. It's a great little spot, with the long footbridge across the Ogunquit River just to the left of this scene, and this small dory up on the grass made for a great foreground. It was a beautiful sky that morning, and I was able to get some reflections of its colors in the river. If only I could've done something about those mosquitoes!
---
2nd Place: Landscape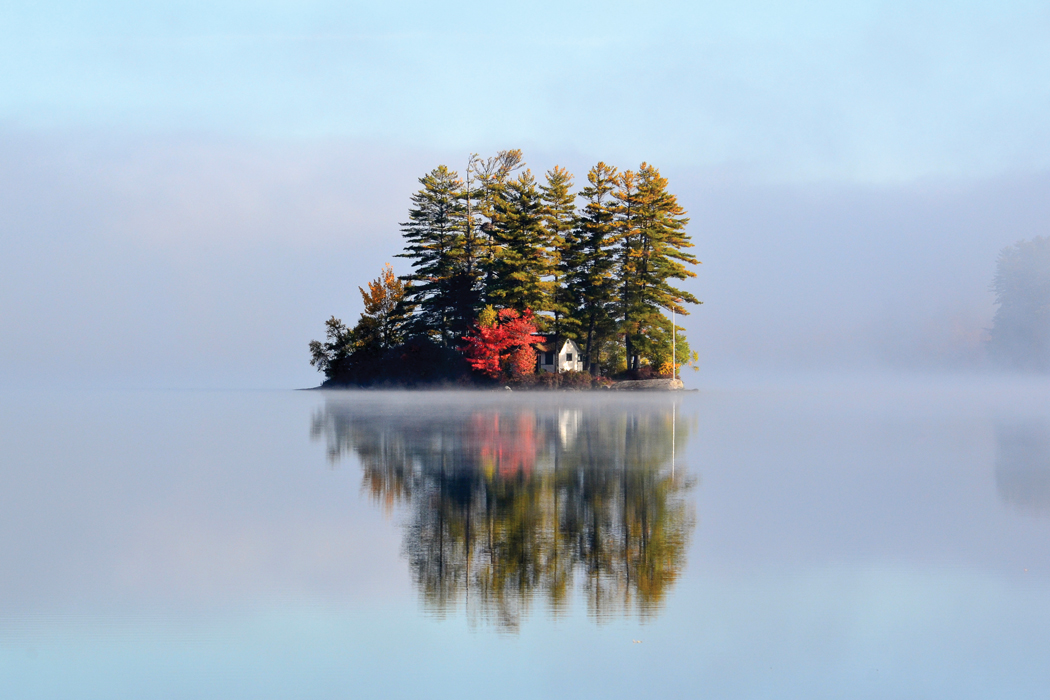 Colleen Phaedra Wilson, Portland, Maine
North Pond, Woodstock
Nikon D3100, 55–300mm
My grandfather built a camp on this pond in the 1960s, and I've been coming with my family for as long as I can remember. This fall, my fiancé and I were headed to Grafton Notch, and I knew I wanted to stop here along the way. It was such a joy to arrive just as the clouds were lifting and the fog settled in.
---
3rd Place: Landscape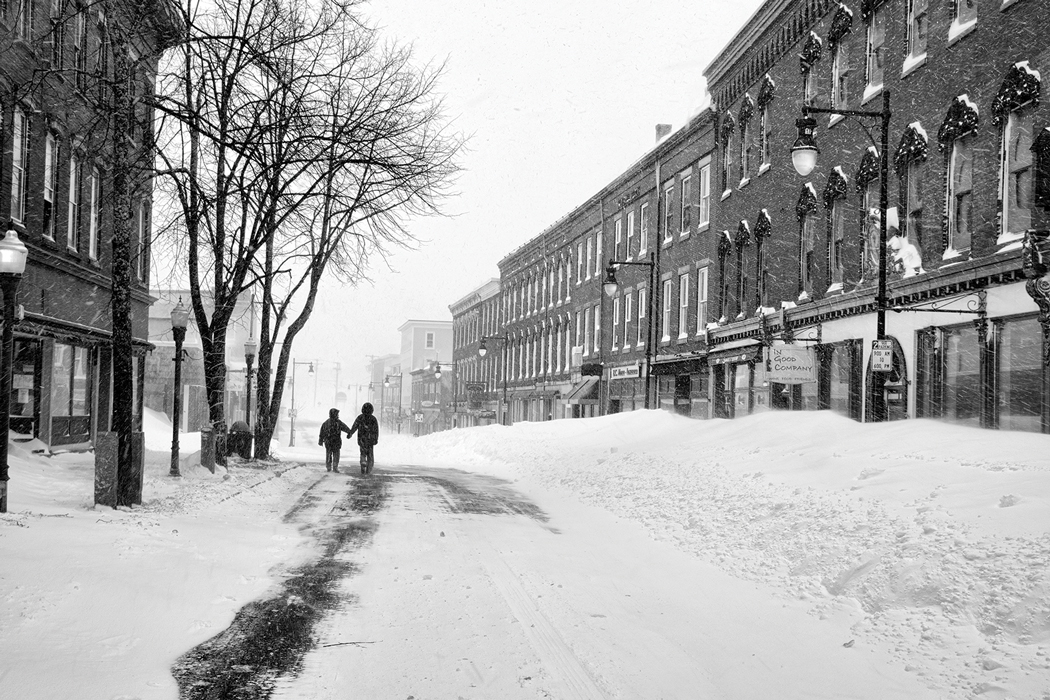 Mike Czosnek, Auburn, Maine
Rockland
Sony A77, 17–50mm
With the heavy snowfall and all the stores being closed, I was out looking for a quiet, lonely-feeling downtown. To my surprise, I found these two people walking hand in hand. It made a bad Maine weather day into a happy one.
---
Readers' Choice Award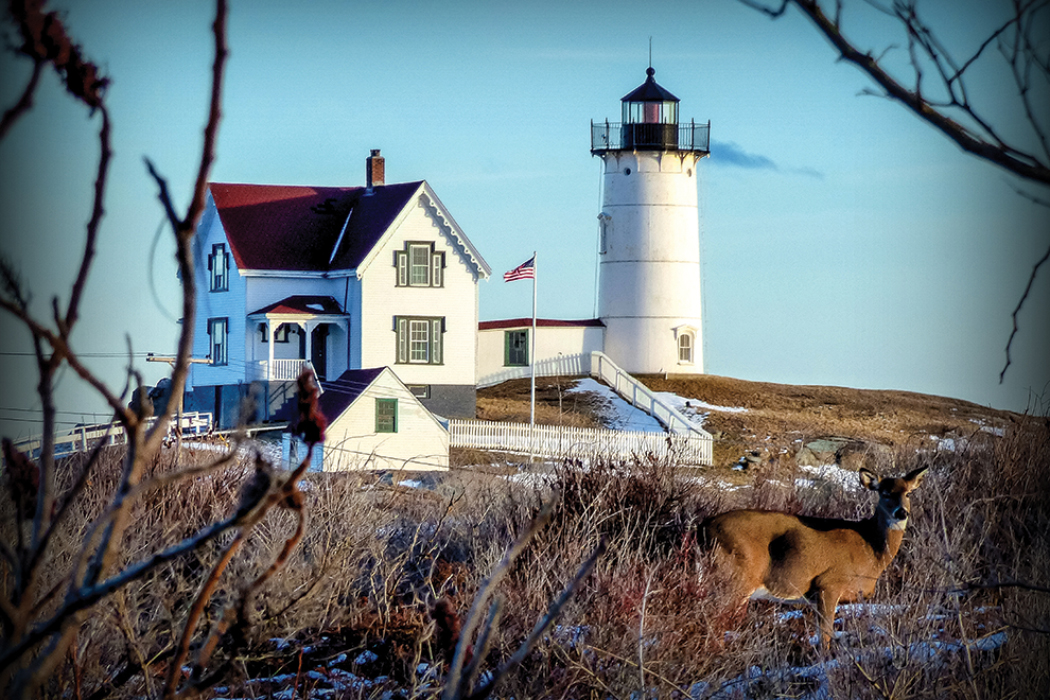 Tom Olson, York, Maine
Nubble Light, York
Panasonic Lumix DFC-FZ1000, 25–400mm
Ulan Pond is a very small pond on Nubble Road, near the lighthouse, where I often stop to look for birds. On this cold winter day, though, I found this very pregnant doe feeding in the brush. I hoped she'd stay put until I could maneuver around the pond enough to get the lighthouse in the frame. When I found the spot, she turned and stared right at me. My personal shot of a lifetime.
---
Grand Prize: Wildlife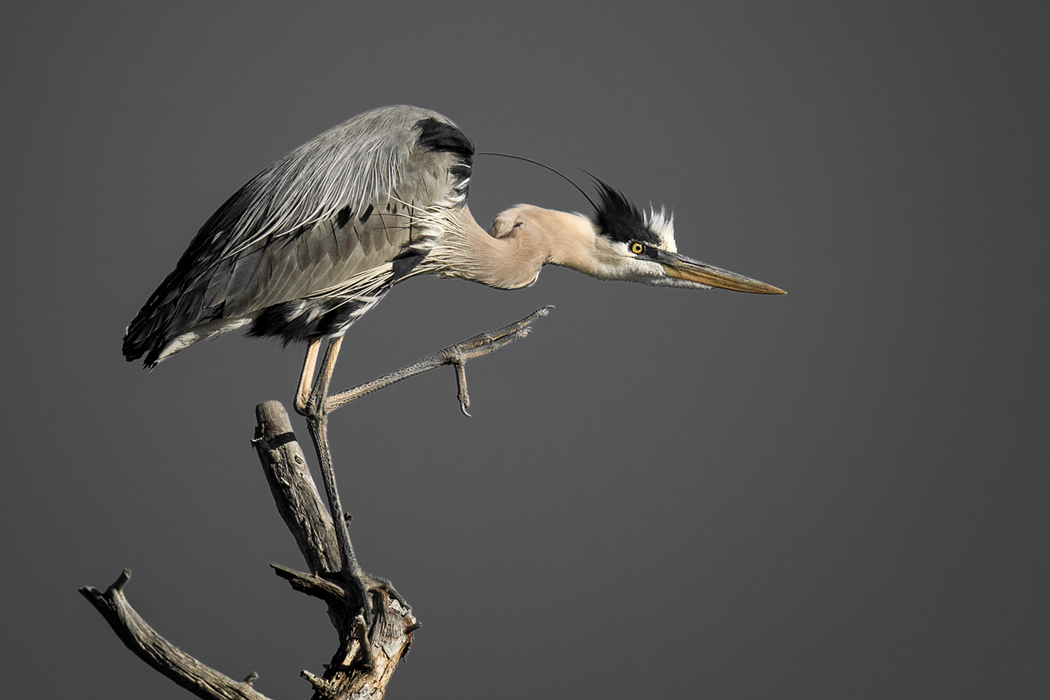 Mike Cullivan, Scarborough, Maine
Near Brunswick
Canon 1Dx, 500mm
I shot this in the early morning, just as the sun came up over the trees. The rookery was home to about a dozen great blue herons, and I took this image just as one of them landed atop a dead tree in the bog. Living in Maine just offers so many photo opportunities — whether out in the woods or even at your backyard bird feeder.
---
2nd Place: Wildlife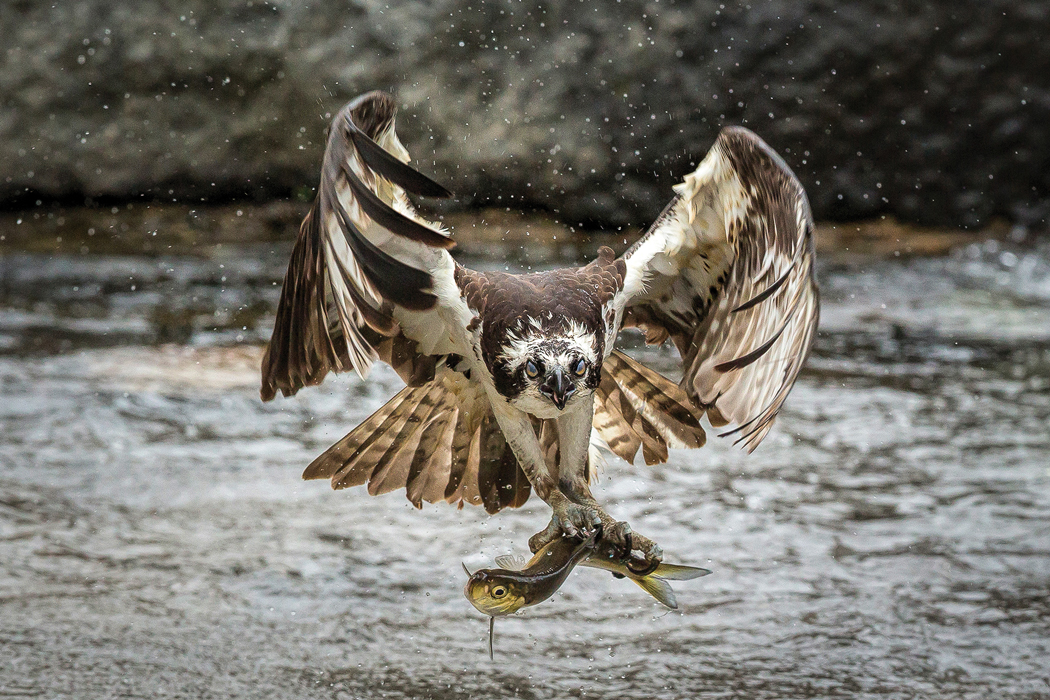 Michele Barker, Hudson, Maine
Damariscotta River, Damariscotta
Canon 5D Mark III, 300mm
First comes the excitement of anticipating an osprey's dive. Then, within seconds, the wings tuck in, the legs stretch with talons open, and the bird hits the water at high speed. It dives just below the surface and emerges with a fish. This is why I look forward to the start of the alewife run each spring.
---
3rd Place: Wildlife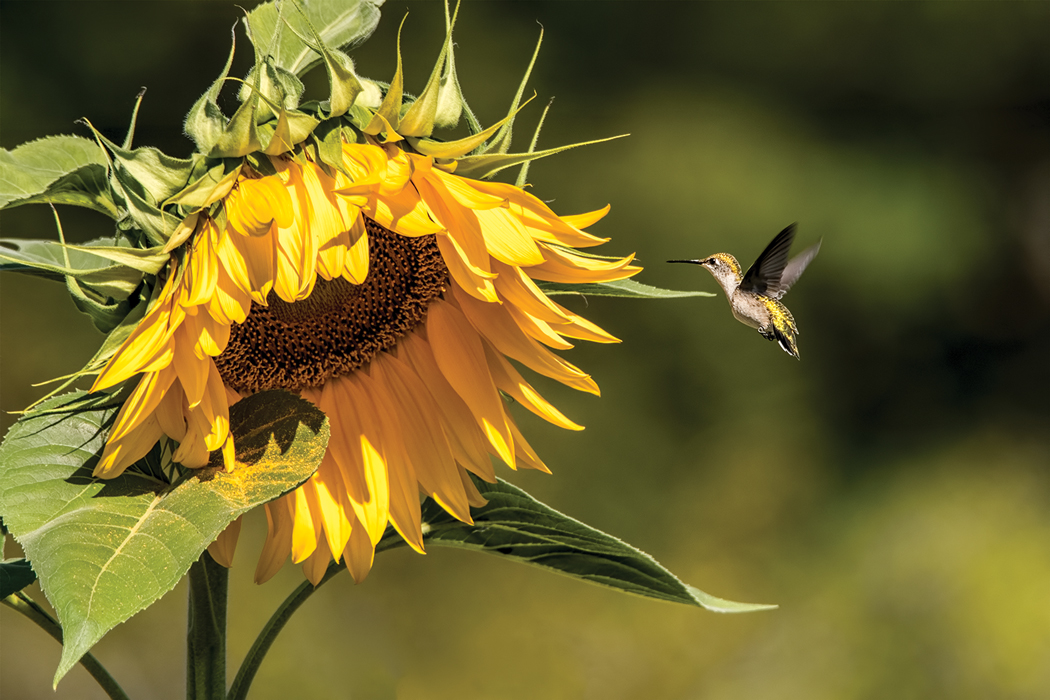 Laura Zamfirescu, Monroe, Maine
Monroe
Canon 7D Mark II, 150–600mm
For the last two summers, my main focus as a photographer was to try and capture the busy life of ruby-throated hummingbirds. It was a patience test and a waiting game: a couple hours every day, just sitting, waiting, and clicking. I took this shot in late September, when this hummingbird was looking for a sip of nectar from the only flowers left alive in the garden — the sunflowers. I never saw another hummingbird this year. What an end to the season!
---
Grand Prize: Lifestyle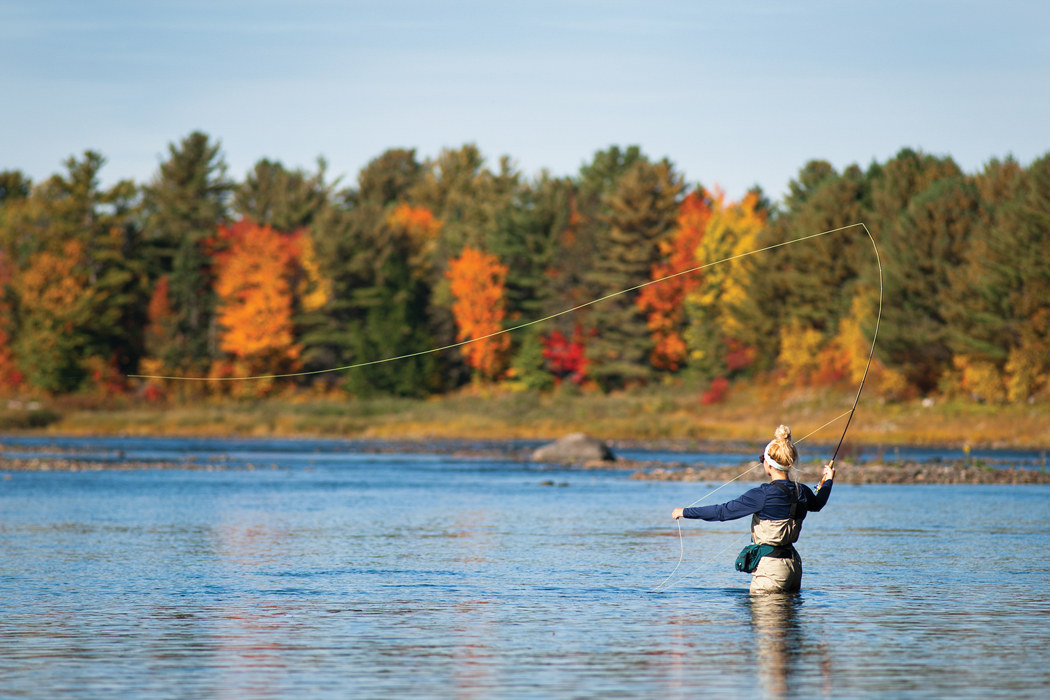 Kevin Job, Old Town, Maine
Piscataquis River, Medford
Nikon D700, 180mm
The moment my pal and I pulled up to the river back in October, I knew we were in luck. The light was still low in the horizon, and the trees along the river were lit up nicely. Once we'd landed a few fish, I realized I ought to trade my fly rod for my camera. Thankfully, I was wearing chest waders and could wade out to the middle of the river to capture this image from the proper height and angle. In the process, I forgot about the river depth and took some water over the top of my waders. The camera stayed dry, and I was too happy with the scene in front of me to mind the wet clothes.
---
2nd Place: Lifestyle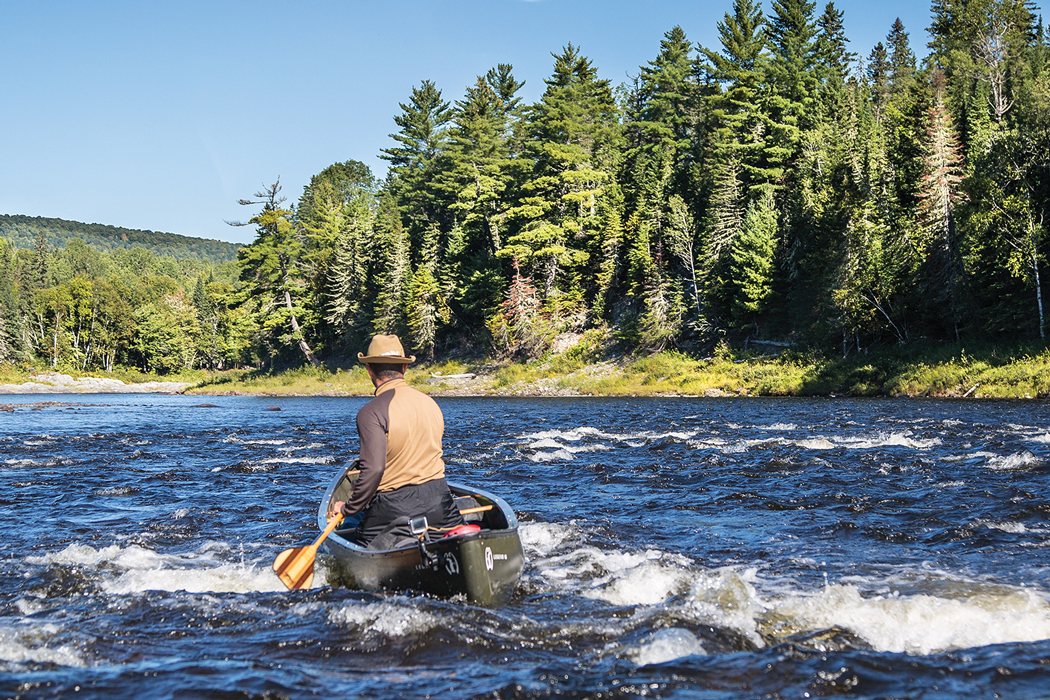 Jeannie Holden, Charlottesville, Virginia
Allagash River, near Allagash
Canon 5D Mark III, 24–105mm
On a crystal-clear September morning, on a paddling trip along the Allagash River, I watched an expert canoeist from our group line up to paddle the rapids below. I quickly grabbed my camera out of the dry bag to capture the moment. I wanted to capture the excitement of being on the river and all the beauty of the Allagash: the deep-blue water, the green of the shoreline pines, the canoe rising up in the waves.
---
3rd Place: Lifestyle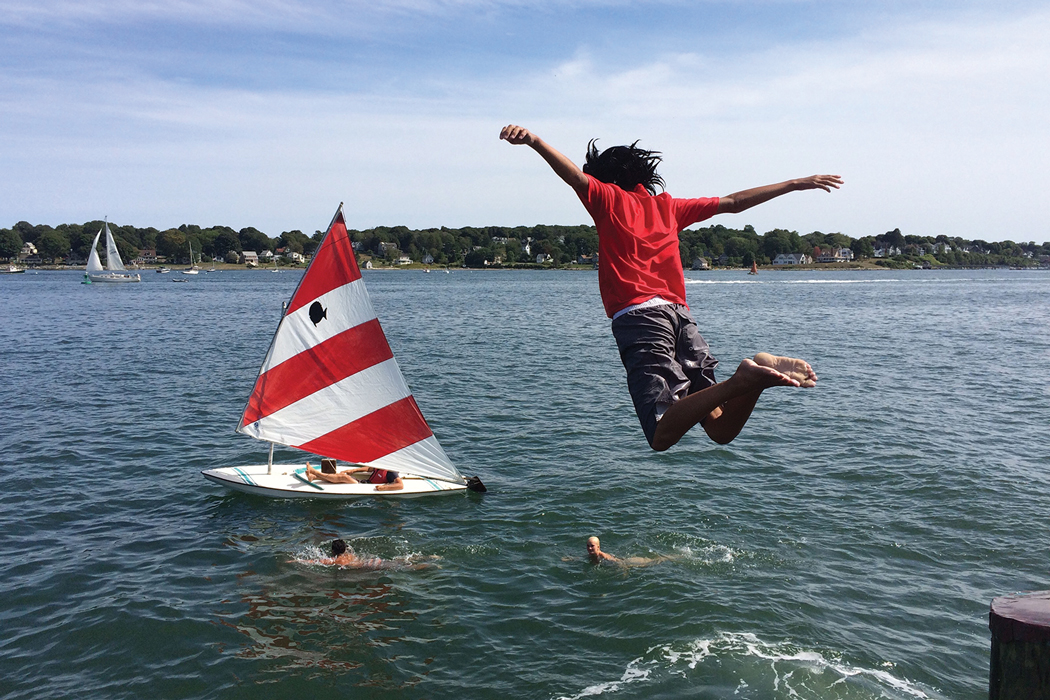 Anne Stauffer, Scarborough, Maine
Little Diamond Island
iPhone 5s
The annual Labor Day Regatta on Little Diamond is always a little crazy with kayaks and sailboats getting ready to race. Once it's under way, there's still plenty of activity on the pier — dogs barking, kids eating hot dogs and jumping off the pier, and just a general happy vibe as everybody relishes the final days of summer. When my daughter told me she was going to jump out to greet her father, sailing past in a Sunfish, I wanted to capture both of them in that summer moment.
---