Highland Green, A 55-and-up community in Topsham, fosters active lifestyles — and a rock-and-roll band.
[dropcap letter="A"] few years ago, when Barb Combs and her husband started to think about retiring, they lived 1,300 miles from Maine, in Grand Forks, North Dakota, where Barb was a dean in the state university's teacher-education program. They'd previously lived in upstate New York and wanted to get back east. A friend told them to check out Highland Green, in Topsham. "We weren't specifically looking for a 55-plus community — we just wanted an intellectually and physically active place," Barb says. "Since moving here, I don't think I've met anybody who decided to come and retire just so they could sit and be quiet."
At Highland Green (residents call it "HG"), 80 percent of homes need to have a resident 55 or older. Since HG opened in 2003, new arrivals have ranged in age from their 40s to 80s. Now, the community comprises some 200 custom homes, with 85 more set for the next phase of development.
One of the main draws, marketing and sales director Will Honan says, is the low-maintenance lifestyle. A "cooperative ownership" structure works like a condo association, but for free-standing homes. Residents take care of the interiors, while joint funds cover lawn care, house painting, roofing, snow removal, and much else.
But what really pulled Barb Combs all the way from North Dakota was the energy and sense of community. Residents can play on HG's hockey team, hike its nature preserve, attend talks and book signings at the community center, and take advantage of on-site bocce, tennis, golf, and swimming. Brunswick is only 5 minutes away, Portland just 30. "We're constantly in and out," Barb says.
Most of all, she loves being in HG's rock band, Off Their Rockers, which she started last year. "I've been singing all my life, but I've never been in a band," she says. "It's one of those dreams where you always want to be a lead singer, and it's finally happening." Currently, the band has eight members and covers artists from Buddy Holly to Carole King to Old Crow Medicine Show.
On July 28, they play at a Down East Food Truck Friday in Rockport, so we caught up with Barb, Bob Allen (drummer/retired lawyer), and Les Borodinsky (bassist/semi-retired chemist), to talk HG and the rock-and-roll lifestyle.
---
They've moved from all across the country and all have really interesting backgrounds of their own — medicine, education, science, engineering. Just in our band, we represent six or seven different states.
Music probably isn't new to any of you, right?
Bob: I was a drummer in bands in my early years, but I figured out I really needed to find a way to earn a living. So the music was put on hold until I got to Maine.
Les: I started in a rock-and-roll band when I was 16. For about 10 seconds, I entertained the possibility of doing that professionally, then realized it was tough to make money. I've played in a few bands along the way, but I really put it on hold. One of my ambitions moving here was to do this sort of thing. Bob and I talked about it, but we didn't act on it until Barb got the band together.
Barb: There was an HG talent show coming up, and I knew Bob played drums, so I sent out a note to see if anyone else wanted to form a band. I think Bob said yes first, then Les, and we built from there.
How often do you play together?
Bob: We rehearse every Friday in my basement. We converted a spare room where the equipment is all set up — my wife is very understanding. We really put a lot into the practices. If anyone asks us to play a show on top of that, that's just great.
And how have those shows been?
Les: Well, so far we've played a couple of times at HG, plus fundraisers in Brunswick and Freeport. And we'd love to start playing at the Wild Duck Restaurant & Pub right here in the community — it just reopened after a renovation.
Bob: We agreed early on we weren't going to play for money. We wanted to play things like charity events. Being at what I guess we call the "senior period" of our lives, the goal is just to have fun with people who enjoy music.
Barb: We sing a 1950s Dion and the Belmonts song called "A Teenager in Love." That always goes over well with our audiences. We want people out there dancing, having fun.
So the community has gotten behind having its own rock band?
Les: Absolutely. And that's why my wife and I wanted to live here. We wanted to live with contemporaries, but in a community that was big enough to find people who share interests, whether its bridge or its music. Frankly, we've made some very great friends.
Bob: There are a lot of people here who are hungry for these kinds of things. They've moved from all across the country and all have really interesting backgrounds of their own — medicine, education, science, engineering. Just in our band, we represent six or seven different states.
Did you have any inkling that the band would catch on so quickly?
Bob: We didn't really know how it would work out, but the reality is that most of us are probably having more fun than we expected to have at this stage of life. We're simply enjoying it and having a great time. And the people who've been to our events so far seem to have enjoyed it too. So bringing that fun and pleasure to others is just gravy.
Stats
230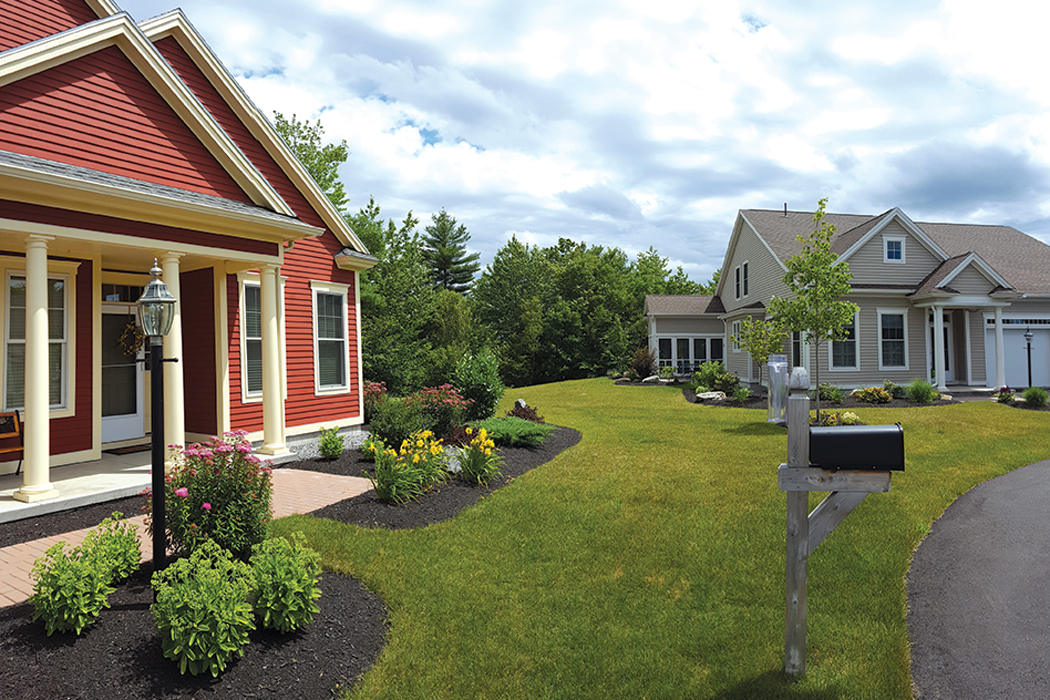 Acres set aside as nature preserve on HG's 635-acre campus, complete with trail system and ecology center
1,900
Median square footage of homes in the community, all of which are custom-built. Floor plans range from 1,380 to 4,400 square feet
29
Number of states from which HG residents have relocated
3
Miles from Bowdoin College, where HG residents take classes, teach classes, and attend lectures and performances
To learn more about life in the Highland Green community, visit highlandgreenlifestyle.com