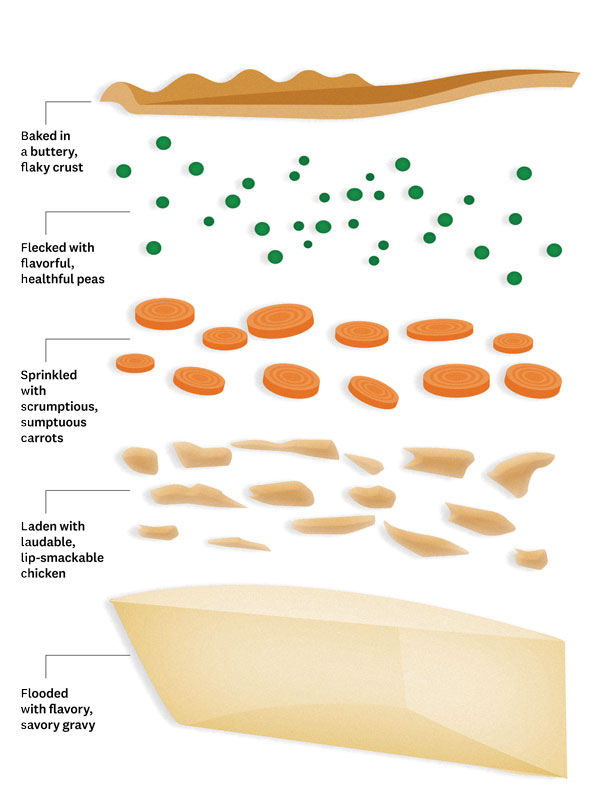 Food editor Joe Ricchio wants you to take Dysart's buttery, flaky crust seriously.
[dropcap letter="W"]ay back in 2012, Dysart's, the Bangor-area truck stop and diner, shot a down-homey commercial with real customers heaping praise on the classic potpie. The script was basic: "This is real comfort food!" and that sort of thing. But local retirees and Dysart's regulars Jack and Sonja Palmer wound up so very tongue-tied over one particular line — "baked in a buttery, flaky crust" — the ad company posted the blooper reel online.
---
Six years and five million YouTube views later, Saturday Night Live has inexplicably revived the viral phenomenon, with recent host Will Ferrell and fan favorite Kate McKinnon spoofing the Palmers' miscues.
---
The skit made me laugh — and it made me hungry, so I made an impromptu sojourn to Dysart's after it aired. My takeaway? Listen, people, Dysart's potpie is no laughing matter. It is an achievement.
Sure, the concept seems simple enough — gravy, peas, carrots, and chicken, all beneath a top layer of crust — but nailing that crust is the scourge of lesser potpies. At too many restaurants, it's flaccid and colorless, and the filling turns it into a soggy mess.
Dysart's uses a simple mix of flour, salt, milk, and Crisco. Then, right before the pie hits the oven, the uncooked crust gets slathered with a layer of butter to form an appealingly golden-hued shellac. Should that be so difficult to replicate? Somehow, Dysart's just does it best.
It's a primeval joy to stab a fork through that gorgeous potpie crust. The first bite has a way of leaving you inarticulately happy.