Tofu is a passion product for the couple behind Maine's only commercial soy beanery.
By Jesse Ellison
Photographed by Gabe Souza
L
ike many a Mainer, Jeff Wolovitz starts his day putting on Grundéns bibs and rubber boots. Unlike any other Mainer, he spends the rest of the day up to his elbows in soy pulp, soy milk, and soy curds, running Maine's only commercial soy beanery,
Heiwa Tofu
. "It's quite a spectacle," he says. "We make a big, big mess." Inside a former gas station on Route 90 in Rockport, he and his staff produce up to 700 pounds of tofu a day, averaging about 2,000 pounds a week. In a year, they go through some 50,000 pounds of organic soybeans, most grown in Maine, all of which must be ground, soaked, squeezed, cooked, strained, curdled, pressed, cut, and chilled.
By 7 a.m., stainless-steel tanks are steaming, and the air thrums with the whir of industrial machinery. Within a couple of hours, Wolovitz has ten active batches of soy in various stages of production. In a hairnet and elbow-length gloves, he darts among the equipment — 40-gallon stainless-steel bowls, industrial boilers, a massive grinder —pivoting on his heels, bouncing from batch to batch, here grabbing a giant thermometer to measure the temperature on a roiling vat of soy milk, there prodding a giant, undulating cheesecloth bladder with a wooden paddle. "It's like a dance!" he shouts mid-stride, grinning. "There's a real rhythm to it, a flow. I'm practicing my tofu ninja skills! I'm like a mad scientist!"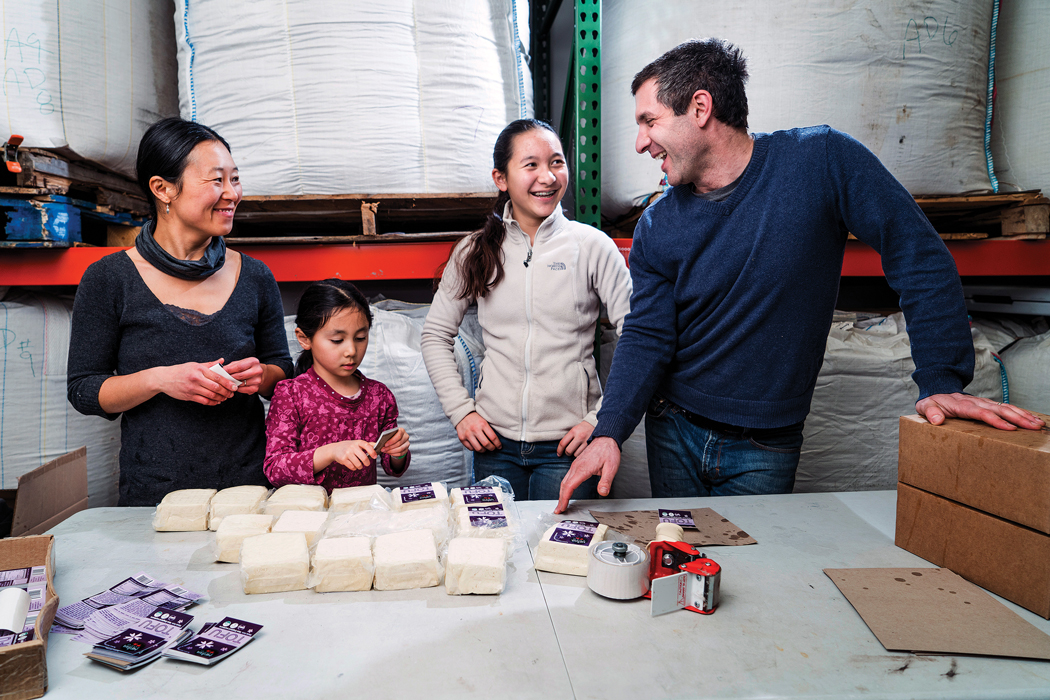 Wolovitz used to teach high school science, and before that, he was a farmer. Those experiences ultimately led him to tofu. While teaching in Thomaston in the mid-aughts, he felt an itch to get back into local food systems, but he and his wife had two small children and a house. "The idea of becoming a farmer again just sounded . . . tough," he says. "So I started looking at a way to be a processor — taking an agricultural product and adding value to it. I was looking for something being made somewhere else and bought here. Replacing an out-of-state product with an in-state one, that was my goal." Then he heard that another local teacher had made tofu years before and was sitting on a trove of idle equipment. "That sealed it," he says. Plus, he adds, "Maho was psyched."
Wolovitz gestures across the room to his wife, Maho Hisakawa, who's wearing snow pants and a down vest and arranging shipping crates. He leans in and lowers his voice, conspiratorially. "I think the real reason I make tofu is that she wanted fresh tofu," he says. "She was born in Japan, and she was just disappointed with the quality of tofu we could get." Hisakawa, a classical musician, works part-time at Heiwa. She loves having easy access to high-quality tofu, she says, but the work is also sentimental for her. "It's a sweet way to connect with my culture," she says. "There aren't a lot of other connections around here."
Once Wolovitz had settled on making tofu, he and Hisakawa picked the name Heiwa, meaning "peace" in Japanese, because they believe plant-based diets help make for a peaceful world — even if the production process at times feels like war. Wolovitz learned the basics from a 1970s book on commercial tofu production, but he taught himself the finer points through trial and error. "I had to learn pretty quickly not to let mistakes cause my blood pressure to rise," he says. "Production-wise, it's kind of a monster. It likes to misbehave. It's taken a long time to get it running smoothly."
CLICK IMAGES TO EXPAND
---
The critical juncture comes when, taking boiled and strained soy milk, Wolovitz adds calcium sulfate to separate curds from whey. Leaning over the giant bowl of curdled soy, he pierces the top with a wooden paddle. "The moment of truth," he says, softly breaking apart the curds that he'll then press into rectangular slabs of tofu. It's all about texture, he explains. Made the wrong way, tofu can be grainy or mushy, dry or slimy. Wolovitz aims for something both tender and firm — which he achieves by staying intimately involved at every stage. "I'm in there with it," he says. "I can handle it gently."
Inspecting the many batches, it's clear Wolovitz is as enthusiastic about the intermediate steps as about the end result. He passes me a mug of the warm curds and whey, seasoned with a dash of soy sauce — it's like a happy cross between porridge and scrambled eggs. Next, a cup of frothy, steaming soy milk — it puts the usual store-bought stuff to shame. And when he hands me a bit of slippery, white "yuba," or soy-milk skin, I gain a whole new appreciation for the simple soybean. Wolovitz describes yuba as having the consistency of an oyster — and it looks like a loogie — but it tastes like a wonderful, slightly chewy bit of warm custard.
Since the first batch in 2008, Heiwa sales have grown steadily — and in the last two years, they've doubled. Wolovitz anticipates another doubling within a year or so, as his tofu continues to catch on at dozens of Hannafords around the state, plus restaurants, markets, and cafeterias at local schools and universities. To meet that growing demand, Heiwa has had to move a number of times — from a garage in Camden, to Belfast, then last year to the former gas station in Rockport. Wolovitz says he "put everything he has" into the new building, investing his and Hisakawa's own money and taking out loans in order to create a production space that has "the cleanliness of a hospital room, the ruggedness of a manufacturing facility, and the watertightness of a seafaring vessel."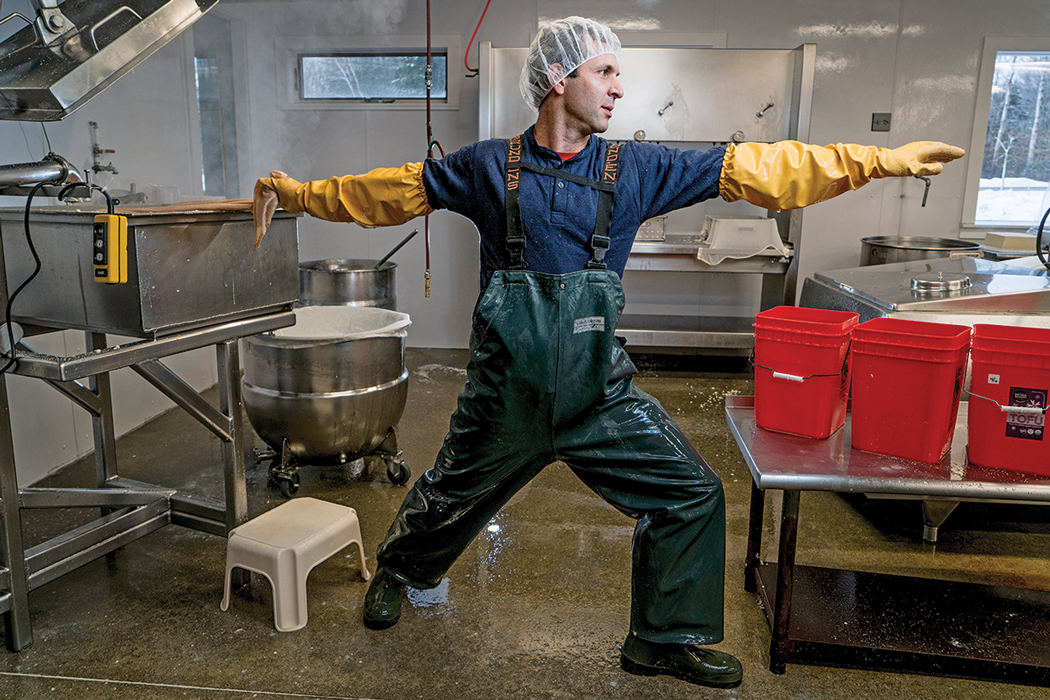 Wolovitz installed vapor-proof lighting and poured concrete floors fitted with large drains so that the crew can hose down the whole room (they spend about four hours a day cleaning). After he'd stretched funds as far as he could, he still needed to add a heating system before the first winter in the new building, so Heiwa launched an Indiegogo campaign to raise money last fall. Local tofu fans stepped up, donating $18,000, and Wolovitz can still barely contain his gratitude — he brings it up repeatedly in person and emails later just to reiterate how wowed he is.
Until recently, he often worked on the production floor from 5 a.m. to 5 p.m. Now that he has a few employees, he can spend afternoons making deliveries, working on the business end, and even starting to think about how he might eventually scale back on 12-hour days. "Sometimes I'm like, 'Whoa, I'm doing all this so my wife can have fresh tofu,' " he says, eyeing the roomful of equipment that, for the most part, only he knows how to operate. "I'm like, 'Oh I hope she remembers! It was all for you, baby!' "