It's not in the mountains. It's not on the coast. But something about the friendly little town perfectly evokes the Maine community ethic. (Also, ballerinas!)
By Virginia M. Wright
Photographed by Greta Rybus
From our October 2017 issue.
Lately, the people of Pittsfield have been practicing kindness. Not that they weren't nice to each other before. It's just that now they're doing kind things with intention.
Take the morning in January when students arrived at school with hot coffee for their teachers, some of whom ended up with multiple cups, graciously sipping from each.
Then there was a stretch in spring, when people showered good stuff upon wildlife and pets. They hung peanut butter-coated pinecones from tree branches. They walked the neighbor's dog. They filled and distributed packets of seeds for growing bee-friendly gardens.
Summer brought "Cups of Kindness" — red plastic cups planted with tomato seedlings that mysteriously popped up all over town, free for the taking.
Meanwhile, the Year of Kindness tree in the window of Bud's Shop 'n Save still sprouts pink, blue, yellow, and orange foliage, each paper leaf scrawled with a note of gratitude or encouragement:
"Dean Billings cleaned my walkways and doorways just being a nice neighbor."
"Last week, the family next to us at the Chinese restaurant paid for our dinner."
"Smile at a stranger."
"Hold the doors for others."
And this, in a child's hand: "I shared when I didn't want to."
If this is the era of narcissism and rudeness, as some lament, then many Pittsfielders are living in another time. They actively cultivate the unpretentious, homespun, and yes, sweetly hokey spirit of Mayberry RFD, as both an antidote to the nation's angry mood and a reminder that, despite losing hundreds of factory jobs these last few years, Pittsfield has a lot going for it, not least its people.
"Pittsfield is known for families, children, and activities," says Jane Woodruff, a member of the Heart of Pittsfield, the community revitalization organization that spearheaded the Year of Kindness with the Pittsfield Public Library. Jane grew up here, the daughter of a beloved Pittsfield veterinarian, John "Doc" Woodcock, but after graduating college in the late 1960s, she moved to Connecticut for a job as an occupational therapist. There, she met her husband, Don. Later, they moved to Illinois and started a family.
"We came here for a vacation in 1975," Jane recalls, "and when we went home, it was such a letdown. We were living in a suburban area that was popping up houses everywhere. The traffic was terrible, stoplights every five minutes. We looked at each other and said, 'Why are we working here all year just to go to Maine for two weeks?' That was August. By April, we'd quit our jobs and were back in Pittsfield."
Midway between Waterville and Bangor, Pittsfield, population 4,200, is not the sort of town typically associated with the Maine Dream. It doesn't have the spectacular scenery that draws tourists and wealthy retirees to the coast, about 40 miles east, or to the mountains and lakes to the north and west. Rather, it's a little oasis of industry and commerce amid gently rolling farmland, a town where life moves at a quotidian pace that changes little from season to season, except in the usual ways, when school lets out or the fall harvest is ready. Pittsfield is neither too busy nor too slow, neither too big nor too small, neither beautiful nor ugly. Don and Jane say it's just right.
Pittsfield's dining options aren't many, but they're tasty: Kwong Lee, run by Vanessa Chen (top) offers hard-to-find specialities, like congee and fish hot pot, that are popular with Maine Central Institute's Asian students. Vittles elevates diner fare with ingredients from local farms. 
---
On my first visit, the Woodruffs are my tour guides, ferrying me all over Pittsfield. We pass the downtown headquarters of Cianbro construction company, where 500 of the national firm's 4,000 workers are employed, and we circle Manson Park, a sprawling mix of playing fields, lawns, and woods straddling the Sebasticook River. We stand under the dome of the small but stately Carnegie library, tilting our heads to see the images of local people painted several years ago by a young Tim Sample. We eat lunch at Vittles, a family diner serving simple but delicious from-scratch meals. We drive by the golf course, the ski hill, the regional hospital, the municipal airport, the soon-to-be farm brewery. We swing through the leafy 23-acre campus of the town's greatest pride, Maine Central Institute (MCI), a private, independent academy that serves as the high school for students from Pittsfield, Bunham, and Detroit. Each year, the 450-member student body includes boarding students from roughly 10 states and 15 countries — there are so many Asian students, in fact, that Kwong Lee restaurant has a menu in Chinese offering authentic Asian fare.
"You name it, we've got it," Jane says. "I don't know why you'd want to live anywhere else."
Inside the Cianbro lobby, a continuously looping video shows images of mammoth construction projects in more than 40 states — dams, bridges, and buildings, all captioned with details about the company's experience, accomplishments, and assets:
"One of the largest construction companies on the East Coast."
"Thirtieth largest employee-owned corporation in the US."
"Centrally located in Pittsfield, Maine."
Tom Roberts (top) says Pittsfield has supported his Snakeroot Farm for 22 years. He and his wife, Lois Labbe, founded the weekly farmers' market, and they compost homeowners' raked leaves, saving the town roughly $3,000–$4,000 a year in disposal costs. Once home to several large egg farms (hence, the annual Central Maine Egg Festival), Pittsfield is attracting a new generation of farmers, like Heather and Mike Holland (below left), who will open Outland Farm Brewery. Pittsfield's other assets include several parks and Maine Central Institute, a private academy that serves as the local high school.
---
That last sentence grabs my attention. As every Mainer knows, this state struggles against the perception that it's too far north and too rural to woo and retain businesses, but here's a giant like Cianbro touting the geographic advantage of a town most us couldn't place without resorting to our gazetteers. "To some people, it doesn't make any sense," admits Peter Vigue, Cianbro's chairman and chief executive officer. "But it does to us. This is who we are."
Vigue has a point. Pittsfield's no harder to get to or from than anywhere else. Not only does it have its own small airport, but it's right on I-95, a 30-minute drive from Bangor and 90 minutes from Portland. And Vigue's attachment to Pittsfield is heartfelt. He grew up here. "This is my home," the 69-year-old says. "This is my wife's home. It's the home of our children and grandchildren. We feel very blessed."
As a boy, Vigue admired Cianbro's four founding brothers — Pittsfield natives Kenneth, Ival, Carl, and Alton Cianchette, members of a large, politically active, and philanthropic family (four of 15 buildings on the MCI campus are named for Cianchettes). Later, they were his mentors. He started at Cianbro in an entry-level position, working on the Portland waterfront, and went on to hold a variety of jobs, including some that took him out of state. "I never lost my sense of roots," he says.
MCI's international campus community includes local public-school students, which makes it unusually diverse, even among private schools.
---
The Pittsfield of Vigue's childhood was a busy manufacturing town. The woolen and shoddy mills that spurred the community's growth in the 19th and early-20th centuries were gone, but in their place were a shoe shop, a maker of fire alarms and signaling equipment, and various other factories churning out products. The local economy remained relatively steady until 2008, when San Antonio Shoe closed its shop, laying off 150 workers. Six years later, UTC Fire and Security, with about 300 employees, moved its operations out of town. Both buildings remain empty.
"It was a significant blow," Vigue says of the closures. "The town has undergone a huge transformation economically, but now it's having a rebirth. Are we where we want to be? Absolutely not. We're not even close. But I'll spend my time helping to correct it, not complaining about it."
To that end, Cianbro is making significant investments in the town. In August, it unveiled a new training facility, allowing it to expand its Cianbro Institute, a workforce development program that offers apprenticeships and courses in trade, professional, and leadership skills. Cianbro is also building what will be the state's largest solar array — a $24 million, 57-acre solar farm off Route 2. It's expected to go online in spring.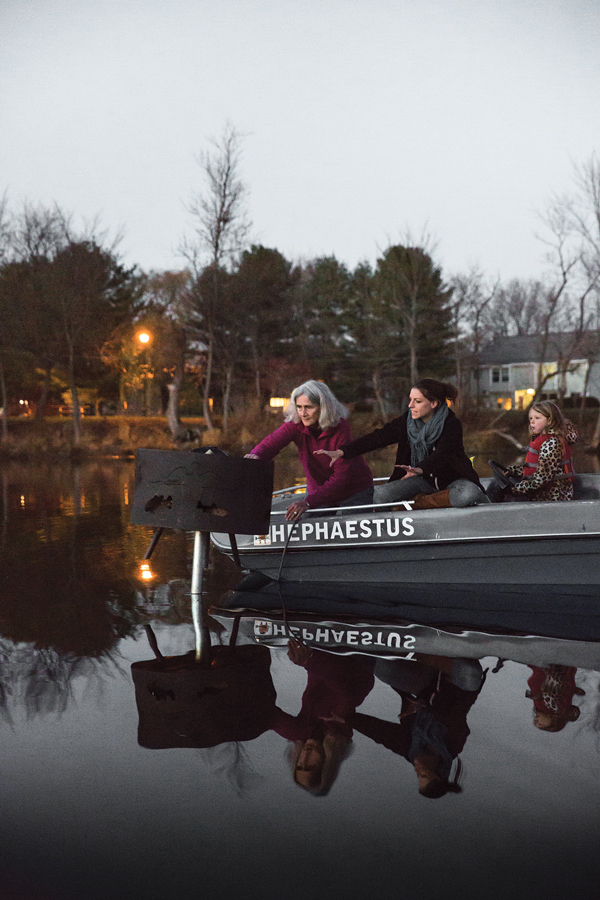 Cianbro also encourages civic engagement on the part of its employees and their families. Vigue himself has served on Maine Central Institute's board of trustees. Now his son, Cianbro president Andi Vigue, and his son-in-law, Michael Hodgins, are on the board. Daughter Michelle Hodgins is a member of the district school board. "We're not just part of the economy, we're part of the community," Vigue says. "If we don't invest our own time and effort in it, how can we expect others to do it?"
A similar spirit prevails at Outland Farm, one of several farms in a pastoral corner of town. Heather and Mike Holland, both a shade past 30, purchased the former gentleman's orchard two years ago. Besides tending to chickens, pigs, and 450 fruit and nut trees, they're building a brewery they expect to open in spring. "We had looked all over New England for land we could afford in a town that would allow us to bring brewing and agriculture together," Heather says. "Most towns want to put breweries in an industrial zone. Pittsfield considers it value-added farming. The biggest factor in our decision to buy this farm was having a town that supports us. Our neighbors are all for it — even the ones who don't drink."
So they give back. Heather volunteers in Heart of Pittsfield projects. At Outland Farm, she and Mike host a community garden tended by 15 families, who grow food for themselves as well as for the local food pantry. "As much as we've embraced the town, the town has embraced us back," Heather says. "We care about this community and where it's going. Everyone is interconnected, and everything we need is right here."
When Vaughan Woodruff and Holly Zadra decided to move from Bozeman, Montana, to Vaughan's hometown in 2009, they prepared their sons. "We told them that in a small town like Pittsfield, you're not just River and Ari," Vaughan recalls. "You're my sons and Holly's sons. You're Don and Jane's grandsons. You're the great-grandchildren of Doc, who was the local veterinarian. You have an identity that connects you to many people. The funny thing is, we weren't here but eight month when that was flipped on its head — people were saying, 'Oh, you're River's dad.'"
That's the small-town intimacy that he and Holly realized they'd been missing when they came back from Montana to attend Doc Woodcock's funeral in 2008. "I left Pittsfield at the age of 17, and if you had told me then that I'd be coming back, I'd have said you were crazy," Vaughan says. "But that's one way you can tell that someone's from Maine — it's not whether you were born here; it's whether you leave for a long period of time and at some point you say, 'Okay, vacation's over. I need to get back.' That's how I felt. We didn't come here for some grand economic opportunity. We wanted to be sure our kids were going to be raised in a place that supported them and gave them flexibility, freedom, and accountability."
With a bachelor's degree in civil engineering and a master's in education, Vaughan figured he could find work if his year-old solar installation company didn't survive the move to central Maine. But it has and then some. Now with 13 employees, Insource Renewables is growing, and Vaughan is a leading voice in the effort to craft a state energy policy that encourages the expansion of solar power.
He's also, not surprisingly, a champion of Pittsfield. He founded the Heart of Pittsfield with Ray Berthelette, a native of southeastern Massachusetts who was initially drawn to the town for more pragmatic reasons. "It was around 2005–2006, the peak of the housing bubble," Ray explains. "We were living in a condo and looking to buy a home. Housing costs in our area were astronomical — a modest three-bedroom ranch cost $500,000." Ray and Amy Berthelette's online search for more affordable housing dovetailed with their research into ballet schools for their daughter, Meredith: In Pittsfield, they found a large house with an asking price that was a fraction of the cost of a comparable home in Massachusetts (or, for that matter, on the Maine coast). They also found Maine Central Institute, the country's only secondary school with a pre-professional ballet program. The first time they visited, the Central Maine Egg Festival was in full swing in Manson Park (attractions include eggs frying on a 300-pound, 10-foot-diameter skillet). "We immediately fell in love with this little Norman Rockwell town," Ray recalls.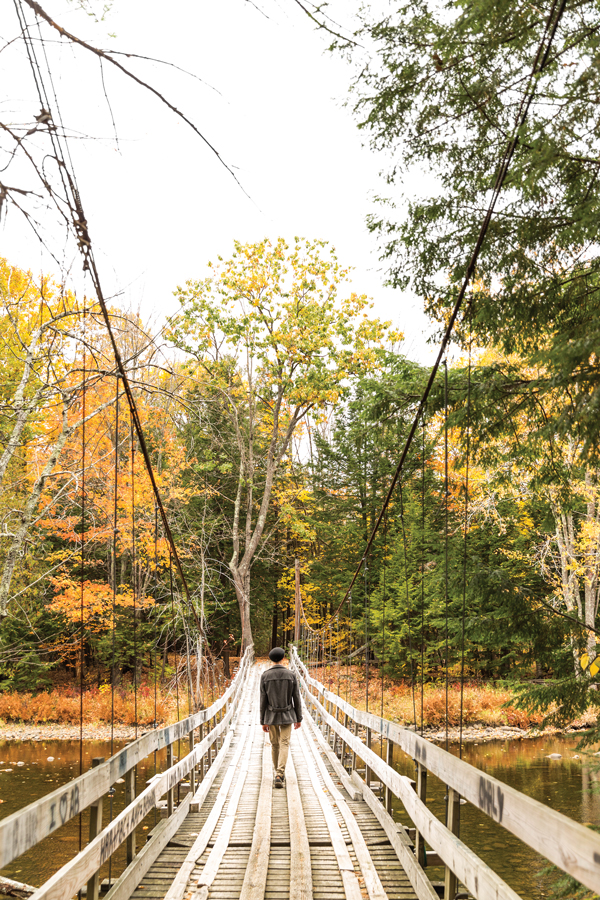 In the years since, they've put down roots. Meredith, now an adult with a child of her own, lives one street over. Amy's mother has moved next door. Ray's mother and stepdad, brother, and niece have bought homes nearby. And the Berthelettes recently re-opened a shuttered ice-cream shop and have plans to expand it into a restaurant.
Ray and Vaughan became friends after meeting at a hearing on the comprehensive town plan. "People were throwing out ideas, and we kept hearing there were no resources to get those things done," Ray recalls. He suggested forming the Heart of Pittsfield, modeled after a volunteer revitalization organization in the Massachusetts town he'd left behind. Vaughan was on board immediately.
With about 15 hardcore members and dozens who come and go as they're needed, the Heart of Pittsfield has been sprucing up town and bringing people together. They've planted flower boxes, repainted the town gazebo, restored the salvaged cupola of a demolished carriage house and installed it in Hathorn Park. Once a month, they host Pond Fire, lighting a string of floating fire pits on Mill Pond, adding a bit of magic to a full-moon night. They hold concerts, public suppers, and car shows. And they are kind.
Dancing with 
the Scholars
Eleven teenaged ballerinas in black leotards and white tights glide and spin to piano music from Giselle in the high-ceilinged studio at Founders Hall on the Maine Central Institute campus. When the music stops, artistic director Natalya Nikolaevna Getman tells them, "It looks like birds taking a bath. They're the cutest things when they take a bath — have you seen them?" Getman, a Russian native and former dancer with the Moscow Ballet, flutters her arms frantically, and the girls laugh. "I don't want a bird. Let's try again."
The dancers practice the section over and over and over, until at last Getman takes a seat and they gather at her feet. She tells them the Russian folktale of Baba Yaga, a witch who lives in a house that sits on a pair of chicken legs. "When you're doing that pirouette," she says, stifling a giggle, "you remind me of a house on chicken legs!"
As far as Getman and headmaster Christopher Hopkins know, this program is unique among North American high schools. A rigorous, pre-professional classical ballet school and performing company that's part of the academic curriculum, MCI's Bossov Ballet Theatre draws talented dancers from across the country and overseas. Sometimes, their families come with them, as was the case for Felicity Audet, the school's 2015 valedictorian. A native of Indiana, where she danced with Indiana Ballet Conservatory, Audet was interested in the program's concentration on the Vaganova, or Russian, method. She spent a year as a boarding student, and then her family relocated to Pittsfield. "My brother's interested in forestry, so Maine made sense for us," she says. "None of us has ever regretted it."
Getman, she says, "never stops trying to bring out the best in students, and she's very good at explaining things in a way that promotes self-discovery. When you take her classes, she never stops talking — in a good way. Her attention to detail really helped me."
So much so that upon graduation, Felicity had the choice of entering Princeton University or joining the Louisville Ballet. She chose the latter and danced with the company for two years. She began her deferred studies at Princeton in September.
The Bossov Ballet was founded in 1996 by a Pittsfield resident, retired U.S. Marine Colonel Michael Wyly, who recruited former Mariinsky Ballet star Andrei Petrovitch Bossov as its first artistic director. Getman, who taught in the school's summer program, took over when Bossov returned to Russia. Her teaching style is demanding and affectionate. "I teach, I choreograph, I scream at them, and I love them," she says. "They're like my kids."