Happy new year! Look back with us at a few of the features, photos, and projects we were most proud of this year — plus a few non–Down East pieces that had us tipping our hats.
---
Will Grunewald, Associate Editor
Favorite story:
Kathryn Miles' "Marathon Man." Against the backdrop of a place that's basically become shorthand for the post-industrial doldrums, Miles captured this eccentric, dynamic character, Gary Allen, who figured a 26.2-mile race in early December might help the down-on-its-luck town.
Story I wish we'd have run:
I really enjoyed New Yorker theater critic John Lahr's profile of Janet McTeer, a British thespian who lives in Harpswell with her Mainer husband. It's a great character study, and Maine plays a prominent part — with sea kayaking, ospreys, UMaine football, Kennebago trout fishing, and McTeer's husband describing her this way: "She slips through air like a harbor seal in an icy green sea."
Favorite image:
Contributing photographer David Yellen's portait of chainsaw artist Ray Murphy from our Acadia 100 issue. Murphy's face is all deep creases, his hair and beard is blowing in unkempt wisps, and then there's this stark line of the saw down the middle of his face, playfully (and a little startlingly for someone who ain't so handy with a chainsaw) touching the tip of his nose.
---

Ben Williamson, Director of Photography
Favorite story:
Greg M. Peters' "Go Deep." A story about a culture I kind of fantasize about, as someone who used to have time for adventures like this — not so much since I got a steady job and got married. Jamie Walter's fantastic photos really rounded it out.
Story I wish we'd have run:
Nicolas Gervin's stunning photo feature "Portland at Night" in the August issue of Dispatch pretty much stopped me in my tracks.
Favorite image:
Adam Woodworth's nighttime winter shot of Anemone Cave in our Acadia 100 issue is a hauntingly beautiful vision of a world that few people will ever see.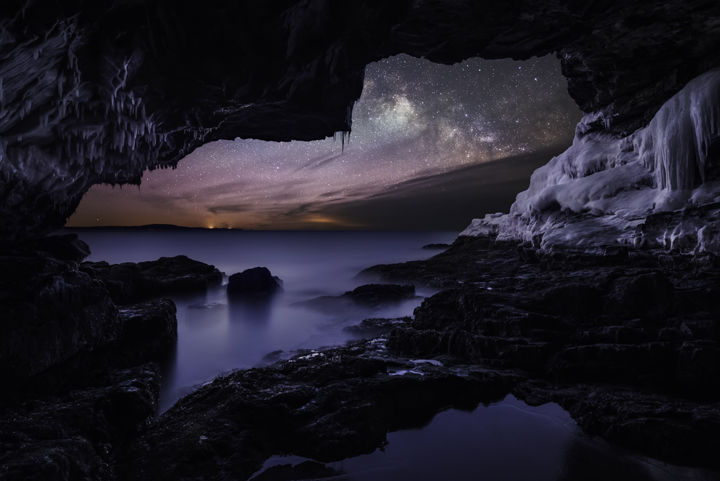 ---
Brian Kevin, Managing Editor
Favorite story:
My vote actually goes to the video "story" that the Little Outdoor Giants, Dom Casserly and Jarrod McCabe, put together for our package on the new Katahdin Woods & Waters National Monument. After a decade of bickering about this land, it felt great to be the first media outlet in the country to offer a stirring, nature-porn look at the new monument — on the same day it was designated.
Story I wish we'd have run:
One of the more poignant things I read this year was this New York Times story about a pair of Houlton natives who left Aroostook County for New York City, only to suffer a devastating loss. It was creatively reported, with a narrative pieced together from social media, and utterly heartbreaking.
Favorite photo:
Like there's even any contest: Contributing photographer Michael D. Wilson's masterful shot of this fellow holding a pitchfork full of cow dung. It's amazing how a single frame can capture such a raging sea of pride, determination, and ambition behind the eyes of one very attractive man. I expect we'll be hearing from the Pulitzer committee.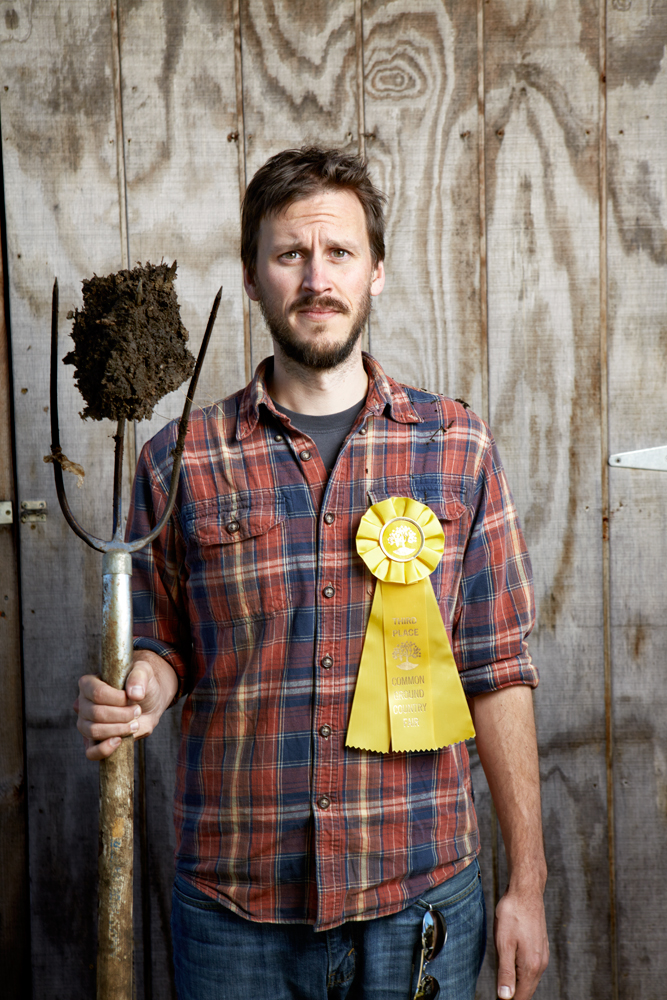 ---
Virginia M. Wright, Senior Editor
Favorite story:
Jesse Ellison's "We Need More Mainers Like Zam Zam Mohamud." Published during a wave of heightened anti-immigrant attitudes, the story breaks down stereotypes by introducing us to Zam Zam, a Somali refugee bridging the divide between cultures in Lewiston.
Favorite special project:
The Acadia 100 issue was a joy to produce and to read. Not only does it reflect my own passion for a place I know very well, but it delivers a fresh perspective through a creative mix of stories and gorgeous photos — it goes way beyond the usual travel and centennial features.
Story I wish we'd have run:
I was moved by Eric Russell's Portland Press Herald profile of Jamie Roux, who has opposed the Freeport flag ladies, the trio who have stood on a street corner and waved the American flag every Tuesday since 9/11. People accused Roux of being unpatriotic and of harassment; however, the piece gave us a deeper understanding of a young man whose father was on one of the planes that struck the World Trade Center.
Favorite images:
Ben Williamson and Christ Bennett's photos in our "Hidden Maine" feature inspired me to get out and explore some new (to me) places, like Great Pond Mountain in Orland (below).
---
Kathleen Fleury, Editor in Chief
Favorite story:
Jesse Ellison's "Safe at Last." It's our job to shine light on both Maine's good and bad characteristics. This story brought to life not just the scourge of domestic violence in the state, but also what Mainers are doing to help. I'm proud to have shared it.
Story I wish we'd have run:
Rachel Slade's story about the sinking of the El Faro in Yankee was a great piece about a tragedy that touched so many Maine lives.
Favorite photos:
I loved our photo shoot of a clambake on the beach with photographer Michael Piazza and stylist Catrine Kelty. My family tradition of hosting clambakes has shaped summer celebrations for my whole life, so it was great to see it captured on the page. Plus we got to spend a very long day at Popham Beach.
---
From all of us at Down East, wishing you all the best in 2017!