Hard cider is part of Maine's heritage, and a new Belfast bar is betting on its renewed a-peel.
By Willy Blackmore
Photography by Erin Little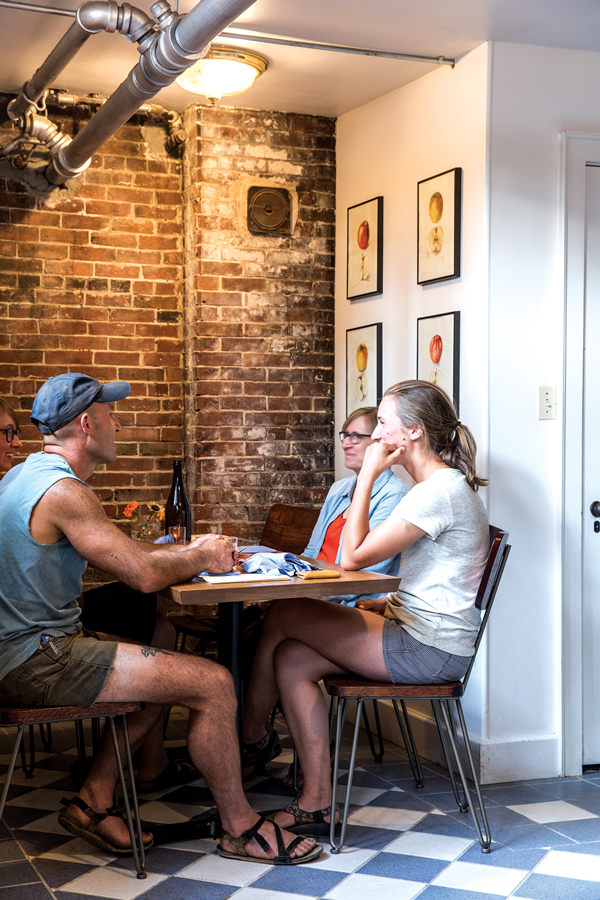 Five years ago, Maine's hard cider revival was in its infancy. Today, the state (and the Northeast) boasts such an abundance and range of ciders that a new Belfast bar pours almost nothing but. As far as owners Khris and Lizzie Hogg know, the rathskeller they opened this spring, Perennial Cider Bar + Farm Kitchen, was New England's first contemporary cider bar — and its only, until Portland's Cider House opened in August. Their menu of draughts, bottles, and flights includes ciders made with foraged apples, aperitif ciders, barrel-aged ciders, and more.
In 2016, the couple was living in Washington State and looking to move someplace with cheap farmland. When they spotted a listing for a 28-acre homestead in Swanville, they bought the place without ever visiting. After moving to what the Hoggs have dubbed Sight Unseen Farm, Khris attended the Maine Organic Farmers and Gardeners Association's annual Apple Camp, a woodsy summit of orchardists and apple enthusiasts tasting ciders, swapping directions to forgotten orchards, and trading tips about fungal duff.
He was hooked. So this past April, Khris and Lizzie opened Perennial in a cozy cellar on Belfast's Main Street. One wall is rough-hewn granite slabs with crannies that the Hoggs fill with votive candles. On another hang naturalistic prints of apple varieties, each shown whole and then cross-sectioned. A copper-top bar fills most of the room.
From behind that bar, the Hoggs dispense some two dozen ciders and, if you're up for it, an almost evangelical dose of cider education. From Portersfield Cider, in Pownal, comes a knockout Original Dry with seedling apples. Fruit trees are usually grown from grafted stems, not seeds, the Hoggs will tell you, to prevent genetic variation and propagate established varietals. Seedling apples, by contrast, often aren't great for eating but can produce yummy, complex ciders. Bent Bough Cider, in Newburgh, uses foraged apples, found easily in Maine, to produce a tannic, red-winey cider. High Ridge Farm, in Montville, makes a cider that's unfiltered and still — that is, not effervescent, so no bubbles get in the way of the bright and melony taste of the fruit.
84 Main St., Belfast. 207-808-1083.
Price Range
8-ounce ciders $5–$9; snacks $4–$12.
Shots, Shots, Shots!
No, not apple brandy. Instead, a non-alcoholic shot of cider vinegar (in water, to cut the kick) from Lincolnville's Sewall Orchard, the oldest organic orchard in Maine.
Production Notes
Several Maine cider makers let wild yeasts spontaneously ferment their ciders, creating flavors entirely of here — wine drinkers might call it terroir.
For food, the Hoggs offer pintxos, open-face toasts in the style of Spain's Basque country, where cider has been a specialty for centuries, plus other snacky bites that change with the seasons. In April, they made pistou with wild greens and onion seedlings from their farm. In August, they foraged daylily petals for a tomato salad with smoked eggplant and radicchio.
Of course, not everything's local. Ciders from away include one from French cider maker Eric Bordelet — an old master, Khris says — another from New Hampshire's Farnum Hill, and another from Vermont's Eden Specialty Ciders. The goal is to offer a wide view of the cider world. Still, a plurality of what the Hoggs pour is pressed within a few hours of the bar.
"The way that the list is proportioned reflects a view of where the activity is happening in traditional cider," Khris explains. Translation: for fans of hard cider, Maine is at the core of the scene.
---