By Jennifer Van Allen
When Brandon Brichetto walked through the gates of Camp Susan Curtis as a shy 10-year-old, he desperately needed a refuge, a place where he didn't have to worry about his parents' fights, the empty fridge, the shutoff notices from the power company, his string of school absences, or the sense of isolation he felt.
"I secluded myself because I didn't want anyone to get close or know what I had to deal with on a daily basis," Brichetto recalls.
Camp provided that refuge. During his two-week stay, Brichetto felt a sense of safety, acceptance, and connection that he didn't have at home, and he had opportunities to do things like swim, climb, and play outside that he'd been missing out on.
"At camp I finally got to be a kid, to relax and actually have fun," the now-25-year-old says. "And by being able to relax I was able to build essential life skills that have greatly benefited me to this day."
Brichetto is one of more than 18,000 Maine kids from disadvantaged backgrounds who have attended Camp Susan Curtis since it opened in 1974. The camp is a program of the Susan L. Curtis Foundation, a nonprofit setup in 1971 for the purpose of helping Maine's most vulnerable youths overcome the impacts of poverty. Named for the daughter of former Maine governor Kenneth Curtis, who died of cystic fibrosis at 11, the camp is offered at no cost to campers, thanks to support from individuals, businesses, foundations, and community organizations.
It costs about $1,300 to welcome each camper for two-week sessions. The Foundation gets support from a slew of volunteers — doing everything from helping with preseason cleanup to filling backpacks with daily necessities — as well as in-kind donations. Portland's Pulp+Wire agency, for instance, donates marketing services and materials, and Westbrook's Pratt-Abbott donates laundry services to the camp for the season. Because all campers qualify for free or reduced lunch benefits, the USDA reimburses the camp for the cost of providing meals.
Each year, the camp hosts 500 kids and teens on its 100-acre site in the western Maine town of Stoneham, all referred by school guidance counselors or social workers. More than half report having experienced some kind of trauma or what specialists call an "adverse childhood experience" — such as witnessing violence or having a family member who has been incarcerated or struggled with mental illness or substance abuse. Campers can return as many years as they like, and three out of four of them do, moving from the traditional kids' camp, for third- to seventh-graders, to the middle-school "bridge programs" and from there on to the leadership development programs, which help high-schoolers prepare for college and careers.
Much of the programming, camp director Terri Mulks says, is geared toward helping kids develop practical life skills, like how to cope with conflicts, deal with disappointments, solve problems, and trust their peers — whether that means working with a team to traverse a 12-foot wall on a ropes course or agreeing to be led blindfolded on a walk by a fellow camper. But a lot of the rewards simply arise from the conventional camp experience — spending two weeks in a cabin, learning how to make friends, try new activities, respect privacy, resolve conflicts, and negotiate differences and similarities with peers.
And the benefits don't end when the camp session does, as Camp Susan Curtis partners with various nonprofits to help keep kids healthy year-round. Hygienists from Tooth Fairies International visit during the camp session, providing basic dental services to campers who choose to participate. Before campers head home, Good Shepherd Food Bank volunteers bring groceries and recipes that campers and their families can take home.
By the end of each session, Mulks says, "You see these amazing transformations. Everyone is hugging and laughing and singing with friends they'll hold on to for life. The campers don't necessarily realize that they have developed confidence and built critical skills that will help them back at home, at school, and in their communities."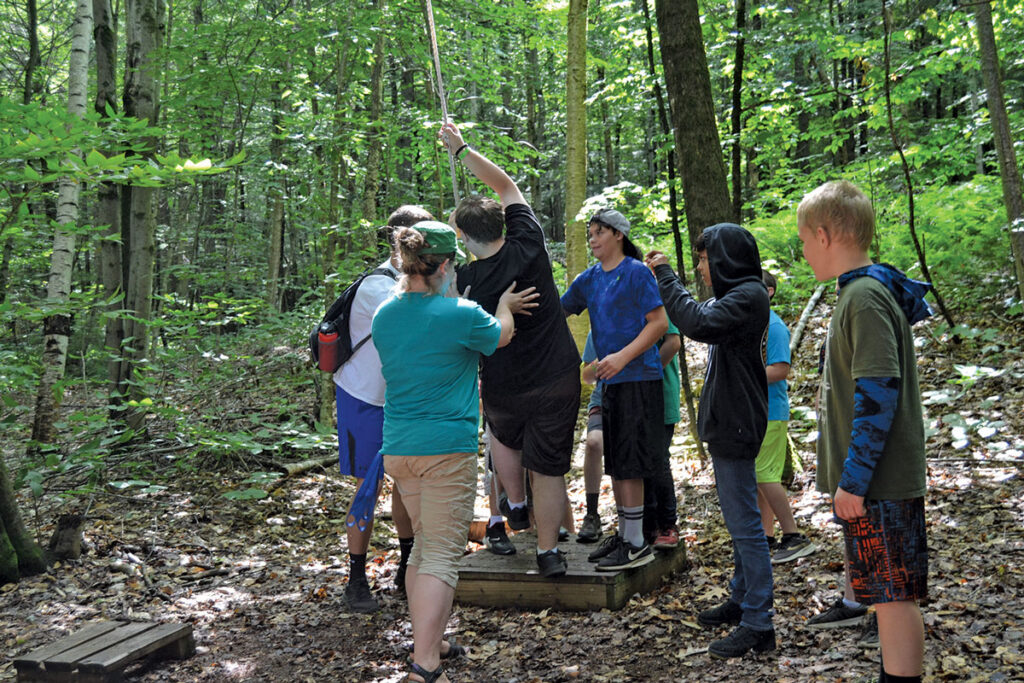 That was the case for Julia McClure, of Waldoboro, who began attending Camp Susan Curtis when she was entering the third grade and returned every summer until she graduated from college. Learning how to shoot a bow and arrow, paddle a canoe, act in the camp musical, and endure a multi-day camping trip through a thunderstorm instilled a confidence that she says lasted long after the summer was over.
"Solving problems and navigating scary elements showed me that I can do a lot more than I thought," she says.
Being surrounded by kids from similar backgrounds buoyed her, and the lessons stuck with her later in life, when she was surrounded by people with more financial means.
"To have an environment where [any lack] you feel is totally normal helps you understand that you don't need those things in order to be successful," the 25-year-old McClure says. "Because of my experience at camp, I didn't measure my worth based on my economic status."
After high school, McClure went on to college. After graduation, she taught in the South Bronx through the AmeriCorps National Service Program, then worked for the I Have a Dream Foundation, which provides social, emotional, and academic support to kids from low-income communities. Now, she's applying to law school and hoping to work in public policy one day.
"I don't know that I could have accomplished nearly what I have if I didn't have that camp experience," says McClure, who returns to camp each summer to work and volunteer. "It made such a huge impact on my life."
For Brichetto, camp was also where he first started thinking about the future. After a summer as a counselor-in-training, when he was 16, Brichetto decided he wanted to spend his life helping people, and he started firefighter training when he got home. After high school, he earned his associate's and bachelor's degrees. Today, he's a paramedic and firefighter in Westbrook, and he works as Camp Susan Curtis's operations director. He plans to pursue a master's degree in adventure education, and he hopes one day to start a program of his own for at-risk youth.
In retrospect, Brichetto sees how easily his path from such a hard home life could have spiraled into poverty, addiction, or worse. He attributes his success to the support he got at camp, the relationships he forged there, and the confidence he gained.
"Camp gave me a family, a feeling of home, essential life skills I needed, plus amazing role models to look up to," he says. "It really is a magical place."