By Michaela Cavallaro
Photographs by Nicole Wolf
L]ately, chef Devin Finigan has had to play interior designer. After running her restaurant, Aragosta, on Stonington's Main Street for six years, Finigan and her husband, Luke Hartmann, bought the former Goose Cove Lodge on Deer Isle, along with its restaurant. Remodeling the waterfront property at the end of a winding dirt road has been the couple's major task ever since. "This property is epic," Finigan says, "but it was so neglected." She and Hartmann ripped up carpet, knocked down walls, and set about rebuilding the place as their own. On a recent visit, my 13-year-old daughter admired their handiwork: whitewashed ceiling, blond wood floors, tabletop tea light nestled in a bed of moss. "The aesthetic of this place is, like, room goals," she said. (Translation: "I would like very much to redecorate my bedroom in this style.")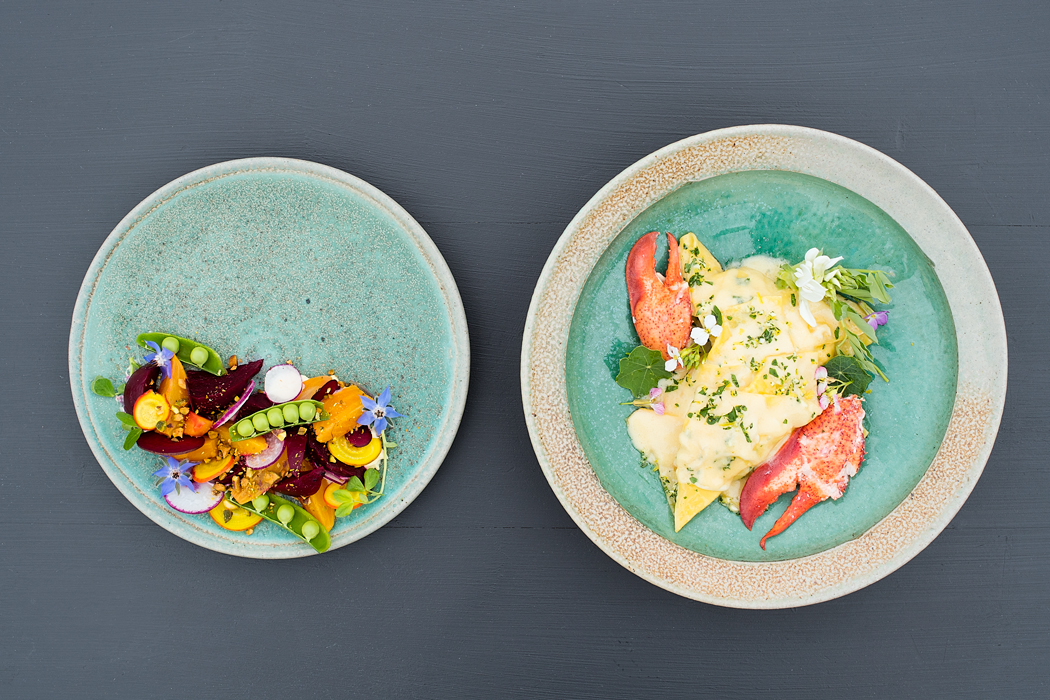 What Finigan didn't need to rebuild was her intensely local approach to food. Names of farms and places punctuate the menu. When we visited, the meal started with an amuse bouche, a ceviche of Deer Isle scallops with a tangle of pickled vegetables and a rich puff of herb-and-cheese-laced dough. A summer salad, an afterthought on many menus, burst with color and texture: crispy fried shallots complemented crumbles of creamy chèvre and bites of yellow tomato, all atop mesclun from Searsmont's Fine Line Farm and dressed in a vinaigrette. Even the salt on the table was local — Finigan's staff boils it down from seawater.
"Maine is getting too fancy for me," grumbled a woman at the next table, who hadn't yet ordered. Maybe she thought the table setting was precious — a rustic linen napkin folded on handmade turquoise pottery plates, topped with a thumb's length of soft evergreen branches and delicate yellow flowers neatly tied with twine. But a server soon brought her a rhubarb whiskey sour, which seemed to endear her to her surroundings. The rhubarb came from Finigan's own garden.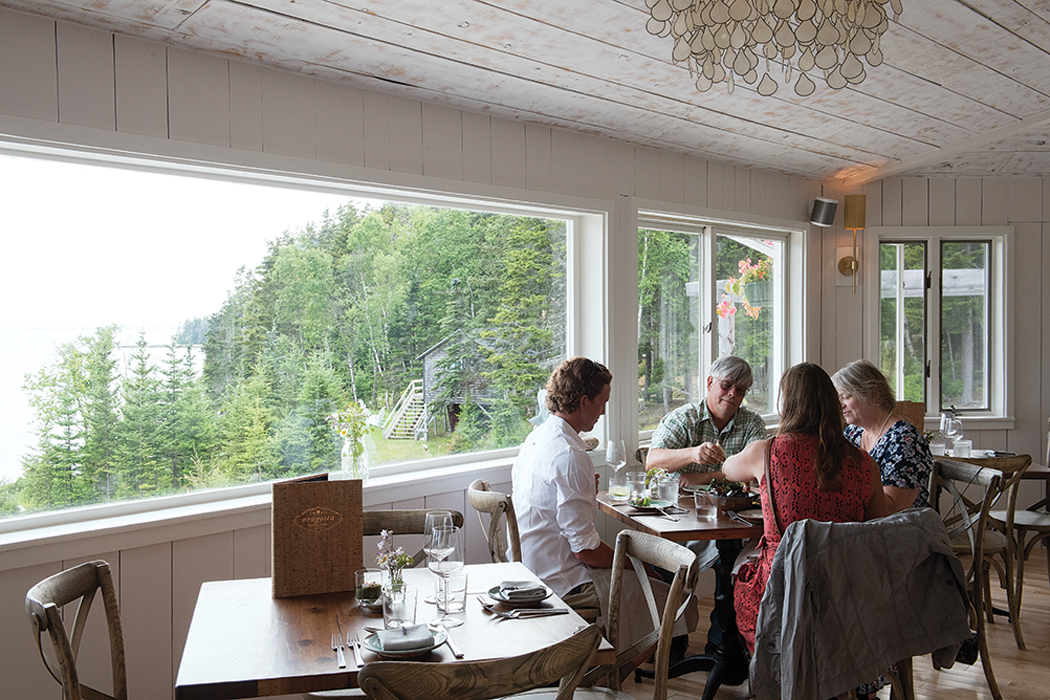 Ocean views abound on the deck and in the dining room; A bombe of peanut-butter mousse glazed in chocolate; Dishwasher Brienna Limeburner harvests the seaweed that half-shell oysters are served on.
I ordered a summer negroni — gin, Cocchi Americano, and white vermouth, garnished with dried orange and chilled with a large ice cube in which a violet from Brooksville's Four Seasons Farm was frozen. Wines at Aragosta come mostly from the West Coast and from Europe, with bottle prices ranging from $30 to $300, and four drafts feature a cast of Maine brewery standbys like Rising Tide, Oxbow, and Maine Beer Company.
300 Goose Cove Rd., Deer Isle. 207-348-6900.
Price Range
Starters $10–$14,
entrées $25–$39.
Stay
For destination diners who don't want to trek home on a full belly, Aragosta has four ocean-view suites adjacent to the restaurant, plus seven cottages scattered around the property.
Brunch
Served Saturday and Sunday, the brunch includes classic bennies on house-made English muffins, crab crepes with lemon and mascarpone, and buttermilk pancakes with honeycomb and blueberry compote.
An appetizer of mushroom dashi was so flavorful, my vegetarian daughter panicked, thinking she'd unknowingly eaten bacon. Chewy bits floating in the broth were actually small cubes of pressed, dried, and fried tofu. Lobster predictably starred in Finigan's signature dish — aragosta is Italian for lobster. She stuffs the sweet, rich meat into casconcelli, a ravioli-like pasta, then drizzles on a butter-and-wine sauce and mounds a small pile of local greens and edible flowers alongside.
For dessert, the chocolate bombe came with house-made caramel ice cream, with droplets of salted caramel dotting the plate. A honey-and-spruce-tip panna cotta contained flecks of needles that provided a bright, piney counterpoint to the cold, creamy custard.
Deer Isle has a seasonal dining scene, and Aragosta closes from November to April. Finigan often spends winters interning in other chefs' kitchens, including Thomas Keller's renowned Per Se, in New York. Last winter, she left the Goose Cove renovations in Hartmann's hands to work three weeks at SingleThread Farms, a California restaurant that holds three Michelin stars. Inspired by the restaurant's wood-burning hearth, Finigan now fires most of Aragosta's proteins over coals from local fruit-tree wood.
So her new place is fancy, yes.
It's also a place where you can have a low-key meal with your teenage daughter, where growers and harvesters from around the Deer Isle area can showcase products, and where Finigan spins those products into some simply delicious meals.