By Brian Kevin

Before moving to Maine with her husband and young sons in 1990, Tess Gerritsen was a practicing internist in Honolulu with a pair of Harlequin romance novels under her belt. She left Hawaii when island life started feeling claustrophobic and, simultaneously, left medicine to lean in on writing and parenthood. In the 29 years since, she's knocked out 26 more books, many of them bestsellers: romantic suspense tales, medical thrillers, and the Rizzoli & Isles series of gritty procedurals (which inspired an eponymous, seven-season cable drama). The Shape of Night (Oct. 1, Ballantine Books) is her first novel with a ghost in it — a Maine ship captain whose, um, assertively amorous advances enrapture the troubled, mystery-solving heroine renting his former home. Gerritsen's only other paranormal outing, also set in Maine, was her screenplay for last year's indie horror film Island Zero, directed by her son Josh Gerritsen. We asked her about genre-hopping and the enigmatic appeal of the Pine Tree State.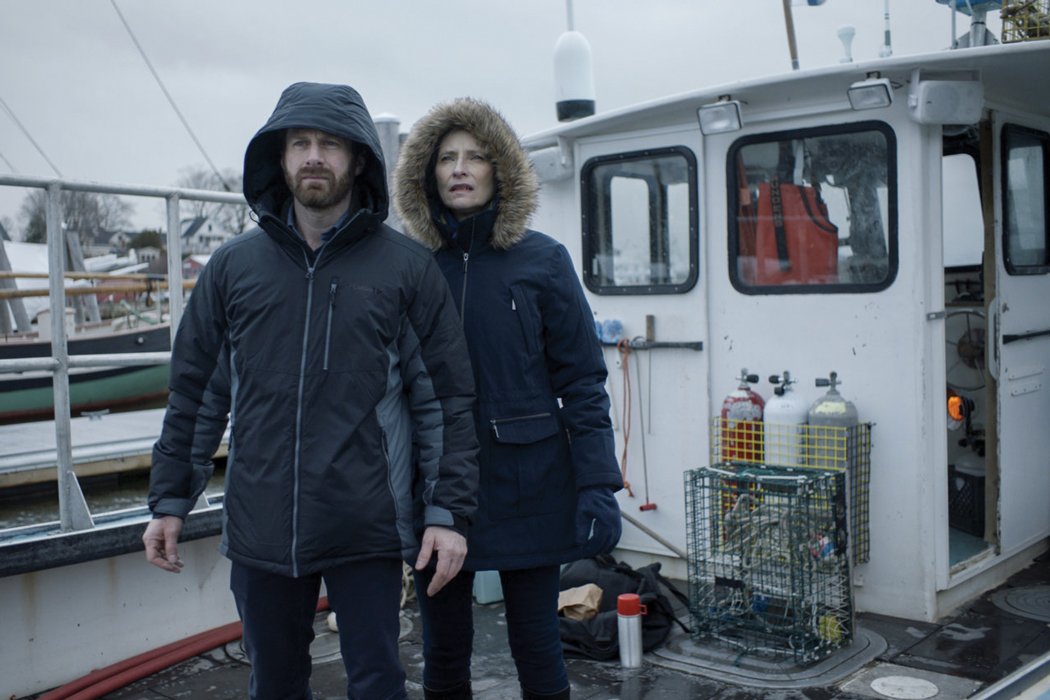 A still from Gerritsen's 2018 horror film Island Zero, about a Maine lobstering island stalked by a sinister creature.
Why trade Hawaii for Maine?
We'd vacationed in Camden one summer — it had a great library and three bookstores at the time, and of course, it's beautiful. Every city I've lived in has been on the water. You grow up near a body of water, it becomes something you need. I'm not a big sailor, but I need to know there's that water escape. It's an emotional thing.
Sexy ghost story is a departure for you. Was it hard writing the supernatural?
It was very strange, because I don't believe in ghosts or the paranormal. I always want to give myself an escape hatch to a logical explanation: The protagonist has cat-scratch fever and some kind of brain disorder from her cat. She drinks a lot and has these really vivid dreams. So this book was challenging, because I wasn't sure whether I believed in it or not myself. The other thing that made it difficult was the sexual content, because even when I was writing romantic suspense, I was never very explicit.
There's definitely something in here for, say, Fifty Shades of Grey fans, which is maybe not your usual audience.
It's funny, romance readers read everything; they'll go across all genres. Suspense readers, a lot of them turn up their noses at romance. So I know that will be an issue for some, but I also hope some people look at it and go, okay, this isn't about sex, it's about the power of shame. What's driving this woman to seek punishment? She's atoning for something, something really heartbreaking.
Why is Maine so frequently a setting for characters in exile or seeking redemption?
We have this mystique of being beautiful and isolated and maybe dangerous. That one's fake — we're like the least dangerous state in the country, but somehow people feel like we're in a dangerous wilderness. Darkness and danger, isolation and beauty — it's a place for leaving behind what you did or what's threatening you.
I also have to admit I was inspired by The Ghost & Mrs. Muir, an old black-and-white movie, later made into a television series, about a widow who moves into a sea captain's house and falls in love with his ghost. There's something very sexy about a sea captain! And we have a lot of sea captains' houses in Maine. I suppose you could go down to New Hampshire, but somehow it's not the same.
Gerritsen teamed up with her son, Josh Gerritsen, to make mini-documentaries about Maine's haunted places.
Maine just better accommodates an eerie tale?
Again, it's that mystique, plus you have to credit Stephen King for establishing this as a scary place. My son and I are working on another set-in-Maine horror film, about the idea of what it's like to come in as an outsider to a very closed community. And we thought we would up the stakes a little by focusing on an African-American family. You know, when I first came to Maine, I think I was probably the only Asian in town, and there's that sense of, I want to belong, but I'm not sure I'm accepted — that sense of discomfort. So there's this theme of being the outsider in a town that's just about to explode in violence, and everybody's thinking, is it the outsider, or is it us?
Plenty of your books are set elsewhere, though. Is it easier or harder to tell a story set in your backyard?
I like writing about home, because I feel like I have a sense of it. The only reason I set Rizzoli & Isles in Boston is because we don't have the crime rate here — I couldn't be realistic about having a large homicide unit and serial killers. Although one Maine state detective told me, "Oh, we've had serial killers in Maine! But they usually come from away."