Van Lloyd's Bistro
185 Parking Lot Ln., Damariscotta
207-563-5005
By Brian Kevin
Photographed by Kari Herer
[D]amariscotta is a weird place, which I can say because I live there. In October, we put motors on giant, hollow pumpkins, climb inside them, and race them around the harbor. We hold classical music concerts in a barn. We have great pubs downtown (including on the Newcastle side of the Damariscotta River), but the whole strip is a ghost town come 10 p.m. on a Saturday night. And on our very best piece of real estate — behind Main Street, looking out over our wide, tidal river — sits a giant parking lot.
Facing that lot, overlooking the asphalt and the river beyond, Van Lloyd's Bistro is the delightfully weird restaurant that Damariscotta deserves. Its façade is a ripe-banana yellow with white trim and latticework that make it look like a mildly funky suburban home. Inside, it gets weirder, but it's a cool, stylized weird, a vintage-rustic mash-up that finds a tiny bar framed by art-deco-ish arches, church pews pulled up to scuffed farmhouse tables, Victrola-horn lampshades dangling from the ceiling, and a bevy of odd flourishes — mounted cow skull here, Gatsby-era Underwood typewriter there.
---
If the dominant design motif in new Portland restaurants is hipster-farmer, Van Lloyd's is going for something like flapper-farmer. The 30-seat dining room owes its vibe to a few salvage shop scores and to the set-design backgrounds of 25-year-old August and 32-year-old Torie DeLisle, who opened Van Lloyd's in June of 2014, together with August's 65-year-old father, Bernie DeLisle. The newlywed duo met in the Portland theater scene before relocating to August's hometown.
"We find and collect beautiful things and present them in unexpected ways," says Torie. In fact, they almost named the place Curio. But her description applies to more than the décor, as the Van Lloyd's menu is staunchly, almost perplexingly eclectic. The three DeLisles staff the kitchen themselves, six nights a week, and owe no allegiance to any one cuisine. The menu, updated weekly, is as likely to feature an Allagash-emulsified Belgian sausage as a Welsh rarebit or an Asian noodle dish. Indeed, you might find these side by side. Menu planning is governed by two (seemingly contradictory) principles. One is chalked above the kitchen entryway: "Keep it simple." The other is printed on the menus: "If we haven't Smoked it, Cured it, Brined it, Pickled it, Cooked it or Baked it Ourselves, we Don't Serve it. Demand REAL Food."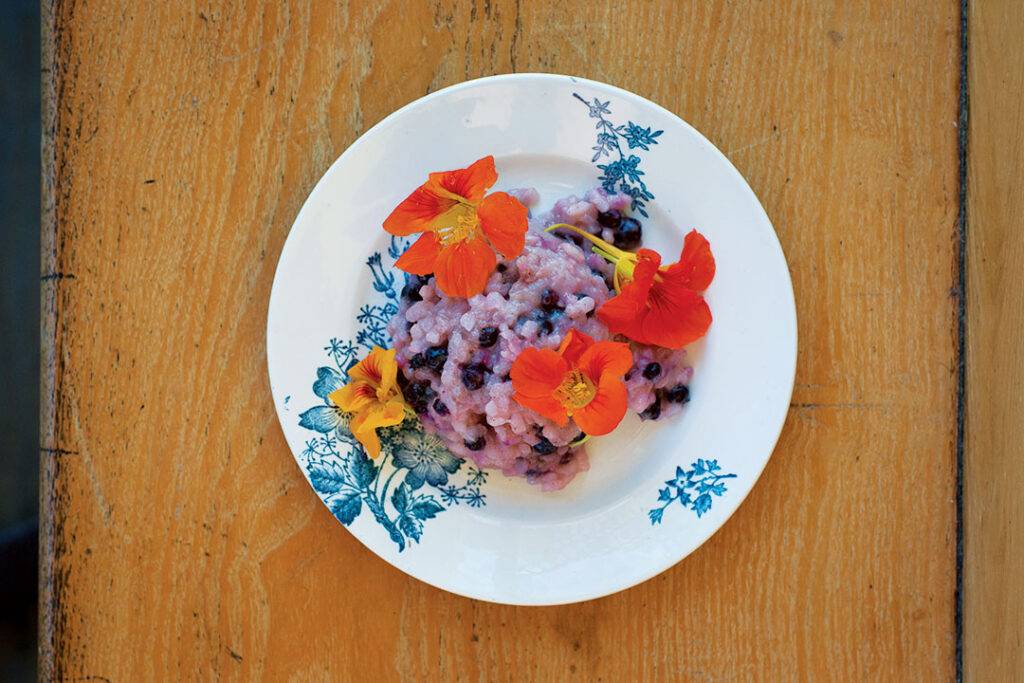 I demanded REAL food at Van Lloyd's one recent Wednesday evening, wife and baby in tow. (The night before, we found a 45-minute wait, impressive for a Tuesday, the room's small size notwithstanding.) I ordered a Bartender's Handshake from the "Classics" side of the cocktail menu, a sweet and potent mix of the Italian licorice liqueur Fernet-Branca with rye syrup and blood-orange reduction — both made by August, who bartended in Portland when he wasn't designing sets. August also hand-cuts the ice cubes (no joke) and concocted the Dr. Livingstone that my wife ordered from the "Originals" menu, a dangerously quaffable gin and tonic using gin infused with Earl Grey tea.
"I figured, Earl Grey is English, and gin is English," August later explained. "Let's give this a shot."
That mentality — let's give this a shot! — manifested in the parade of plates that followed. The sausage bread starter was a flavor bomb: house-made bread with baked-in cheddar and house-cured pork sausage. It's a nice distillation of the Van Lloyd's ethos — from scratch, without pretension — and it reminded me of a slightly sophisticated version of something I would eat drunk in college.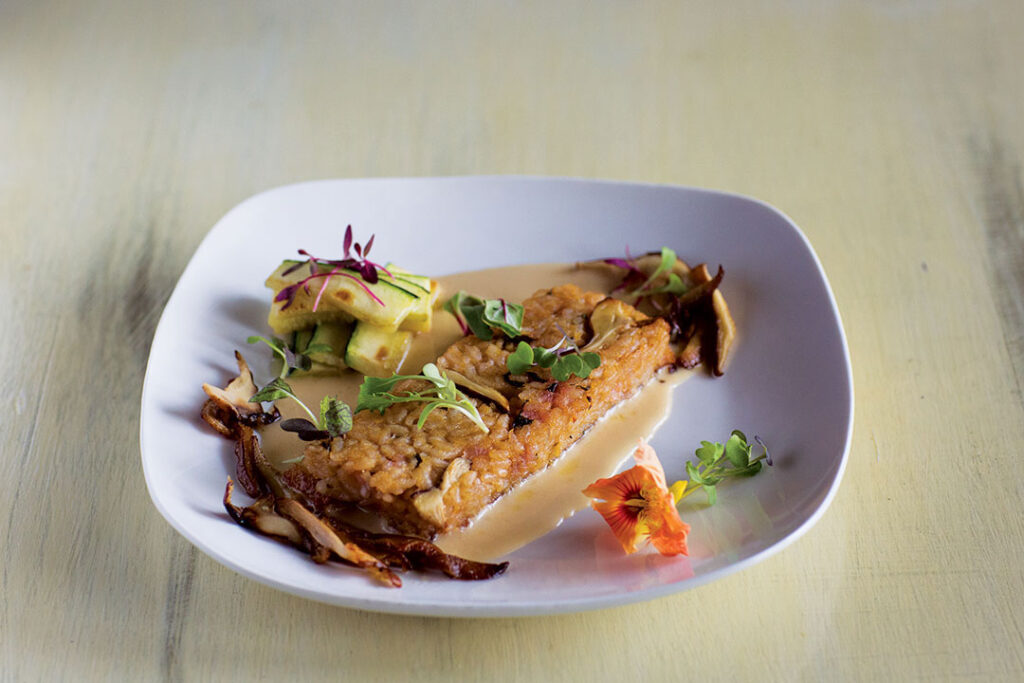 My summer lamb entrée was served in a refreshingly vinegary cabernet reduction, offset by the earthiness of kale and shiitake mushrooms (the former from Newcastle's Morning Dew Farm, the latter from Damariscotta's Oyster Creek Mushroom Company — local and seasonal ingredients being at the heart of the REAL food mantra). My wife's scallops showed the kitchen's adventuresome streak. Perfectly seared with lemon and thyme, they were a hit around town last summer, served simply, over spaghetti squash.
"But being that we have short attention spans, we're like, okay, what can we do with it?" said Bernie, whose 35 years in the restaurant biz included a stint managing the Waterfront in Camden. "We don't subscribe to the Big Three: starch, vegetable, protein."
So in this year's version, the scallops lie on a bed of blood-red dulse seaweed and wood ear mushrooms, next to a salad of wakame seaweed and thyme foam. It's intended as a sort of still life of ocean flavors, and the crisp and salty dulse nicely complements the tender scallops.
The front-of-the-house staff, none of whom look a day over 30, shares serving, busing, and bartending duties. Our server answered menu questions with aplomb, brought a shot of Fernet-Branca when I admitted not knowing what it was, and was quite cool about it when my son threw a water glass off the front porch.
Torie's desserts are an extension of the DIY mindset and penchant for offbeat preparation. The week's éclair filling was chocolate pastry cream, whipped cream, and crumbled chocolate-espresso cookie (a nod, Torie said, to the classic twist cone). It was surprisingly light and not overly sweet. My son all but inhaled a dish of blueberry rice pudding, along with the nasturtium flowers sprinkled on top. Espresso and coffee came courtesy of Portland's Tandem and Deer Isle's 44 North roasters, respectively.
And who, you may be wondering, is Van Lloyd? Long story, but basically he's a made-up character who serves as the restaurant's spirit animal, a globetrotting bon vivant whose name combines Torie's maiden name and August's middle name. Among the restaurant's scattered artifacts are a few that Van Lloyd allegedly brought back from his travels. Why give your restaurant a fictional mascot? It's the same reason the plucky crew is currently aging their own hot sauce in oak barrels and pressing apples to make cider they're not even sure how they'll use. August sums it up with a shrug: "Because we can." They're just weird like that.
[button content="See More Maine Food" color="black" text="white" url="https://downeast.com/category/food/" openin="_self"]
---