Welcome the autumn with a Maine comfort-food classic.
By Annemarie Ahearn
[dropcap letter="O"]ctober is bittersweet. The forest is wearing a magnificent display of color, but soon the branches will be bare, the fields will turn a flatter tone of green, and smoke will billow out of chimneys. There's no better way to embrace the change in seasons than with a pot of fish chowder simmering on the stove — a bit of uncured bacon, a combination of smoked and fresh haddock, some aromatics, and a good pour of heavy cream, and suddenly autumn feels like a warm embrace.
RECIPE
Fresh and Smoked Haddock Chowder
Serves 4
[columns_row width="half"] [column]
3 strips uncured bacon
1 yellow onion, diced
2 leeks, greens removed, cut in half
lengthwise and then across into
thin semi-circles
3 stalks celery, cut thinly,
leaves reserved for garnish
½ tablespoon all-purpose flour
½ pound finnan haddie
(it's usually sold frozen)
½ pound fresh haddock,
cut into bite-size pieces
[/column] [column]
3 cups fish stock
1 cup reserved finann haddie
cooking water
2 small waxy potatoes,
unpeeled and diced
kosher salt
1 bay leaf
½ cup heavy cream
6 sprigs flat-leaf parsley, leaves
picked from stems, cleaned
and chopped roughly
[/column] [/columns_row]
In a large frying pan, cover the finnan haddie with water and bring to a simmer. Allow to cook for 15 minutes or until the fish has softened. Remove each fillet with a slotted spoon and allow to cool on a plate. Reserve 1 cup of cooking liquid. Once the fish has cooled, flake the fillets into small pieces and reserve.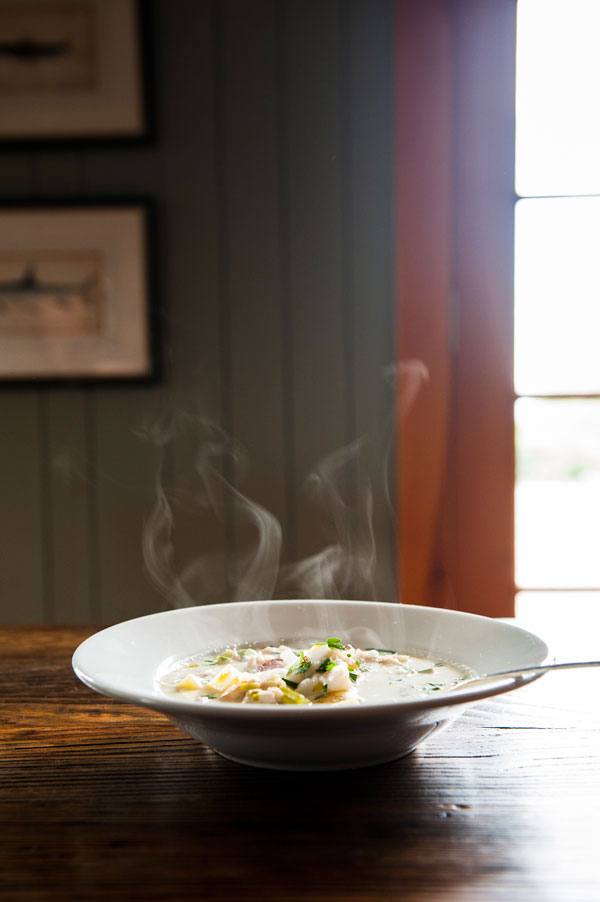 Cut bacon into ½-inch strips and cook over medium heat in a large soup pot. Move around once the fat begins to render to prevent sticking. Stir every couple of minutes, until bacon begins to crisp up and the fat is rendered. Add the onions, leeks, and celery and a ½ teaspoon of salt and cover. Cook until onions are translucent and vegetables have softened. Add a couple tablespoons of flour and the potatoes and give a good stir, coating all of the vegetables. Add 3 cups fish stock and the finnan haddie broth. Add bay leaf and turn up the heat until liquid begins to boil. Turn down to medium and let cook for 10 minutes or until the potatoes begin to soften. Add the finan haddie and cream and let the mixture warm up about five minutes, never letting it boil. Add the fresh fish and cook for 5 minutes more. Add a couple cold nubs of butter and garnish with a sprinkle of parsley and celery leaves. Serve with crusty bread.
Photographed by Mark Fleming.