By Will Grunewald
Photographed by Greta Rybus
---
25 Alfred St., Biddeford. 207-710-2333.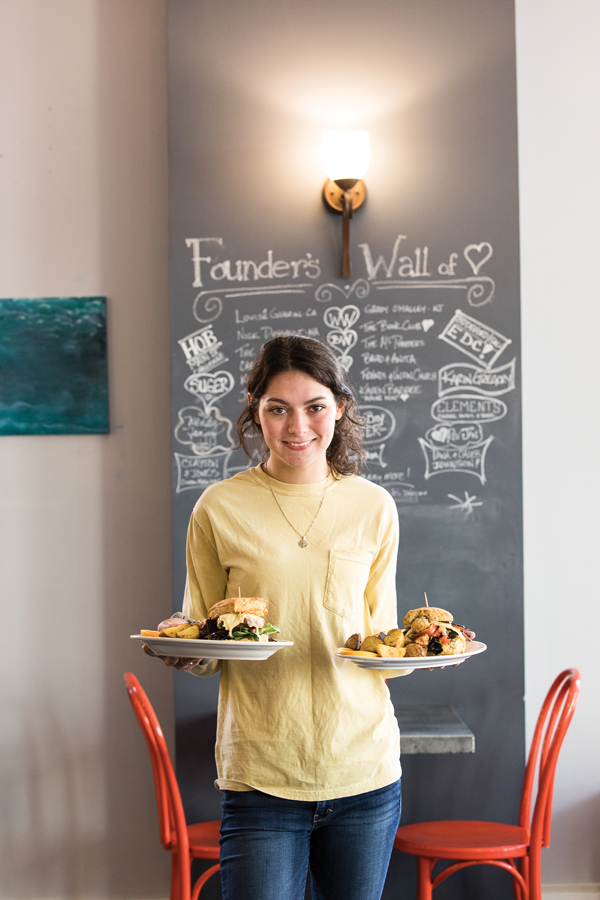 [dropcap letter="W"]hen she opened Biscuits & Company, Stacy Cooper wanted to convey just how much she loved biscuits. So she had a passage by former Gourmet magazine columnist Laurie Colwin painted high on a wall. "I have come to believe that anyone who walks into a kitchen should know how to make biscuits," it reads. "Biscuits are always wonderful. . . . There is nothing in this world as useful and delicious as a biscuit."
Cooper first encountered the mantra years ago, in a collection of Colwin's essays, and the culinary ethos resonated. "In the midst of Gourmet's fanciness," Cooper says, "Laurie Colwin was the one who said just to get in the kitchen with some good ingredients and have fun — relax, it's just food."
At Biscuits & Company, Cooper and her crew make biscuits by feel, gauging proportions of sweet cream and buttermilk according to variables like humidity, tweaking until the dough is just right. The resulting pastry holds contradictory qualities in improbable, harmonious balance: it's crunchy and soft, light and rich, moist and fluffy. "I have a long family history with biscuits," Cooper says. "My grandmother made biscuits. My mother made biscuits. It was part of the fabric of growing up."
When Cooper was 8, her family moved from Fredericton, New Brunswick, to Boston. They already had longstanding links to Maine: her grandmother used to visit Ocean Park, her parents honeymooned at Fortunes Rocks, and she spent childhood summers in Biddeford Pool. For most of her adult life, Cooper lived in Boston's South End, working as a corporate training consultant, but she and her wife visited Maine often. And over time, her Boston neighborhood started to feel a little too bougie.
"Biddeford reminded me of the old South End, when it was scruffy around the edges but had tons of potential," she says. "There was a whole lot of energy and creativity and neighborhood feeling, and I saw that again here. When we moved eight or nine years ago, it was really to be closer to that kind of life."
CLICK IMAGES TO EXPAND
---
Cooper settled in Arundel and continued her consulting work. Then, in 2013, a friend encouraged her to enter Biddeford's Main Street Challenge, a start-up funding competition for small businesses — like, say, a biscuit joint. The prize, which she won, included a $10,000 forgivable loan (contingent on staying open two years), plus $10,000 worth of services such as legal assistance and architectural work.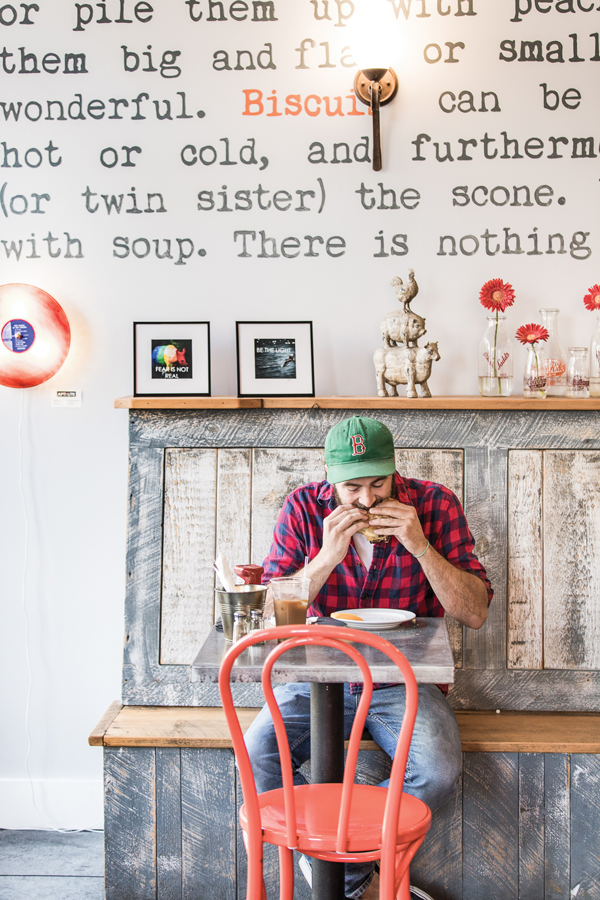 To help with other costs, she turned to the community, auctioning off catering services, taking bids for sandwich-naming rights ("the Dana," from local health coach Dana Johnson, has roasted tomato, avocado, goat cheese, pesto, and balsamic-glazed greens). A woman in California who grew up in Biddeford heard about the project from across the country and just mailed a check out of the blue. "I hesitate to use the word 'magical,'" Cooper says, "but there really is something magical about the way things came together. There've been all kinds of help and advice and support."
The space Cooper created has a farm-meets-city vibe. Benches and counters made of reclaimed wood (some sourced from the Pepperell Mill) live alongside orange metal bistro chairs and distressed-steel tabletops. The menu is scrawled on baking trays coated with chalkboard paint and hung from the ceiling.
For breakfast, the Big Biscuit Sandwich (with house-made sausage) is as delicious as it is aptly named — absolutely a fork-and-knife endeavor. All the usual breakfast sammie ingredients are finessed just so: The cheddar is smoked. The sausage patty, made with pork from Limerick's Wyndswept Farm, has a nice hit of aromatic fennel seed. The over-easy egg stays runny in the middle. Then there are bonus elements: roasted tomato, greens, and a vividly sweet-and-spicy red pepper relish. Home fries, oven roasted in oil, make a meltingly tender side.
For lunch, the slow-cooked pulled pork comes with a purple cabbage slaw for color and crunch, and the house-made pickles lend an acid balance. But the bottom biscuit is the best part, soaking up the extra Moxie barbecue sauce to become a sort of savory barbecue bread pudding. A simple salad of field greens, apples, goat cheese, and balsamic is a healthful counterpoint, and for a sweet and less-healthful finish, recently hired baker Andrew Applegate makes monkey bread — doughy, cinnamon-sugary decadence — as well as scones, muffins, brownies, and cookies.
Almost three years in, Cooper wants to keep expanding her repertoire. She and chef Erik Johannes, who came on in February, have started hosting Saturday suppers, with a rotating lineup of paella nights, steak nights, vegetarian nights, and more. They'll keep dinners going into winter as long as customers keep coming.
"It's really exciting to be part of this revitalization in Biddeford," Cooper says. "We've created kind of a center for the community. We get young people, old people, hipsters, police from the station around the corner — just everybody. And they all hang out and eat biscuits."