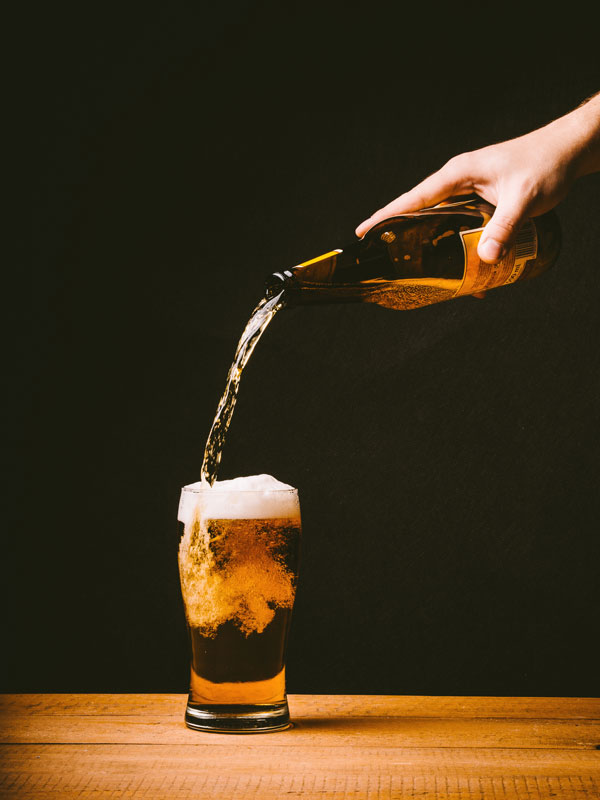 Maine's whirligig beer scene left D.L. Geary Brewing Company behind. Now, New England's oldest craft brewery is under new ownership, releasing new beers, and taking a new approach to brewing. Can it attract new drinkers?
By Carla Jean Lauter
---
[dropcap letter="L"]ast year, Alan and Robin Lapoint decided to buy a brewery. And not just any brewery, but Portland's D.L. Geary Brewing Company, the East Coast's oldest craft brewery and one of the trailblazers of U.S. craft beer. The Lapoints hadn't been in the market for a legacy Maine business, but Geary's taps were in danger of running dry. Even as the industry it pioneered was booming — with some 100 craft breweries statewide generating $150 million in revenue — Geary's had seen its production volume plummet. Longtime local favorites like Geary's Pale Ale and Geary's Hampshire Special Ale just weren't doing the numbers they did back in 2006, when Geary's production peaked at 20,000 barrels a year, according to data reported by the nonprofit Brewers Association. In 2016, that number had dwindled to just 6,200. The Lapoints stepped in with the threat of bankruptcy looming.
"It's such an iconic name and brand," Alan Lapoint says. "It would have been such an unfortunate way for it to all end."
Founder David "D.L." Geary was a fan of imported English beers back in the early '80s, at a time when the U.S. had fewer than a dozen microbreweries, nearly all of them on the West Coast. He was a regular at Three Dollar Deweys, an Old Port pub owned by his friend Alan Eames and one of the few places he could find an alternative to mainstream light American lagers. When Geary, a medical-supplies salesman, started toying with the notion of brewing his preferred beer styles, Eames introduced him to a pal in Scotland, a brewer who offered Geary a kind of internship crawl across several Scottish and English breweries.
When Geary came back, he and his wife, Karen, broke ground on a building in Portland's Riverton neighborhood, imported custom brewing gear, repurposed some farm equipment, and, in 1986, started production. Geary's used traditional English brewing methods, including open-air tanks for fermentation. Today's American breweries tend to use closed tanks, but the open fermentation style was the mainstream for European ale makers in the '80s, allowing the beer itself to produce a foamy top known as a krausen, which keeps oxygen and microbes out of the mix.
The open-air fermentation tanks that have long set Geary's apart are now part of the "heritage" side of the brewery.
The ales that resulted were unlike anything Mainers were accustomed to. Geary's Pale Ale, the brewery's flagship, poured the color of burnt gold and tasted like Grape-Nuts and flower petals, with a maltier backbone and more hoppy bitterness than anything in the cooler at Hannaford. Hampshire Special Ale, or HSA, was a seasonal strong ale, toasty and dark copper, brewed to warm up tipplers during long New England winters. The faux-woodcut lobster on the Geary's logo emphasized the beer's regional patrimony.
"I always looked for that lobster claw," remembers Don Littlefield, general manager of the Maine Brew Bus. "With HSA, there was just something of a mystique about it — they made it available 'only when the weather sucks,' as the ads said. And we always looked forward to it coming back. It was unique at the time."
[dropcap letter="W"]hen David Geary returned from his crash course abroad, he convinced one Englishman to come back with him, to help him set up shop. Alan Pugsley had worked for a brewery called the Ringwood Brewery and was proficient with both the equipment and the English-style yeasts that Geary adopted. After helping get Geary's off the ground, he went on to help establish other regional breweries (including Maine's Gritty McDuff's Brewing Company and
Sea Dog Brewing Company
), then opened his own,
Shipyard Brewing Company
, in 1994. Still other brewers (including the founders of Maine's
Liberal Cup
and
Sebago Brewing
) did turns at Geary's before hanging their own shingles. The combined influence of Geary and Pugsley helped establish mild, clean English ales as New England's signature craft-beer style for close to three decades. More recently, though, the market that Geary's helped establish has left the brand behind.
"Consumer preferences really changed towards the end of the first decade of the 2000s," says Maine Brewers' Guild director Sean Sullivan. "Some West Coast breweries started sending their hoppy, bitter IPAs to the East Coast, and Geary's malt-forward beers became a casualty of consumers' interest in what's new and novel."
Mike Dickson, manager of Portland's Great Lost Bear pub, points to the homegrown boom that's seen the number of Maine breweries triple in less than a decade. "I knew something was wrong when I started to see kegs at the brewery stacked up out back, not being filled," he says. "They were not the new and shiny product in this saturated market."
Last March, the Geary family sold the brewery to the Lapoints, who own the Auburn-based Strainrite Companies, a manufacturer of filtration products.
David Geary, now a Maine brewing icon at 73, told newspapers he was ready to step away and maybe focus on writing. Some in Maine's tight-knit brewing community were surprised by the new owners' lack of beer-industry cred, although Strainrite has long counted brewers among its clients, and the Lapoints have a track record of investing in struggling companies with an eye towards growth.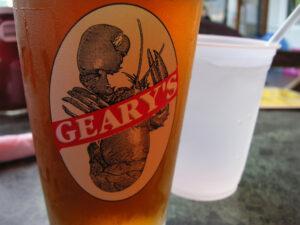 "We felt really strongly about preserving the history of Maine's craft beer, which has become such an important part of Maine's economy," Robin Lapoint says. "To have a company like Geary's go out of business at a time when the craft industry is feeding so many other industries in the state . . . we felt like that would send a terrible ripple throughout Maine."
The Lapoints' task is not an easy one: modernizing a brewery while maintaining its historical identity and earning back consumers who've cooled on the brand. A year in, arguably the biggest change has been to branch out from the stalwart English yeast, known as Ringwood yeast, that has characterized the flavor of a Geary's beer since day one. "Ringwood beers," as serious hopheads call the brews in which it's used, have a mildly fruity and sometimes buttery flavor that's divisive among beer nerds. Many post-Geary's New England breweries built their reputations on Ringwood beers, then went on to embrace other styles (Shipyard, Maine's largest brewery, is a prominent example). Geary's, meanwhile, clung to the tradition.
Now, the Geary's brewery is divided by a concrete wall into what the Lapoints call its "heritage" and "contemporary" sections: one side are the open-air tanks dating back to '86; on the other side is a shiny new pair of closed fermentation tanks and a brand new centrifuge. In the last year, Geary's has debuted a hazy, fruity IPA along with its first-ever lager, simply called OG Lager (that's "original gangster," if you're not up on your rap acronyms). This spring, the brewery plans to release a hefeweizen, a German style light years from its English roots. The lobster logo still prominently adorns the Pale Ale, but it's a just tiny inset on the new labels, which are done up in DayGlo colors and sci-fi fonts.
The Lapoints have also adopted an approach to staffing that's unusual in the brewing world. Rather than hiring and training specialists, Alan says, they're prioritizing employee versatility.
"When we re-staffed, we really focused on hiring people who wanted to be part of a team," he explains. "You might be a brewer one day, cellaring another day, and bottling the next. We're changing the mindset to be more like manufacturing, where people are cross-trained and know how to do multiple tasks." At the moment, Geary's has no head brewer; a team of four brewers work collaboratively on recipes under the management of Strainrite's longtime operations and engineering manager.
It's an approach that's raised eyebrows among Maine's brewerati; other staffing changes have made more waves. When the Lapoints laid off a pair of longtime employees upon taking over last March — a painful but necessary right-sizing, they say — a handful of Portland bars and restaurants pledged on social media to remove their Geary's taps in protest. A year later, the backlash has dwindled, although some bars — including Old Port mainstay Bull Feeney's — have yet to reinstate their Geary's draft lines. (Anecdotally, a recent and casually undertaken weekend quest to find HSA on draft in Portland was a wash.)
Still, Alan thinks Geary's has weathered most of the turmoil that naturally comes with turnover, and the brewery has been working to rekindle old, dormant draft accounts. "I do think now that the ship is definitely sailing in the right direction," he says. Geary's recently secured a new distributor in Massachusetts, and in January, the brewery invested in a new canning line. Feedback for the new beers on popular beer-rating sites and apps like Untappd has been largely positive. "I have never been a fan of any Geary's beer," reads one characteristic review of the new Riverside IPA. "Were it not for the tasting tonight, I wouldn't have tried it. Good, solid Maine IPA."
Dickson, of the Great Lost Bear, is cautiously optimistic for Geary's, despite estimating a 30 percent drop in his bar's sales of the brand over the past year. "I believe the reinvention, if you will, is a positive push in the right direction," he says. Then he turns wistful. "It would be a sad day if they closed their doors — the end of the original era of microbreweries in Maine."