Portland, Maine — A South Carolina novelist lost his storm-battered sailboat, but saved his marriage during a failed Atlantic crossing that ended in his rescue by students aboard a maritime college's training ship. Michael Hurley's 30-foot ketch, the Prodigal, was abandoned and left drifting 500 miles south of Newfoundland — about 2,000 miles short of his goal of Ireland — when he was rescued last week by students and staff from the Maine Maritime Academy.

– The Associated Press, June 13, 2015
---
By John Clarke
[T]
he first storm, on June 6, caught South Carolina novelist and sailor
Michael Hurley by surprise. Waves from every direction slammed his 30-foot ketch, the
Prodigal
, with the force of a truck. He was somewhere between Maine and Nova Scotia. He could see nothing in the predawn pitch.
Hurley posted two comments to MapShare, an interactive mapping service tracking his voyage. Limited to 160 characters, he sent his first message at 4:55 a.m.: "Taking a beating in rough seas. All is well." His second message, at 6:33 a.m., said, "Wind, waves rising. Taking on water." Then he went silent. Back home, family and friends worried.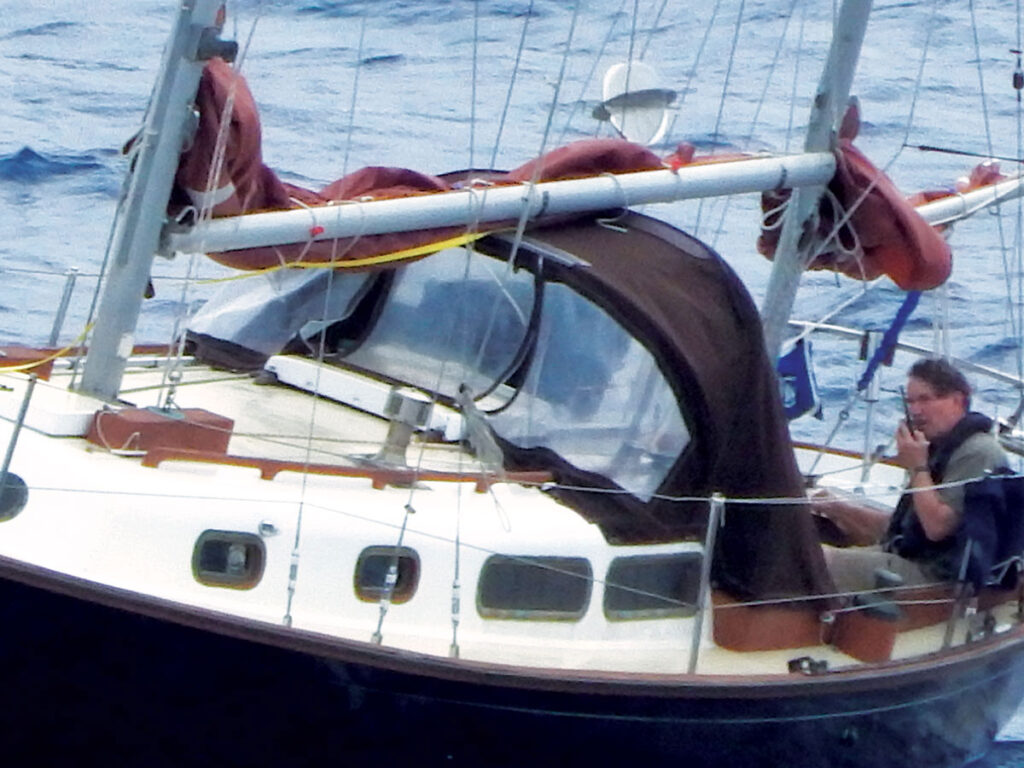 Eight tense hours later, Hurley broke his silence to report gale-force winds and breaking seas: "Ruff, wet, sloppy mess. All will be well."
But the next day, the Prodigal was rocking so violently that Hurley feared he'd be hurt. "Feeling very low," he wrote. "Mental fatigue. Demons of failed marriage, estranged children R here."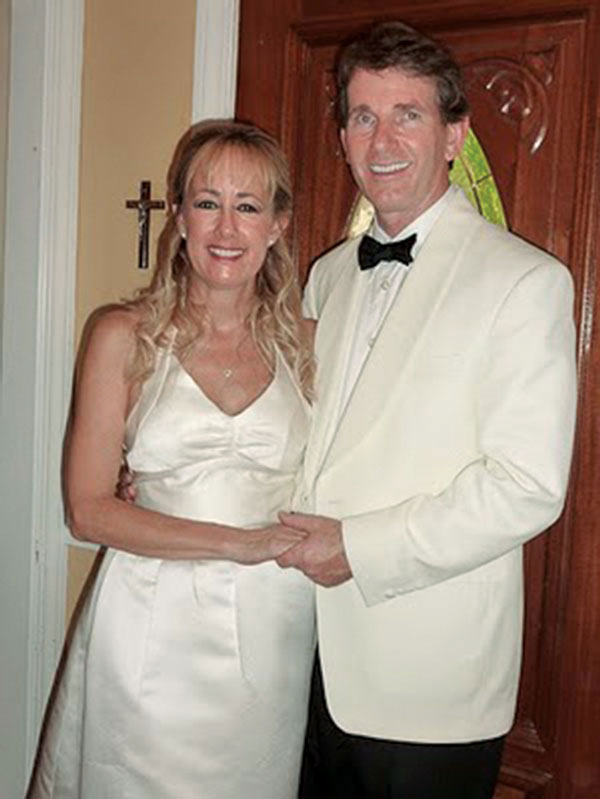 Thirteen days earlier, on a clear and sunny Memorial Day, Hurley, 57, set sail from Charleston, South Carolina, bound for Castletownshend, Ireland, where he planned to finish his second novel, The Passage, about a sailor who discovers a stowaway while en route from South Carolina to Ireland. His boat was named for his first novel, The Prodigal.
When he reached the halfway mark of his estimated 45-day journey, Hurley intended to toss his wedding ring into the Atlantic, a cathartic answer to a dying relationship. He and his wife, Susan, had recently decided to call it quits. There was no infidelity, nothing like that. They'd been struggling for a couple years, and Hurley had simply come to believe he was no good at marriage. So as Susan was gearing to kick him out of the house, Ireland started looking like a refuge. He had kissed Susan goodbye and left, and that was going to be the end of it.
That evening, Hurley reported a gentle eastern breeze with plans to tack before nightfall and head out into the open sea. "All is well," he wrote once more. "Beautiful night. Prodigal rocking like a cradle. My mind swirling with a thousand emotions but not a single worry."
The same day that Hurley sailed out of Charleston, 235 student sailors and 50 staff members from the Maine Maritime Academy (MMA) in Castine were marking Day 25 of a 90-day cruise aboard the training ship State of Maine. Charleston, in fact, had been their first stop. The cadets spent four days in the South Carolina port, performing maintenance in the mornings on their 16,000-ton former US Navy oceanographic research vessel and exploring the historic city in the afternoons and evenings. They visited the Confederate Civil War–era submarine H.L. Hunley and a wind turbine testing facility at Clemson University. On their last day in Charleston, May 17, two members of the MMA cross-country team participated in a 5K run, crossing the finish line at Joseph P. Riley Jr. Park, where they were greeted by the RiverDogs baseball team.
Now they were more than halfway to their next destination of Cadiz, Spain. "The winds picked up a bit overnight with gusts over 30 knots, and as a result, the seas picked up as well," Nathan Gandy, commandant in charge of midshipmen, posted on State of Maine's cruise blog. "Since the weather was not conducive to outside work, there was a lot more cleaning going on today."
[infobox maintitle="Ireland looked like a refuge. He kissed Susan goodbye, and that was going to be the end of it." subtitle="" bg="black" color="white" opacity="off" space="60″ link="no link"]
Over the next few days, Hurley sailed on flat seas with little to no wind, which allowed him to sit and be still with his thoughts — exactly what he didn't want. "Depressed over loss of my marriage and sense of blame and shame," he wrote.
His stomach was in knots, and he had no appetite. He slept a lot. He busied himself fixing a stern light, shaving, bathing, and brushing his teeth. He read F. Scott Fitzgerald's Tender Is the Night, which helped him forget his problems. He made a breakfast of oats, almonds, raisins, raw sugar, and dry milk ("delicious"). Though the lack of wind was troubling, he reported picture-perfect days and glorious dawns. In his 45 years of sailing, in fact, he had never had such a run of fair weather.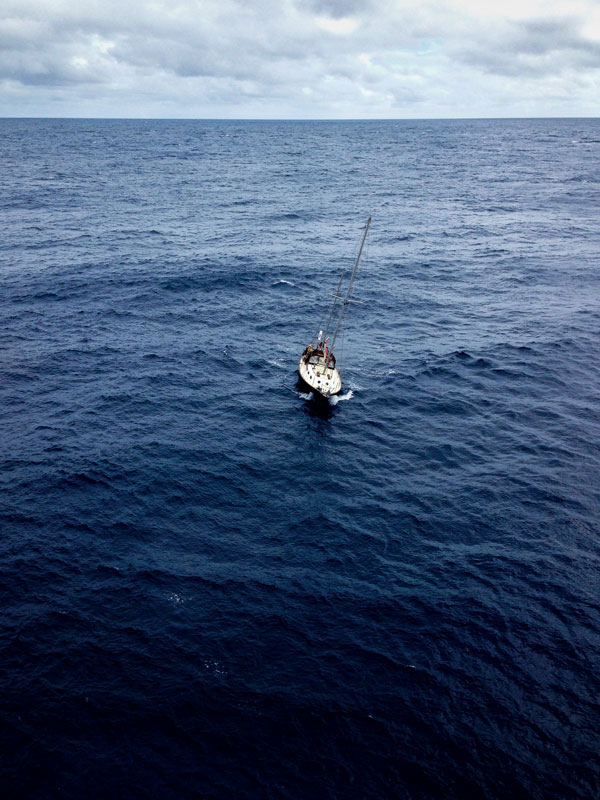 Early on May 30, Hurley cleared Cape Lookout Shoals, zig-zagging through wind to avoid Cape Hatteras. Later that morning, he made it to the Outer Banks. "Graveyard of the Atlantic, and Prodigal's literary home," he wrote, his mood improving. "On alert for shipwrecked ancient gypsies. Moonlight Sonata just came on stereo."
Friends sent questions via MapShare: What were his plans?
"None but to reach Ireland by Aug., finish novel by Jan.," he wrote. He had no home and no job, he was getting divorced, and he was on a 50-year-old sailboat boat with no wind. "No plan 4 now but the sea."
Two days later, the Prodigal was flying at around 9 knots on all three sails. "This is mathematically impossible," Hurley wrote. "Spooky fast." He sailed 115 miles in 24 hours. That evening, he finished Tender Is the Night ("loved it!"), then he shortened the mainsail and went to sleep.
"A nice squid washed on deck last night," he wrote around noon the next day, June 2. "I found him this morning, still fresh, but as I'd just had breakfast, I decided to pass on fried calamari." That evening, with Keb' Mo' singing the blues on the stereo, Hurley dined on Chef Boyardee overstuffed beef ravioli spiked with a splash of Cabernet and a sprinkling of Parmesan. "All is well," he reported. "Good sailing. Perfect weather. Lovely moon at night. No ships sighted for three days. Nothing out here but God and me and the deep blue sea."
[infobox maintitle="In his 45 years of sailing, he had never had such a run of fair weather." subtitle="" bg="black" color="white" opacity="off" space="60″ link="no link"]
On Day 29 of their training cruise, the MMA cadets got their first glimpse of the southern coast of Spain. Under the supervision of their instructors, the students plotted their route through the Strait of Gibraltar and navigated its congested waters. They motored into Cadiz on May 30.
During their four days in Spain, the students and staff soaked up the sunshine, visited beaches, and sampled the local cuisine — chacina (Iberian ham and sausage) and Salazones (cured salted fish, a delicacy). They did some work too, scrambling to finish projects in advance of their June 2 departure for Portland, an 11-day voyage.
"Everyone is focused on getting across the Atlantic," Commandant Grandy wrote. "The bosun has been pacing the deck waiting to get the paint out to take advantage of the weather."
A few days before he sailed into the first of two brutal storms, Hurley started communicating with Susan on MapShare. The 160-character limit was frustrating, but given how bad they'd been at communicating face to face, the long miles between them actually made things easier.
Can do little but lie down and hold on.
At first, their exchanges were argumentative and accusatory, but soon they softened, and Michael and Susan started discussing their relationship in more depth. Then, Susan sent Michael a bold, unadorned plea: Come home, and let's work on this marriage.
By now, though, Hurley was in trouble. On June 6 and 7, a gale had battered the Prodigal, which was taking on water. The bilge pump was keeping up, so Hurley didn't seem worried in his updates, but he did sound uncomfortable. "Can do little but lie down and hold on," he wrote. The relentless violent rocking wore him down, and he somberly dwelled on the fate of his marriage.
Friends voiced their concerns for his safety on MapShare, which buoyed him. "I thought I was sailing 2 Ireland," he responded gratefully, "but I am truly flying on the wings of your prayers."
[infobox maintitle="Nothing out here but God and me and the deep blue sea." subtitle="" bg="black" color="white" opacity="off" space="60″ link="no link"]
On June 8, he announced that conditions were improving, and the world was looking bright: He and Susan were going to work on their marriage, he wrote. They would meet in Ireland before heading home.
The next morning, Hurley radioed the captain of a passing freighter, asking him to call his wife and tell her that he loved her. "She loves you too," the captain radioed back. Before signing off MapShare that night, Hurley made note of a northeast headwind that had pushed him off course, and he joked about icebergs and the Titanic.
"All is well," he signed off.
"We imagine everyone at home is getting tired of hearing about our great weather, but it has prevailed yet again today," Commandant Gandy blogged from the State of Maine on June 8. The cadets had been busy priming and painting the aft house and practicing fire drills.
On June 9, Cadet Chief Mate Gabrielle Wells, of Kittery, plotted the vessel's chart for the remainder of the voyage. "Earlier this morning we made our turn for the coast of Maine," Gandy wrote. "We're almost (980 miles) there!"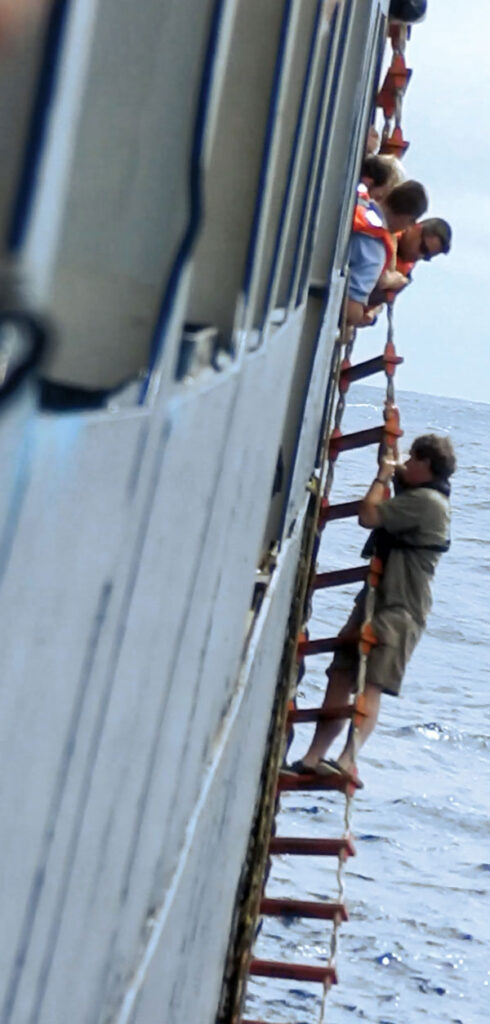 Then, On June 10, Michael Hurley was awakened by another unexpected storm. Winds were gusting above 30 knots, and 10-foot waves slammed the Prodigal. He sent a series of terse messages to MapShare.
3 a.m.: "Unable to control."
4:53 a.m.: "Broaching."
5:21 a.m.: "Water above cabin sole 3 inches. Bailing."
5:45 a.m.: "Water continues to enter as fast as I can bail. Losing confidence in boat."
Hurley radioed the US Coast Guard and reported that he was taking on water. The guardsmen asked if he wanted a rescue, but Hurley declined. The battered Prodigal was lurching in the waves about 500 miles southeast of Halifax, Nova Scotia, yet Hurley still thought he had a chance of reaching Ireland, 2,000 miles away, if he kept bailing and didn't sleep.
But the storm wasn't over.
In fact, it worsened. The Prodigal was heeled over starboard. The side rails were underwater. The Coast Guard again asked if Hurley wanted rescue. This time he said yes.
At 8 a.m. on June 10, the State of Maine was 520 nautical miles south-southeast of Halifax when Captain Leslie Eadie was contacted by the U.S. Coast Guard about a sailboat in distress. The MMA vessel changed course and raced toward the Prodigal, trying to raise Hurley on the radio. "It was nerve-racking because we kept calling and calling, and we had no answer," Gabrielle Wells, the student officer of the deck that morning, told the Associated Press. "We didn't know if he was in his sailboat or in the water."
About 90 minutes later, the State of Maine arrived to find a badly listing Prodigal and, still aboard, a bruised and exhausted Michael Hurley. As the seas continued to toss, the cadets carefully lowered a rope ladder, along with a 50-gallon drum, so that Hurley could salvage some of his belongings. He filled it with whatever he could grab, then stepped off the Prodigal and climbed the rope ladder to board the training ship.
Once on deck, he turned for one last look at the Prodigal as it drifted away on the waves. She had given him everything she had. He hoped he had given her the same.
Hurley radioed Susan and spent the next two days aboard the State of Maine. On June 13, after an evening anchored off Cape Elizabeth, the boat arrived at the pier in Portland, where the cadets delivered their grateful passenger. In Portland, they enjoyed a five-day break before embarking on another 11-day ocean crossing — this time, to Cobh, Ireland.
Soon to follow is Michael Hurley: he and Susan plan to renew their marriage vows on the Emerald Isle this summer.
[button content="View More From This Issue" color="black" text="white" url="https://downeast.com/august-2015-2/" openin="_self"]
---
Download this issue or get it in print. The digital version of Down East delivers the best of Maine travel, culture, food, and homes & gardens to your tablet every month. Plus you'll get a first look at the online extras! Try it for six months for just $12.99.