Senator's snapshots: Chamberlain statue in Brunswick; lobsterboat in Damariscotta; bird's-eye Old Port view; Georgetown shore; Capitol Hill sunset vista; former mill in Topsham.
Down East director of photography Benjamin Williamson on Senator Angus King's sharp shooting.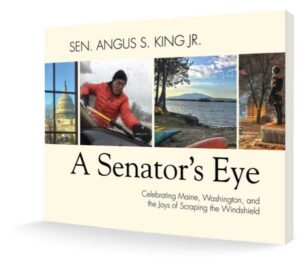 [dropcap letter="I"]'ve attempted that shot of the Joshua Lawrence Chamberlain statue in Brunswick many a time, but it never comes out quite right. One day last winter, cruising Instagram, I noticed that Angus King tried something I hadn't. From what I can see of it, he tossed maybe a jacket or scarf over the spotlight that shines on the statue, to dampen the glow. The result is dramatic, stirring, contemplative. It's photos like this that inspired Islandport Press to compile King's Instagram pics in a coffee-table book, A Senator's Eye: Celebrating Maine, Washington, and the Joys of Scraping the Windshield ($16.95, July 10). Sure, a book deal may come easier when you sit on the Senate Armed Services Committee, but King has a true knack for composition and color. More importantly, he's a thoughtful documenter of the Maine experience. The key to capturing our state is to be out in it — to see it in all weather, light, seasons. In that one way, the obligations of senators and photographers aren't so different.