A young family of tenderfoots finds a gentle introduction to the North Woods at a cozy backcountry lodge.
FROM THE JUNE 2015 ISSUE OF DOWN EAST.
By Lewis Robinson
Photographed by Michael Wilson
[dropcap letter="W"]hen our daughter Maisie took her first steps, my wife and I realized it was going to be harder than we thought to be a family of aspiring Maine Guides. Just as Maisie was learning the names of wildflowers and getting used to the feeling of her bare feet in the sand, our son Leo was born. Other than diapers and naps and our own exhaustion, I barely remember the next two years, but I'm fairly certain we didn't take our kids kayaking in the Fox Island Thoroughfare or ice climbing in Grafton Notch.
The fog cleared when Maisie and Leo turned 6 and 4, respectively. We kicked off their childhood in the outdoors at Seawall Campground in Acadia National Park, where we slept in a tent within arm's reach of a car full of backup supplies and a short stroll from bathrooms with flush toilets.
Then a friend told me about a three-day guided hiking and canoeing trip in the western mountains, offered by Maine Huts and Trails, a nonprofit organization that has opened four of a dozen eco-lodges it plans to build along a 180-mile trail corridor from the Mahoosuc Range northeast of Bethel to Moosehead Lake. Open year-round, these well-appointed hostels serve Nordic skiers, snowshoers, mountain bikers, hikers, anglers, and paddlers. This particular trip — a six-mile guided paddle down the Dead River followed by a two-mile hike to Grand Falls Hut — seemed perfect for us. There'd be deep wilderness, there'd be swimming, there'd be glorious vistas, there'd be hot showers. After a day of exploring, we would kick back with some Chutes and Ladders and a home-cooked meal.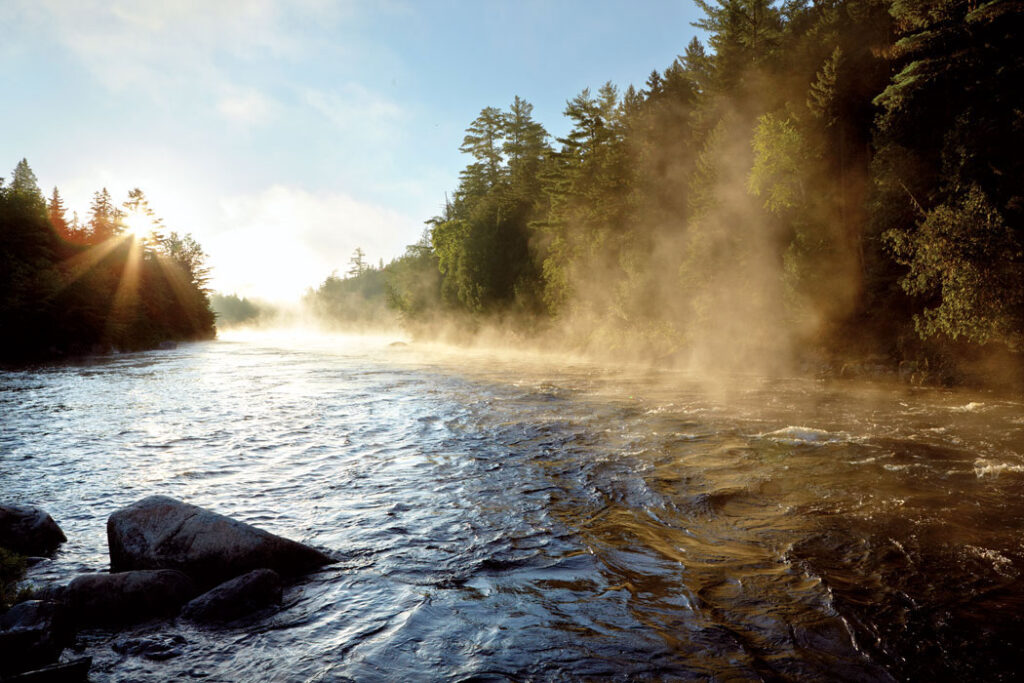 It sounded so easy, in fact, that I offered my wife a weekend respite while I took the kids to Grand Falls Hut on my own. To pull this off, however, I needed full buy-in from Maisie and Leo, so I promised them a trip with lots of exotic wildlife. Their imaginations were firing on all cylinders during the two-hour drive from Portland to Big Eddy Trailhead, about 34 miles north of Kingfield.
"Will we see a bunny?" asked my son.
"Maybe," I said.
"Will we see a moose?" asked my daughter.
"Maybe," I said.
"Will we see a lion?" asked my son.
"Probably not," I said. "But maybe."
My confidence in my outdoor skills took a hit when I opened the hatchback at the trailhead and discovered I'd forgotten our backpacks. While I was jamming our stuff into a shopping bag, a small duffel, and three other stuff sacks, our cordial trip leader, Lani Cochrane, approached the car and introduced herself to my stir-crazy kids. Lani didn't bat an eye at our ragtag luggage, but I got the sense she identified us as a family who might need an extra hand once in a while. (The benefits of a guided trip were coming sharply into focus.)
Others on the trip were much better outfitted — including 5-year-old Charley and his mother, Caroline, who were visiting from Maryland. Charley was a star in the eyes of my kids because he had his own backpack, a nice walking stick, and a hand-held compass. On the first mile of our trip — hiking the wide, flat, grassy trail to the Dead River —Charley encouraged Maisie and Leo to look for rocks they could toss into the thicket along the way. When we got to the river, we divided up into canoes. Lani, who possesses the confidence and strong shoulders of someone capable of paddling up a waterfall, offered to travel with Maisie, Leo, and me. I declined her offer, wanting my kids to see me as the hero of this adventure.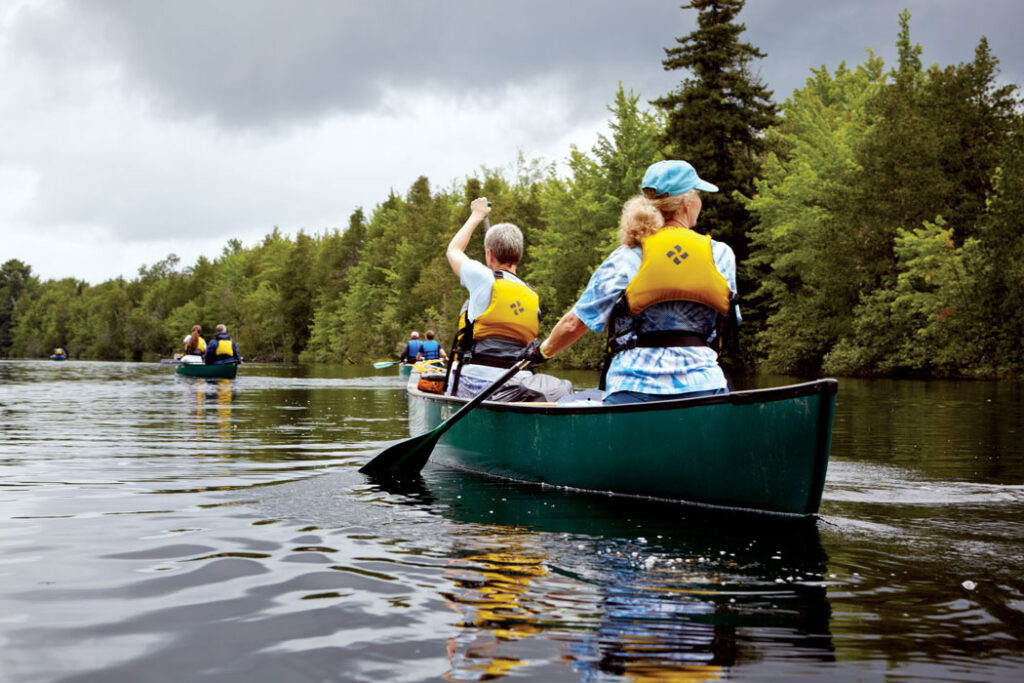 As we watched kingfishers swoop from the misty treetops along the riverbanks, Maisie and Leo told jokes and passed gorp, but they didn't contribute much paddling power (Leo, in fact, was more comfortable facing me in the stern and paddling in the wrong direction). Our 6-mile float was mostly uneventful except for one pee break, during which we almost flipped the canoe. Ultimately, though, pee breaks were a key part of my pro-wilderness campaign: the kids liked knowing that when you're in the middle of nowhere, you can pee just about anywhere.
We landed the canoes at a modest dock hidden by reeds and prepped for the 2-mile hike to the hut. The sky was overcast, and we'd had a few showers, but I kept Maisie and Leo's rain gear stowed in one of my bags, not wanting them to overheat. They continued to be good little soldiers, marching along behind Charley. Within a mile, we reached the thunderous spectacle of Grand Falls — a breathtaking cascade spanning 120 feet of river, with a 40-foot drop and lots of spray. I was proud of myself for bringing the kids to this place until they started monkeying around on the boulders at the edge of the cliff. I hustled them along to the next section of trail — flat terrain along the riverbank — where I could relax. I breathed and enjoyed the lush fern beds, damp shimmering granite boulders, fire-red lobster mushrooms, and the dense canopy of leaves. I chatted with Charley's mom about Jon Krakauer's book Into Thin Air, getting so lost in the conversation that I paid little notice to the latest batch of descending, dark-gray clouds — until the heavens opened up. Maisie and Leo were up ahead on the trail, out of view.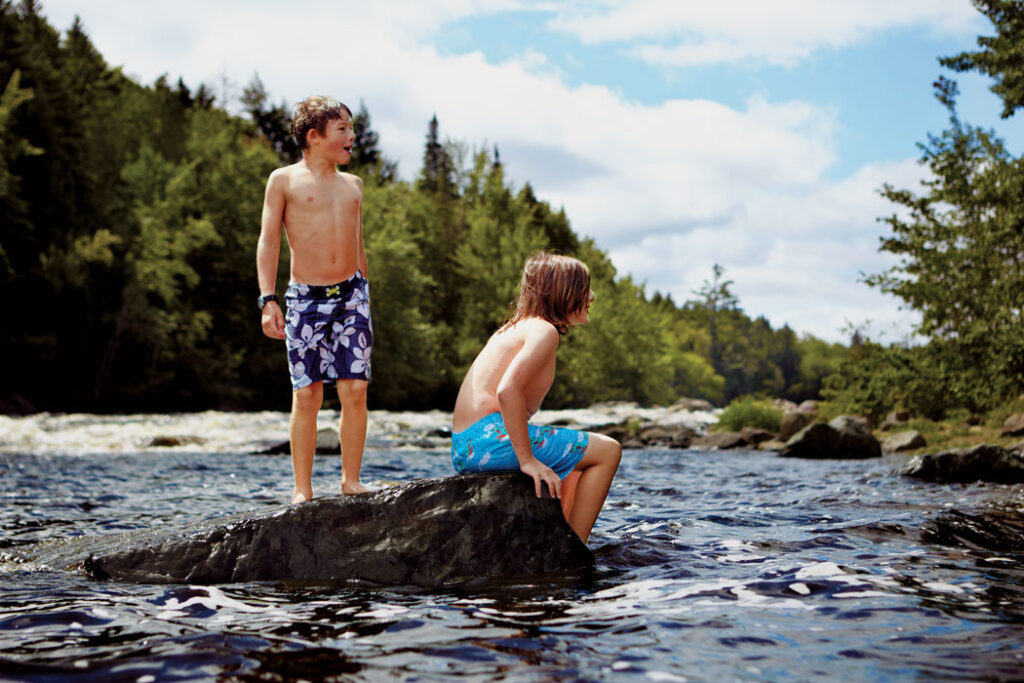 When I came around the bend, they were standing in a small clearing, no branches to shelter them, getting pummeled by sheets of rain. While Maisie and Leo shrieked, I rifled through my disorganized luggage, attempting to unearth their rain pants and jackets and trying to model a gung-ho attitude. "This is all part of the fun!" I said, smiling. They weren't buying it. Then I had them try to step into their rain pants without taking off their muddy boots, which, of course, didn't work. When we were all finally encased in unbreathable rubber, the rain shower stopped. If our guide Lani hadn't been there to reassure us that we didn't have very far to go, I might have had a mutiny on my hands.
Being wet and muddy did, however, make our arrival at the Grand Falls Hut all the more sweet. We shed our clammy socks and hung them in the drying room. We poured some hot chocolate and grabbed a seat at one of the wooden tables in the high-ceilinged dining room, which offered wide-open views to the south. Then I took a hot shower, while the kids played in a lounge outfitted with comfy couches and paperbacks and board games.
That evening, we shared the highlights of our day with some of the other families over a delicious and filling dinner of beef stew, cornbread, and salad. After pie and ice cream, hut master Sarah Carter, a recent Colby College grad, gave us an energy tour. We saw the solar panels on the roof, the tubes lined with reflective material using natural light to brighten the bunkrooms, the wood gasification furnace in the basement, and most impressive of all, the composting toilets. (The kids and I were big fans of the toilets. They liked them because they could easily lock themselves and Charley inside any stall. I liked them because they used only 3 ounces of water per flush, and they produced pristine, fluffy compost in the basement, thanks to red wiggler worms.) The mini-lesson in off-the-grid energy efficiency led to a discussion of MH&T's broader mission of opening up private land for public use, promoting experiential education, and encouraging economic and environmentally sustainable development in a depressed part of the state. My kids are too young to care about any of this (other than the toilets), but my appreciation deepened for these wilderness inns, which prove that high ideals and luxury aren't mutually exclusive.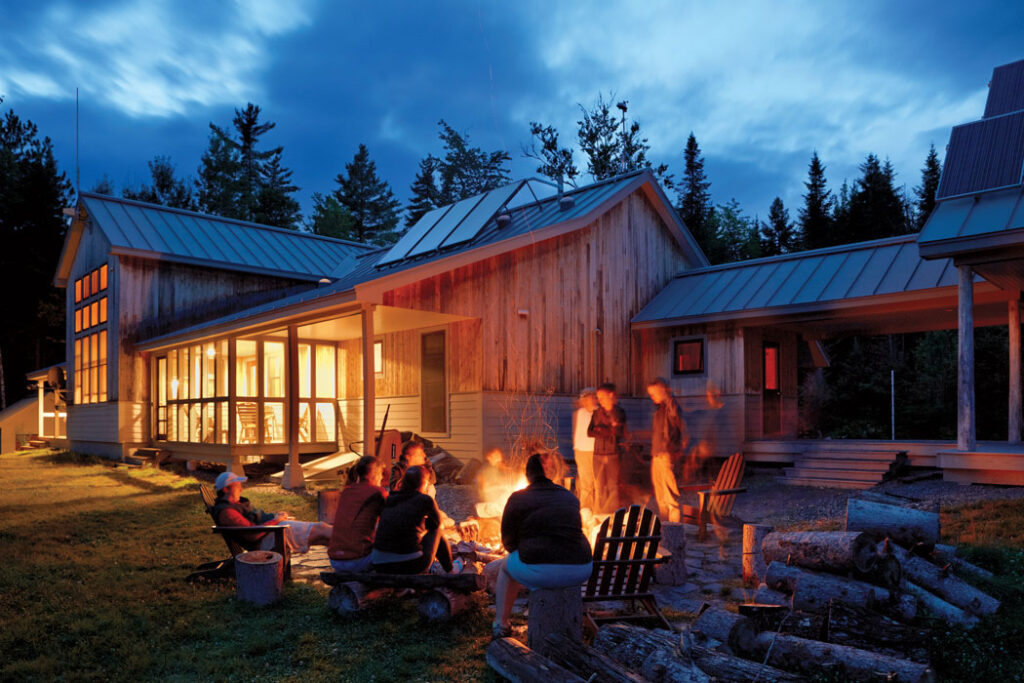 During our next, unstructured, day at the hut, we walked with Caroline and Charley back to Grand Falls, looked for moose tracks in the mud (not hard to find), scavenged for blueberries and raspberries, talked a lot about going for a swim but didn't actually get around to it, and threw several hundred rocks into the river. The kids were enthralled and completely immersed in wilderness, just as I had hoped they would be.
We had dinner that night with two rugged outdoorsy teenagers whose presence had me visualizing an adventuresome future for Maisie and Leo, then everyone gathered around a fire to roast marshmallows and tell stories. The next day, the schedule of our day-to-day lives would creep back into my consciousness, and the kids would have a hard time saying goodbye to their rock-throwing friend Charley. But as we drifted off to sleep that night, all we were thinking about was the breadth and depth of the woods around us.
---
Maine Huts & Trails operates four off-the-grid wilderness lodges: Stratton Brook, Poplar, Flagstaff, and Grand Falls. Each lodge has a kitchen, dining and common rooms, bathrooms, and showers. Sleeping accommodations are heated bunkrooms. See the website for the most up-to-date rates, which include dinner, breakfast, and trail lunch, except during the early spring and late fall off-seasons. 496C Main St., Kingfield. 207-265-2400.