By Meadow Rue Merrill
Photograph by Brian Fitzgerald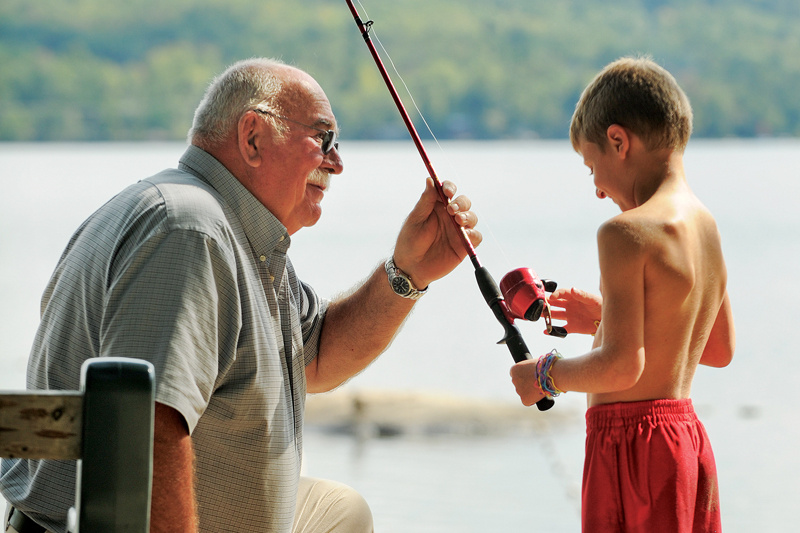 I made my first trip to Maine as a toddler, visiting my grandparents who had retired to a home on winding Shore Road in York. They had followed the example of my great-grandparents, who had retired just around the point. Retiring to Maine is nothing new, but if my grandparents and great-grandparents had been born a few generations later, perhaps they would have had more of their peers for company. Data from the U.S. Census suggests the state is becoming an increasingly popular retirement destination, with more than 6,000 people aged 55 or older moving to Maine in 2013 alone. Here are 12 reasons why Maine is one of the best places to retire.
---
1

The cost of living is reasonable

While the Northeast as a whole is pricier than destinations with milder climates and denser populations, Maine boasts the lowest cost of living in New England. According to Sperling's Best Places, an online data resource, the cost of housing, utilities, groceries, healthcare, and transportation in Maine in 2013 was just 5 percent more than the national average (Massachusetts, by comparison, was 30 percent more). That's a modest extra expense if you value New England's traditional charm. AARP thought so, recently ranking Portland as one of the top 10 affordable retirement cities in the nation, citing its well-preserved working waterfront, nationally recognized dining scene, and moderate housing prices.
2

Your housing money goes further

In 2013, Maine had the lowest average home sale price in New England — roughly $199,000, according to online real estate sites Trulia and Zillow. That's just 10 percent more than Florida and a whopping 46 percent less than Massachusetts. Maine also offers plenty of housing options, from full-service, waterfront retirement communities to classy in-town condos to historic country homes. "Some people are coming here for a second home," said Rick Bisson, owner of Bisson Real Estate in Woolwich. "They may have left Maine and they are coming back for the lifestyle."
3

The opportunities for outdoor recreation are abundant

Consider the numbers: 3,478 miles of coastline. 3,400 lakes. 97 mountains over 3,000 feet. 17.5 million acres of forest. No matter where you choose to live in Maine, camping, boating, bicycling, hiking, skiing, and more are never more than a couple of hours away. Maine is also the least densely populated state east of the Mississippi River, which means you rarely have to fight the crowds to access your favorite lakes, beaches, or hiking trails. Best of all, Maine residents aged 65 and older qualify for free day passes to Maine state parks.
4

The cities and towns are safe

For more than a decade, Maine has been ranked as one of the most peaceful states in the country by the Institute for Economics and Peace in Washington, DC. IEP researchers regularly analyze data on homicide rates, violent crime, prison incarceration rates, numbers of police officers, and the availability of small arms. "We are typically in the bottom five in crime rates in the country," says Maine public safety spokesperson Stephen McCausland. "I've been here 26 years, and we have always been in that category." In 2013, overall crime in Maine dropped more than 9 percent, McCausland said, the largest one-year decline in two decades.
5

It's easy to stay healthy

Maine routinely ranks as one of the healthiest states in the country — number 20 on America's Health Rankings — thanks to our easy access to health care and low number of people without insurance. Maine has a strong network of hospitals and healthcare providers with an emphasis on both general and specialized care for senior citizens. U.S. News & World Report recently ranked Maine Medical Center, in Portland, as one of the top-performing hospitals in the country, citing in particular its high-performing practice in geriatrics. Five rural hospitals — Calais Regional Hospital, Inland Hospital in Waterville, Mount Desert Island Hospital Organization, Rumford Hospital, and Sebasticook Valley Health — were similarly recognized by another national group, Leapfrog, as among the best rural hospitals in the nation for their high quality of care. Leapfrog also placed Central Maine Medical Center, in Lewiston, and Pen Bay Medical Center, in Rockport, among the best urban hospitals.
6

You won't have to beg family and friends to visit

With summer cruises, pristine beaches, big-name outlet stores, family-friendly amusement parks, and outdoor opportunities galore, Maine drew an astonishing 29 million out-of-state visitors in 2013, an increase of nearly 7 percent from the year before. So don't be surprised if family and friends want to visit — and if they don't want to leave. Just send them exploring with the latest edition of the Maine Tourism Association's Maine Invites You guide to activities and places to visit.
7

The arts scene is flourishing

A much-loved destination for prominent painters for two centuries, Maine continues to draw artists and performers of all types. That means there's plenty going on year-round, from citywide arts festivals to first-rate theater performances to open studios and community arts walks. The Portland Museum of Art, the Farnsworth Art Museum, the Bowdoin College Museum of Art, and the Colby College Museum of Art all have world-class collections and host public events and lectures.
8

The food is amazing

Portland's dining scene has attracted quite a bit of attention from food and travel writers over the last five years. Among the most recent recognitions: The Portland-to-Auburn area was included on The Huffington Post's list of "The Country's Most Restaurant Crazy Cities" and The Food Network placed Portland among its top five "Most Delicious Destinations." But the good food doesn't stop at the Portland city line. Travel up the coast to enjoy a delicious meal created by James Beard Award–winning chef Melissa Kelly at Primo in Rockland. Or head south to York Beach's The Goldenrod and sample homemade ice cream, pulled taffy, and great diner fare. Plus, there's lobster and other fresh-off-the-boat seafood, cooked to order at scores of lobster shacks up and down the coast.
9

You'll have plenty of company

Sometimes touted as the "oldest state in the country," Maine doesn't actually have the highest percentage of senior citizens — that would be Florida. Rather, it's our median age of 43.5 years that wins us this title. Maine also has a greater percentage of baby boomers — people roughly aged 45 to 64 — than any other state except New Hampshire. As Maine's population ages, a growing number of towns are working to help seniors thrive at home. Scattered around the state are five Area Agencies on Aging providing public programs, health insurance counseling, fitness classes, community cafes, and a family caregiver support program.
10

You can get there from here

Maine has a reputation for being remote, but the truth is, getting in, out, and around the state is a snap. Serving more than 1.6 million passengers annually, the Portland International Jetport offers flights to hundreds of popular destinations. According to Cheapflights.com, it also has the most affordable airfares in the region. Prefer a bus or train? Concord Coach Lines and Amtrak's popular Downeaster passenger train link Mainers to Boston and the rest of the country. Headed to Canada? Drive aboard the Nova Star ferry, which last year began offering seasonal round-trip passage from Portland to Nova Scotia. Community airports, local ferries, and the Bangor International Airport also offer great travel options.
11

It's easy being green

With a growing emphasis on sustainable living, local aqua- and agriculture, and protecting the state's abundant natural resources, Maine appeals to people who want to live sustainably. Portland recently ranked among the top 10 "greenest cities" in the country, as voted by the readers of Travel + Leisure magazine, and the state has a rapidly growing number of small farms, not to mention more than 140 farmers markets offering fresh, locally grown food.
12

You can expand your horizons (and do good)

Want to put a lifetime of skills and knowledge to good use? Volunteer Maine (volunteermaine.org), a one-stop resource, makes it easy to find programs in need of help that match your interests. With an average of more than 40 hours of volunteer work per resident in 2012, Maine ranks among the top states for service hours donated annually. Roughly 30 percent of seniors regularly volunteer. Want to increase your skills and knowledge? The Maine Senior College Network, a consortium of 17 providers from York County to Fort Kent, provides ongoing classes in everything from wine-making to an environmental history of Maine rivers. Led by volunteers, it's another way to get involved. Or feed your ongoing interests by attending free lectures at our top liberal arts colleges — Bowdoin, Bates, and Colby.