After more than nine decades on the water, World War II veteran and Maine-art-lore inheritor John Olson can't stop trapping lobsters.
By Suzanne Rico
Photographs by Chris Bennett
I
t's low tide, and John Olson is nervous. "Don't like the looks of that," he mutters, edging his boat toward a lobster buoy bobbing near an exposed rock. He retreats and tries a different approach. Left hand working the throttle, he steadies the boat on the rolling sea and hooks the buoy in one swipe with a sun-bleached, duct-taped gaff.
"I been here for so many years, I just can't give it up," he says. He raises his voice over the whine of the hydraulic hauler that lifts his trap out of Muscongus Bay. "I used to go way out there" — one gloved hand waves toward where horizon meets open sea — "but that's no place for me now."
At 96, Olson is square-shouldered and cowboy-lean, and although he sticks closer to shore than he used to, he still works 250 lobster traps in the waters off Cushing. His 68-year-old son, Sam, one of seven children, hoists the trap over the gunwale. There's a brick, some rope, and just one lobster. "It's not about the money for him," says Sam, who followed his dad into lobstering. "That's why he's lived to be this old. Everyone says, 'You gotta keep him off the boat. It's dangerous.' But if I take him away from the boat, he'll die."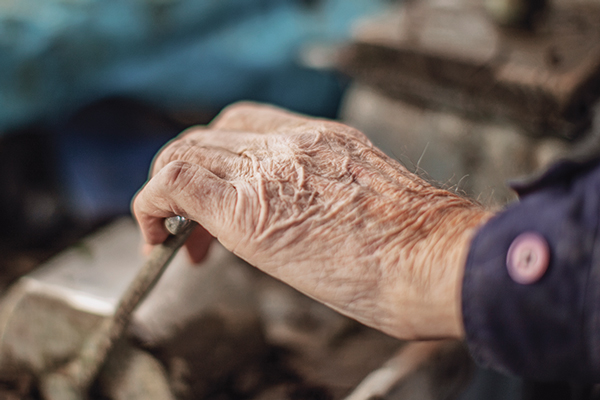 Olson was 25 when Andrew Wyeth painted his Aunt Christina in front of the family's Cushing farmhouse in 1948. He was the last in his family born in that house. When he lived there after returning from WWII, after Wyeth got famous, art groupies sometimes stole his mailbox.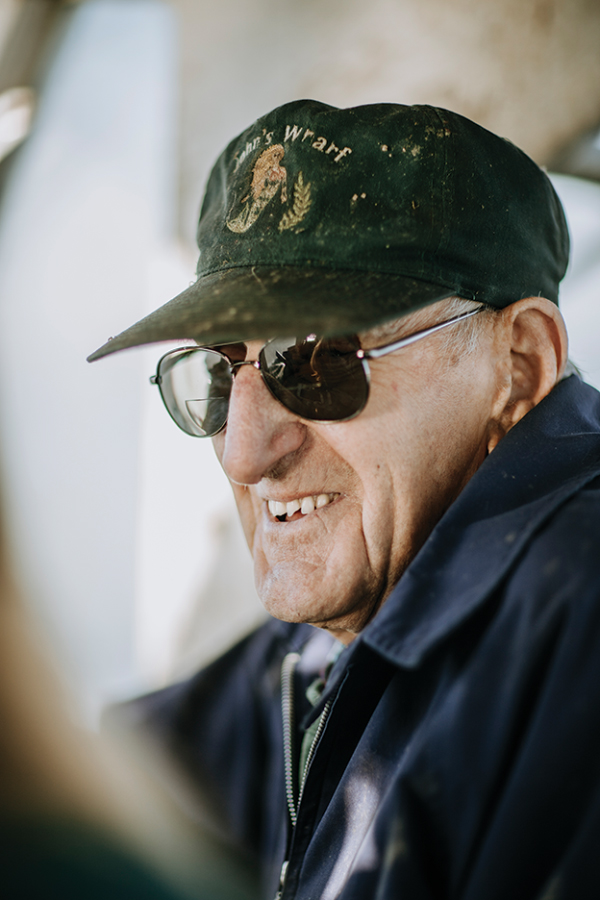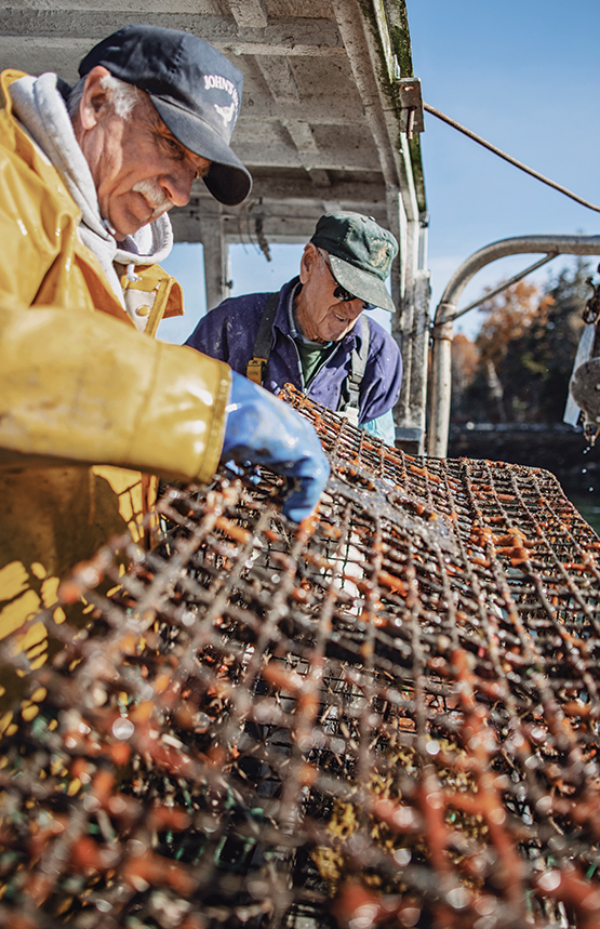 Olson's family has deep roots in Cushing. His aunt Christina lived on a farmstead Andrew Wyeth often visited — she's the subject of the painter's renowned Christina's World. Olson says she always encouraged his interest in fishing. By age 6, he'd started helping on a neighbor's lobsterboat.
Soon, he was rowing out to his own traps, hauling by hand, and selling his catch for 15 cents a pound during the Depression. After high school, he set his sights on a motorboat. "I cut 100 cord of pulpwood that summer and paid $450 for a brand-spanking-new 26-foot boat," he recalls.
In 1942, he hitchhiked to Portland to enlist in the Navy and fight in World War II. At Normandy, a torpedo blasted his destroyer, killing 24 of his shipmates. A year later, in Tokyo Bay, he witnessed the Japanese surrender. "Then," he says, "I came home and started lobstering again."
Now, Olson captains a 39-foot wooden boat. The sea has eaten away at the pilothouse, and rusted tools are strewn about, but the Sarah Ashley runs just fine. Passing each pine-studded island — McGee, Stone, Barter, Griffin — brings back memories. "I think about them, you know," Olson says, ocean-blue eyes hidden behind sunglasses. "These guys I fished with. These guys I talked to on the radio. There's nobody on that radio now that I know." So he keeps the radio off, content to listen to wind and waves.
On land, he shares the house he built in 1954 with his cat, Mia, and his girlfriend, Barbara, a retired nurse he met two years after his wife died in 2002. Barbara, 74, often lobsters with him, the two hauling their catch in slow sync. "I met him — he was about 82, I guess — and I was shocked," Barbara recalls. "He was in the back of a pickup and he jumped over the side."
Olson smoked in his 20s and 30s, and he eats a doughnut for breakfast every morning, but he takes no pills, his blood work is normal, and his joints are all originals. Since January, when he had cataract surgery at Augusta's VA Medical Center, his eyes are sharper. "The docs overhauled me," he jokes, his laugh punctuated by the plop! of a few more lobsters into the blue barrel on deck. "And they said they have not yet to find another like me."
---