LAND'S END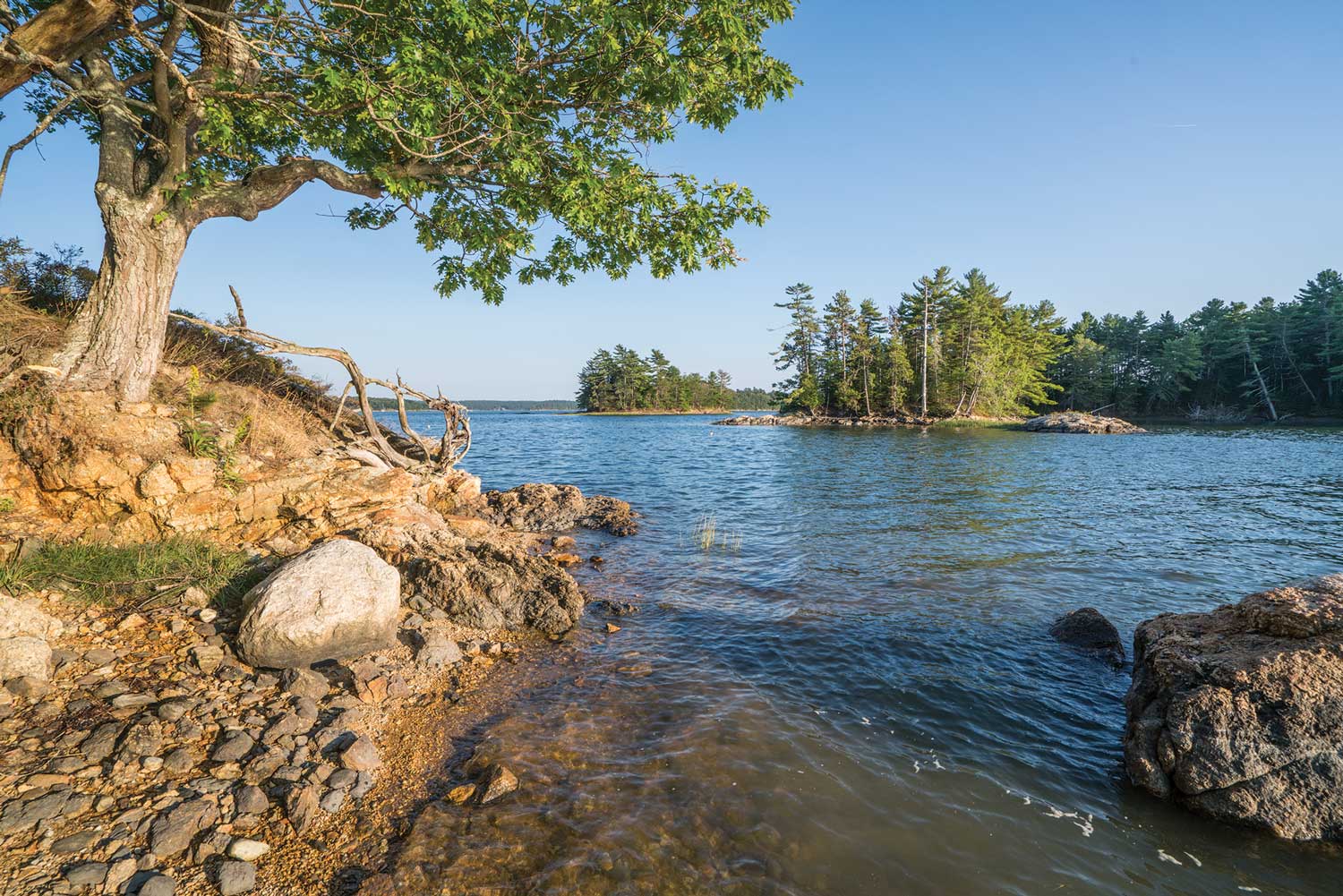 The Woodward Point Project would make these 80+ waterfront acres open to the public. Photograph by Benjamin Williamson. 
150,000 acres and more than 300 entire islands have been conserved by Maine Coast Heritage Trust since 1970.
130+ preserves have been created by MCHT along the coast — all are free and open to the public. 
80+ miles of trails and 35 campsites are managed and maintained by MCHT.
Maine Coast Heritage Trus

t

 
is leading the effort to preserve Woodward Point and open it to public access — it is one of the few remaining pieces of undeveloped waterfront of this size in Southern Maine. It's just one way the Trust is working to Keep the Coast Maine.
With its sprawling pastures, spectacular views of the New Meadows River, and meandering forests at the water's edge, Woodward Point's defining quality is its unspoiled beauty. Bobolinks flock in the pasture. Mussels grow in a freshwater pond. Two miles of shoreline host great blue herons, oysters, and some of the most productive clamflats in Maine.
Jaki Ellis and Andy Cook fell in love with Woodward Point 40 years ago and made their fondest memories there. They raised cattle on the site's more than 80 acres. Their kids learned to love the woods. In summer, they sailed from the dock at their back door, and in winter, they cross-country skied in the meadow.
All the while, they've watched the surrounding waterfront become private estates. Now, they're retired and ready to move — but not ready to see the land they love meet the same fate. "We want to preserve the landscape," Ellis says. "We don't want to see it divided up and developed."
The couple reached out to Maine Coast Heritage Trust and Brunswick-Topsham Land Trust in the hopes the organizations could protect their treasured land and ensure the community can enjoy it forever. The two land trusts have an option to purchase the property and are working to raise $3.5 million by March 2019 in order to make the acquisition and manage the property as a public preserve.
As soon as Richard and Margaret Helmuth read in the paper that there was an opportunity to preserve the property near their home, they jumped at the chance to make a donation — the first they'd ever made of this kind. "It's so beautiful, and rare, to have woods and this much land with waterfront access," says Margaret, a former teacher.
The Woodward Point Project is part of MCHT's sweeping effort to conserve Maine's coast. For nearly 50 years, the Trust has worked to increase access to the coast, protect wildlife habitat, and defend from development the places that make the Pine Tree State so magical. Working with conservation-minded landowners, local land trusts, and other partners, MCHT has preserved more than 150,000 acres from Kittery to Eastport. With most of Maine's coast cut off to public access and 75 percent of plants and animals vulnerable to negative impacts of climate change, this work has never been more critical.
"Growing up in rural areas, we both learned enormously from open spaces, animals, and our activities outdoors," says Richard Helmuth, a retired engineer. "That's getting lost with all the development. We need to preserve that opportunity to experience and enjoy the natural world."
Learn more about the Woodward Point Project, Maine Coast Heritage Trust, and its efforts to save other coastal treasures here.