SPONSORED CONTENT
Explore the Downeast Passage
The crowds may head for Mount Desert Island, but there's more of Acadia's splendor — plus top-notch food, art, and culture — waiting just up the coast.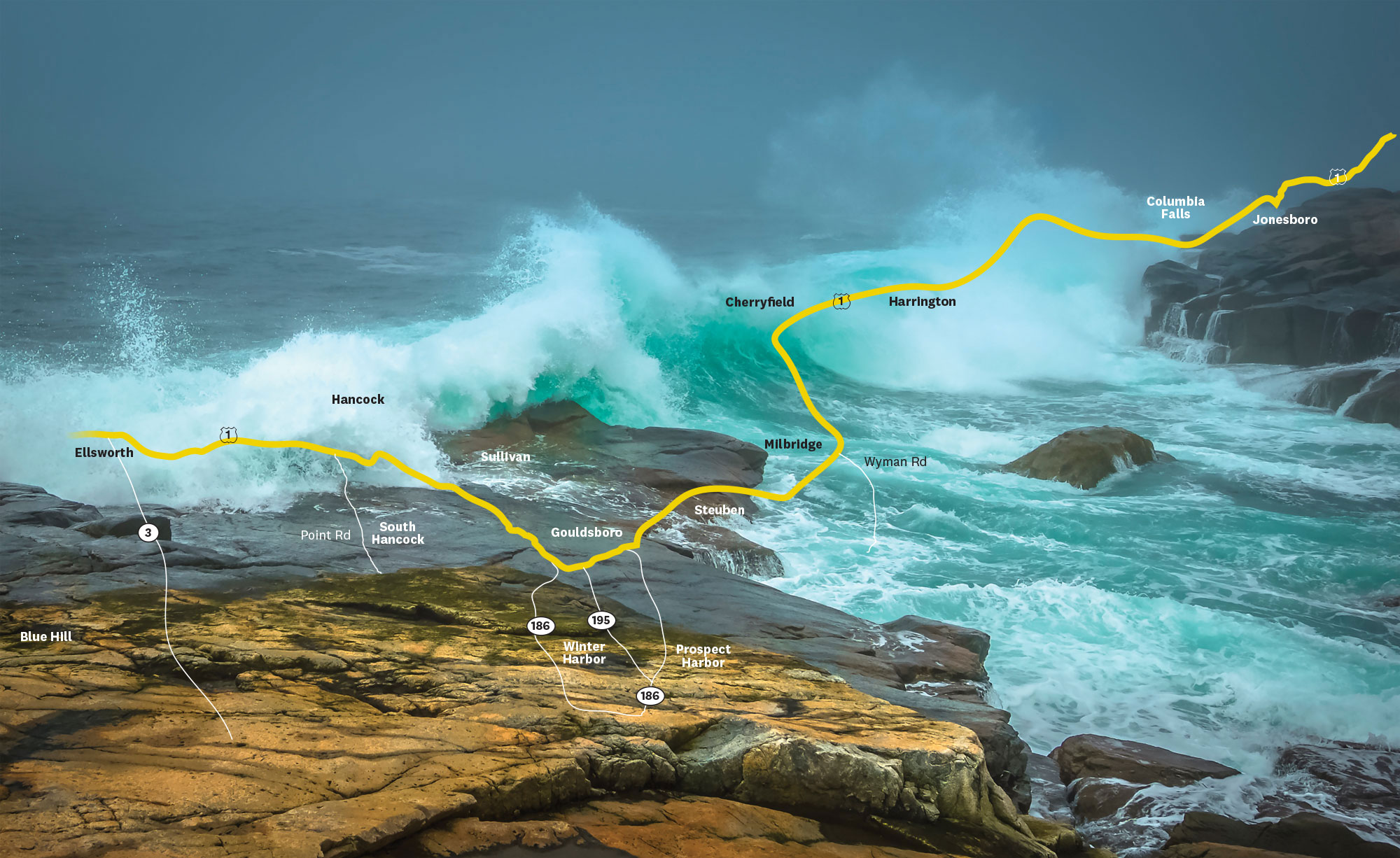 For the more than 3.5 million people who visit Acadia National Park each summer, Ellsworth is a milestone: once you pick up Route 3 there, you can smell the salt air, feel the sea breeze, and catch enough of a glimpse of Cadillac Mountain to tide you over the last 30 minutes (if you're lucky) until you arrive at Maine's marquee national park.
But follow Route 1 beyond Ellsworth — wave to MDI as you go by! — and a less trodden path of pure Down East Maine awaits, one that has much of the island's splendor with only a fraction of its crowds.
Schoodic Peninsula has long been Acadia's rugged, hidden gem, and since the park added to its footprint there in 2015, debuting a stellar new campground and trail network, a crop of entrepreneurs — some with generational roots, others more recently drawn — have opened new places to eat, play, and stay and brought new energy and shine to longtime local standbys. Consider this your primer to the Downeast Passage, one of Vacationland's more delightful detours.
VISIT A FAMILY OF ARTISANS
Fifty years ago, on a road trip to Lubec, Richard and Cindy Fisher stumbled upon the "natural bonanza" of Prospect Harbor and decided to stay. They run U.S. Bells, where visitors are welcome into the foundry to watch the crew hand-cast bronze bells. At the family's adjacent Watering Cove Studios gallery and store, find quilts stitched by Cindy, woodworking and custom cabinetry by the Fishers' son Tim, and wood-fired clay pots, plates, and bowls crafted by Tim's wife, Liza.The family of artisans loves to show visitors around their workshops and talk about their crafts.
Impressively stocked with more than 250 labels, Hancock's Best Wines specializes in single-vineyard vintners. Allow time to linger at the store's Monteux Gallery, a captivating collection of landscape and wildlife photos by Gerry Monteux. Nearby, Ironbound Restaurant & Inn has a cozy bar, inviting dining room and menu that highlights locally farmed and foraged ingredients — try the Frenchman Bay Mussel Frites with fiddlehead rémoulade. Head upstairs after dinner to the inn, which has five chic rooms with private decks. The nationally acclaimed Sullivan Harbor Farm Smokehouse, which opened in 1993, reopened this spring after a hiatus. Find sustainably raised salmon, hand-cured and smoked for 10 hours in a wood-fired kiln within days of being plucked from the Atlantic. Jonesboro's Swamp Yankee BBQ, where meat is smoked for up to 14 hours, offers a different sort of slow-food experience. Owners Myron and Linda Spaulding retired three years ago to parlay their award-winning recipes into encore careers. Their signature dish includes pulled pork, brisket, smoked chicken, baked beans, coleslaw, and cornbread. "I love the patience barbeque requires," says Myron, a former Bath Iron Works engineer. "You're not just turning the stove to 350."
Brothers and fourth-generation fishermen Chris and Jason Chipman opened Chipman's Wharf on the Narraguagus River in Milbridge in 2004. Along with freshly caught lobsters, which you can eat there or take home, you can pick up oysters, mussels, and clams dug from the mudflats nearby.

Sullivan Harbor at dawn; aspiring conductors refine their skills at the Monteux School and Music Festival; a local puffin feasts on krill; Ravens Nest, a scenic lookout on the Schoodic Loop Road in Acadia National Park; Crocker House Country Inn offers cozy, quiet respite for travelers; cozy fireside dining at Ironbound Restaurant & Inn; Acadia Bay Inn invites romantic waterside toasts with wide-open views of MDI.
Wonder at the whitewater at Frenchman Bay Conservancy's Tidal Falls Preserve, where Frenchman Bay meets the Taunton River, a popular spot to picnic and see wildlife, and free Monday-night concerts. At the conservancy's Baker Hill Preserve, just a 10-minute drive east, you can hike through spruce and pine forests to an exposed granite ledge for stunning vistas of MDI.
The Berkshires have Tanglewood. The Downeast Passage has the Monteux School and Music Festival, founded in 1943 by acclaimed French conductor Pierre Monteux, where aspiring conductors and musicians come from around the globe each summer to hone their skills. The school's rustic Forest Studio hosts concerts Wednesdays and Sundays from June 23 to July 28.
In a historic 1922 building in the heart of downtown Winter Harbor, you'll find Artisans & Antiques, a gallery that features a tasteful blend of old and new. The store hosts more than 20 accomplished local artisans and offers a range of quality antiques. It's a sociable shop staffed by the artists who show their work there, and chatting with them and the knowledgeable antique dealers makes each visit memorable.
In 1980, DC-native Richard Malaby answered an "Inn for Sale" ad in the Wall Street Journal, drove to Maine, and took over Hancock's Crocker House Country Inn. He's been upgrading the 1884 inn ever since, while maintaining traditional comforts like four-poster beds and sprawling gardens where guests can relax with cocktails and croquet. The restaurant, which serves breakfast for guests, is a locals' favorite for special-occasion dinners. Edgewater Cabins in Sullivan has offered visitors panoramic views of Frenchman Bay and MDI's peaks for nearly a century. Growing up there, "I thought everybody had this in their backyard," says Betsy Wakefield, the third generation to operate the cabins. The retired teacher and her husband, Roger, took over the cabins from her parents, Emery and Lydia Dunbar, in 1996. A five-minute walk away, at the Acadia Bay Inn, Todd and Angie Perron offer a B&B experience. The couple, a former vice president of engineering at a tech company and a surgeon, bought the property in 2016. It's no surprise that Realtor Rona Gandy, broker/partner of The Christopher Real Estate Group, gets inundated with inquiries from vacationers looking to buy. "As well as the unparalleled scenery," she says, "visitors love the quieter pace."
For decades, Dunbar's Store, perched on a hill overlooking Frenchman Bay in Sullivan, has been the place to fill up on dinner fixin's and catch up on local goings-on. Late last year, Scott Holtz and Bobby Cheshire, inn owners from Vermont, bought the former grocery and embarked on a top-down renovation. They reopened this spring as The Dunbar Store, offering food, locally-made goods, and an inviting porch, where you can drink in spectacular panoramas of Cadillac Mountain along with your freshly-brewed coffee.
Photos of waves crashing on Schoodic, Sullivan Harbor at Dawn, puffin, Ravens Nest by Monteux Gallery's Gerry Monteux.