Curtis Island Light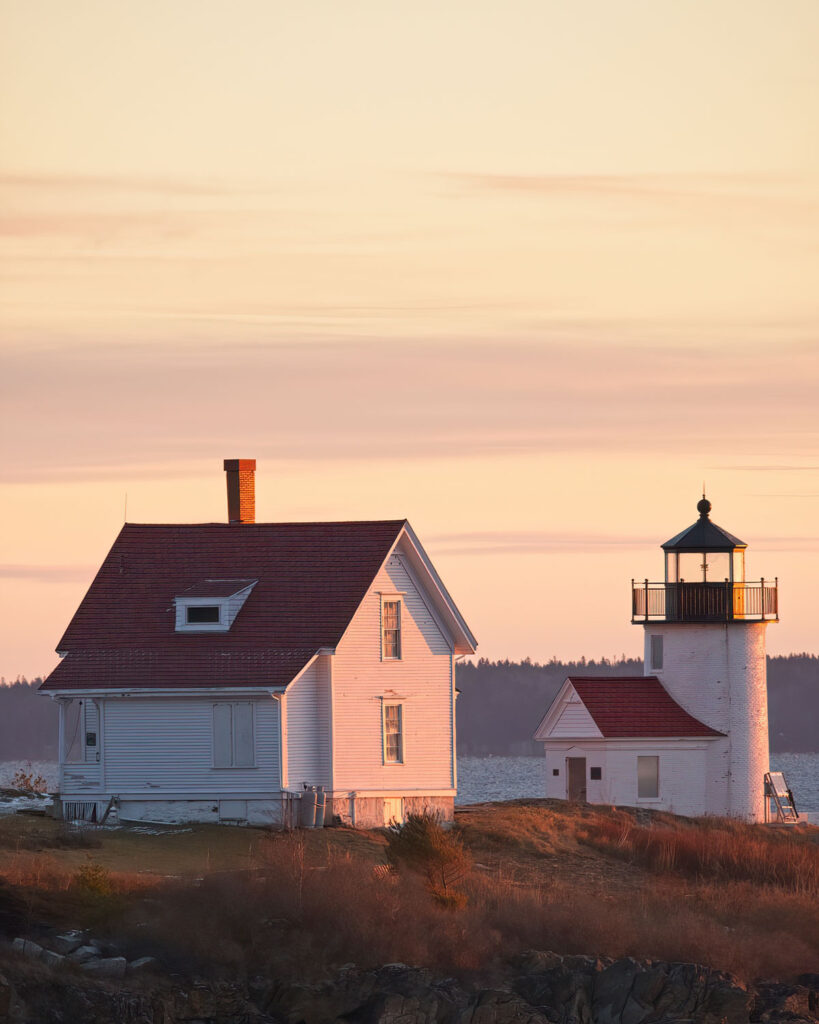 Find an interesting subject in good light, fill the frame, and eliminate distractions: you're likely to come away with a nice image every time. I love Nate Johnson's shot of Camden's small, proud harbor light in part because it breaks a few rules of photography. Instead of putting the horizon at the top third of the frame — following the "rule of thirds" — he fills the top two-thirds with a beautiful, warm pastel sky, full of soft cirrus clouds, providing just the right amount of texture and contrast. What's more, we hardly even see the ocean. It reminds me a lot of the Edward Hopper paintings of lighthouses that don't include water. Check out Johnson's Instagram feed for some nice backstory about his adventure finding this little lighthouse.
---
Barn in Kingfield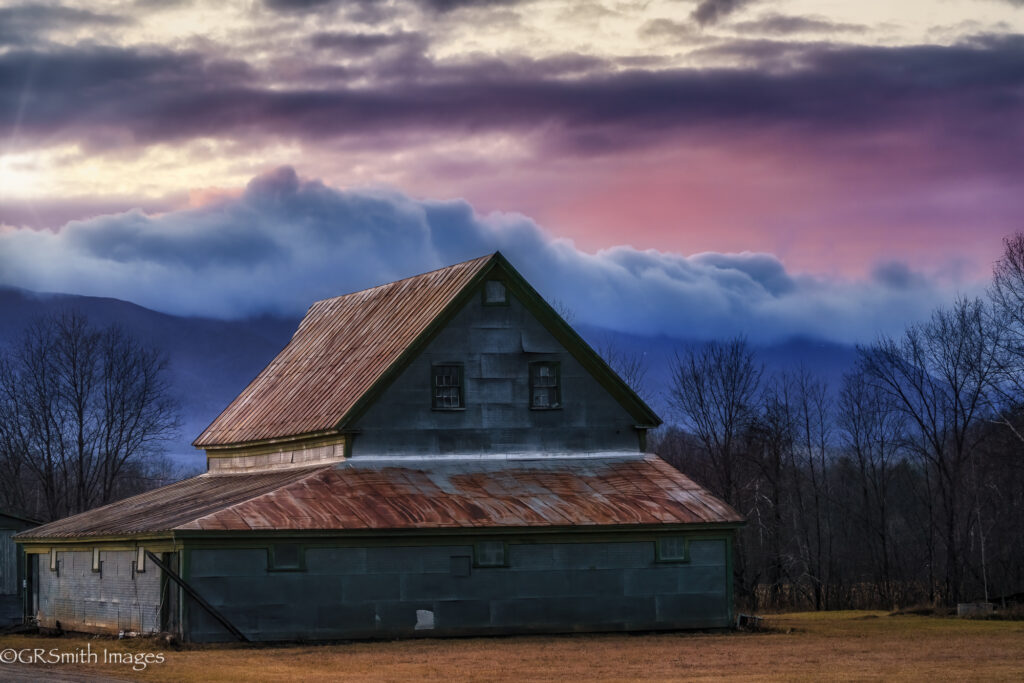 There are many reasons why winter is my favorite season for photography. The simplicity, the starkness, the light, the mood, the story of resilience in the face of adversity — all of these appeal to my nature. This image highlights many of those qualities. For starters, I love the mood. The way the blue clouds cascade over the ridgeline behind the barn is incredibly awesome. The dark muted tones of the foreground allow this to stand out. The bare branches of the trees and rusted metal roof of the barn all contribute to the narrative, and together, they make this image just sing. Kudos to Gary R. Smith to this wonderful photo.
---
Thanksgiving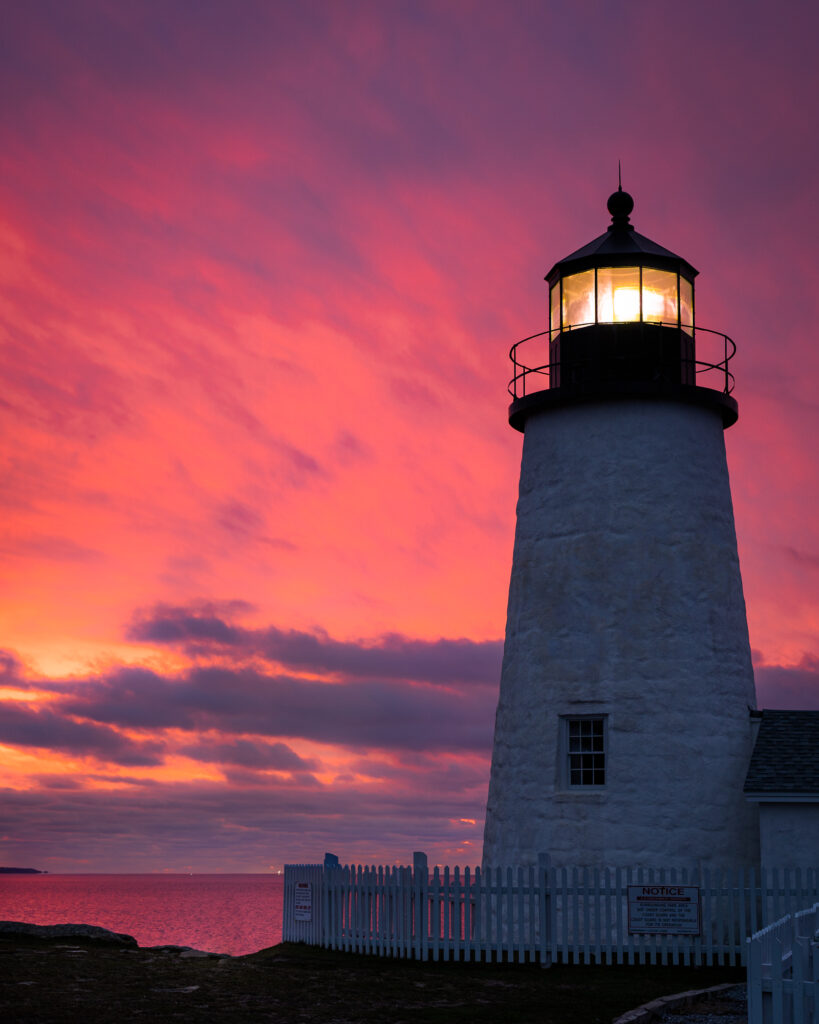 I'm thinking of all of the things I'm grateful for this year, and the fact that I live in Maine is a big one. We recently moved from Brunswick to Bath — big jump, I know — and are looking forward to raising our family in a place that's, well, sane. I'm not a native Mainer, and that perspective gives me even more appreciation of how good we have it here. From the obvious opportunities for me to do what I love, which is take photographs of scenic and beautiful places, to the less quantifiable properties, such as our resilience and steadfast (if sometimes grudging) optimism, I'm proud of my home. So even if you are missing Maine this year, as many of you are, know that when you do return, it will be waiting with open arms and perhaps a soft breeze to ease you into a peace of mind that's hard to find elsewhere. Happy Thanksgiving from our family to yours! — Benjamin Williamson
---
Sitting in the Fog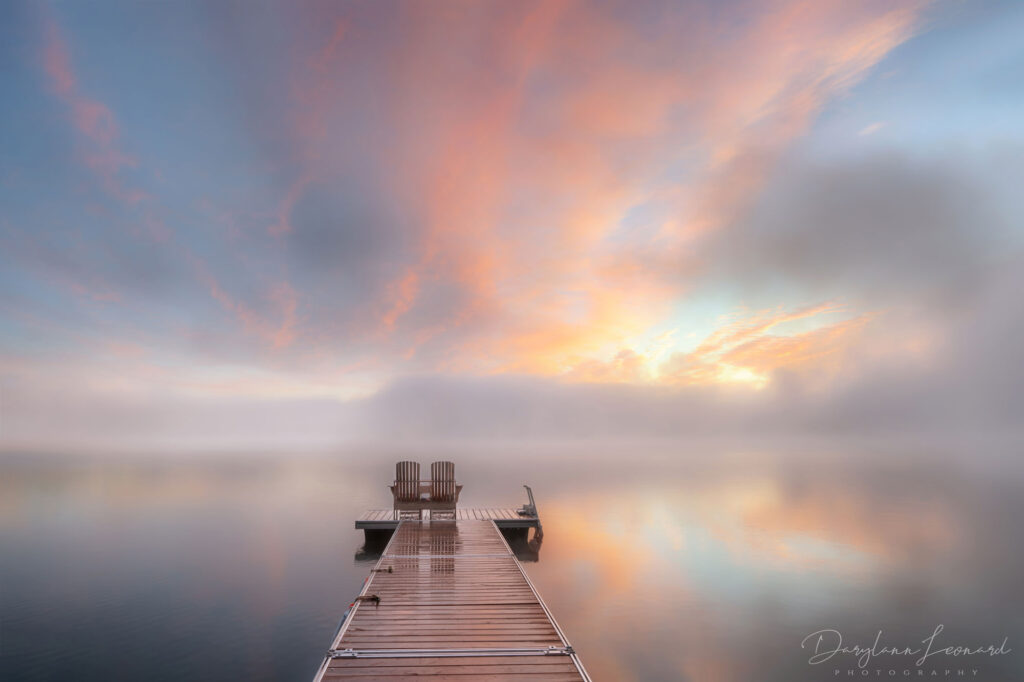 I think the skill that sets great landscape photographers apart is patience. This means recognizing the potential for something special to happen in a particular location and either waiting for the right moment or returning again and again, until the conditions match the vision. Darylann has this skill, and many others, in spades.
Here's how Darylann describes her image:
"A lake carries you into recesses of feeling otherwise impenetrable." — William Wordsworth
I was eyeing this shot all summer, waiting for the right conditions. The cold nights we have been having provided a beautiful display of fog, allowing for the feeling of staring into infinity and of being at peace, tuning into the sounds of the lake waking up to a new day.
---
The Power of Water
September 22, 2020
The remnants of Hurricane Teddy brought huge surf to the coast of Maine yesterday. Staff photographer Ben Williamson was out in Kittery, taking in this view of Whaleback Lighthouse from Fort Foster.
---
30+ WOW Photos of Comet NEOWISE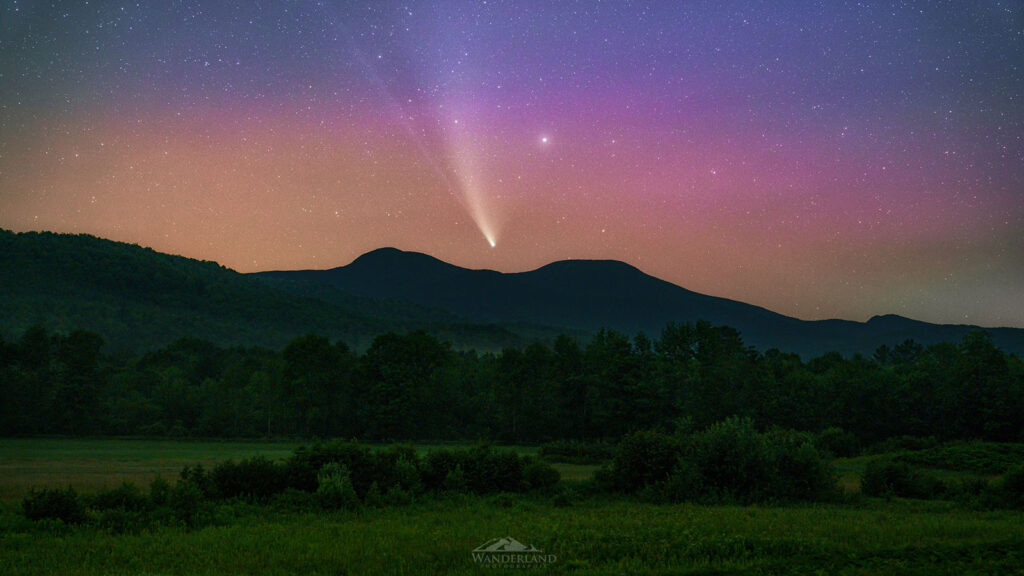 Hopefully everyone has been able to see Comet NEOWISE with their own eyes over the past month. What started as a smudge on the eastern horizon at dawn morphed into a large, beautiful comet that stretched up to 20 degrees across the night sky and became visible for most people in the evening by mid-July. With the waxing moon and the comet receding from the sun and Earth, it has now started to fade. I wanted to commemorate the celestial visitor by putting together this gallery of images made across the state. Maine is lucky to have some of the darkest skies in New England, and Maine photographers took full advantage of that by capturing these stunning images. I'm always amazed at the work I see on a daily basis, and these photos prove that there are more than a few very skilled people wielding cameras across the state. — Benjamin Williamson
---
Great Horned Owl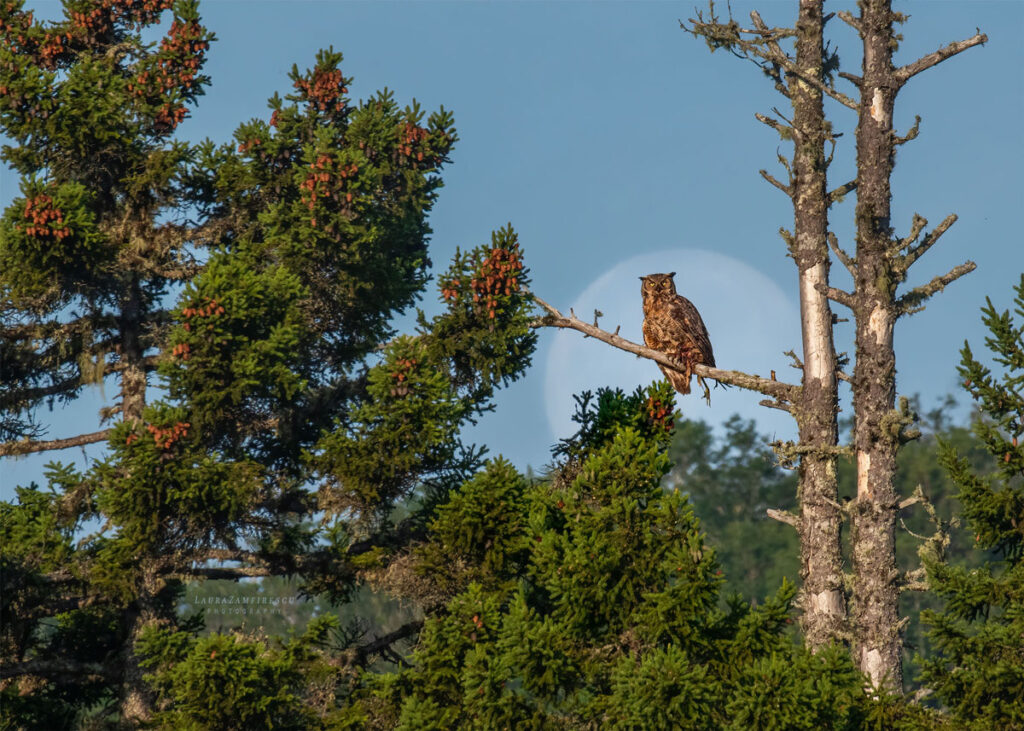 July 8, 2020
The best photographers are usually the most dedicated, and the most tenacious. A lot of planning can go into getting the shot, but it all comes down to reacting to the scene in front of you. Laura's reactions always amaze me. Her wildlife images are full of wonder and curiosity, and it's clear she has a deep passion for what she does. This Great Horned Owl would be amazing on its own, but putting the nearly full moon behind it is just awesome!
---
Comet NEOWISE Over Katahdin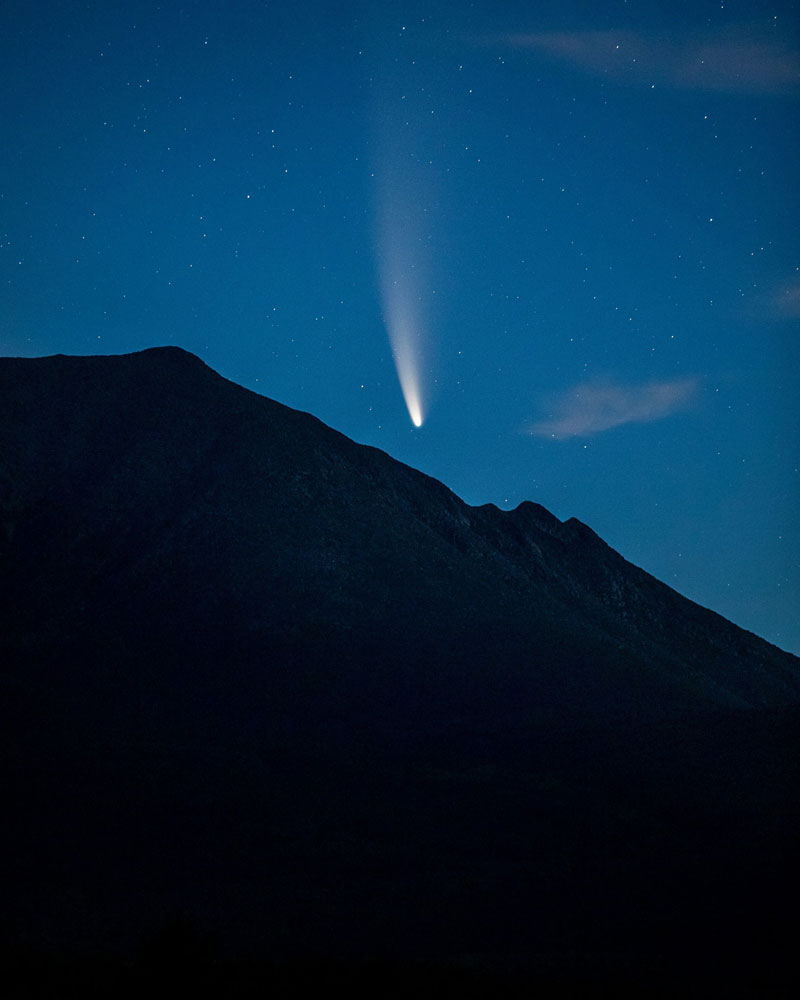 July 14, 2020
We can usually count on Jamie Walter to bring back the goods from wherever he points his camera. The spectacular appearance of Comet NEOWISE is no exception. Although I have seen and photographed the comet myself, my captures are nowhere near as impressive. I'm so glad Jamie got up to Katahdin for this capture!
---
Clouds Over Pemaquid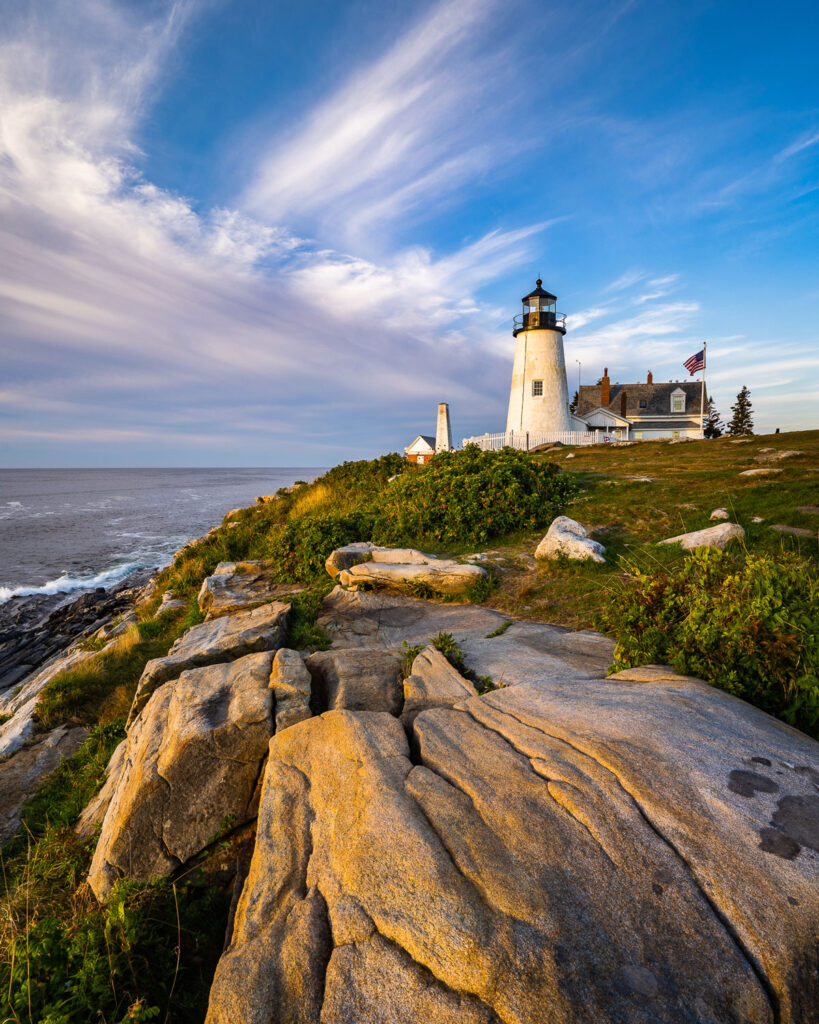 July 9, 2020
There are only a few spots where there is a clear view of both the lighthouse and the rocky shore below at Pemaquid Point. While this vantage is well-known, the weather is always changing, and I took advantage of the sweeping cirrus on this morning to lead the eye right into the scene. I just love it here.
---
New Harbor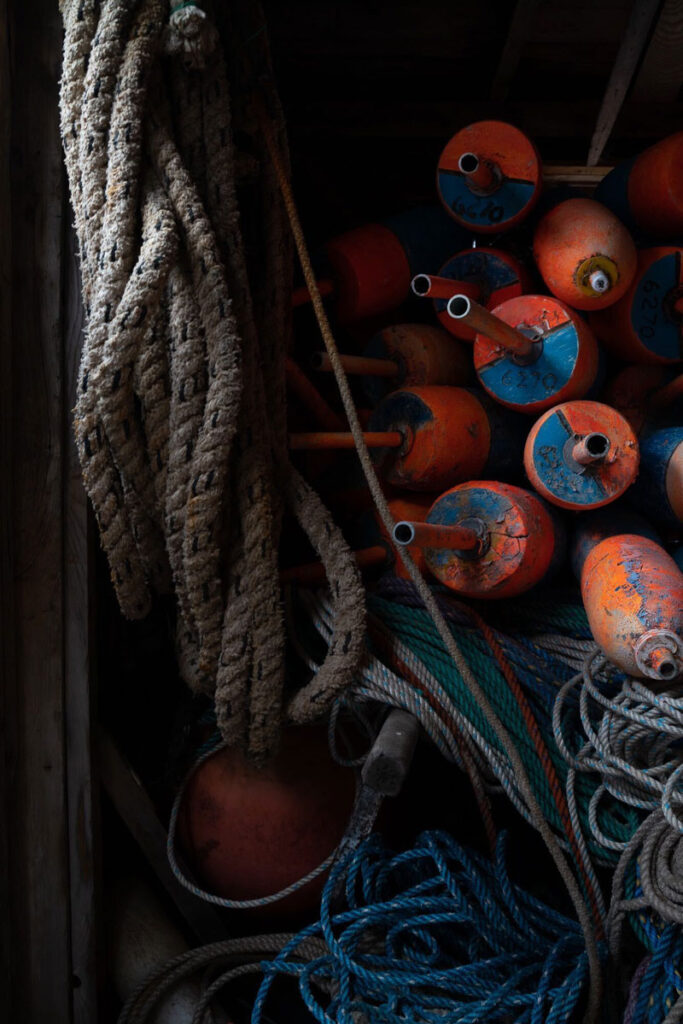 June 26, 2020
It's not always about the grand view. Finding more intimate vignettes can be satisfying, as was the case on the morning in New Harbor.
---
Port Clyde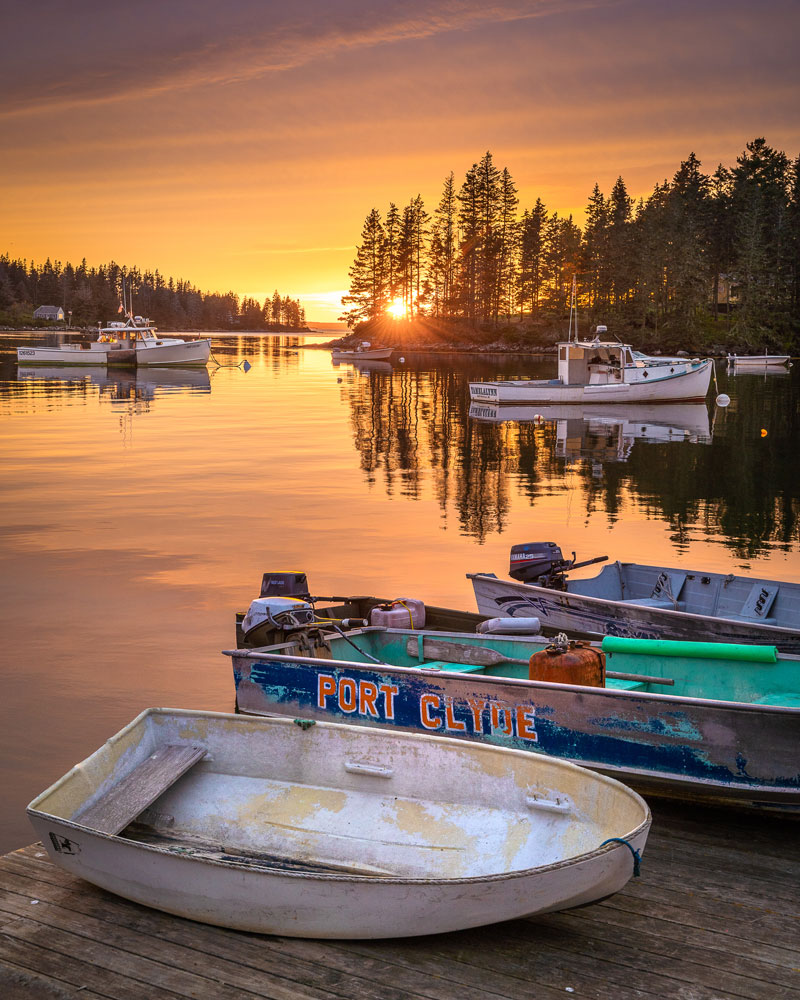 September 6, 2019
This was captured during a Down East Adventures photography workshop last summer. I was overjoyed that our group got to experience this stunning sunset. This was only the beginning of what turned into a 360-degree canopy of colorful clouds. It was simply awesome. I'm always telling my students to look for subjects that tell the story of a place. Well, it couldn't have been clearer with these boats and the prominent red lettering "Port Clyde" on the side of the blue skiff. Lining them up in the foreground and having the sun as the main focal point helped to make this a successful photograph.
---
Kit with Acorn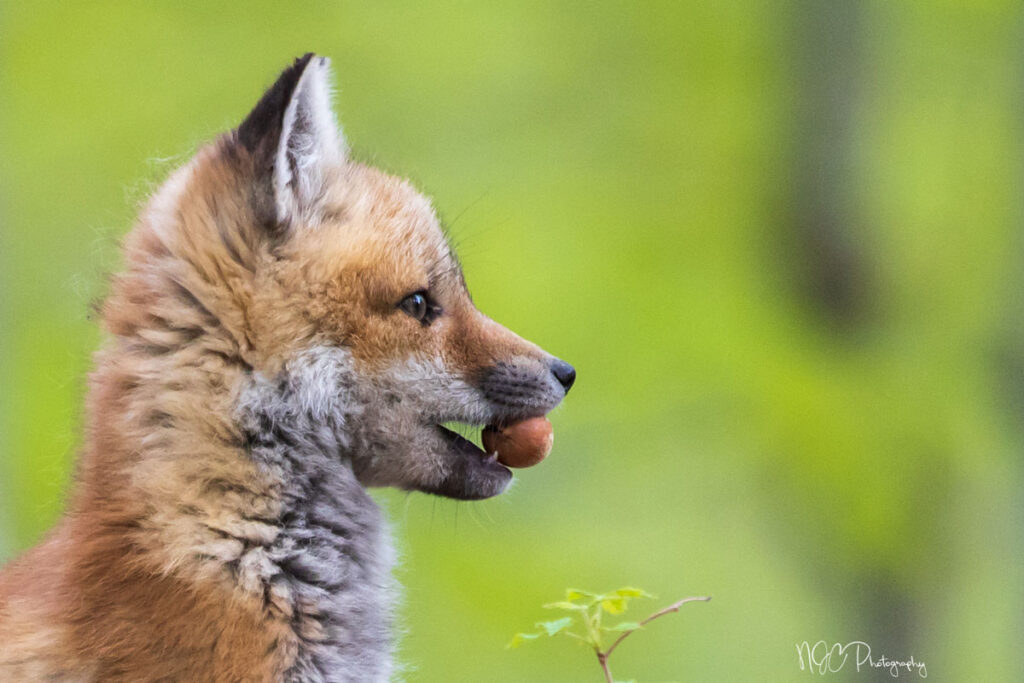 May 28, 2020
This is a stunning image. That it took much patience and careful observation to capture it is understood, but that's not the primary reason I love it. What I love is that it takes me into a world that I wouldn't otherwise see. The perfect profile of the fox kit with an acorn in its mouth is just wonderful. The kit's burnt-orange coat contrasts nicely with the green background. While I might have been tempted to boost the colors, Nancy rightly resists it — it's not necessary. The razor-thin depth of focus helps eliminate distracting elements in the background, and I can only imagine how hard it was to get a sharp image with all of the movement going on here. It all comes down to design and composition: Nancy has composed a simple, striking portrait — one of my favorite wildlife captures. If you'd like to see more images of this kit and its adorable brothers and sisters, check out Nancy's Instagram.
---
Shells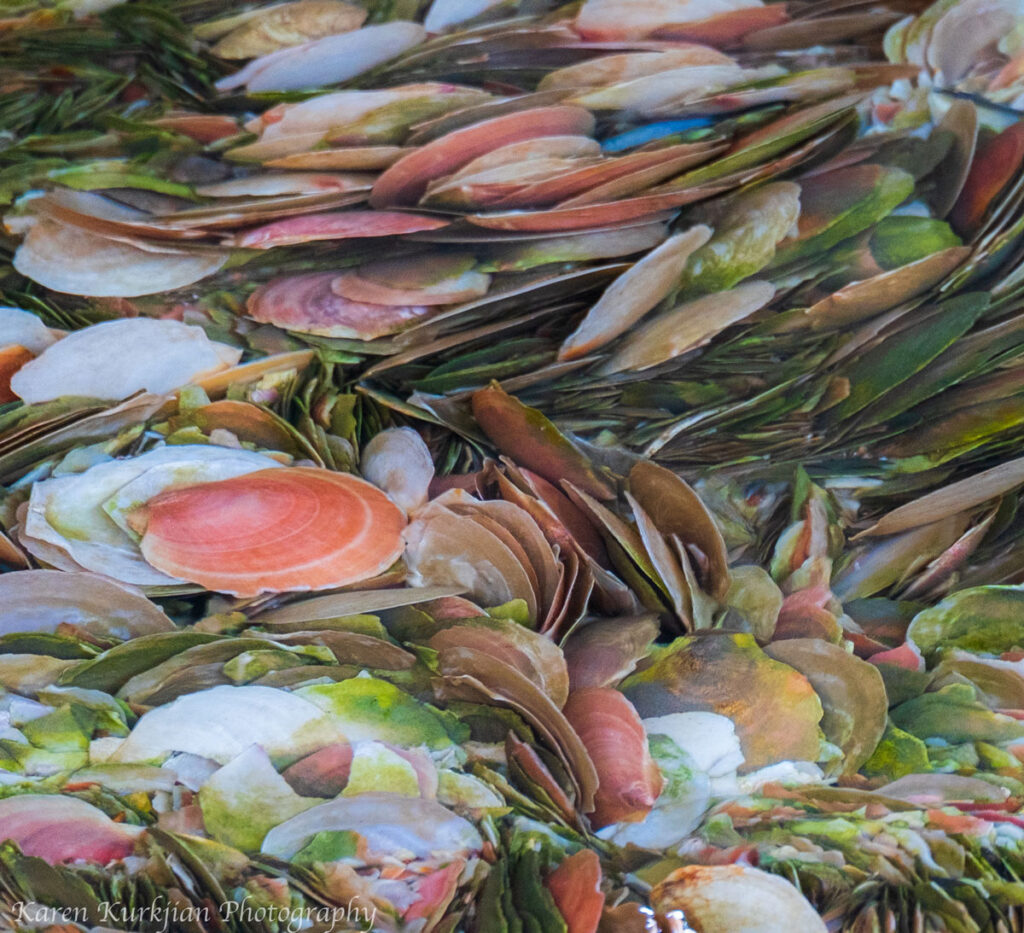 Color and texture are tools at the disposal of every visual artist, and Karen Kurkjian makes masterful use of both here. This is a unique, well-seen image. At first, I wasn't sure what I was looking at. As the outlines of the seashells came into focus, I delighted in the abstract nature of their arrangement. The green seaweed, which some might have dismissed as marring the beauty of the shells, nicely complements the pinks and oranges. I always admire photographers who find more intimate scenes by paying close attention to their surroundings. Karen certainly does that here, and she also captures some spectacularly grand sunrises and sunsets around her home. Be sure to check out her account for more beautiful images.
---
Brunswick Moonrise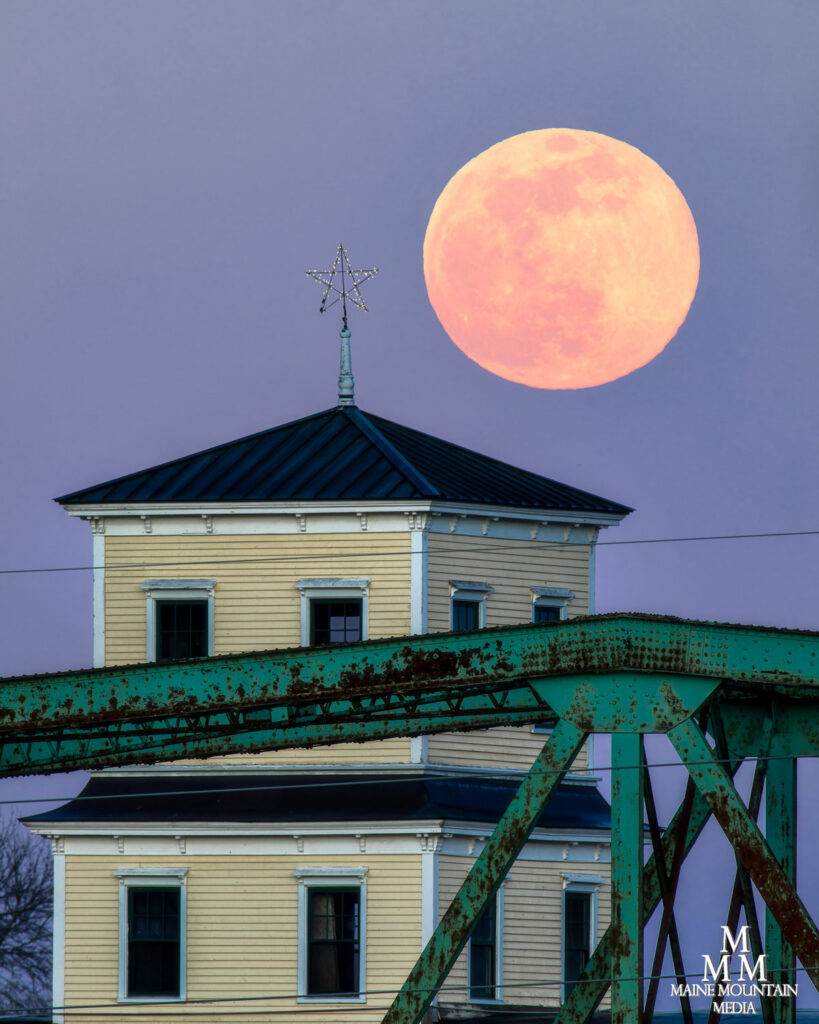 This beautiful image of the moon rising behind the Bowdoin Mill and the Green Bridge connecting Brunswick and Topsham immediately caught my attention. I have a strong connection to this place, having worked in that mill for a good part of my adult life. The composition is strong. I love how the forms of the building and bridge are reduced to an almost abstract representation. The star on top of the cupola and the moon beside add a sense of awe and wonder. The level of detail is also nice, considering the difficulty of getting sharp images at this focal length. A lot of folks wonder how you make the moon appear so large in an image without resorting to Photoshop. You do it by using a long (zoom) lens and superimposing other objects over the distant moon, which makes it appear unusually large. The view is outside of our everyday experiences, so there's often skepticism about how it's achieved. I always enjoy seeing the work of Maine Mountain Media, and I'm glad we have such talented photographers seeing familiar landmarks in unique ways.
---
Constance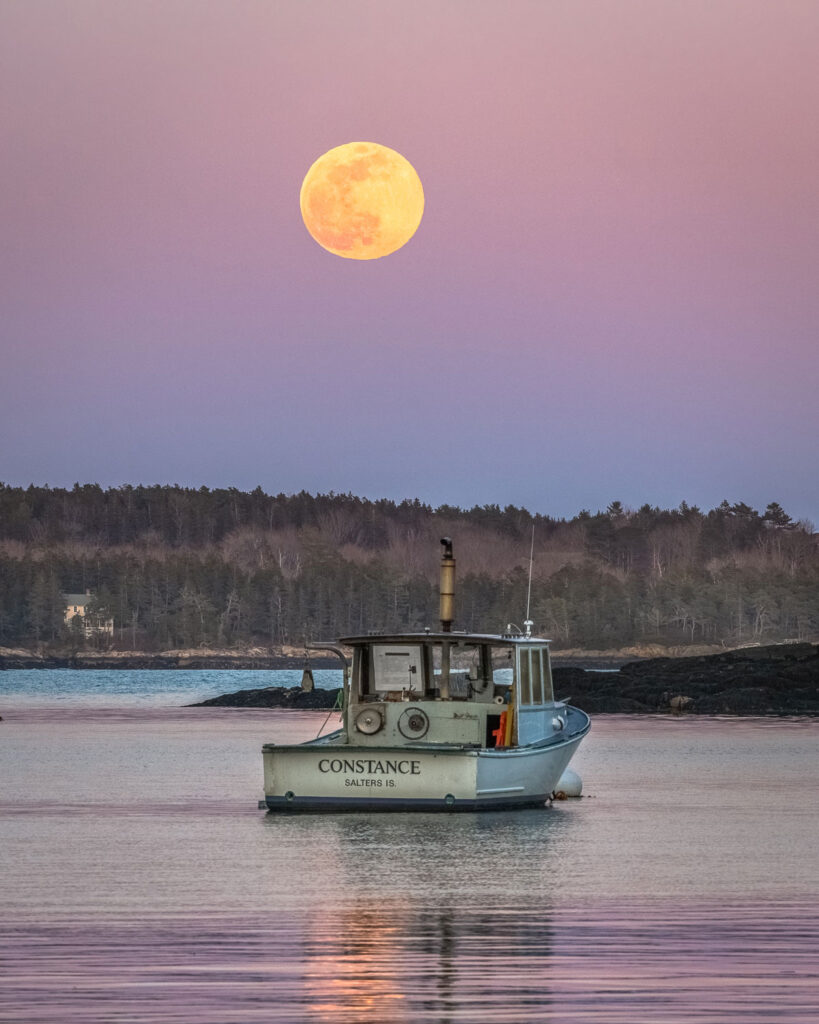 April's full moon is nicknamed the pink moon, but it was looking orange when staff photographer Benjamin Williamson got this shot on his evening walk last night. The name of the lobsterboat caught his eye. "It reminds me of the word 'constancy,'" Ben says. "The dictionary defines it as 'steadfastness of mind under duress.' I think we could all use some of that."
---
The Pier at Old Orchard Beach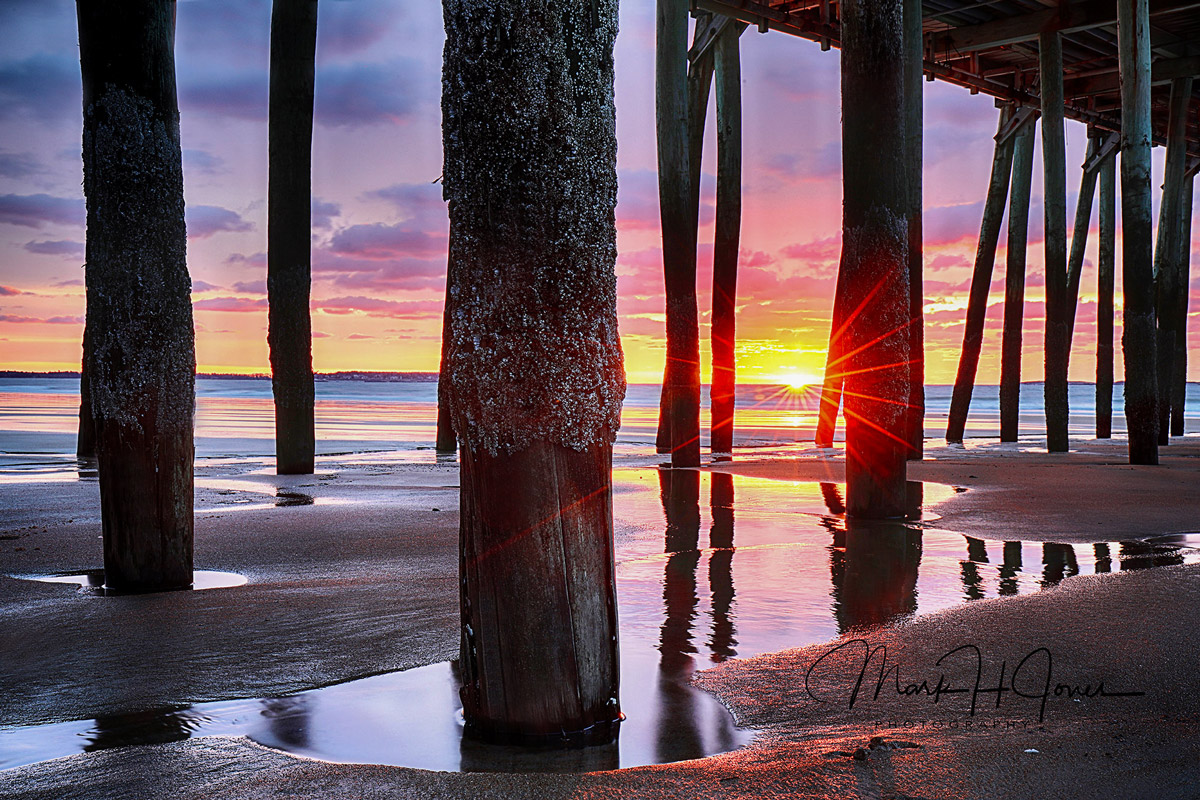 As winter transitions to spring, many of Maine's scenic photographers find themselves by the ocean because the landscape is drab brown, with neither fresh white snow to cover and simplify it nor green to liven it up. The rocky, sandy coastline is reliably consistent, and Maine has blessed us with a great diversity of scenery. Perhaps with this in mind, Mark Jones created this inspiring capture of one of Maine's most beloved icons, the pier at Old Orchard Beach. A lot of photographers stand back to get the entire structure stretching out across the beach. A much harder challenge is standing underneath the pier and creating a well-balanced composition featuring the wooden pylons that support it. It's like working a puzzle to make sure that everything lines up and no distractions cross the frame. Mark has used the sun star as a focal point in a scene that otherwise wouldn't have one. Mark has spearheaded Shutterbugs4Charity, an amazing group of photographers who dedicate their resources to helping others. There are a lot of folks in need right now, and this group will be lending a hand in many ways over the coming months. More information can be found at shutterbugs4charity.org.
---
Bath
Staff photographer Benjamin Williamson captured the beauty of downtown Bath during this month's spring snow. "The streets were empty, and the quiet was hauntingly beautiful," he said. "These are strange times we're living through, but there's still beauty to be appreciated."
---
Sea Cave, Popham Beach
Not many people get to glimpse this sea cave at Popham Beach, where staff photographer Ben captured this beautiful sunrise shot this morning. It's only accessible at low tide and only about 14 inches tall — just a large rock supported on its sides by other rocks, forming a small opening. The camera's perspective makes it feel larger, thanks to clever placement and a wide-angle lens. Always use caution exploring Maine's beautiful coast — consult a tidal chart and don't go alone.
---
Spring Point Ledge Lighthouse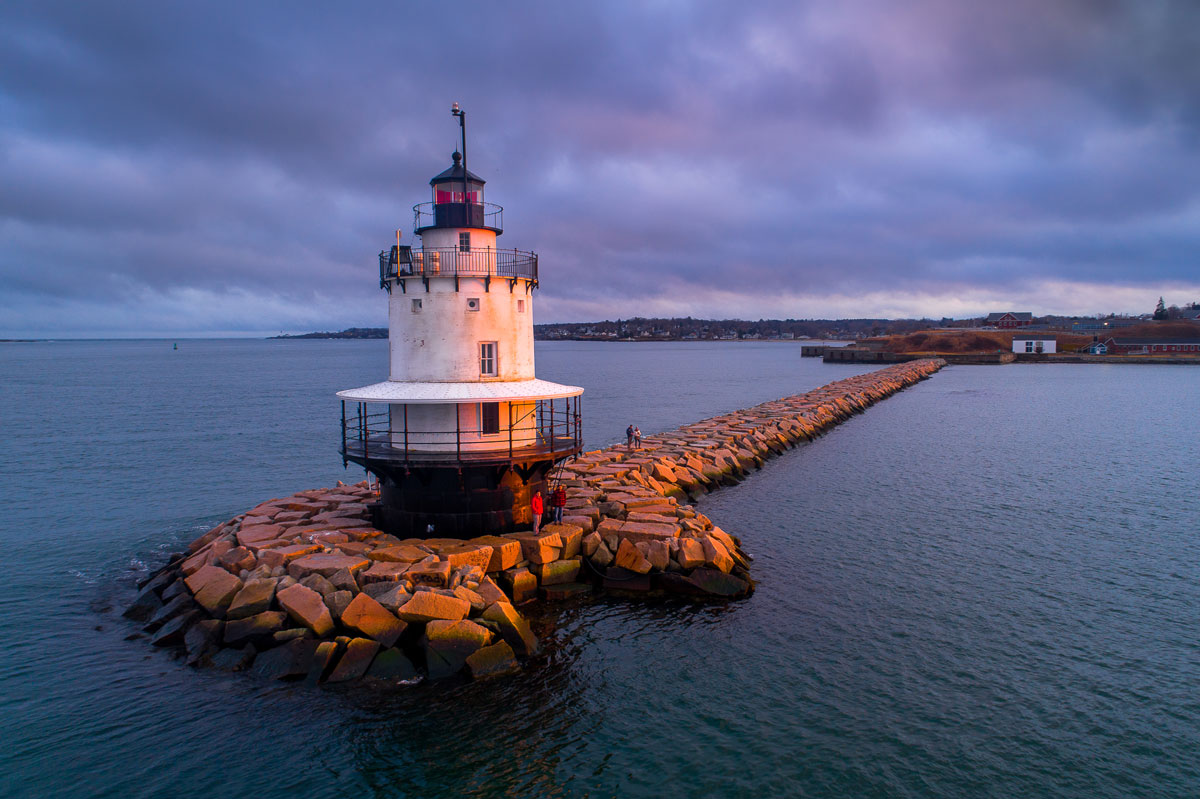 After a day of rain and clouds on Tuesday, the light broke through for just a minute at sunset and cast a beautiful glow on Spring Point Ledge Lighthouse in South Portland.
---
Winter's Dream
Snow, snow, snow. It doesn't get much prettier than this. I love how Darylann fills the frame with this heavily laden birch tree on the edge of a lake. The real draw, and what makes this a special image by an obviously talented seer, is the small island in the distance perfectly framed by the branches. The overall monotone palette works well, and the cloudy sky was perfect for this. I'm also amazed by the level of detail in the myriad of small twigs and branches, creating the familiar fractals that we know and love about trees. As we wind down from winter and look forward to spring, I think we can expect more beautiful images, no matter the season, from Darylann Leonard Photography.
---
Frozen Camden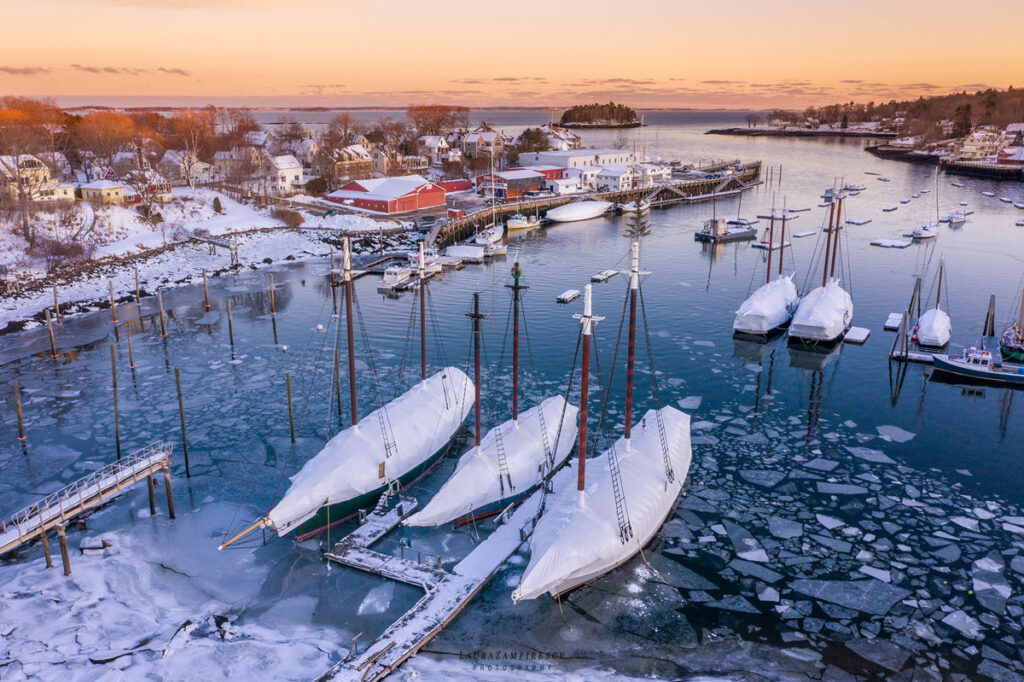 Winter is a great time of year for photography. I know many people feel that summer is best, but the real winters we have here in Maine provide unique opportunities for image-making that you just don't get anywhere else. Take this beautiful shot of Camden Harbor by Laura Zamfirescu. The ice in the foreground is fascinating, with the various-sized shapes reminding me of a Matisse collage. I love the time chosen, when the first light of day brushes the tree tops left and creates a warm glow in the sky that contrasts nicely with the blue tones in the rest of the image. The composition is rock solid. The harbor is framed nicely around the edges, and most important, the three winterized windjammers in the foreground point in a diagonal line from bottom left to upper right, creating a strong leading line that moves the eye across the image in a dynamic upward motion. An overall impressive landscape image by one of Maine's most talented nature and wildlife photographers! Laura can do it all. Please be sure to check out Laura Zamfirescu Photography for more amazing images.
---
Orr's and Bailey Islands
A ride down Route 24 to Orr's and Bailey Islands always delights the senses. I especially love coming down here in the winter when it's snowing. There are so many great things to see.
---
Full Moon at Nubble Light
The moon rises behind the Cape Neddick Lighthouse, affectionately known as Nubble Lighthouse, in this photo taken by our staff photographer, Benjamin Williamson.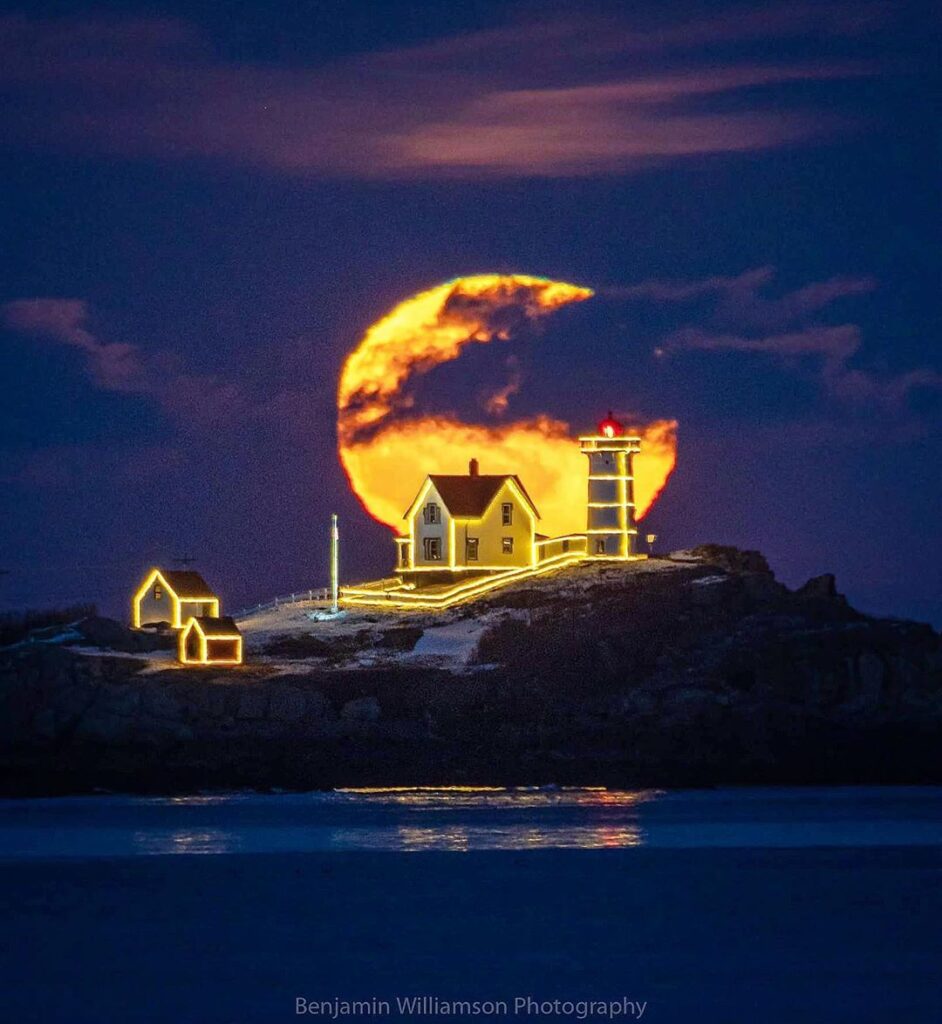 ---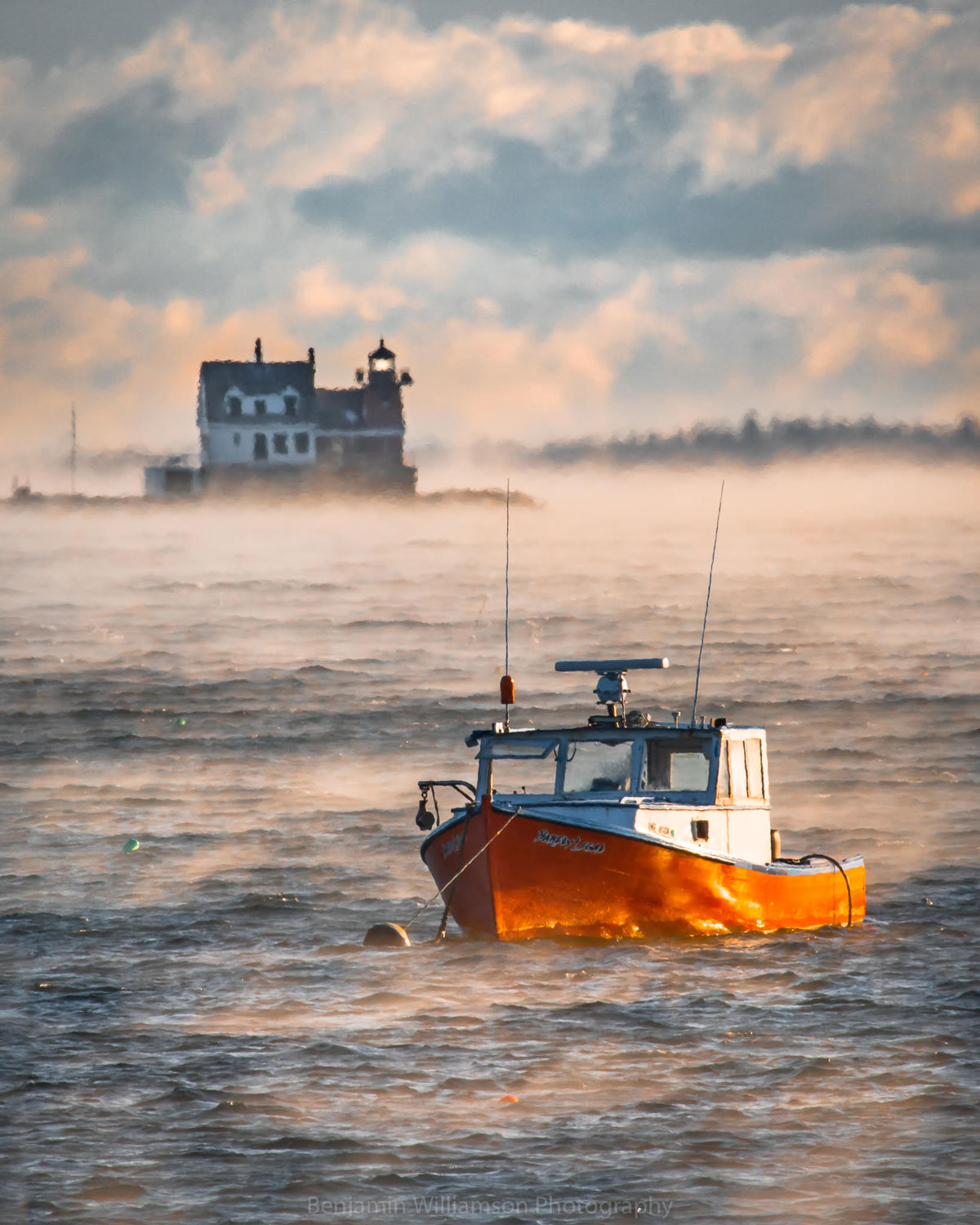 Cold Morning
PHOTOGRAPHED BY BENJAMIN WILLIAMSON
A red lobster boat sits in her mooring with Rockland Breakwater Light in the background, both surrounded by sea smoke in the frigid air.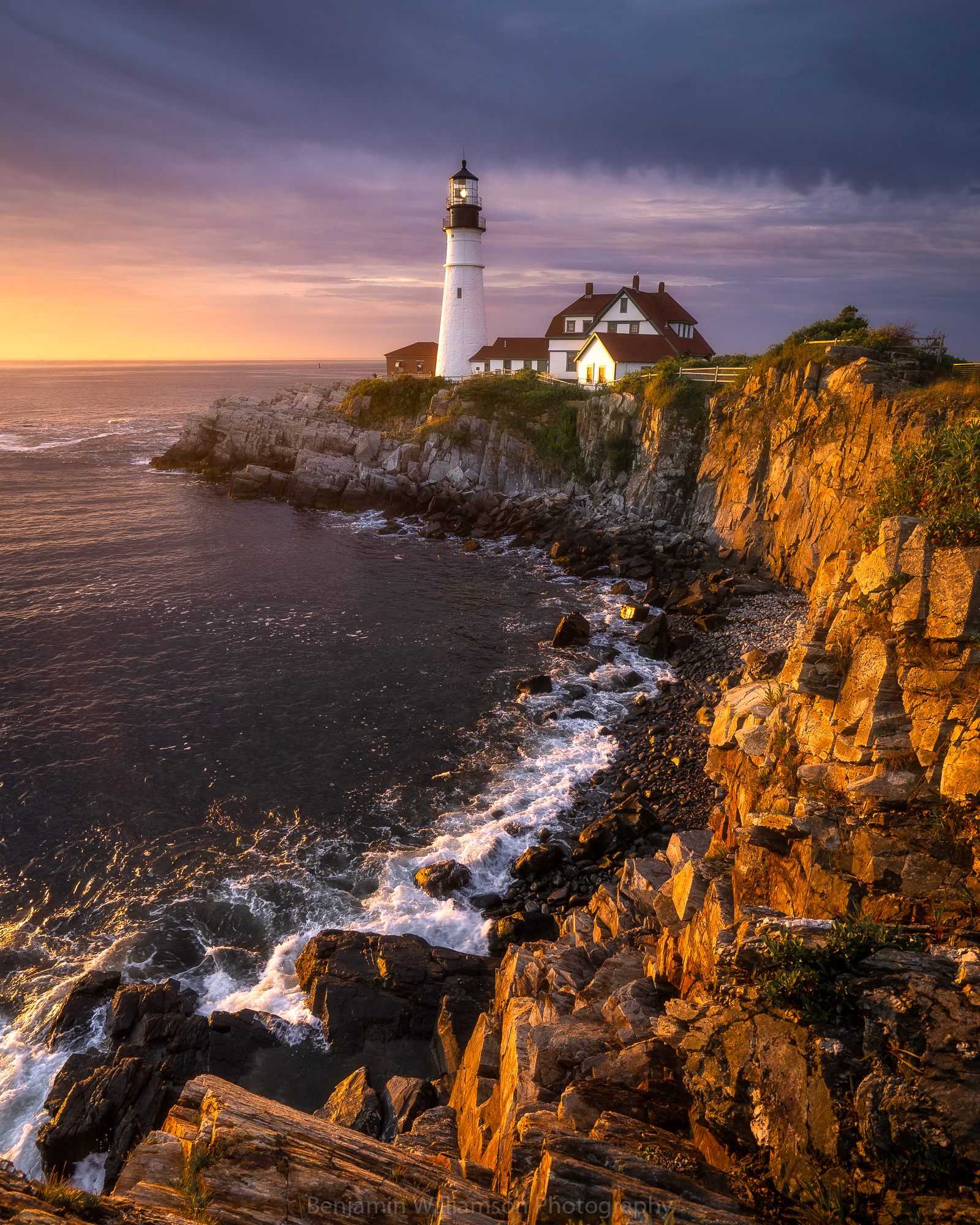 Center of Gravity
PHOTOGRAPHED BY BENJAMIN WILLIAMSON
This is my playground, my sandbox. More than any other location, even more than my beloved Lookout Point, this is where I feel the most creative. I love having new experiences and finding new expressions here. I love refining my vision and trying to distill the elements into the most effective visual communications I can. I love the challenge of working with conditions that many would consider to be poor, although on this morning, I think most would agree that the conditions were anything but poor. There was some of the best light I've seen on this morning, and I took advantage by applying what I have learned from those many experiences.
Take advantage of the dark background of clouds by running up to the cliffs on the left. Compose the image to create the strongest way of seeing what was in front of me. Include the sweeping line of surf crashing against the rocks below as a strong diagonal, so effective at giving a sense of dynamism in 2d images. Take advantage of the warm light on the cliffs and in the sky and balance it with the cool tones on the opposite sides in each. Exclude the sun because it would only distract from the scene. Catch both the surf and the rotating beacon at the decisive moment when they are both at peak interest. Process the RAW image in a way that does justice to the emotion and impact of the experience. The gear of photography of the modern days can help, though.
I am still learning how to do all of these things, and still looking forward to my next visit.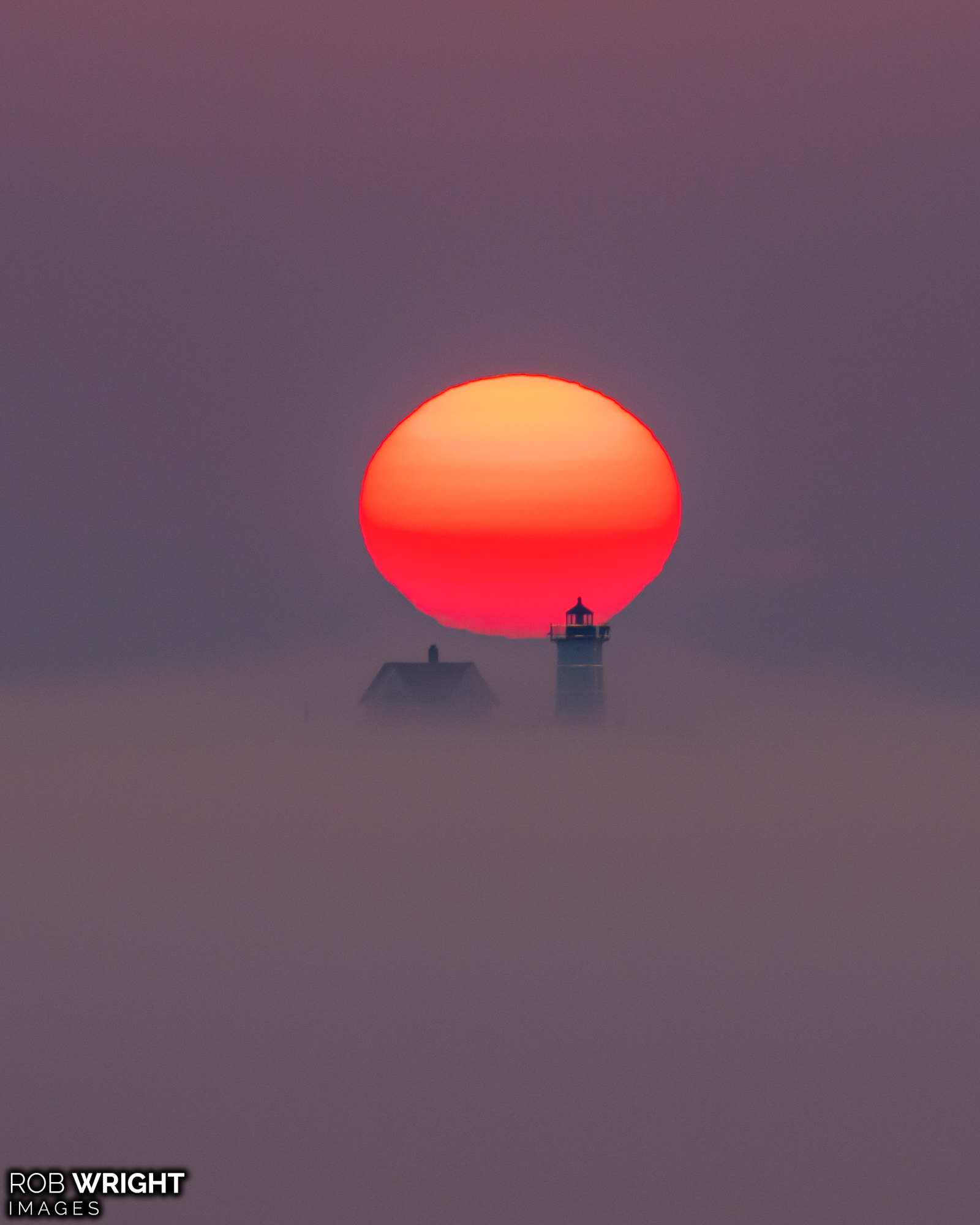 I love images that make me wonder. When you look at as many photos as I do, it's rare to be surprised, but this photo is like nothing I've ever seen. It took some unusual atmospheric phenomena to make it possible. First, a temperature inversion caused low fog to form over the water, and then the fog rose just enough so only the Nubble Light tower and the top of the keeper's house peek out. Haze and smoke from forest fires out West dimmed the sun, so it appears as a red orb. Rob tied these together beautifully in this composition, as the lighthouse barely eclipses the sun, and the structure and island below are totally obscured. This strong graphic presentation is so effective. The magenta tones are pleasing and feel natural considering the low angle of the sun and heavy atmosphere. I wish I had been there to witness these amazing conditions. I'm glad Rob was.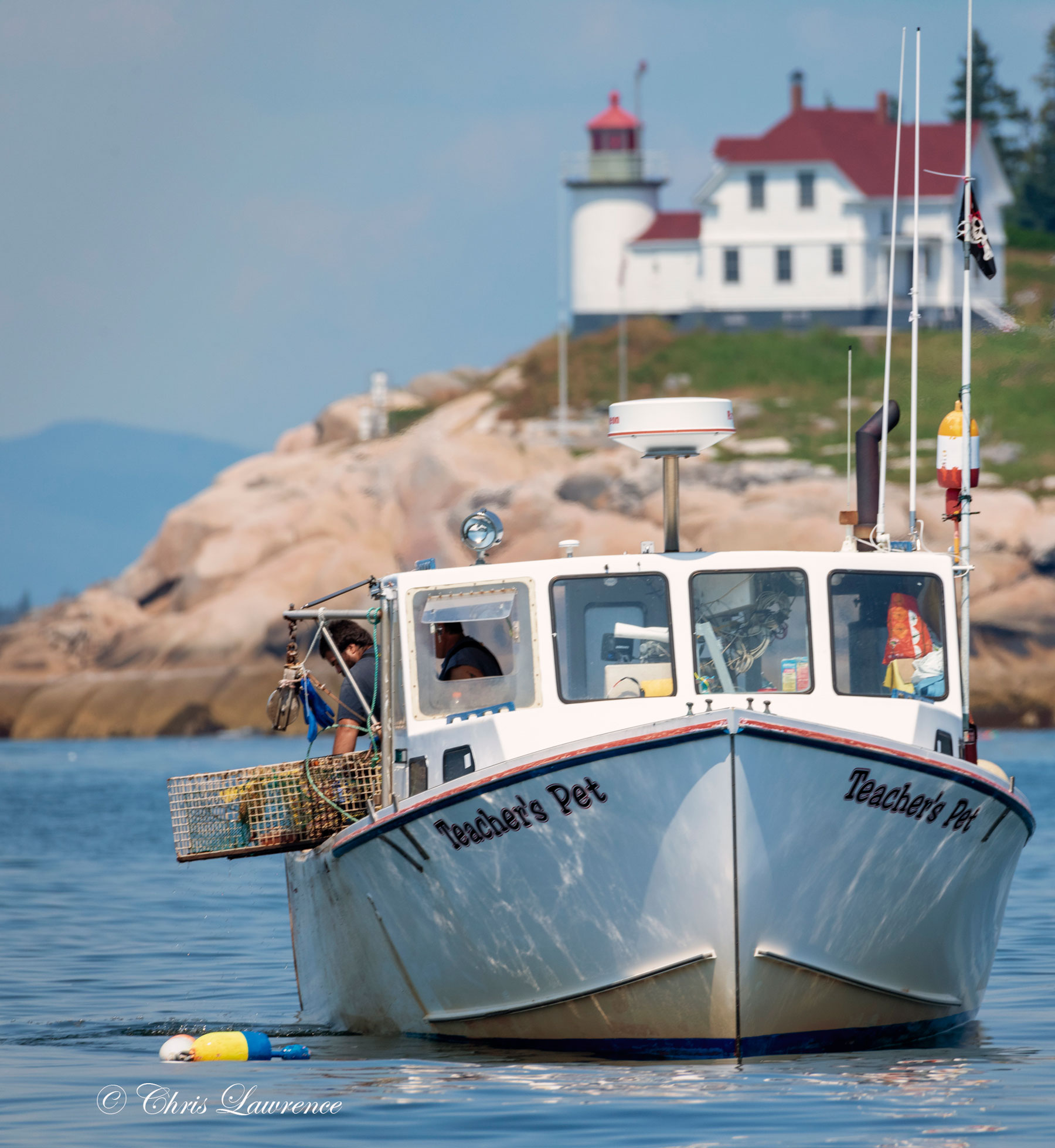 Maine's beauty isn't just in the natural landscape; it's also in our relationship to that landscape. I especially like places where nature and people intersect — landscapes that are serving the people who live, work, and play there. Don't get me wrong, I love nature; it's just that I love people more.
In this photo, Chris Lawrence captures a moment in one of the more distinctive aspects of our relationship to nature here in Maine: lobstering. The sternman leans over the side of the boat, reaching into the trap he's holding on the gunnel. The captain is framed in the window next to him. A lobster buoy bobs in the water below. What makes this photo unique among lobstering images is the incredible setting. Look at the massive pink granite headland, with the lighthouse perched on top, just behind the boat. Beyond it, there appears to be a high mountain. The spots of red on the boat trim and the lighthouse draw the eye, and contrast nicely with the blue water and sky. Then there's the fun in guessing the meaning behind the boat name: Teacher's Pet. Chris found two great subjects — lobstermen and a beautiful natural setting — and this wonderful image tells a story about their interaction.
It's well known in landscape photography that many of our best images are made in "the golden hours" around sunrise and sunset, when the angle of light is low, creating long shadows and accentuating textures and shapes. The warmer spectrum of colors helps a lot too. The problem with this logic is that we tend to ignore the rest of the day for other opportunities for image making. Bob Dennis doesn't subscribe to this restricted mindset. He made this beautiful image in the late-morning light, when the sun was high and sky was blue. It worked perfectly for this scene. Of course, he was helped by calm water, which created the reflections that are the image's most attractive feature. I love how the red and white paint on the boat is mirrored in the red and white buildings behind it. The splash of yellow in the traps stacked on the boat doesn't hurt, either. Framing the image vertically worked well here, and Bob pulled the edges nicely around the boat and buildings, eliminating most of the sky above the trees and filling the frame with what's important. I've followed Bob's work for a long time and feel his love for Cape Porpoise and Kennebunkport comes through his images. He captures what makes this community special.
Puffins are a great subject for photography. They are very charismatic, with their colorful beaks and expressive eyes. Even folks who aren't obsessed with birds can appreciate their whimsical appearance and understand what the fuss is all about. They congregate in large groups to nest on barren offshore islands, making them easily accessible to photograph, that is, once you go through the trouble of getting there. That is no easy task, and reservations for the prime viewing spots, from blinds on Machias Seal Island, fill up very early in the season. Colin Chase made the best of his opportunity and got this wonderful image of a puffin in flight. The fact that it was a blue sunny day could have been frustrating due to the harsh light and shadows, but I think that actually played in his favor by providing the awesome color contrast of orange on blue, as well as the light reflecting off the white rocks and water nicely illuminating the underside of the puffin. The slightly longer shutter speed didn't freeze the puffin completely, which I think is nice due to the slight blurring of the wingtips giving a sense of motion. Colin also filled the frame with his subject and nailed focus, which can be extremely challenging in these situations. The inclusion of the horizon at the top of the frame places it in space, and the color and contrast are bold without being overdone. I just love looking at this image.
Michael Blanchette combines artistic vision with serious technical skills to produce some of the most beautiful imagery being created in New England right now. Night work has been his longtime focus, and he's created some of the most compelling night images I've seen. He's been at the forefront of technology, producing the kinds of images that have become readily accessible to photographers only in the past few years with advances in prosumer camera bodies. Here, Mike put a patch of rosa rugosas in the foreground to add interest and complement Pemaquid Light and the night sky. The final image is a blend of photos taken from twilight to dark, a technique that reduces the need for extremely long exposures in dark conditions and captures more flattering light on an unevenly lit foreground. Mike has always been an inspiration to me and a wonderful partner leading workshops across New England for the past three years.
When teaching composition to students, I talk a lot about telling a story using juxtapositions and contrasts. I could use this wonderful image as an example. Two of Maine's favorite subjects, loons and lupines, combine to tell a story of early summer serenity. By zooming in on two towering bunches of lupines so they fill the frame, Darylann has turned the traditional view of a field full of flowers on its head. Unexpected turns like these show true creativity, and I know from having seen many of her images that Darylann has that in spades. The calm water reflecting green foliage harmonizes wonderfully with the purple flowers, and the loon's reflection adds a lot as well. The simplicity is striking: the scene has been distilled into three points of interest, yet details, such as water droplets on the lupines and very soft ripples on the surface of the pond, are not lost. This provides a reward for looking closely and creates interest across the frame. The full effect leaves me feeling peaceful and warm. Who wouldn't want to be here?
It was an incredible experience standing in this field last night, all alone for over an hour while the sun set and the light changed around me. Yes, there were dense clouds of mosquitos, but it was more than worth it. I've never seen a prettier field than this one.
It's hard to believe that I haven't picked a night-sky photo until now. This one, by my friend, Jon Secord, caught my attention. Jon and I have photographed together many times, and we correspond extensively. He's my go-to guy when I'm excited about something, because we experience the same joy about landscape photography.
Jon takes his work seriously, and as a result, his images are very high quality. This image stood out from the moment I saw it because of its excellent design, contrast, and subject (that subject, a photographer silhouetted on a high cliff at Acadia National Park, is none other than Jamie Walter, whose images of a winter ski trip to Katahdin appeared in the February 2019 issue of Down East). I also like the restraint in editing that Jon exercised. A lot of times, photographers, myself included, brighten the foreground in landscape astrophotography. This can be compelling, but it looks unnatural. Jon allowed the cliffs to remain dark, but not completely black, so the scene as a whole retains better contrast. This makes the outline of the rocks from the shoreline up to the subject stand out wonderfully. The Milky Way and the cliffs form strong diagonals that intersect at the subject and lead the eye across and up and down the image. The photograph evokes feelings of awe, wonder, and, because Jamie is close to the cliff edge, maybe even the thrill of danger.
Adam Woodworth is one of the most successful landscape photographers New England has produced in the last 10 years. He's a Nikon ambassador and a regular contributor to Down East and Outdoor Photographer magazines, and he's traveled extensively across the U.S. and into maritime Canada. Originally based in southern New Hampshire, Adam recently moved to Lubec after falling in love with the community.
It's no secret that I love looking at images of colorful sunrises and sunsets. They shift the color spectrum, and therefore the mood of the image, from cool to warm. Warm tones generate a positive response in the viewer, especially in northern climates. I like to see more than just a pretty sunrise, though. Standing on the shore in Lubec and looking across the narrows toward Campobello island, your attention is immediately drawn to Mulholland Point Light, a striking white octagonal tower with red lantern. Did you know that the fact that lighthouses are painted white is in part what makes them great subjects simply because our eyes go to the brightest spot in an image first? Adam paid careful attention to the design here by capturing a great reflection, zooming in fairly close, and centering the subject. Often, a centered subject can feel static and boring, but in this case, with perfect reflections and a symmetrical subject, it works! (Also, some rules are meant to be broken.) I'm glad that Adam is in this part of the world, sharing images like this with us.
Although much of my focus here has been on scenic landscapes, I also enjoy portraits, lifestyle, and street photography. These types of subjects are much harder to pursue, but they're potentially more rewarding. The photographer must read the situation, chose the decisive moment, and get in close to give the viewer a sense of being there. Because of their intimate nature, many of these situations require no small amount of courage and care. It's an approach honed through lots of practice. Success is defined by an image's ability to stir emotion — a hallmark of a great photograph, no matter the genre. This image by Dave Dostie certainly does that. In the curious faces of the sheep I see a reflection of my own curiosity. I also feel an affinity for these domesticated animals that is probably instinctual, speaking of an ancient bond.
Here's what Dave had to say about making the image: "My heart is so full after photographing these 2-week-old lambs as they curiously peeked out from behind an open barn door. I'm excited to be working to document, through imagery, the beautiful sheep of Get Wool: Seacolors Yarnery at Meadwocroft Farm here in Maine." Kudos, Dave. Your full heart has spilled out through this wonderful image.
Get our weekly Down East Snapshot email, featuring Maine's best photography!