Why Isn't Starks More Excited About Legal Pot?
Starks, Maine, is a quiet, lovely little farm town that is also the long-reputed heart of the state's marijuana culture. So how come nobody there seems real blissed out about the new era of legal weed?
By Jesse Ellison
Photographed by Greta Rybus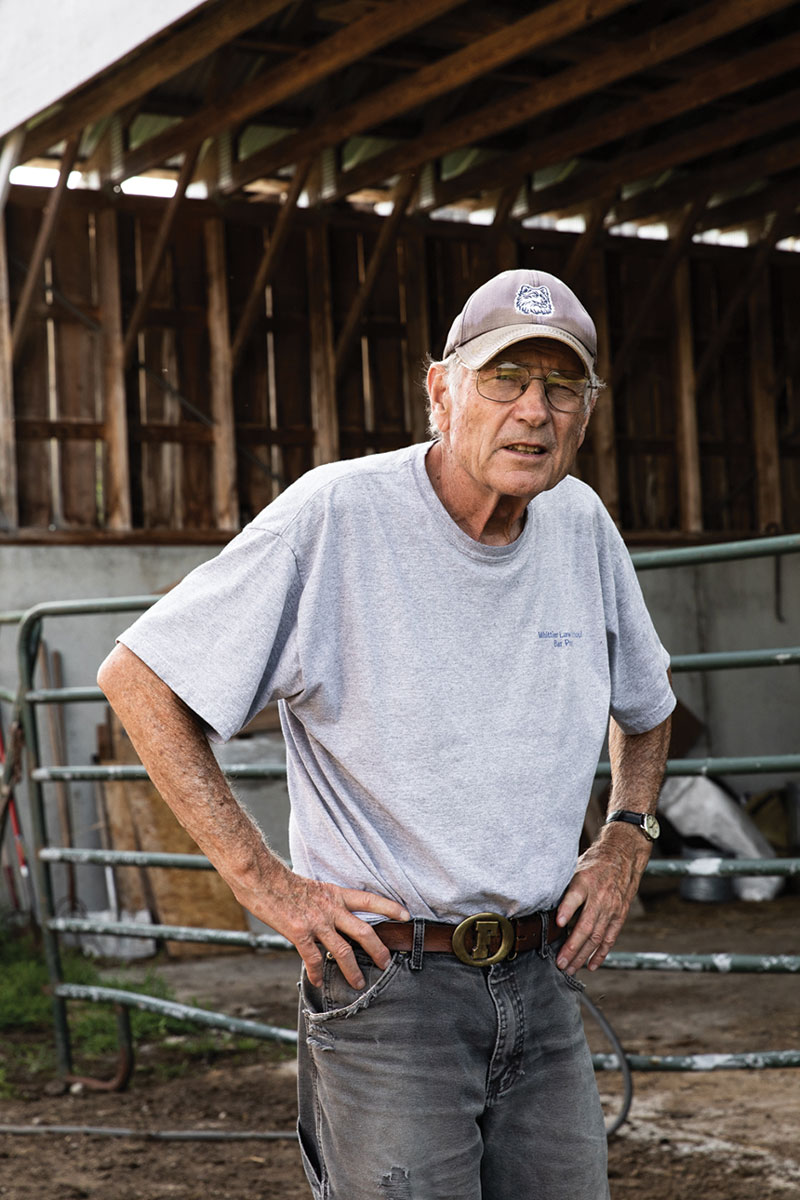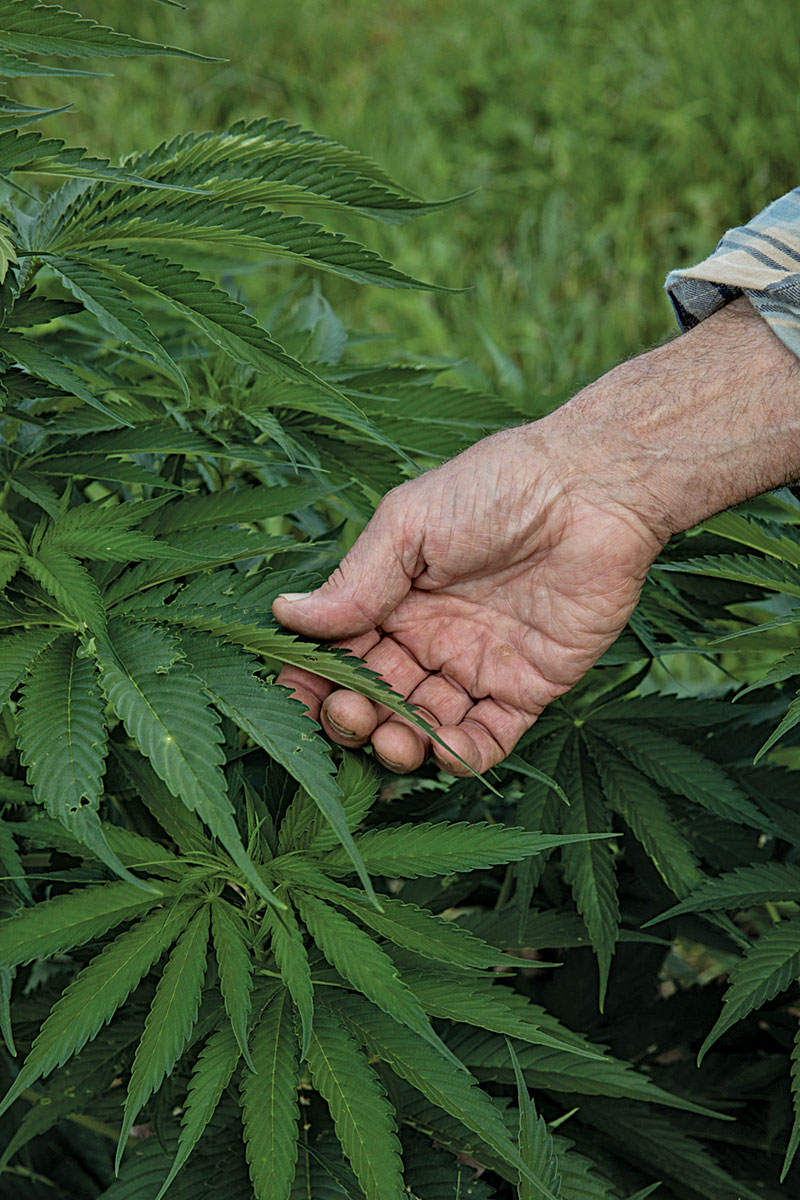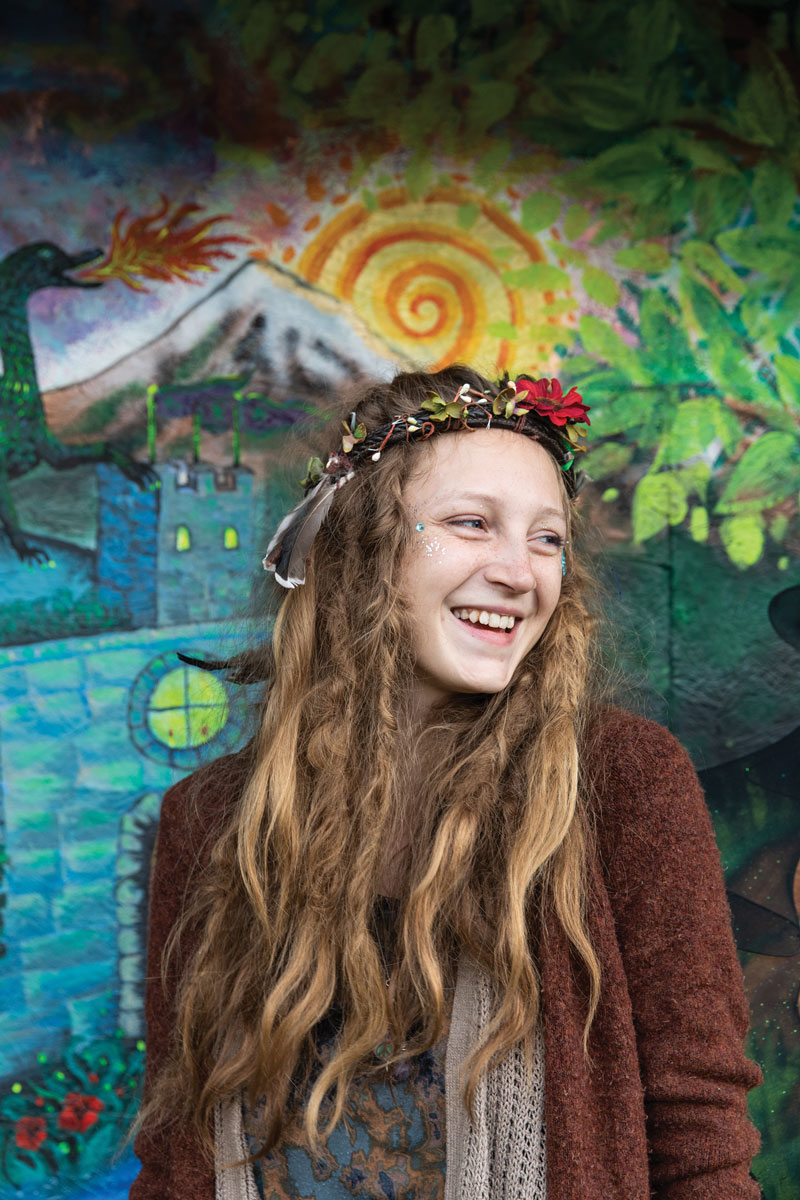 Why Isn't Starks More Excited About Legal Pot?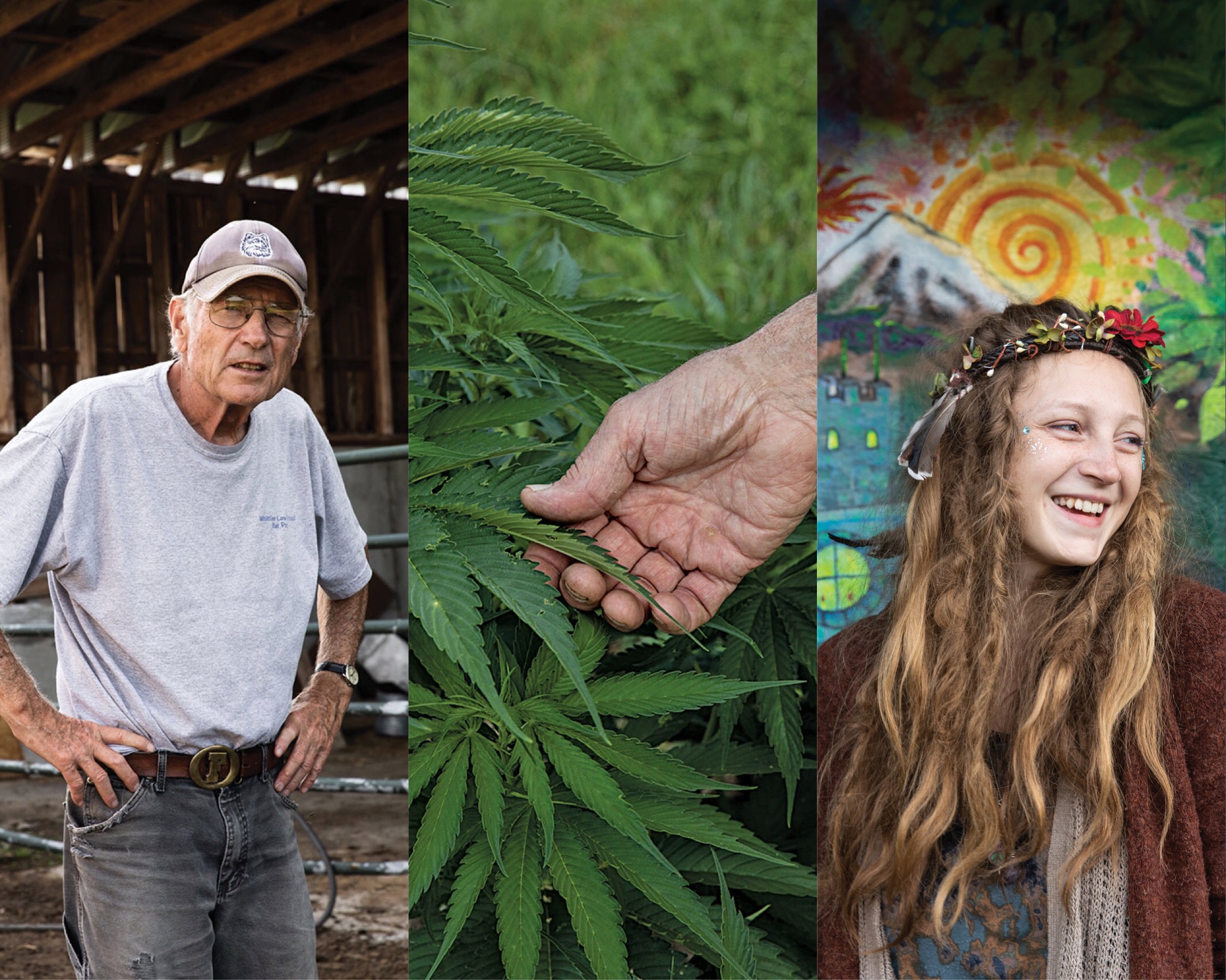 Starks, Maine, is a quiet, lovely little farm town that is also the long-reputed heart of the state's marijuana culture. So how come nobody there seems real blissed out about the new era of legal weed?
By Jesse Ellison
Photographed by Greta Rybus
Seventy-year-old Harry Brown took the stage at his annual Harry's Hoe Down festival this summer just before 4:20 in the afternoon and began, as he tends to, on a note of gratitude.
"I want to thank the volunteers and production crew and the town and life!" he cried, eliciting a few whoops from the crowd. "And the community here in Starks! A town you don't have to go through to get anywhere, it's so small. Starks, Maine! The first town in the early days to adopt, by town-meeting vote, a resolution forbidding the prohibition of usable amounts of marijuana!"
Scatters of applause rose from the 100 or so people gathered on the grassy hillside facing the stage.
"Anyway, it's great to see everyone out here," Brown went on. "We are more than an adorable artifact! We are the living memory of something I would like to discuss: America's war on some drugs!"
With that, Brown paused to take several long pulls on a joint. Near where I was standing, a college-age guy looked over at a friend and declared admiringly, "That guy is the man."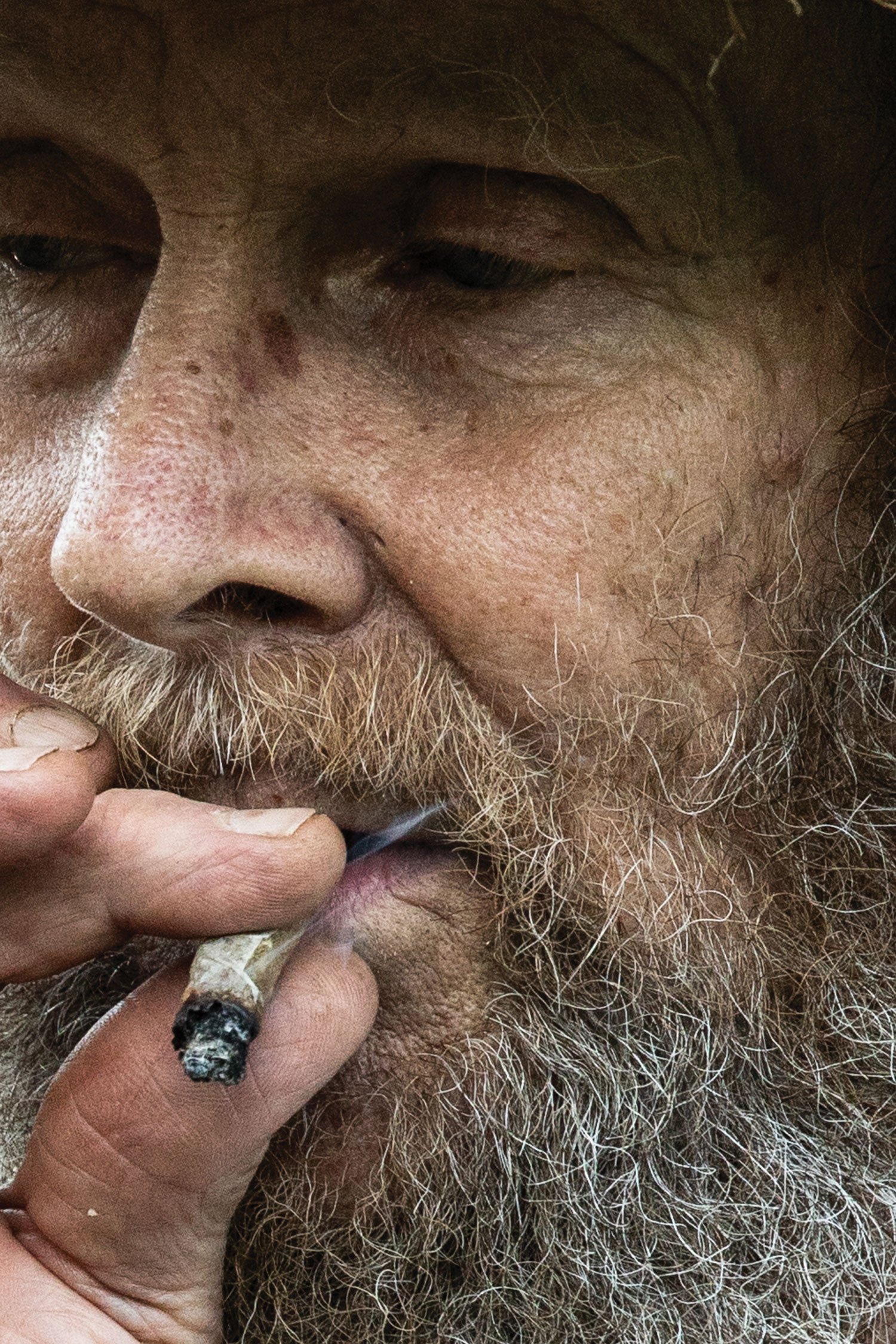 Brown may not be an artifact, but standing onstage in his corduroy bellbottoms and denim vest, a marijuana leaf embroidered on its back, he looked like a relic of an earlier era. He's been hosting "cannabis liberation festivals" on his property in Starks for nearly 30 years, shindigs combining music, art, and free-the-weed activism that attracted more than 10,000 attendees at their peak — and which, along with that local resolution in the '90s and cheap land for would-be horticulturists, have helped earn the western Maine town a reputation as a pothead haven. But in 2019, Brown's three annual festivals — Harry's Hoe Down, Green Love Renaissance, and Harvest Ball — are relics too, in a sense. Because while Brown still takes the stage to rail against the "war on some drugs," that war sure seems to be ending, with Brown's side coming out on top: Maine voters passed a ballot initiative legalizing recreational marijuana in 2016, state laws regulating retail sales are in effect as of September, and the first pot shops are expected to open within months, making Maine the eighth state in the U.S. with a fully legal retail market for adult-use cannabis.
Given Starks's decades of renown as the hub of Maine's marijuana culture, you might expect folks there to be pretty giddy about all this. But somehow, most of the anti-prohibition revelers on Harry Brown's hillside are as strident as ever — and most of the rest of the town just seems tired of talking about ganja already. So what, if anything, does the new era of legal weed mean for the fractious, freewheeling scene in Maine's reputed cannabis capital?
Starks is a speck of a town in the western Maine foothills with a population of around 640. It doesn't have a four-way stop, much less a traffic light, and the town center is little more than a bend in the road with a cluster of houses. Farming is big, and the area is home to a lot of retirees. The local elementary school closed nearly a decade ago, the post office decades before that. The town's only functioning commercial property is Steve's Garage. There's still a sign up at the former Starks Country Store, but it's been some 15 years since the lights were on inside.
Paul Frederic, chair of the town select board, calls Starks "the hole in the donut, in terms of infrastructure." He's a retired geography professor who taught at the University of Maine at Farmington, a half-hour down the road, and his family has had land in Starks since 1795. Today, he breeds heifers for dairy farms. When I reached him by phone this summer, he had just come in from laying manure.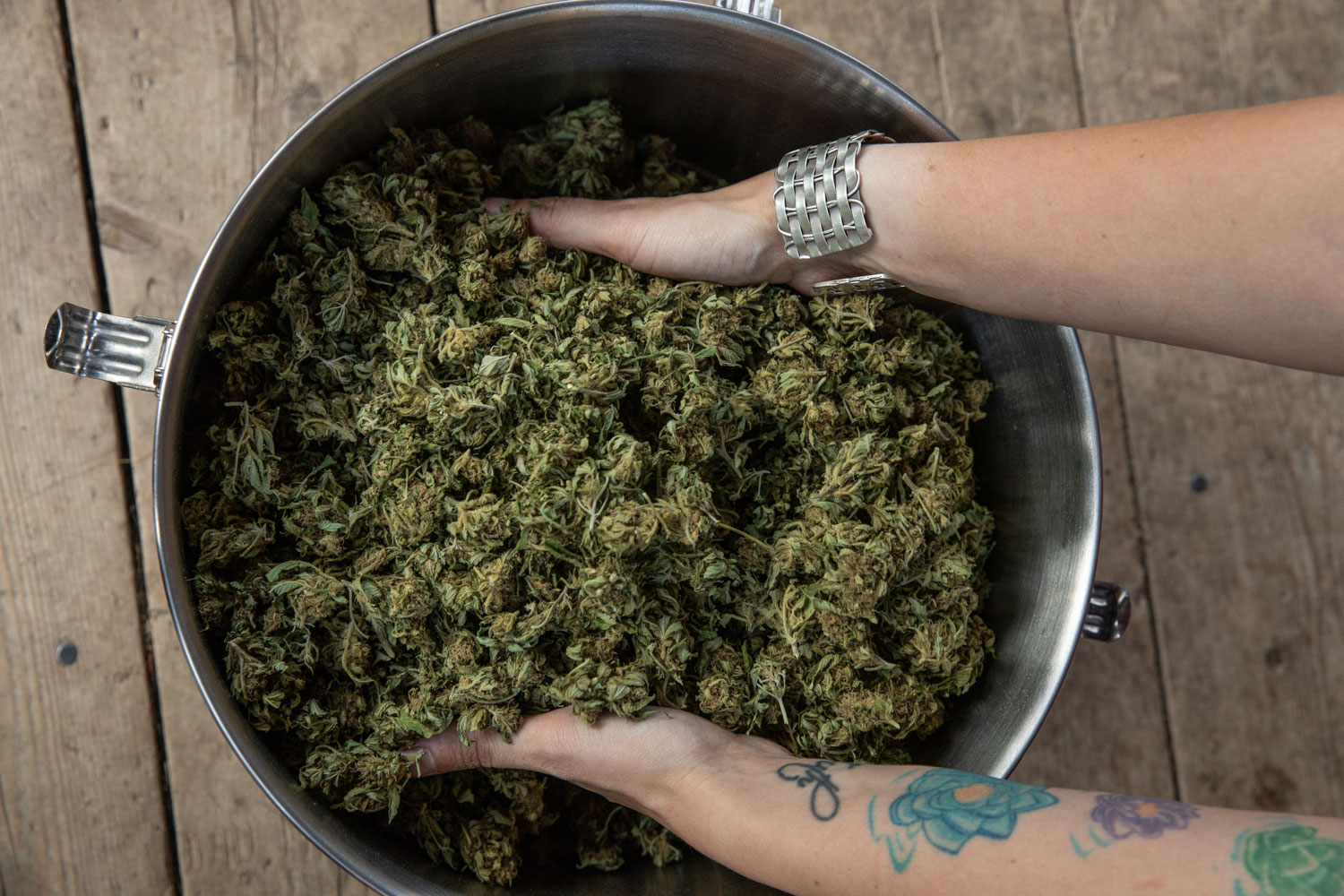 At 77, Frederic is old enough to remember when Starks had a lumber mill — it washed away in a flood in 1954 — along with a canning factory, which once produced a quarter-million cans of corn annually but shut down in 1964. He also remembers when "an articulate young man, a hippie-type character" named Harry Brown arrived in town. "He's a little bit of a nut," Frederic says. "But so am I, in some ways."
Brown already had at least one marijuana-related arrest to his name when he came to Starks in the late '70s. The Connecticut-raised art-school grad used a small inheritance to buy his 70-acre property there, which hugs a hill just around the corner from the town center and was once a place where locals skied and sledded. Brown made a like-minded friend in Don Christen, who grew up in neighboring Madison and ran a cannabis advocacy group called Maine Vocals. It was Christen who approached Brown about throwing a fundraising festival in Starks, and one Sunday afternoon in 1991, the pair hosted their first "Hempstock," inviting musician friends to perform on Brown's property and charging a $5 admission to support the pro-legalization cause.
"Some of us hope that the whole thing will go away with the legalization of marijuana at the state level, but I don't know if it will, because it's kind of taken on a life of its own."
In 1991, the nationwide war on drugs was at its apex. That year, the Department of Justice spent $13.7 million assisting states in marijuana-eradication efforts. In Maine, that money funded helicopter searches that led to the seizure of more than 24,000 plants, and many of those loud, livestock-disturbing aerial searches, along with nighttime raids by law enforcement, focused on Starks — though it certainly wasn't the only Maine town remote and affordable enough to attract pot growers. In the spring of 1992, several such towns voted on ordinances drafted in response to what even straightlaced citizens often felt were needlessly invasive searches. Starks was the only place where they passed: at a town meeting, by a vote of 45 to 42, residents enacted two essentially symbolic measures, prohibiting low-flying surveillance helicopters and permitting the cultivation and possession of up to 2 pounds of cannabis. The vote was arguably more reflective of local attitudes towards government intrusion than towards marijuana, but it nonetheless garnered national media attention from the Associated Press, cable talk shows, and other outlets.
Which, in turn, helped Brown and Christen's festival grow faster than anyone expected. Hempstock became a full-weekend campout of music and anti–drug-war advocacy, and within a few years, festivalgoers who'd heard about the iconoclastic, pot-legalizing Maine town were arriving from all across the country.
"I really didn't pay much attention until all of a sudden 9,000 to 10,000 people were showing up," Frederic says. "I'd have haying equipment out on the public roads, and the physical presence of these large numbers of people brought my attention to some level of 'crispiness,' so to speak. It was awful. We'd find people wandering the roadways completely stoned."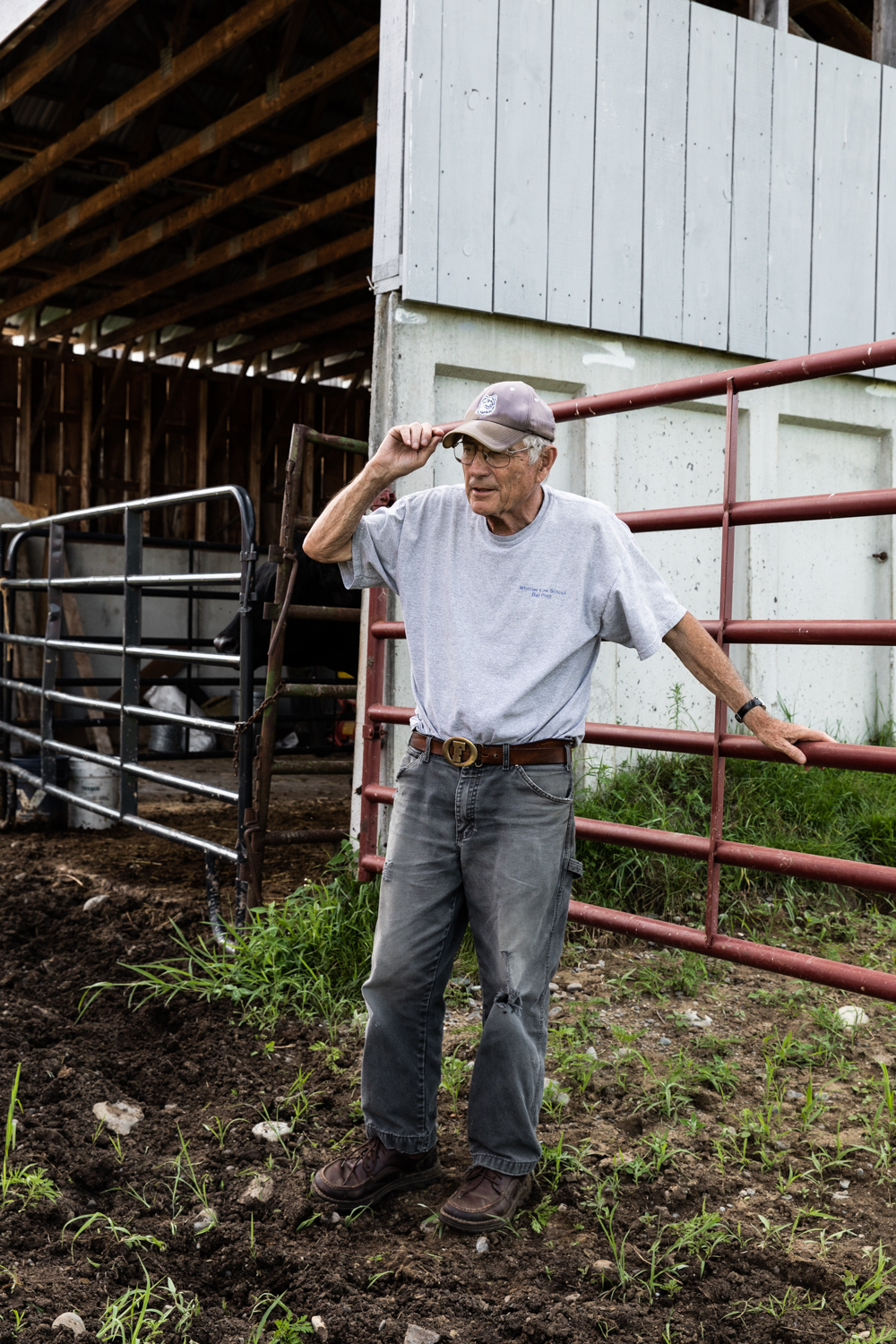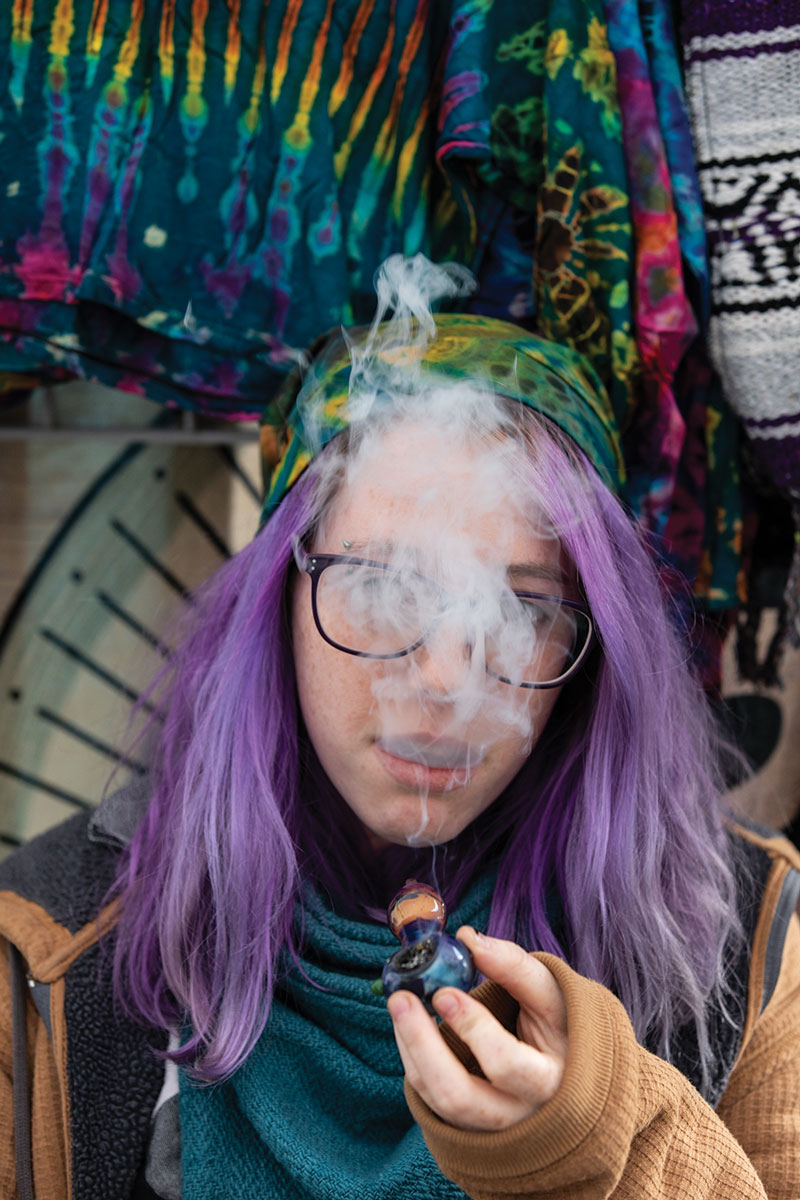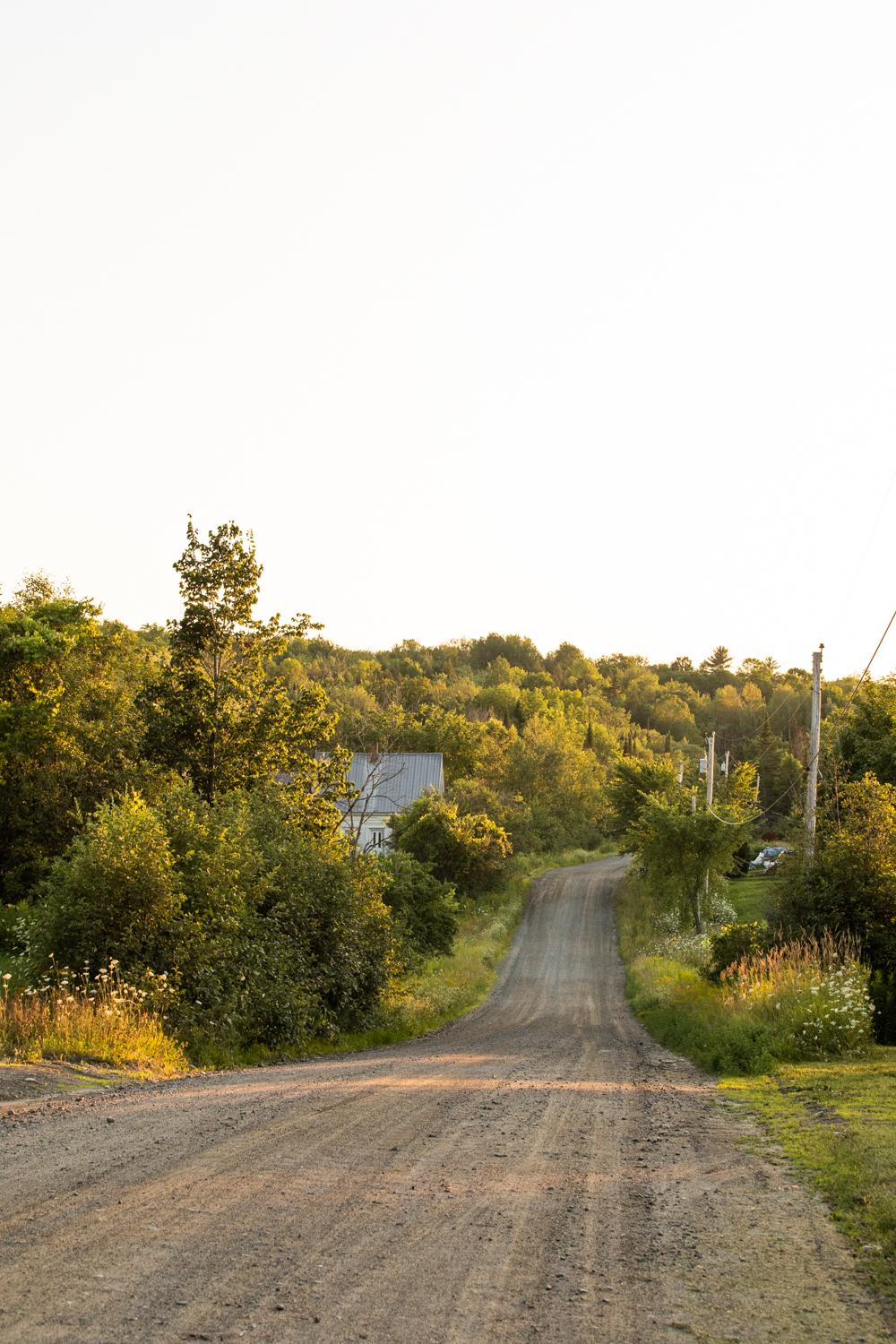 Farmer, historian, and Starks selectman Paul Frederic; an attendee at last October's Harvest Ball; plenty of roads in Starks are unpaved.
"There used to be so much spillover," selectman Ernest Hilton says, remembering when the festival attracted thousands in the '90s. "Back in the day, there was no food and no water up there, and because of the slope of the hill, people would gravitate towards the village, knocking on doors and asking for water. They'd camp all over, cut wood for fires, defecate all over the place."
And so a schism took root between the hill people and the rest of the citizenry. Local officials tried to end the festivals. In 1995, the town banned mass gatherings of more than 750 people; later, it enacted parking and noise ordinances. Starks doesn't have a police force, but during the festival, the Somerset County district attorney called in assistance from state and county law enforcement. In 2002, the Lewiston Sun Journal reported that police, along with agents from the Maine Bureau of Liquor Enforcement and Drug Enforcement Agency, kept a round-the-clock vigil over the fest, arresting two dozen people over the course of a weekend. Christen was the festival's primary promoter at the time, and despite the consternation of his neighbors, Hilton says, he "flat out refused to deal with the chaos." In interviews, Christen wrote off efforts to police the festival as "harassment." In 2003 and 2004, when police arrived with warrants to determine whether the event had exceeded its legal capacity, he told festivalgoers to keep moving around so they could avoid being counted.
In 2008, law enforcement set up roadblocks to search vehicles going to and from Hempstock and seized more than 100 pounds of marijuana, along with LSD, hallucinogenic mushrooms, mescaline, and cocaine. That year, Brown and Christen parted ways over financial matters and disagreements about the festival's direction. Christen moved Hempstock to Harmony, 30 miles away, where he still runs a scaled-down version. In Starks, meanwhile, what's now known as Harry Brown's Farm hosts its series of smaller fests, run by Brown's family. Neither attendance nor arrests are what they were in the old days (the Browns no longer share attendance numbers, but I saw crowds of a couple hundred). All the same, tension within the community lingers.
"It's not the big gathering it was a decade-and-a-half ago, but it is a gnawing irritation in the eyes of a lot of our citizens," Frederic says. "Some of us hope that the whole thing will go away with the legalization of marijuana at the state level, but I don't know if it will, because it's kind of taken on a life of its own."
I visited Harry Brown's Farm last October, to attend the Harvest Ball, and showed up just as the Ganja Grail competition for the best marijuana strain was kicking off in a tent next to the stage. At a picnic table, competitors in a joint-rolling contest were twisting up multi-segmented spliffs and blunts the size of newborns' forearms. There was so much weed floating around that when Jodi Stebbins, the green-haired 33-year-old who handles festival operations and PR, took the stage between jambands and started lobbing joints into the crowd, most folks lazing in the grass didn't even bother getting up.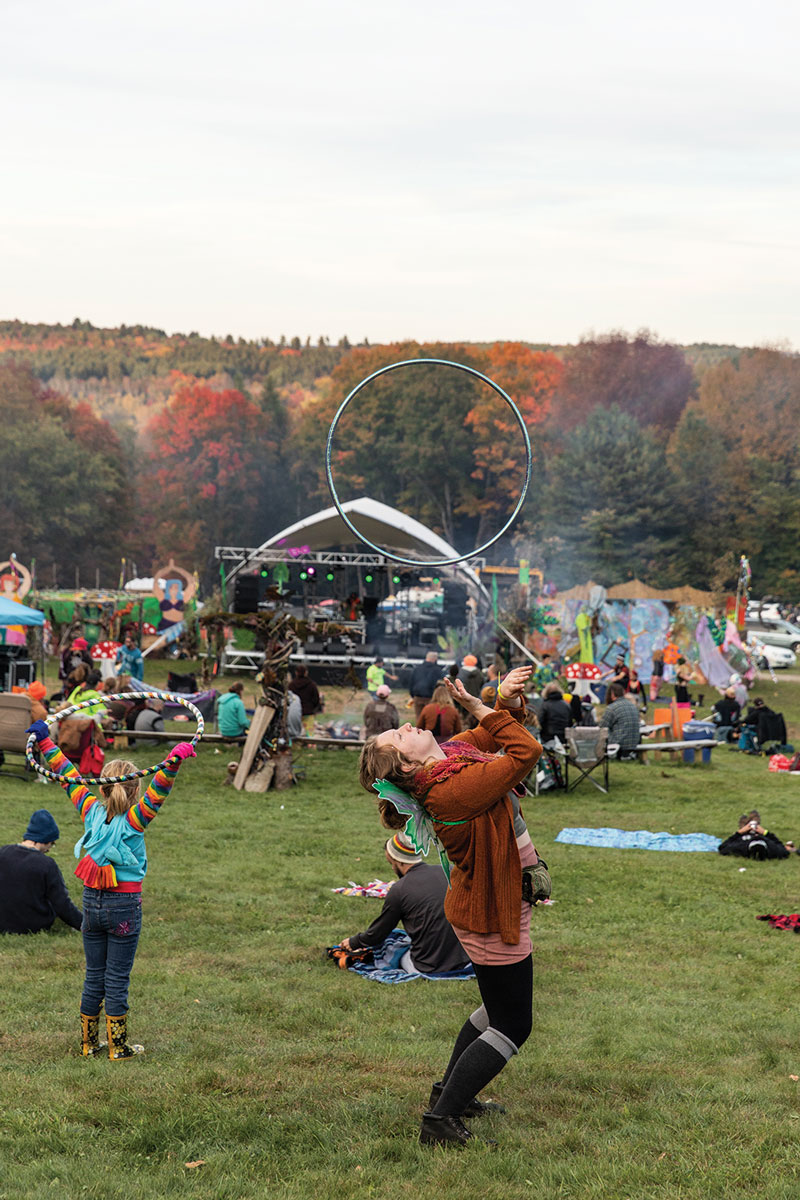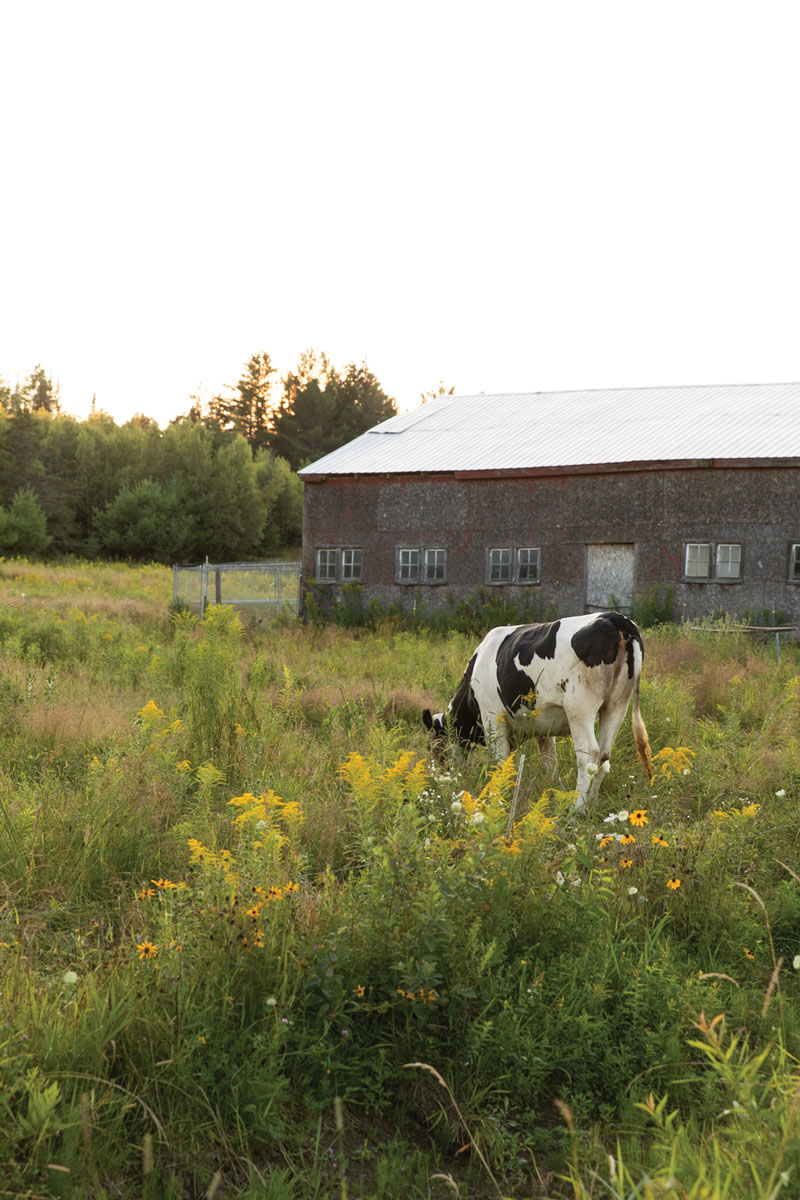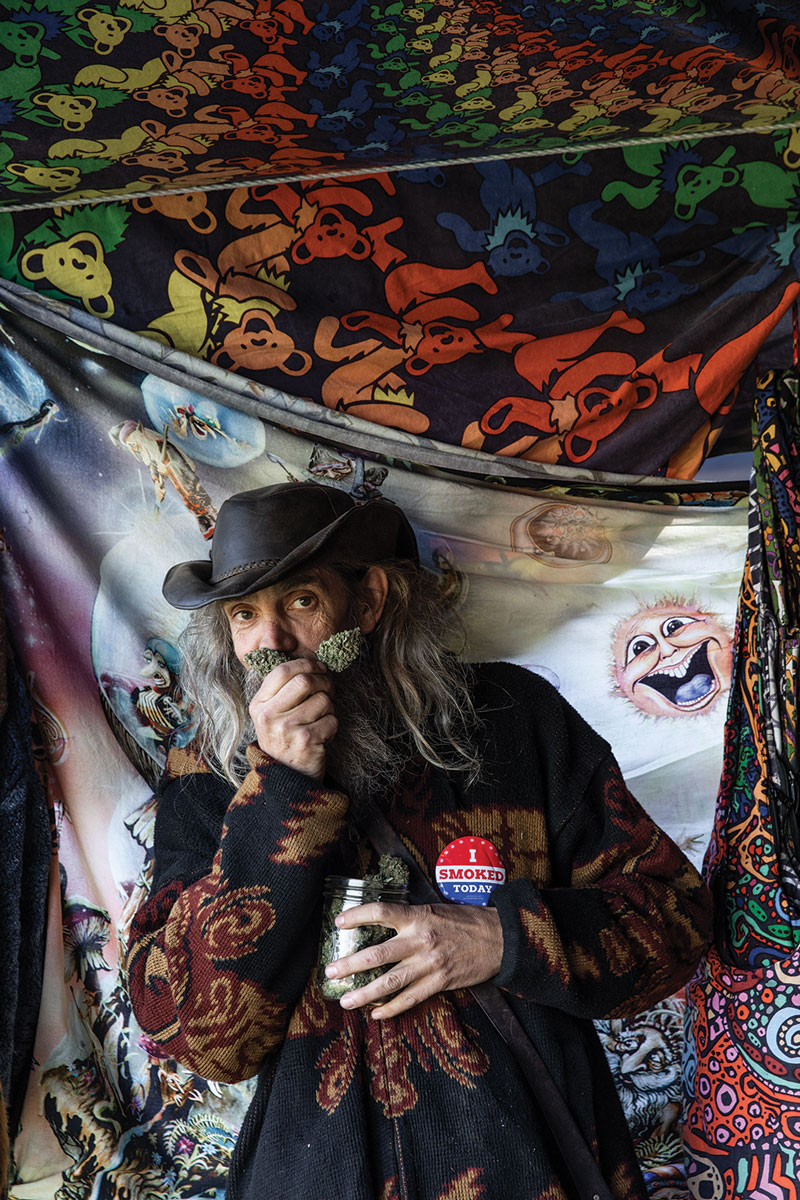 Harvest Ball at Harry Brown's Farm; Frederic's farm; Dougie, longtime festival attendee and vendor.
Stebbins says she can understand why neighbors like Frederic still view the festival with skepticism or worse. "A lot of the town felt like we wanted the shenaniganry because, for a time, it was wanted," she told me. "It was this wild, unabashed, anarchistic-style freedom." She made air quotes around the last word. "But, like, your freedoms only truly extend to where another person's rights begin."
Stebbins, who is Brown's stepson's partner, says she's engaged in a nearly decade-long "kindness campaign" to try and win back support from the community. "If you're running a business in a small town," she says, "you have to abide by those small-town social niceties. Otherwise you end up with a terrible reputation that you spend, I don't know, nine years digging out from underneath. It's really hard — there are still people who just like to give you the middle finger." Whenever possible, Stebbins says, the Browns hire locals for work around the property. Starks residents are invited to attend the festivals, for which day passes ordinarily run around $60, for just $5 — though few take advantage of the offer. The Brown family has tried to make the events more family friendly. Cindy Brown, Harry's ebullient, dreadlocked wife, says she personally kicked out dealers she knew were selling harder drugs. And the Browns have tried to tamp down the rambunctious atmosphere and music volume and keep an emphasis on advocacy and activism.
"The people who have been locking us up for years are now trying to get into the business of selling it."
On the second day of last year's Harvest Ball, a New York activist named Rob Robinson took the stage and thanked Brown for being a pioneer in the anti-prohibition movement. Then he reminded the crowd that where he comes from, marijuana is still illegal. "I sat up in the field and watched a beautiful family trimming their plants with their kids," he proclaimed. "This isn't so scary! This is what it should be! But we've still got a way to go, because this plant should be regulated like lettuce."
It turns out, plenty of the Harry Brown's Farm faithful, onstage and off, don't much feel like they've won the battle over marijuana legalization. Many worry that small-scale growers (and current illicit growers) will be shut out of Maine (and other states') retail markets. Some maintain that the plant shouldn't be regulated or its growers licensed at all. "I should be able to grow weed, I should be able to smoke weed, and I should be able to sell it," a glass-pipe vendor named Dougie told me. Withholding his last name, Dougie said he'd been attending festivals at Harry Brown's since the '90s. He compared marijuana to strawberries and expressed skepticism about what he calls "the weed greed."
"These people who have been locking us up for years are now trying to get into the business of selling it," Dougie said, "this thing that has been a small craft thing forever."
Stebbins says that in the lead-up to Election Day 2016, the farm hosted a few onstage debates about Maine's legal-pot ballot measure, and they occasionally got so heated, participants shoved one another. "It was very divisive," she says. "The level of immaturity was wild." And the conflict over Question 1 extended to the Brown family: Stebbins voted against it, worried about the impacts to the medical marijuana system in Maine, where dispensaries have operated for licensed patients since 2010. Brown's daughter, Elizabeth Smedberg, who lives with her kids next door to the farm and sells wraps and smoothies at the fest from a stand called The Farmer's Daughter, voted against the ballot measure too. "We have this wild, free space," she says, "and anyway, the outlaws will still be outlaws."
Harry Brown supported Question 1 and says he's glad it passed. "But I don't think we can depend on any of the changes that have developed as anything carved in stone or permanent," he told me. "The politicians promised it, but I wouldn't believe a damn word of it."
When I asked Cindy what she thought of Maine's plans for recreational pot sales, she erupted in a laugh and a string of expletives. "The way it's most likely gonna shake out," she said, "is the players with the biggest money are going to drive the politicians around, take them out to dinner, promise them money in their funds, just like they did the last time. If you don't have the money, you ain't gonna play." (The regulations recently enacted stipulate that, until 2021, only people who've lived in Maine at least four years can be licensed to sell or grow marijuana, make marijuana products, or own a majority interest in a retail-marijuana business.)
"Yeah," Cindy went on, "the people are going to play their money game and get as much of the market as they can, and I'm going to just . . . ." She trailed off, put her arms in the air, and did a little twirl. "Free love! We will continue to celebrate! Joyful and triumphant! They can't get it all."
In June, I went back to Starks for Harry's Hoe Down. A few days beforehand, I ran into Frederic at the town office, which occupies the former elementary school, down the road from the abandoned general store. He introduced me to Danielle Pressey, who has purple-tinged hair and a lip piercing and takes care of the town's cemeteries. She was there with her toddler son, and when she heard I was writing about Starks and marijuana, she stiffened.
She trailed off, put her arms in the air, and did a little twirl. "Free love! We will continue to celebrate! Joyful and triumphant!
"I just wish we weren't known for this," she said. "My daughter was assigned a project to write about something that happened in her town. Well, you google Starks and you get two things — Harry's hill and a plane crash. She chose the plane crash."
Pressey sighed. "Anyway, the whole thing was about legalization, right?" she said. "Well, it's legal now, so . . . ?"
While the relationship between the hill people and the town has improved over the last decade, Stebbins's "kindness campaign" has had its setbacks, as tension over the festivals sometimes spills over into other issues. In 2013, a proposal to build a cell phone tower on a site adjacent to Harry Brown's Farm earned support from some locals, says Frederic, for little reason other than that the Browns were against it. "It was a way for one-side-of-the-debate folks to stick their finger in the eye of the other," he says. Town meetings over the issue became disorderly, so much so that after one planning-board meeting, Cindy Brown assaulted Frederic, who'd been in favor of the tower, spitting in his face. Cindy, a former student of Frederic's at UMaine Farmington, was arrested for assault, to which she pleaded guilty and paid a restitution.
"That's kind of indicative of how this thing stirs up emotion. It's like touching the third rail," Frederic says. "We're kind of the epicenter of the effort to legalize, so we have a sort of reputation, but it has created a split in the community. And some of that split, I think, is going to be very, very slow to heal."
When retail cannabis stores begin proliferating across Maine next year, one place they will not be found is within the town of Starks. Residents opposed the 2016 legalization measure by a vote of 185 to 167, and last year, they passed a moratorium on marijuana sales and testing facilities, placing Starks among Maine's most restrictive municipalities where marijuana is concerned. "It's a growing factor in the state economy," selectman Hilton acknowledges, "and it may evoke very great and wonderful things over time. But it won't be happening in Starks."