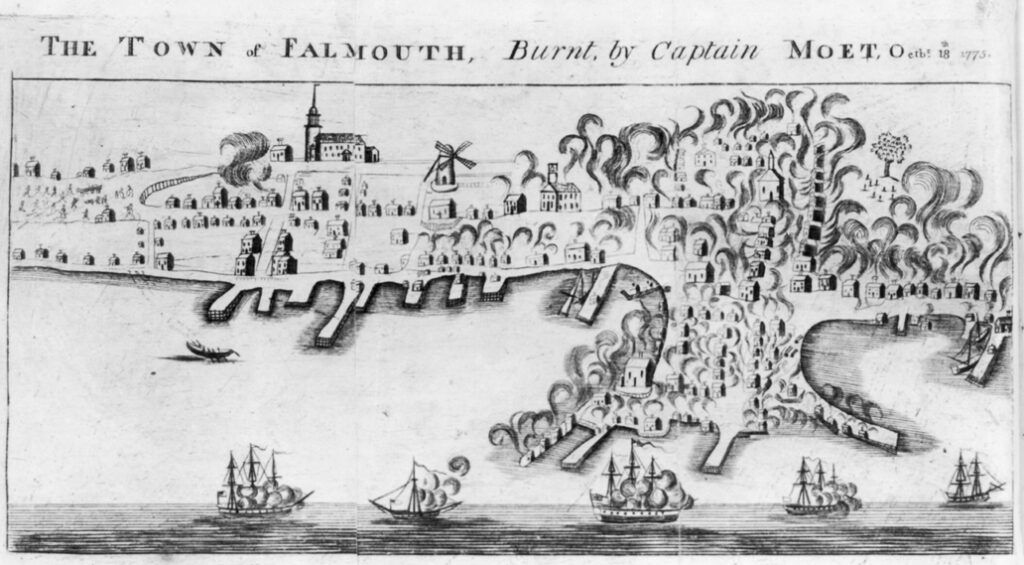 Checking our ego about an embargo of Dirigo.
By Brian Kevin
From our March 2017 issue.
[dropcap letter="I"]n 1774, the American colonies' First Continental Congress declared a blanket boycott on all British goods. The Patriots' intentions were noble — the laws they were protesting were called the Intolerable Acts, so they must have been pretty bad, right? — but folks around the provincial port of Falmouth (now Portland) embraced the boycott tepidly. More enthusiastic were denizens of towns farther inland, whose economies weren't as reliant on maritime trade and who were way less likely to get the bejeezus bombed out of them by the British navy in retaliation.
Suspicious his coastal neighbors weren't toeing the line, a Yankee-ier–than–thou Brunswick tavern owner named Samuel Thompson led his local militia into Falmouth in the spring of 1775, hoping to prevent a newly arrived British merchant vessel from offloading. Thompson and his zealots ended up abducting the captain of a British naval ship sent to protect the merchant, and it took Falmouth's anxious town fathers a day of negotiating before Thompson set him free. "Colonel Thompson, we doubt not, is a true friend to his Country and a man of courage and resolution," one city leader wrote to the Massachusetts Provincial Congress, "but as our Town lays so much exposed to the Navy, had he succeeded in his attempt . . . it must have proved the destruction of this town."
It proved the destruction of the town anyway. Five months later, the captured Brit, Captain Henry Mowat, came back and bombed the bejeezus out of Falmouth, destroying two-thirds of the buildings and leaving as many as half of the city's 2,500 residents to face the winter homeless.
Boycotts can have unintended consequences, and Maine's history with them has been checkered. Some have made an impact — in the late 1960s, the State Biologists Association got national press for boycotts against paper companies and agricultural producers polluting Maine's rivers. Others are symbolic, bordering on Sisyphean — who among us hasn't nodded politely at the stalwart PETA protestors while tying on a bib at the Maine Lobster Festival?
Around the time we were closing this issue, an anti-Trump boycott movement called Grab Your Wallet set its sights on L.L.Bean. The boycott was galvanized by the political donations of Bean heiress and board member Linda Bean, L.L.'s granddaughter, who gave at least $25,000 to a pro-Trump PAC during the campaign ($20,000 more, the Federal Election Commission notified the PAC in January, than campaign finance law permits). After news of the boycott went inexplicably viral, our then–President-elect fanned the flames on Twitter, as he is wont to do, publicly thanking Linda and encouraging supporters to "Buy L.L.Bean."
Boycotts can have unintended consequences, and Maine's history with them has been checkered.
The company responded on Facebook that it is assiduously apolitical and its many shareholders embrace a variety of views (Linda's have been known to Mainers since two failed Reagan/Bush-era congressional runs). Pundits punditized, and a week's worth of headlines echoed one from the Christian Science Monitor, asking, "Is It Fair to Boycott L.L.Bean Over Donald Trump Donation?"
It is fair, of course. If you're profoundly bothered by the politics of one of Willy Wonka's shareholders, then laying off the Wonka Bars is a legit, if extreme, response. But just because it's fair doesn't mean it's a good idea (or a particularly effective one).
The Bean affair, oddly, was just one instance in a matter of months in which Maine found itself on the receiving end of an attempted national boycott. In September, after national media picked up on Governor Paul LePage's racially antagonizing statements about drug dealers, a #boycottMaine hashtag proliferated online, prompting fears of a hit to the state's reputation and/or summer tourism numbers (it popped up again in January, after LePage told the Portland Press Herald that the NAACP should apologize to white people).
When we at Down East received a few impassioned messages warning us that we too were, pending LePage's resignation, included in a "total boycott of all businesses linked to Maine in any way," it prompted some reflection. We're all for free expression and consumer activism, but how just is a boycott when its targets are bystanders to the perceived offense? As Bean defenders from The New Yorker to Slate to (bizarrely) the comedian Andy Richter pointed out online, L.L.Bean has a sterling reputation as a corporate citizen, a strong labor record, an admirable legacy of supporting education and conservation, and a large pool of happily employed Mainers who did nothing to invite censure. Neither, of course, did the clam shack owner in Gouldsboro or the Maine Guide in Rangeley who #boycottMaine would punish for LePage's affronts.
History records another detail about Captain Mowat's destruction of Falmouth: during and after the shelling of the city, the gung-ho militias from the inland towns, where support for the boycott ran highest, declined to come to Falmouth's aid. "Rather than defend the town against the British," one historian writes, "they proceeded to plunder the houses and possessions of those who had fled." In the throes of indignation over intolerable acts, it's all too easy to inflict damage on undeserving compatriots — maybe even on allies.