A Sullivan studio's mammoth all-weather garden containers are popping up in gardens across the country.
By Lucinda Ziesing
Photographed by Jason P. Smith
[dropcap letter="M"]y directions to Lunaform, printed off the pottery studio's website, warn, Persevere. It sure is remote. So I cross the bridge over Taunton Bay, just past Ellsworth, turn left at the Sullivan green, take a right on Track, bear left on Cedar, and at last I'm there, gazing up at a 1,450-pound, 5-foot-tall vessel cradled in a metal stand atop a column marking Lunaform's driveway. The vase is so beautiful it takes my breath away.
Monumental vessels like this one have been used in gardens and on terraces and patios for centuries. Traditionally made of clay, they might serve as focal points to circular flowerbeds or lend an air of enchantment to lush corners. Lunaform's elegant pots, though, are unique in that they're hand-built with steel-reinforced concrete and turned on a potter's wheel. The company's planters, urns, fountains, birdbaths, and custom garden pieces are integrated into private and public landscapes across the country. "It's one of the most beautifully crafted, durable products out there," says Birmingham, Alabama, architect Terry Slaughter, who installed dozens of Lunaform pots at Alys Beach, a luxury, new-urbanist, seaside community on the Florida panhandle. "When everything is brand new, Lunaform's classicism brings a soulfulness."
We get concrete to do arabesques.
– Phid Lawless
A collection of tall vessels and a Tibetan prayer wheel stand just outside the studio entrance, where I'm greeted by Phid Lawless, who co-founded Lunaform 25 years ago. Lawless, who studied architecture and product design as an undergrad and spent five years as a painter, says he was drawn to this work when he was living on this property, a former quarry that produced the stone lining the Washington Monument's shell, and wanted to landscape the exposed granite. "I was looking for big urns, and they simply weren't available then," he says. "I loved Maxfield Parrish paintings where he'd throw in a big old pot."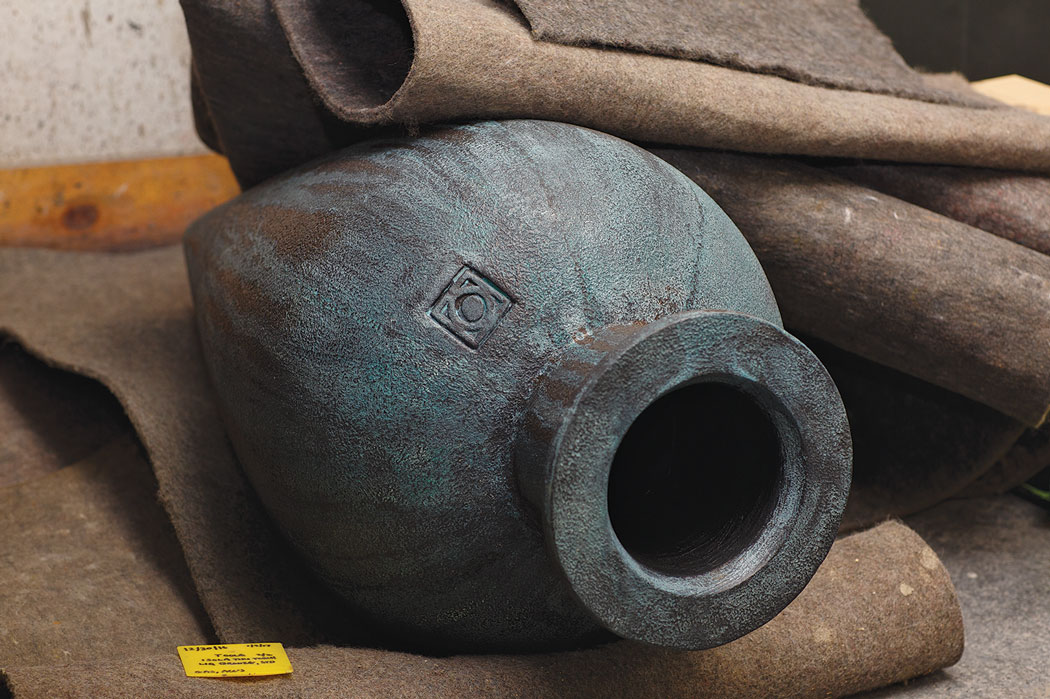 At the time, Lawless ran a sporting goods business in Ellsworth and Bar Harbor, but he also designed houses and was a painter and cement potter on the side. That's how he met his business partner, Dan Farrenkopf, a garden designer working on Mount Desert Island. "To have a business where the design process is part of every day is lucky," Lawless says. "I do 10 times the designing that an architect gets to do."
In the pottery studio, Naomi Champlin wears blue rubber work gloves and presses a first layer of concrete onto a collapsible wooden mold. The technique, which allows the mold to be removed, creating a seamless pot, is unique to Lunaform — typically, craftsmen pour concrete into molds to make pieces that are later joined together, leaving a seam. Over the next five days, the pot will take shape layer by layer, reinforced with a web of galvanized steel wire that lends tensile strength and four-season durability. Unlike clay, concrete isn't pliable or sticky, but as Lawless says, "We get concrete to do arabesques."
Nearby, a hydraulic lift hoists a slender, 52-inch-tall amphora (a tall container with a narrow neck and pointed base) that the Lunaform team calls Isola — all of the company's 150 styles are named for places in Italy. The lift transports the amphora to the curing room, where cofounder Farrenkopf receives it with calm enthusiasm. "We're very nerdy about rigging," he says. "We're working with concrete but treat it like glass."
With radiant floor heat set to 70 degrees and ceiling misters providing steady humidification, the curing room is like a spa for pots. After seven to ten days in here, the concrete will reach about 90 percent of its full strength.
CLICK TO EXPAND
---
Farrenkopf runs the color studio, where he sandblasts the surface of pots after curing. "Sandblasting turns the concrete into a texture similar to watercolor paper, which allows the color to grab on," he explains. Colorist Marie Robbins then brushes on the first of several layers of finish. There are 13 standard colors, but Lunaform's ability to customize colors and shapes is what engages designers like Portland landscape architect Stephen Mohr. "I worked with them to push the color toward lampblack for a Capri pot that I planned to place at the edge of a pool, so it would create a dark silhouette in the context of dark, vertical spruce trees and the dark line of a river in the distance," Mohr says. "They got it."
Ninety percent of Lunaform's clients are homeowners in the U.S. and Canada. Commercial clients include the Smithsonian, New York Botanical Garden, Massachusetts General Hospital, and Mountain View Cemetery in Vancouver, British Columbia, where Lunaform urns hold cremated remains.
Farrenkopf has been enamored of garden vessels since he was a freshman at College of the Atlantic in Bar Harbor. "We visited Thuya Garden, in Northeast Harbor, for my landscape architecture class," he recalls. "The gigantic pot sitting in the landscape dazzled me. Later, I worked for Patrick Chassé, the landscape architect and historian, in his gardens on Mount Desert. I revered Eric Soderholtz's enormous classical vessels that were popularized by Beatrix Farrand at the beginning of the last century, but they're now very rare."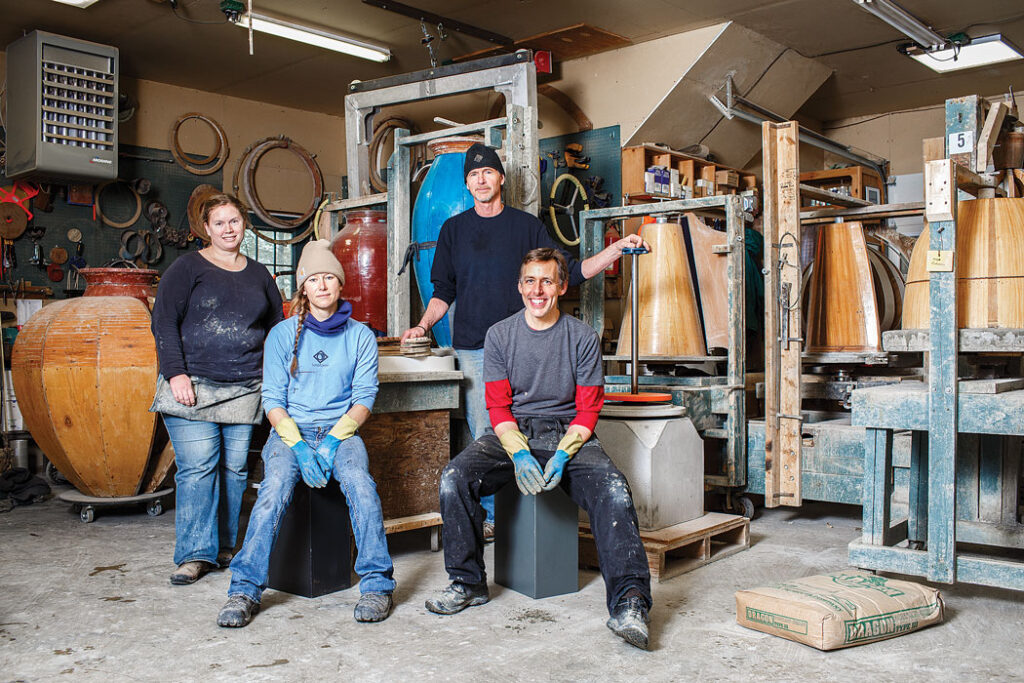 Like Lawless, he relishes the opportunity to make a living as a craftsman. "I need to make things. I enjoy mentoring our assistants. And then there is creating something that lasts," he says. He quotes a line from Barbara Cooney's story Miss Rumphius, which he's been reading to his son: "You must do something to make the world more beautiful."
His words put me in mind of my friend Noni, who was given an enormous Borghese amphora for her 70th birthday. It had been in Lunaform's display gardens for years, she told me, so it had acquired a rugged, rich patina. "I love it," she said. "It sits in the field, round, plump, and happy, near the sea. Just part of the world."