Creating her own swimsuit brand wasn't Tempy Keller's original plan. At first, she just wanted to make herself a pair of soft, flowy pants. She bought a sewing machine, taught herself to sew, and made nine pairs. Then, she realized, she wanted to create something with her sewing machine that would make her feel closer to the ocean and to Utila, the Honduran island on which she'd grown up. So a year and a half ago, Keller began making bathing suits instead. Now, she's running her own swimwear company, Stela Onda.
Keller moved to Maine in 2016 with her now-husband, John Engler, a Bowdoinham native she met when he was visiting Utila on a scuba-diving trip. Today, they live in Lewiston, in a two-story former dentist's office. Stela Onda's studio is on the first floor; Keller designs and stitches her pieces together in a many-windowed room overlooking lively Sabattus Street, bathing in natural light throughout the days she spends sewing. For now, Keller is the company's sole employee, designing at least four different women's one- and two-piece swimsuit styles each year, sewing dozens of pieces (more than 80 this year), handling and shipping all the orders, and even doing some of her own modeling.
On Keller's studio wall is a drawing by her dad that reminds her of Utila.
Running Stela Onda, Keller says, makes her feel connected both to her home island and to her new home's rich textile history. Sustainability is at the heart of the brand. Keller buys only surplus fabrics and uses naturally derived odds and ends, such as buttons made from seashells, and she'll repair any damaged or stretched-out suit, so her work is less disposable. Keller also donates $20 from every piece she sells to an environmental-education program in Utila, which she hopes will create young stewards who want to protect the island's natural beauty. As for the suits, they're understated but still very feminine, with more solids than patterns, flattering without being distracting.
"They're functional, practical, and easy to wear," Keller says. "I think the less complicated and more classic a suit is, the less likely it will go out of fashion and suffer the fate of so many fads."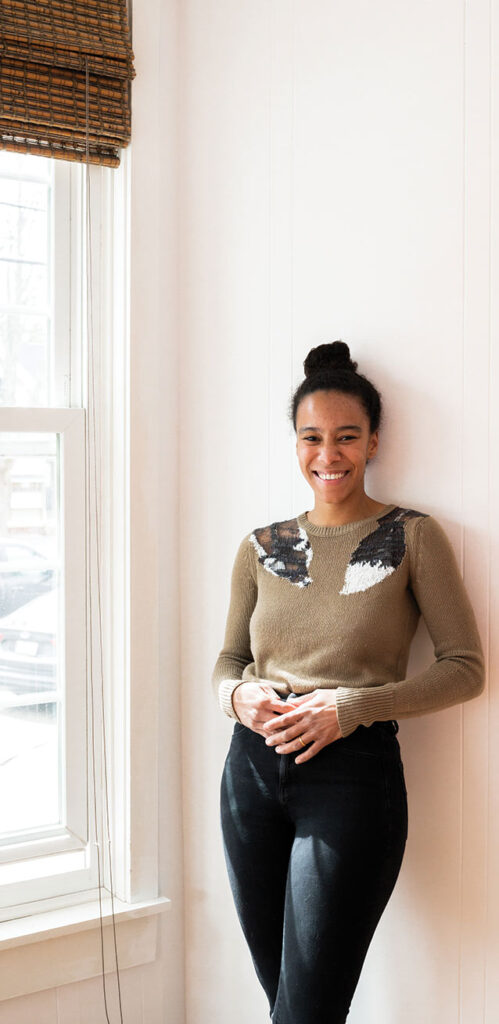 Tell Us More
Tempy Keller
Running a solo operation must come with challenges, but are there perks too?
The freedom is what I really like. Coming from an island that is so liberating and free, it was definitely in my value system to still have that freedom, even in my line of business. I like that I have the freedom to choose what I'm going to use and that I only buy from companies that align with my values and who are minimizing their impact. I am also able to be up-front when someone orders something, to let them know that if there's something wrong, I can fix it. People really like that dialogue.
How else do you try to minimize your impact?
I've started going really slow when I make my suits. I don't like to mess up because there's a ton of waste that comes with doing a stitch wrong. When I first started sewing, I had so much scrap material, and I had to get rid of it. It felt dirty to call myself sustainable. Going really slow has helped me to eliminate that waste by a huge margin. I'm also obsessed with fit, and if something fits well, someone isn't going to throw it away.
Any culture shock coming to Maine?
Honestly, sometimes Maine doesn't feel quite suitable for my business, because it feels so cold to me for about 11 months of the year, but my husband disagrees with me on that! But I really love that Lewiston feels similar to the island where I'm from, in that it's a really diverse place. There is something special about the town — its character reminds me of Utila, minus the sea. Imagine a town like this, but everyone lives a block away from the ocean. That's like where I grew up.
What are your goals for the brand?
A dream I'm working towards is being able to hire local talent. I want other people's vision as well. I want Stela Onda to be something I can step away from and it will survive without me. I'm also excited to watch the children who benefit from the nature-school program. I want to see more land stewards defending their home.
---