By Geneviève Beaudoin
Photographed by Kari Herer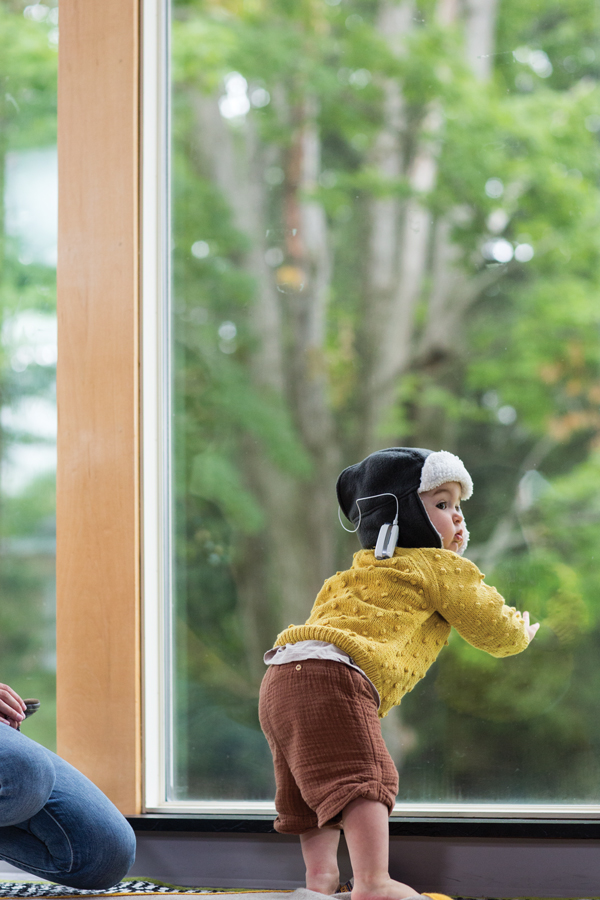 Meghan Carey faced an uncommon dilemma in the winter of 2015: if she wanted to keep a hat on her young son's head, she risked taking away his ability to hear. As a newborn, Percy was diagnosed as profoundly deaf (defined as a total loss of hearing), placing him in a community of more than 34 million children worldwide affected by moderate to profound hearing loss. At 11 months, he underwent surgery for bilateral cochlear implants, hearing-assistive prosthetics that use internal computers and external sound processors to do the work of his damaged inner ears.
Percy was as wriggly and happy to move as any toddler. But his devices were cumbersome: the two components of each implant connect through the skin by a magnet, but given a child's sensitive skin, these magnets are intentionally weak, to prevent injury. As Carey found out, "It means they fell off all the time."
Carey and her husband, Sean Wilkinson, quickly realized that the average hat wouldn't cut it for Percy: every one they put on him dislodged the devices. But they weren't content with recommendations to wrap a blanket around his head or, worse, forgo winter frolics. "We often stayed in during that first year because if Percy was warm, he couldn't hear. If he could hear, he wasn't warm," Carey explains. "We were crushed. We wanted him to be able to enjoy the Maine outdoors in all of its auditory splendor."
Designers by trade (Carey is art director for Vera Wang's stationery line, while Wilkinson cofounded Portland branding shop Might & Main), the couple crafted ways to make Percy's life easier: clothing to keep his processors in place, toys and games to help him develop auditory skills. When Percy started attending the Governor Baxter School for the Deaf in Falmouth, Carey and Wilkinson felt called to further develop their designs so other children with cochlear implants would have access to them. Today, as Co·amplify, they've launched their first collection of Maine-made products. At the top of the line: a winter hat.
Carey and her mother began devising a prototype of Percy's winter hat during that first winter. Their Safe & Snug Winter Bomber has seen a few alterations since. Because patients in the U.S. have the option of purchasing cochlear implants from three different manufacturers, Carey adapted the initial hat pattern by adjusting the pocket structure to support all three models.
Their collection also includes a set of animal blocks that helps kids practice what are known as the six Ling sounds: [mmm], [ah], [oo], [ee], [sh] and [s], which broadly represent the speech spectrum. "All children, hearing or deaf, who are developing spoken language need to have access to — and in time, mimic — these six key sounds," Carey explains. But as Wilkinson describes, "The existing Ling toys we saw out in the world ranged from silly to inconsistent to totally age inappropriate. Our designer minds kicked in — there's got to be a better way."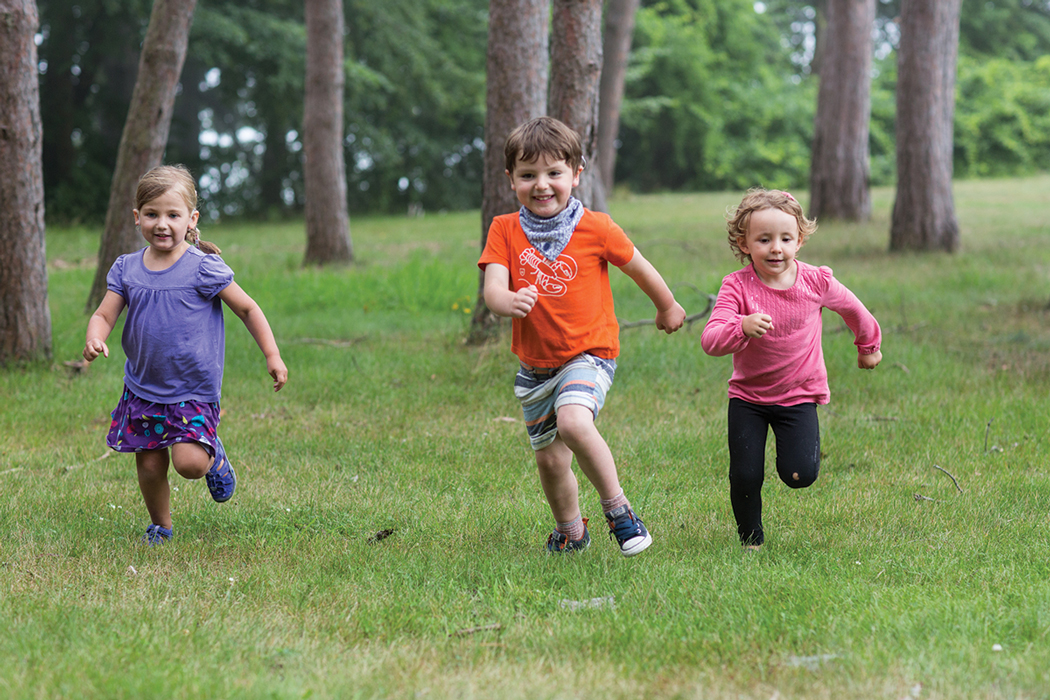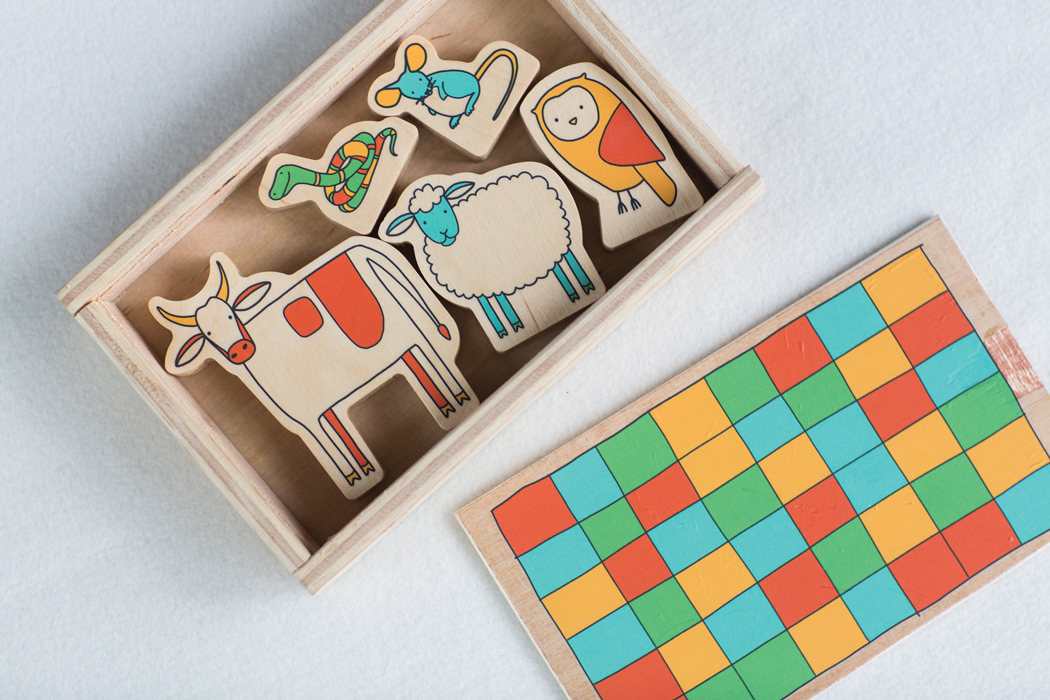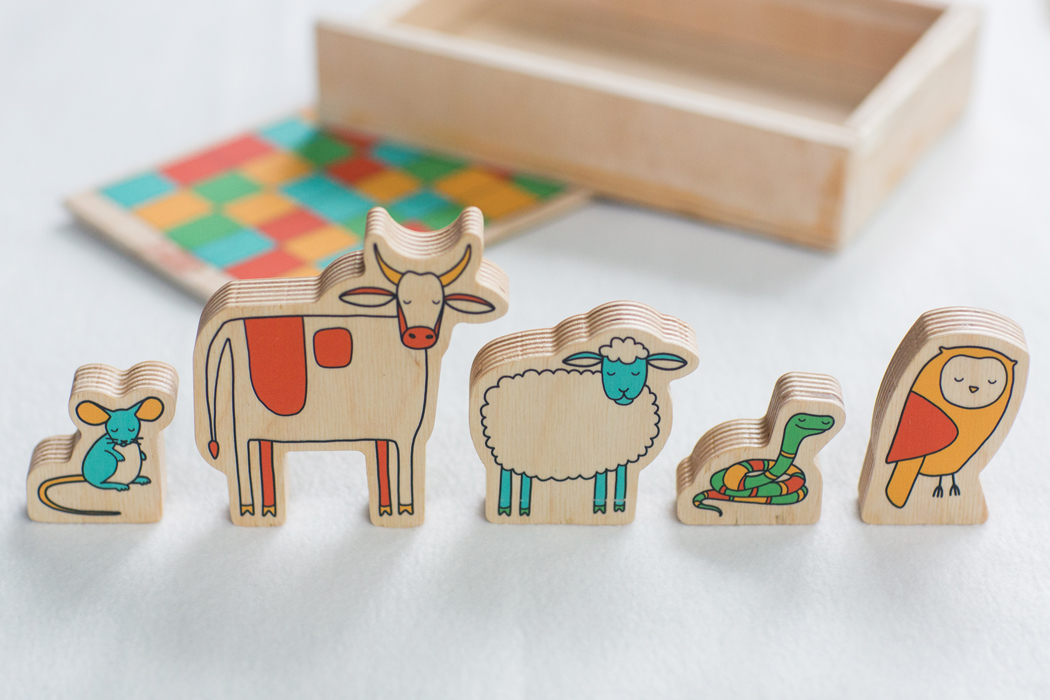 Co·amplify founder Meghan Carey designed these animal toys to help hearing-impaired kids practice the sounds that form the building blocks of speech. The toys are made by OCB Design and silkscreened at the Arm Factory, both in Portland. Above: Percy, who inspired his parents to found Co·amplify, leads the way. He's wearing a bandanna that helps hold up his clip-on processors.
---
One of 35 startups selected for the Maine Center for Entrepreneurs' Top Gun mentoring program in 2018, Co·amplify wrapped up a successful crowdfunding campaign in October, and Kickstarter's editors named it a "Project We Love." As editor Katheryn Thayer wrote, "I look for projects that align with our goal of making the world more inclusive, more artful, and more interesting. Co·amplify fit the bill by giving deaf kids delightful, user-friendly products that help them explore and grow."
Carey and Wilkinson have kept production local. Their hats are made in Portland by designer and seamstress Lynne Stewart. The toy sets are manufactured, silk-screened, and boxed in southern Maine. Next, the couple hopes to develop safety products, such as helmets, for children with cochlear implants. They also want to offer more curriculum-based toys that focus on auditory development.
"Percy is already showing us new ways that 4-year-old kids interact with their devices, leading us to think about ways that we could make it easier and better for him," Wilkinson says. Carey agrees: "We'll keep rolling with life, inspired by Percy and learning from him all the time."