By Virginia M. Wright
Photographs by Jenny Nelson, Wylde Photography
Addie Peet's sunlit studio is a one-woman assembly line. Canvas floorcloths in various stages of construction are laid out on worktables under a row of tall windows. Peet moves from table to table, applying primer to some doormat-size "blanks" one morning, perhaps, and brushing base color (one of five layers) on a bunch of canvases that afternoon. While those projects cure, she may spend a day painting a cream-and-taupe chevron design on a single floorcloth or applying a clear finish (also one of five layers) to several that are almost ready to ship to customers.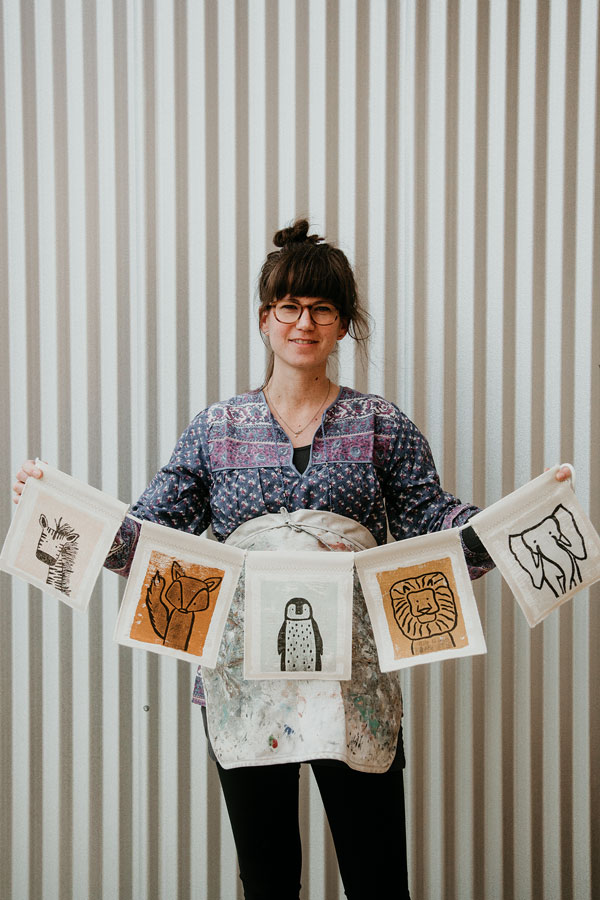 Peet is one of a handful of Maine designers making hand-painted floorcloths, common home accessories in the 18th and 19th centuries, until linoleum came along, and now enjoying renewed interest thanks to the maker movement and a growing awareness of indoor allergy triggers. "You can vacuum a rug and then pick it up and still see all this dirt underneath," Peet says, "but floorcloths have a smooth, nonporous surface. If you see some dust, you just wipe it clean."
---
A former kitchen designer, she began experimenting with floorcloths 10 years ago when she was looking for a flexible career to dovetail with summers spent directing her family's wilderness adventure camp. She had no artistic training, but she did know canvas, having made more than a few canoes. Through experimentation, she developed the series of steps that she says ensure her floorcloths last pretty much forever. Among them: preshrinking the canvas before any paint is applied; an open hem that holds a nonskid pad and allows the rugs to lie flat; and multiple layers of tough, flexible marine acrylic paint and clear coat, which won't flake or crack. She develops new designs every year and does custom work as well.
Peet makes other canvas products, notably whimsical nautical signal flags and prayer banners on an antique printing press. "The first ones were for a dear friend's wedding," she says, "and then it kind of snowballed into these trinkets that people bring home from their Maine vacation."
About half of Peet's floorcloth business is custom, and she says the shape and size options are "endless." Her largest floorcloth to date was 12 x 16 feet. The process for one rug is roughly six to eight weeks.
---
Tell us More Addie Peet

How do you describe your design aesthetic?
It's unique compared to other floorcloth artists. Because it's such a traditional, lost art, people who gravitate toward floorcloths tend to love traditional designs — scenes of houses with smoke coming out of the chimney and chickens, lots of chickens! I usually choose something more abstract. It goes with my intention to create a truly functional, durable, hassle-free floor covering. The more visual texture you put into your design, the more it can camouflage any dirt that gets on it.
Sounds like something that suits the Maine lifestyle.
I love rugs, all different kinds from all over the world. But we're outdoors people, have dogs, live in the woods. I hesitate to put one of those beautiful wool rugs in my home. Floorcloths are a very functional alternative.
What do the floorcloths and the printed banners have in common?
They're two different beasts. I do a lot of fine and custom work with the floorcloths, which are in galleries up and down the coast. The flags are great little decorative things that you can personalize — we have the whole nautical alphabet, for example, and people like to spell out the places they visited, like "Bar Harbor" or "Camden."

What's the process for making the flags?
There are a lot of steps with this too. We hem the top of each flag, hand-fray the edges, hand-press it with primer, and iron it. Then my husband, Noah, and I go to Bar Harbor where my father has an 1885 Candle & Price press, which has been in the family forever. It takes two of us — one to feed the flag, the other to coax it out. Each flag is unique, taking on its own patina depending on the amount of ink on the blocks, which we cut ourselves.