~ FROM OUR ARCHIVES ~
A visit with Elizabeth Coatsworth at the storybook farm where she and Henry Beston shared their lives for forty years.
By Sabra Morton
Photographs by Tom Jones
March 1978
[dropcap letter="C"]himney farm is at the end of one of those sensible Maine roads, a lane really but sufficient for either cars or cows, the farmhouse undiscovered till the last moment behind a rise, a high point on East Neck. I stop before the crest, when the chimneys come in sight. Under a cool thin sun, everything shines: gray-lavender mountains, a close heading of evergreens, the long lake smooth around its round island and a shapely peninsula, the fieldstone wall that folds a bright slope of meadow. Here and there in the grass are wild strawberry plants and small violets, purple and white. A pine seedling that has eluded mowing is about to put out third-year growth. A cliche dangles its bait: storybook world. But what else? From this land and Iake, from the house beyond the hill have come hundreds of stories, posted down the road and around the world to — among others — me and mine. One of the storytellers will be waiting to give me tea.
There is a kind of gate to the farm: two medium-size white pines, unusually kempt and compact, one on either side of the way. Lugging in one hand the self-conscious tools of my trade — "a recorder is inhuman," my subject wrote me — and carrying in the other an offering of vegetable soup, I pass through the gate and over the ridge. The homestead appears, and then one of the householders. Tamar is a poodle of very satisfying size and demeanor, a sturdy reminder that her forebears were country working dogs. Tay-mar. Pronounced in the old-fashioned and anglicized way. This is a family with children and many grandchildren but even more ancestral names, so the poodle has been given one of them. Tammy wags me to the house, where my hostess holds open a door.
Elizabeth Coatsworth Beston, now in her eighties, is taller than her generation, and mine, taller ever than most women in the next, and notably handsome. Of this one cannot convince her, for she seems not to have turned upon herself her acute observing, or if she does, she Iooks away to things that interest her more. In her sitting room the walls are populous with pictures, many of them portraits, but a mirror is hardly accessible, and the graying antique glass, gesso bordered, gives rather impersonal impressions. She goes to the kitchen to store the soup gift, then returns to sit in her corner lady's chair, inviting me to pull close one or another comfortable seat. I choose a rocker. I sit slightly lower than she does. My soft voice evokes a gracious comment: "Sit closer. Then if I can't hear you I can hit you," and all of the smile is in dark sparkly eyes. She isn't wearing glasses.
This room resembles the others through which I've followed. All seem to radiate from a central stove, and each looks perfectly suited for sitting or reading or eating or sleeping. Rugs are oriental or Yankee hooked. Corners are rounded by chairs. Plants are everywhere, but she denies responsibility, assigning credit to Mrs. Ball, who comes and goes and tends to things. "She sews on buttons, and she fills the house with plants that she has grown." I decide to compliment Mrs. Ball on a pot of unreasonably lush bridal veil.
Sixty years ago writing, like most occupations, wasn't a career a woman could pick from a college catalog, nor could she train for it in a school of journalism.
[dropcap letter="P"]robably men do not much use this particular affirmation of living, but we two talk first about children. Meg the elder and her sister Kate are, like their parents, land pioneers, one bringing up children and many kinds of animals on a hundred acres in Oregon, the other living with her family on a California ranch. "Oh Meg. She's a devil!" she remarks lovingly, describing the way this daughter moves quickly on sudden whim. It may be an inherited trait. "I do everything fast and everything on impulse." She and Henry Beston bought Chimney Farm without having seen it; her husband had had just a glimpse of it, passing by, and when he returned to their home in Hingham, Massachusetts, he asked how she'd like to have a Maine farm. "Sounds fine to me," she answered instantly. They lived there together for nearly forty years.
"But Henry and I didn't marry sight unseen. We had a regular New England ten-year courtship." He had decided the first time he saw her, at her sister's house in Hingham, that he wanted to marry her, and he said so to his godmother. "But we dodged. He would be in New York, and I was traveling a great deal in Europe and the Middle East, and rarely were we in Boston at the same time." When they were, they met sometimes for dinner. One January day he proposed, and she accepted, and then they sped off again — he to England to see The Outermost House through a new edition, she to Guatemala with her sister for a mule-back trip in the mountains. Building their friendship with daily letters, they married in June. And lived happily ever after? "Oh no, not always. Enough."
This morning she has received in the mail from a granddaughter a greeting bordered with crisp, charming drawings. She remarks that she often sketched on her manuscripts her ideas for illustrations. Both her daughters too "could draw very well, and could write poetry. I don't know whether it's because Henry and I were both professionals that neither Meg nor Kate ever became a professional. They always wrote and painted just for their own pleasure." She pauses, reflecting on the possibilities of this other path. "A good thing," she judges.
Sixty years ago writing, like most occupations, wasn't a career a woman could pick from a college catalog, nor could she train for it in a school of journalism. Only housewifery, teaching, and something called "social service" were expected to be attractive to gifted girls. Every college class had a stalwart or two who insisted on foraging in medicine or law, and cub reporting for drab little hometown papers carried a few to eventual fame and something like acceptance. In the postwar decade several — Elinor Wylie, "H.D", Edna Millay and others — make a mark in a world that was ready (in a small way, and for a short time) for poets' Elizabeth Coatsworth published Fox Footprints in l923, Atlas and Beyond in 1924. But poetry is a cloistered experience, even after it goes into print, and she separates it from her marketplace success. Nevertheless it was what she wrote first, "a great deal of poetry," and this, she says, gave her training in structure.
"I always earned enough to keep someone between myself and the stove."
[dropcap letter="I"]n these days before the Great War educated women I who hadn't married and who didn't need to earn a living could do very much as they pleased. The war gave them a sense of their own mortality; they began to drink and to shingle their hair. The Coatsworths, mother and both daughters (her father died when she was eighteen), all had a powerful instinct for adventure and a remarkable fearlessness — "innocence" she calls it — so a likely place for them during the war was the Far East. No rigors or dangers could deter them. "We spent three months on the ocean, and I was as seasick at the end of that time as at the beginning," she recalls happily. "We did everything we heard about that sounded nice." On runaway dromedaries heading into the Gobi Desert, they enjoyed their brief terror. When they decided to pass a night at a Chinese emperor's tomb, their bearers, fearful of bandits, deserted them, so they slept there alone in a little temple with moonlight sliding through a hole in the roof.
In Siam their mother became ill; advised to go north, they shipped from Singapore on the only boat going out, a 3,000-ton tub. It had been built for the Spice Islands trade but was carrying instead a cargo of thousands of Chinese packed below decks, "laid out like kippered herrings in row after row. They were going home to die." The radio man gave them a revolver to defend themselves if their boat was boarded by the raider that crisscrossed their bow. "But the raider didn't bother us. Perhaps we were too small a fish for it to be interested.
"And then we went up through China in the spring, with kites flying and — it was a whole ruinous civilization: The present China with its marching and drilling, and going out and sweeping the snow away all night — the old China was not like that at all. It was derelict, but perfectly beautiful. I remember a temple . . . there was a white wall, and someone had drawn a narcissus and then written some lines under it, and that is what that old China means to me. Our trips were all these sorts of things, and all perfectly thrilling."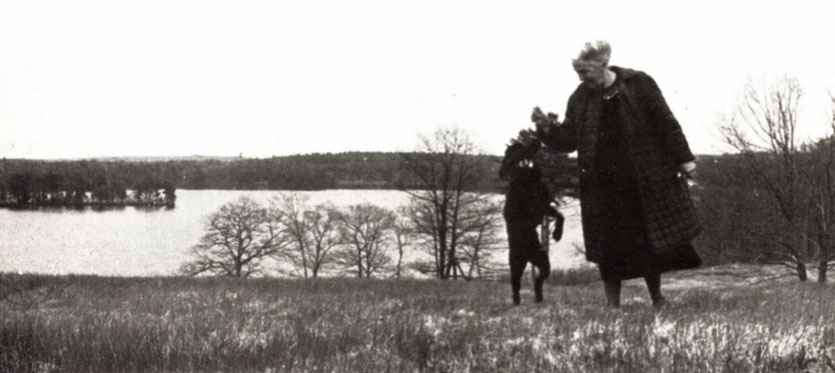 [dropcap letter="H"]er profession, she says, grew out of "having too much leisure. I only became a writer through boredom. When I got out of college and got back from the Orient, I didn't want to teach or do any of those things, so I had to begin sending out my poetry. It took me years to break in, but I finally did get markets that would take almost anything I sent them. At The New Yorker, later on, I'm sure it was E. B. White that was taking them; it was because I had a lot of rhymes from out of town – they were Maine doggerel, and he liked them."
This woman seems to have no capacity for boredom. Loneliness, perhaps, but boredom not. And she has, she claims, no ambition whatever. How then did she happen to mail out those first poems? "I became interested just in whether they would be taken or not."
If publishing her work was something she did faute de mien, writing was "an addiction like drink," as she says in Personal Geography. It developed furiously after she ventured into children's literature, which was an accident. "I was visiting my classmate Louise Seaman at Macmillan — she had the first children's books department in the world — and she showed me a story she had accepted. It was a perfectly good retelling of a Navajo myth, but I said, — I don't know why I was so critical — 'Oh, that's not much good,'" whereupon her friend proposed she do something better. Every morning thereafter, sitting for a friend who was painting "the most horrible portrait of me," she framed in her mind a chapter, and every night, returning late from the theater, she sat cross-legged on her bed and wrote it. By the end of her stay in New York, the chapters had become The Cat and the Captain, published in 1927. It is still in print. The translation was nearly imperceptible, but an imperative had taken over. "I began writing children's books. From time to time I wrote adult ones. And from time to time I wrote poetry. And from time to time I wrote essays. I just had to write. It was . . ." She stops, Her addiction she keeps "as much as possible out of sight."
[dropcap letter="T"]ea at Chimney Farm, it turns out, is Harvey's Bristol Cream, a benison delivered with something delicious Mrs. Ball has made. This stirs Tamar's interest and she implores decorously, setting her muzzle on her mistress' lap. "You're a beggar and a thief," she says fondly, sharing. My rocking chair is exceptionally comfortable, the view, from the window particularly serene. The sun's moving along has unshaded the hillside burying ground with the grave of Henry Beston.
When I think about this house where she and Henry Beston lived and worked, a scene appears, from her writings and from his. Two people are sitting reading or working quietly — one at the kitchen table, the other in a nearby chair — while something good-smelling simmers for lunch. A discordance: somebody must have had to start the stew. "Well — more often he than I had never done any cooking, and he always had, at the Fo'castle, on the Great Beach. His cooking was very simple. He loved macaroni and cheese. And all during the years of our marriage, he tried to make popovers. I'm told that he didn't use a hot enough oven, or something, because never did they pop. They were very good, and I told him how much I liked them. I learned to cook certain things that he liked very much. I learned to make a delicious custard, and I could stuff apples — with maple sugar and raisins — and bake them, and I even made bread. But it was impossible for me to put three hot things on the table at once. It wasn't a gift."
I formulate a question, long-winded but leading. Her life, combining a family with career success, is an excellent foreword for a developing trend that I have been told to think of as some sort of liberation, so I'm curious to know how she, an early settler in the territory, managed it. I know that she limited her writing to the mornings, and that she held herself always ready to leave her work if her husband wanted to go somewhere or do something interesting. But I pry further. Domestic intrusions upon her writing? Ambivalences about responsibilities? Conflicts among her several identities? Her answer is short, and it draws the magical line. "I always earned enough to keep someone between myself and the stove." She had no need to need to scrub the kitchen floor. Yet this is a woman who has cooked bacon and made toast over the open flame of a wood range, who has pumped water from her cistern and heated it on the fire to wash the dishes, who has cleaned the chimneys of kerosene lamps. With her husband she has backpacked provisions through the snow. Perhaps it is a gift.
Sometimes, she tells me, she wrote while traveling, dashing off a chapter at some hotel desk during a stop for lunch, but more often she carried her experiences and ideas home to Hingham or the farm. After a journey abroad she would record "the things that had meant the most to me, in just as short a form as I could," and then she would have her pages typed and put in binders. From these sketches and later ones, her editor, Janet Greene chose — perhaps a tenth of the whole — to assemble Personal Geography. "I started to read them," she says, "and I was bored to death. They were too condensed, too close to poetry; I couldn't read a mass of it. They all bored me. I never questioned Janet's choices. I was so glad to have her make them."
[dropcap letter="T"]hese days, her writing place is the chair in which she now sits, a bit of cardboard across her lap, a thick but tidy mass of correspondence to her left and on her right, a small stack of books topped by a notebook, the lined kind with a hard, pebble-colored cover. No dictionaries, no thesaurus. Always she has worked "at top speed," even when writing poetry; her phrases are born in final form whether she is working alone or oftener, "taking dictation" from her subconscious, which she likes to personify as a muse who is a real inhabitant of her home. Her creation is as rapid in adversity as in joy. She published six volumes in the year of Henry Beston's death.
I fasten on the pebble-colored notebook. "This is a miserable little book that I've been trying to fill. It's called The Runaway Horse, and it comes from a Waldoboro rug. The best rug hookers in this part of the country were in Waldoboro, and they did wonderful animal ones. The only rug I ever had that came from there was of a running horse — running hell-bent for leather, with red nostrils, feet out in front and feet out behind. The girth is still on, and the saddle blanket, but no bridle and no saddle. I used to have it in my study. I gave it to Kate. I've always thought I would write about it.
"Ten years ago, I would have caught fire, and I would have had no trouble in writing it. But I'm empty. And hollow. I have to force it." There are mornings when she tackles first her correspondence, postponing the larger work of "writing this book and getting it off my shoulders. I've been going unbrokenly, through childbirth, through everything. I wrote right up to the time I would begin being taken with labor. I wrote all the time. Then I'd stop for a while, and then I'd write again. I should get to my job. But it no longer matters to me. . ."
Tamar, heedful, interrupts with a whiff. Someone has driven into the farmyard. "I don't know who it is. Sometimes people come in who are doing what I used to do, just driving up dead-end roads and seeing what is at the end of them, and why people built on them."
We wait for a knock. The mood has shifted, and we turn to practical things. How has she dealt with the public demands of her profession speaking, promotions? "I've done very little of that." She twinkles, remembering. "I once gave a poetry reading in Hingham for something — church, perhaps — and when I got through, people came up to tell me they had enjoyed it. One woman said, 'I could hardly bear to have you stop. I had almost gone to sleep.'That taught me something." Clearly, she doesn't need an audience. I mention a poem that has been special for me. "Oh! I didn't know that had been published." Forming the poem has been the pleasure; if others can hear the song, it is the others' gladness.
The someone arriving in the drive has become Mrs. Ball, and now from the kitchen come sounds of dinner being prepared. May I walk about the farm? "Of course. I won't join you. I'm an old crippled woman. I don't go around much." She rises smoothly from her chair and stands quite straight. Tamar goes beside me, out to the open porch, around the corner of the house, past the kitchen garden freshly turned. Robins are working there, but they're not a phenomenon this spring; for some reason a few have stayed through the winter. Climbing the hillside, I pick up a pebble to bring to the burying ground, to put beside the boulder that marks Henry Beston's grave. Tammy waits. Then she leads me down to the place where, digging, she expects to discover a groundhog. ✦