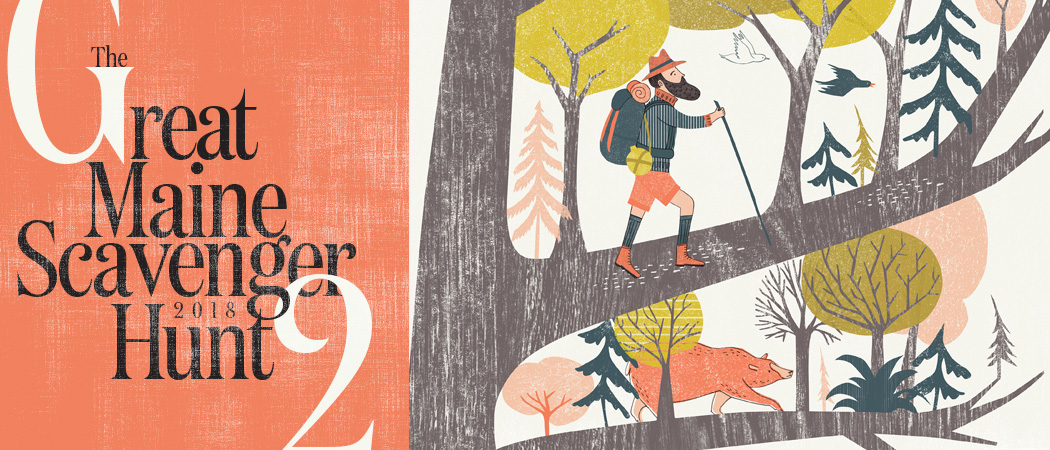 illustration by ANGELA KEOGHAN
40 TASKS, MAYBE 2,000 ROAD MILES, AT LEAST A COUPLE OF BOATS, ONE UNFORGETTABLE SUMMER.
ARE YOU UP FOR IT?
LACE UP YOUR BOOTS. PACK AN OVERNIGHT BAG. ANOTHER MAINE SUMMER IS CALLING.
From the trail to the taproom to the tidal pool, from the lake to the lunch counter to the lobster shack, let our second (annual?) scavenger hunt be your guide to everything the Pine Tree State has to offer in the season when it shines brightest. This is your summer to discover something new. Happy hunting.
1
Do any combination of activities that happens to interest you.
Hey, for most of us, this whole scavenger hunt thing is just a kooky gimmick, a fun way for us to share with you a bunch of our favorite Maine summer destinations and adventures. So pick a few — including some you've never tried before — then hit the road and enjoy! Sure, you don't get any prizes, but you're out having a fun Maine summer, and that makes you a winner in our book.
2
Finish all of the tasks in a single category.
So you're an arts buff, an outdoorsperson, or a foodie? Complete all of the activities in any one of the seven categories that follow (Outdoors, Food & Drink, Arts & Artisans, History, Events, Family, and Landmarks), and you'll win a handsome matted print commemorating your achievement, along with a photo and shout-out in a forthcoming issue of Down East, in which we'll salute all summer scavenger hunters.
How to show us you've really completed these undertakings? Each entry includes an explanation of a corresponding selfie request. Grab your phone and shoot a picture of yourself as the entry describes. Then, create a profile on the portal and upload your photos to show us what you've accomplished.
For example, to "win" at the Outdoors category, a scavenger hunter will upload six total selfies, one corresponding to each of the tasks on pages 80–83. We will confirm with all winners within two weeks of receiving a full category's worth of selfies. Complete all of the activities in more than one category (but fewer than all seven) and we will admire you that much more, although the prize is the same
3
Complete all 40 fun, eye-opening, challenging, delicious, adventuresome items on this list.
A year ago, we said we weren't sure anyone could even do this. But dozens of you tried, and some 30 of you actually pulled it off. If you head out and complete all 40 activities on this year's hunt, and you upload 40 of your corresponding selfies matching each selfie description to the online portal, you too will have won our undying admiration. And truly enjoyed the best Maine summer ever.
Here's what else you'll win: 1) a 5-year subscription to Down East, 2) a matted souvenir photomosaic of your 40 selfies, 3) an open invitation to visit the editorial offices of Down East, in Rockport, where an identical photomosaic will hang in a place of high honor for one year. Upon such visit(s) you will be praised.
Sponsored by
1Hike to Moxie Falls
2Soak up Gulf Hagas
3Climb Debouille Mountian
4Paddle the Rachel Carson Refuge
6Pack it Out with CLYNK
Sponsored by
7Lobster Rolls in Frenchboro (see update)
8Attend a Bean Supper
9Breakfast at Becky's
10Egg Creams in Bar Harbor
11Taste Maine Wine
12Farmer's Market in Brunswick
Sponsored by
13Go To Church in Solon
14Sea Crafts at Haystack
15Admire Some Sea Bags
16Art Walk in Lewiston-Auburn
17Visit Roxmont in Rockport
Sponsored by
24Codfish in Eastport, Milbridge, or Boothbay
25Sandcastles in Ogunquit
26Lobsterboat Races in Rockland
27Ship Launch in Bath
28Folk Festival in Bangor
Sponsored by
37Birdhouses in Moscow
38Victoria Mansion in Portland
39Frye's Leap on Sebago Lake
40Boulder Mural in Millinocket
Special thanks to our paid category sponsors
A "selfie" means you have to be in it, with the exception of any entries in the Family category, for which having your kids (or someone's kids) in it is a totally acceptable alternative. If you'd like to squeeze other people into your selfies, then terrific — the more the merrier. If somebody else takes a photo of you, that's okay too. But please do read the description of the selfie requirement for each item — each pic should show an attempt to include what we've asked for in the background. If it's imperfect — a sign is out of focus, a mountain gets cut off — that's fine. Don't panic. We're only taking this so seriously. Please don't rely on our short entries alone for directions and info about locations along the way. We've provided websites and contact info; do some homework before hitting the road. No selfie requirements are contingent upon a purchase — that is, you'll not be asked to prove you bought something or paid an entry fee (though, obviously, each task involves travel costs). If an act of nature or unforeseen disaster or closure prevents the execution of a selfie requirement as described (say, a sign we've asked you to photograph has been destroyed), use your best judgment and take a photo that otherwise shows us you've completed an activity — you'll be able to include an explanatory note with your photo uploads.
If you're really going for the gold, it's going to take some planning. All five tasks in the Events category are pegged to certain dates — so start marking your calendar now. The other date that really matters is Labor Day — Monday, September 3, at 8 p.m. eastern time. That's the hard cutoff by which you must have all your selfies uploaded in order to be eligible for a prize. That gives you all of May, June, July, and August to complete the hunt. Of course, you can continue having fun in Maine after that — you just won't win anything for it.
---