[dropcap letter="L"]ast year's second running of the Great Maine Scavenger Hunt enticed hundreds of readers and fans to explore the Pine Tree State's weirder, woolier corners. Dozens returned home victorious — faces suntanned, quads aching from mountain hikes, hands stinking of codfish. Here are a few of their stories.
---
Billie Mitchell
My granddaughter, Katelyn, and I have now done two years of scavenger hunts together. Exploring Maine is wonderful. Being with your granddaughter is wonderful. Our goals were to complete as many tasks as possible and to finish one category. We would sometimes leave at 4:30 a.m. to get as many in as possible. We traveled from southern Maine to northern Maine in one day just to finish a category, putting at least 468 miles on the car. But the most important part was our time together, what we learned about each other, and the closeness it brings. The ancient shell middens in Damariscotta were a favorite, especially since we didn't know they existed, and Katelyn loves historic sites. The quiet and the beauty! We sat in the chair swing and didn't want to go anywhere else. Nice when your granddaughter tells you, "I could sit here with you forever."
Lauren Tierney and Wyatt Traina
We didn't realize the protocol for boarding the Vinalhaven ferry, so we didn't secure a line number for our vehicle, and the day we made the trek, the first few ferries of the day didn't run due to severe fog. So with our itinerary, we essentially had 45 minutes on Vinalhaven to go from the ferry terminal to the Storybook Trail and back. When we disembarked, we discovered that the lone taxi service on the island had taken an impromptu day off, meaning we had 45 minutes to try and travel around 6 miles. So, for the first (and only) time in our lives, we decided to hitchhike.
Miraculously, we wound up getting rides to and from the trail incredibly easily. Bill, who has been on the island for 30 years, drove us there and left us with a fun riddle. Then, a family of four from Houston, visiting the mother's family for the summer, drove us back to the ferry terminal just in time for our boat back to Rockland. When we took our seats on the return ferry, we busted out laughing at the absurdity of the previous hour. 10/10, would recommend!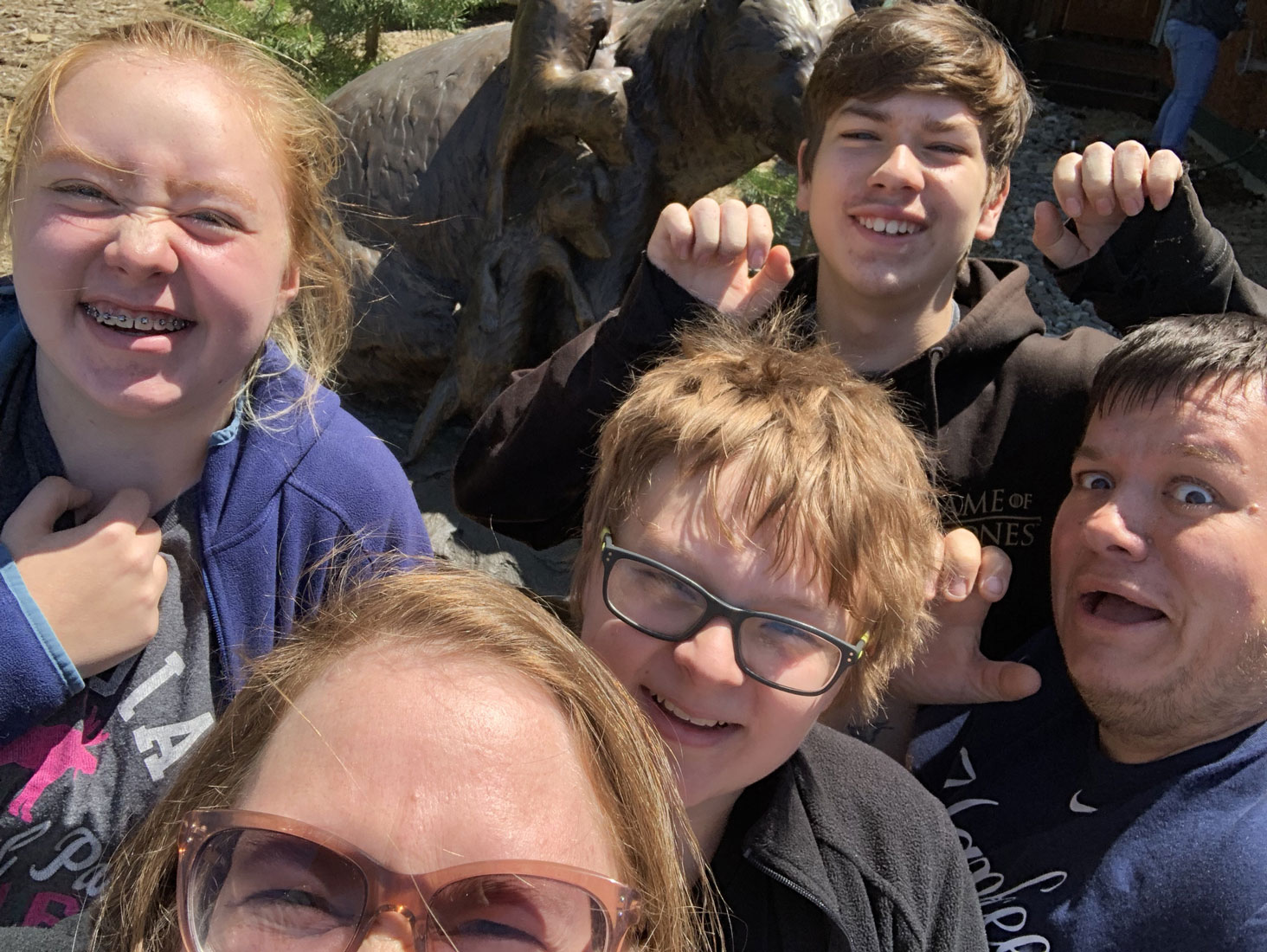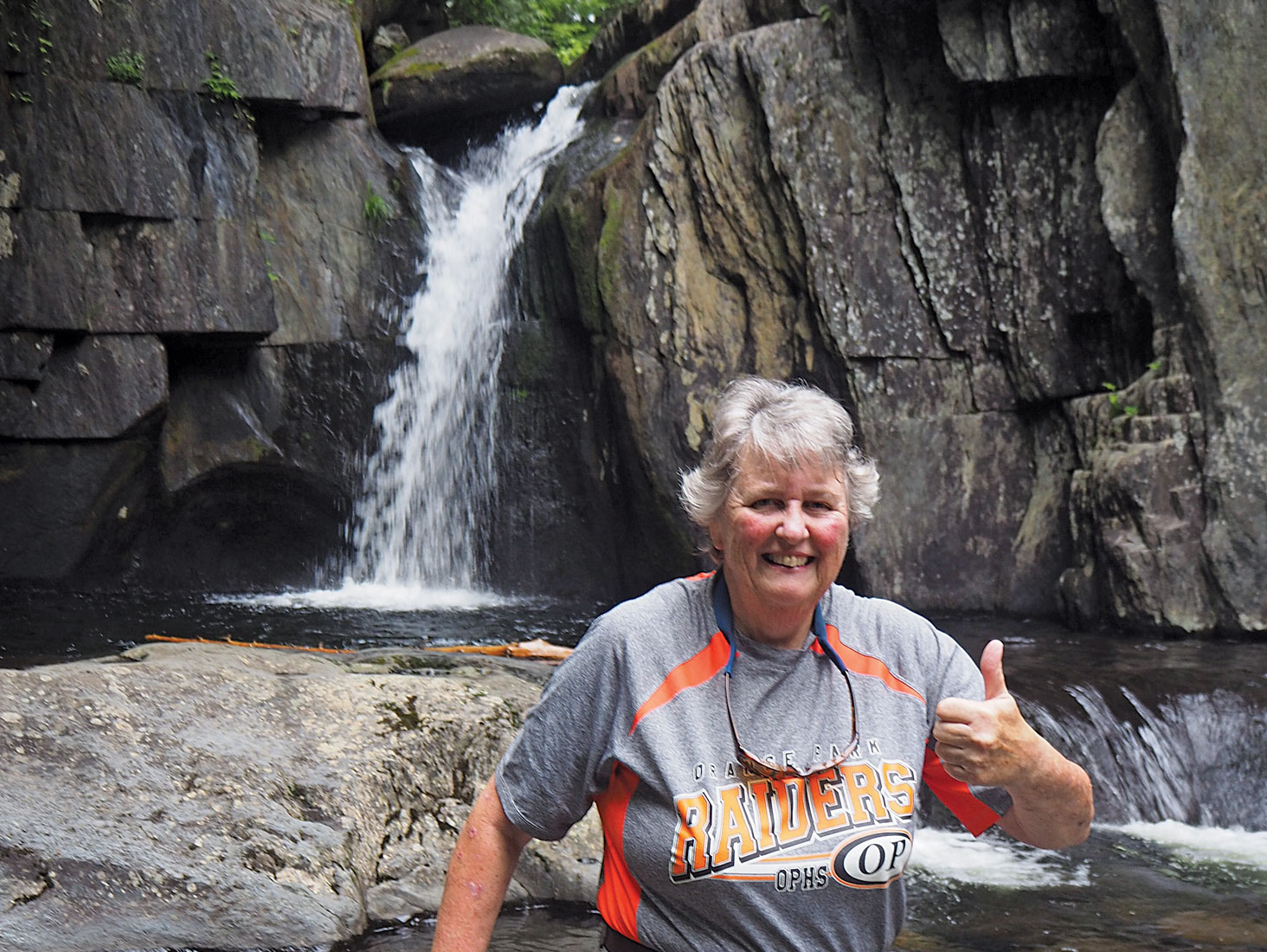 Claire and Bill Van Deinse
Our biggest adventure/misadventure was the day of the lobsterboat races in Rockland. We left early, and on I-295, a mile south of Freeport, a deer ran into our vehicle. We were okay but couldn't say the same for the deer or the vehicle. The officer allowed us to drive the vehicle away, but it wasn't going to make it to Rockland, so we had to head home. Needless to say, we were a bit shook up. We debated what to do, as we had been planning on going for the gold! The lobsterboat races were an event task, so we wouldn't complete the hunt if we just went home — we needed to get to Rockland!
Being Sunday, the only car rental place open near us was at the airport. So we headed back south, left our vehicle at the Portland Jetport, and rented a car. Made it to the lobsterboat races, enjoyed the walk on the breakwater, and got the picture. We followed it up with a great meal sitting on the dock at one of Rockland's restaurants overlooking the harbor. A good ending to the day after a rough start!
Jeanette Jacobs
I've always been someone who loves to travel, but after the birth of our twins, taking longer trips has become a bit more complicated. Completing the scavenger hunt fulfilled my need to see some new places while creating great memories and experiences for all the kids. Our trip to northern Maine's remote Deboullie Mountain was such a fun one. My 4-year-old loved crossing the boulder field and completed the whole hike by himself. At the end of the day, he was so proud that he skipped around the campground while my husband and I collapsed into our camp chairs. Granted, we each had a 30-pound-plus pack carrying one of the twins. It will go down as the trip when the babies learned the color blue: To keep them entertained in the backpacks, we encouraged them to find every blue trail marker and let them touch literally every one. I'm sure their screams of excitement every time they spotted another "BLUE!" could be heard over the entire mountain.
I would also happily go back to Cellardoor Winery. If you can believe it, it was the only day I didn't have the kids with me. It was some well-deserved mom time, and I enjoyed every last sip!
✳ Editor's note: Some kind of special Award of Merit is in order for Jeanette Jacobs, who completed (nearly) every task in the hunt accompanied by anywhere from two to five small children. We marveled at every selfie she posted.
"I HAVE LIVED HERE ALL MY LIFE, AND THE HUNT HAS SHOWN ME PLACES I DID NOT KNOW EXISTED."
Jessica Theriault and Jessica Rankin
Aroostook County took the cake! After a long trip up north, where neither of us had ever been, we arrived at the North Maine Woods gate to the Deboullie Public Reserve Land around 6 p.m. We were going to hike Debouille Mountain in the morning after camping in the car. Neither of us was really prepared for how remote the area was and how dark the world can be without electricity and streetlights. The 30-mile drive in on dirt roads took forever, and as we neared the trailhead, where we planned to park, we saw a bear peeking out of the woods. It did nothing but run away, but the realization that there were bears around us was terrifying! We got out of the car at the trailhead, took a picture, and ran for the hills, finding a small municipal campground to spend the night in, and the next day we completed three other tasks on our way home. Even after researching bear attacks in Maine and understanding they were rare, the nervousness of being in the woods didn't really leave us! We also thought that in 300 miles traveling up north, we would see a moose, but not a one. Maybe next year!
Debbie Long
Deboullie Mountain was our biggest adventure by far! We live full-time in our RV, and for the far north and west events, I decided to make Greenville our base camp. I got up at 3:30 a.m. to make the 5-hour drive to get to Deboullie. The drive was beautiful, and it was obvious rain clouds were moving in.
Boy, is it out of the way. I arrived around 10 a.m., loaded my backpack, and decided to eat before I made the hike. As I was eating, I stood in the door of my Jeep Wrangler, and as I stepped back, the door closed shut — and you got it, I had locked my keys in the Jeep, with my pack. Here I am, five hours from my RV, no cell service, in the middle of nowhere.
Thankfully, a sweet couple showed up as I was hiking toward the road. They were getting ready to do the Debouille Mountain hike. They didn't have anything we could use to attempt to open my door, and they had no cell service either. They said they were staying at the resort just up the road, and at that point, I thought they were crazy — there seemed to be nothing just up the road out there. They were sweet to give me a ride, and after about a mile, we turned into one of the most beautiful little fish camps I have ever seen. I met a few more guests there, and everyone I talked to said, "I bet Jen can help."
I felt a bit of relief when I met the very petite Jen, who exuded confidence. She gathered tools, and we headed back to my Jeep. She had a helper, and within 30 minutes, in the rain, she had managed to wedge a hooked copper pipe into my Jeep window and push the lock button. We all jumped up and down screaming — you'd have thought our favorite teams had won the Super Bowl.
A big shout-out to Jen Brophy and Red River Camps! I couldn't have done it without them.
Christy and Dan Crocker
Two weeks after Christy's mother passed away, I was sitting in the dentist office, thumbing through the May 2018 Down East. Mom had lived with us for 10½ years and required a lot of care by all members of our family that often kept us very close to home. Her passing left us with an unanticipated amount of freedom, with a full Maine summer ahead. Your scavenger hunt provided us with the perfect roadmap for our summer, and we leapt right into the full adventure.
Between the two of us, we had several favorite stops: The South Solon Meeting House, for sure — what a gem, with its beautiful frescos, and we had no idea it even existed. The codfish relay was great camaraderie and 100 percent fun, especially when the head fell off Christy's fish. And the Ogunquit sandcastle competition — our creation was a thank-you to Down East magazine, complete with the logo. There were three types of people who stopped by to see our work: kids, who couldn't read cursive and thus couldn't read what we wrote; adults who congratulated us but didn't have a clue about its meaning; and then the other hunters, who immediately recognized us as kindred scavenger-hunt participants. So many people stopped by our sand pile to chat about their experiences. In the end, that may be the best part about the hunt: discovering other hunters and sharing our stories.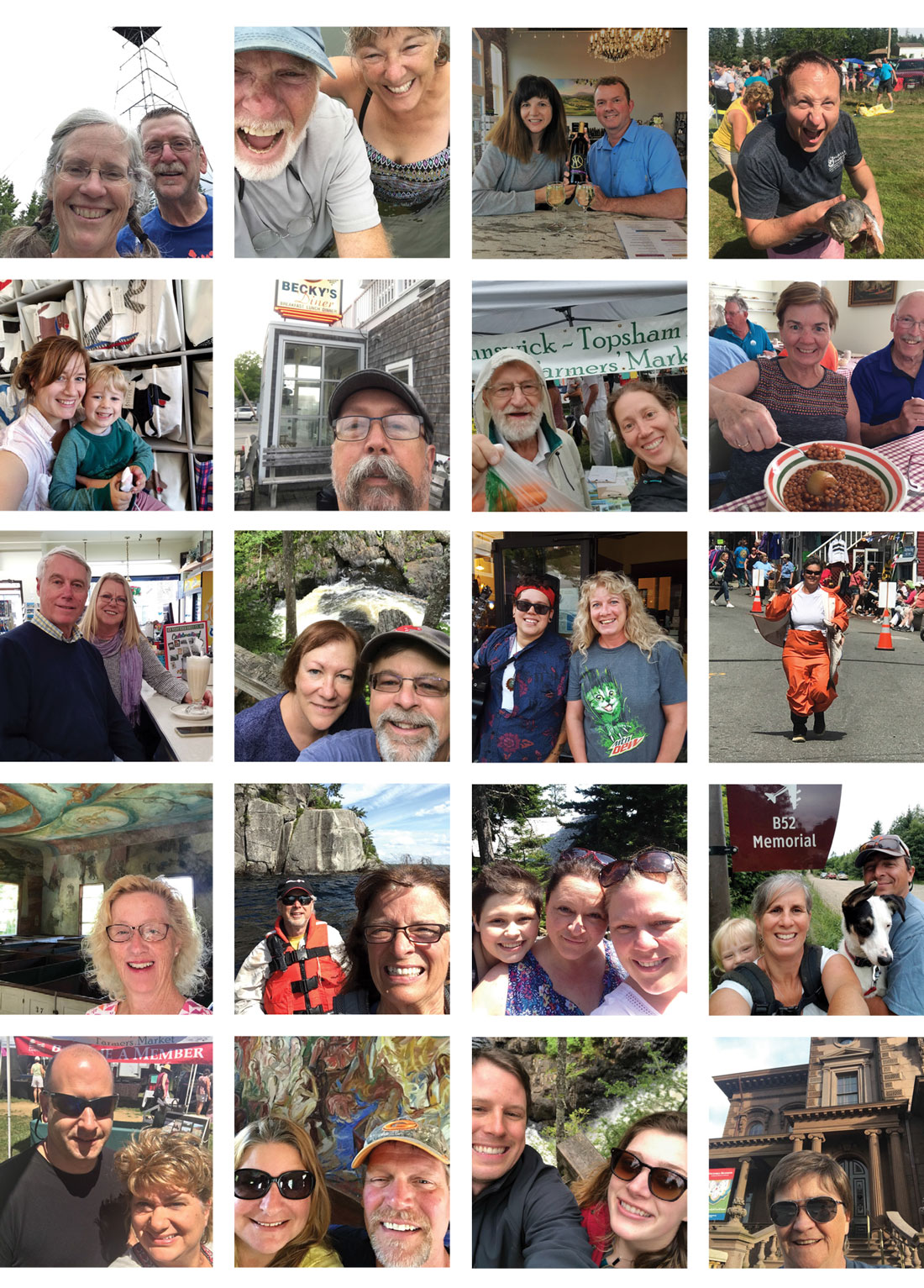 Finishers
Maureen and Chuck AuCoin and Alex Patel, Hallowell
Sarah Bolduc, Gardiner
Maureen Bonzey, Framingham, Massachusetts
Donna Bruton, Bridgton
Christy and Dan Crocker, Hallowell
Karen Erdmann, Dresden
Matt and Jenn Fortin, Fryeburg
Veronica Frazier, Waldoboro
Bob Fries and Debbie Teal, Tenants Harbor
Julie Hallett, West Gardiner
Carlton and Doreen Harvey, Winthrop
Jeanette Jacobs (with Emmett, Sawyer, and Adeline Jacobs), Mount Vernon
Jodie Kaufman, Robbie Titterington, and Clover Jules Kaufman, Freeport
Mark Kent, Caroline Lex, and Katie and Maisie Kent, Orono
Samantha Komorous, Newburyport, Massachusetts
Debbie Long, Livingston, Texas
Kathleen Mercier and Jerry McBreairty, Windham
Wendall Milliken, Falmouth
Linda Parent, Lagrange
Woody Pyle and Chip Loggins, Waterville Valley, New Hampshire*
Ted and Betty Repa, West Boothbay Harbor
Jerry Seaman, Hollis
Elizabeth Snuggs-Charles and Ed Charles, Belgrade Lakes
Kevin Sutherland, Saco
Darlene Taylor, Starks
Jessica Theriault and Jessica Rankin, West Gardiner
Lauren Tierney and Wyatt Traina, Portland
Claire and Bill Van Deinse, Old Orchard Beach
Su Wood, Belfast
✳ The Scavenger Hunt's first non-human finishers, Woody and Chip are small wooden dolls that nonetheless completed all 40 tasks.
Honorable Mentions
(Completed More than 30 Tasks!)
Tim and Shannon Bouchard, Orrington
Ken and Donna Snowman, Orrington
Deb Maxfield, Harrison, and Grace Coulombe, South Paris
Nancy Brown and Patrick Ferris Brown, Freeport
Billie Mitchell, Bar Harbor
Toni Parker, Jay
Janis Milliken, Falmouth
Single-Category Finishers
Cathy Ames, Orland
Ed Avis, Litchfield
Christopher Baise, Gaithersburg, Maryland
Dave Barker, Kennebunk
Sandra Beaulieu, Manchester, New Hampshire
Sandy Belanger, Augusta
Peregrine Bolduc-Ignasiak, Gardiner
Wyatt  Bolduc-Ignasiak, Gardiner
Keanen Bowden, Gardiner
Molly Boyd, Brewer
Amy Call, Boxborough, Massachusetts
Melinda Corey and Caleb Knock, Albion
Brenda Grant, West Gardiner
Stephanie Herrick, Carol Ann McMahan, and Lucia Herrick, Owl's Head
Comfort Hines, Appleton
Josh Mason, Gardiner
Molly McCarthy, Waterboro
Michelle Michaud, North Vassalboro
Rebecca Ober and Chloe Martin, Portland
Sheri Morrow, Lisbon
Rick and Sherli Searles, Eliot
Bonnie Stenson, Sartell, Minnesota
Amy Tan, Hancock
Brad and Diane Waterhouse, Topsham
Aliza Welch, Auburn
Freddy (a dog), Portland