A pair of first-time restaurateurs reinvents an airport snack bar as a dining destination for travelers and locals alike.
By Willy Blackmore
Photographs by Douglas Merriam
[dropcap letter="A"]irport fare has been on a gourmet trajectory lately. At DC's Reagan National, for instance, the couple million monthly passengers have their pick of gastropub cuisine from a Top Chef alum, Southern cooking from the host of ABC's The Chew, or Mexican street food from a James Beard Award semifinalist. Knox County Regional Airport, meanwhile, sees maybe a couple thousand travelers in a busy month. And yet, even Owls Head's little terminal has become a landing spot for creative eats.
Last year, Erin and Casey Dominguez were living in Phoenix, Arizona, and searching for seasonal food-service gigs on the midcoast so they could spend the summer in Maine. "We thought we were just going to be up here for the season and were going to renovate an Airstream," Erin says. But when they learned of a vacancy at the local airport's sole concessions stand — on the pre-security side, meaning diners need not be travelers — they decided, sight unseen, to open their own business.
[columns_row width="third"]
[column]


[/column]
[column]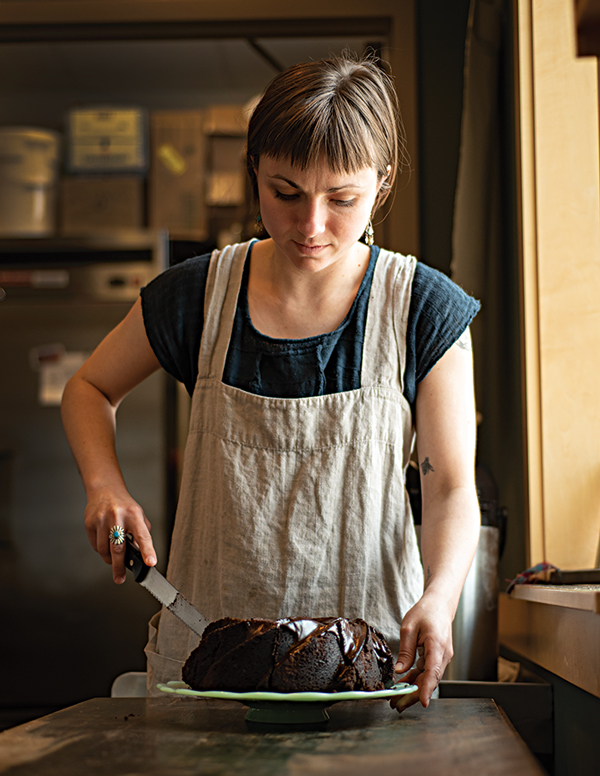 [/column]
[column]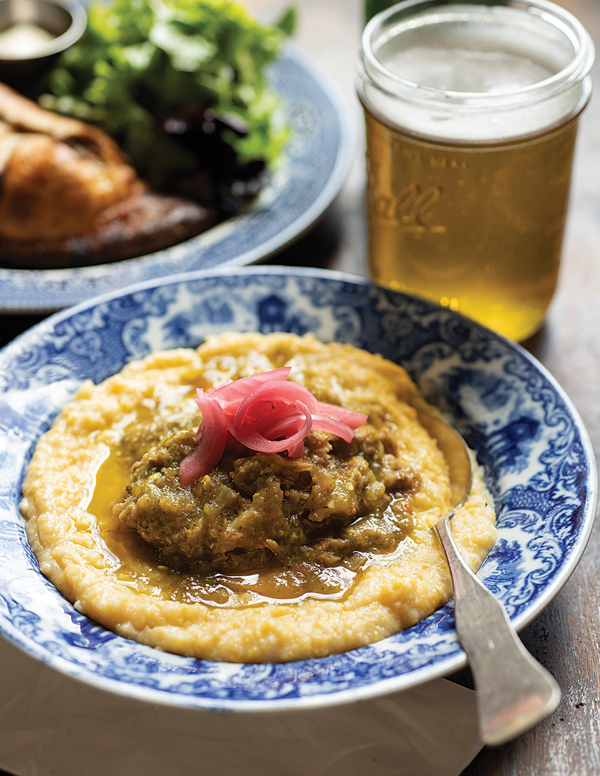 [/column]
[/columns_row]
---
First, they set about ditching the dining room's cafeteria vibe, outfitting it with antique furniture — including an 1800s church pew — gathering an eclectic bunch of chinaware, and putting mason jars of freshly cut flowers on tables that Erin's mom sanded and refinished. Then, they started breakfast and lunch service: in addition to porridge, quiches, salads, and sandwiches, they make sweet baked goods (like lemon–poppy-seed pop tarts and decadent chocolate Bundt cake), savory hand pies (stuffed with, say, roasted curry veggies), and creamy polenta bowls (with such toppings as braised pork with poblanos, onions, and potatoes).
For airport dining, the Dominguezes' hand pies are a smart convergence of form and function — compact enough to take with you in a hurry, substantial enough to pull up a chair and enjoy. Erin, the baker, is responsible for the crust. Casey handles the various fillings. The result is delicious numbers like the Red Philly, which splits the difference between a cheesesteak and a pot roast: meltingly tender beer-braised beef, caramelized onions, roasted red pepper, and provolone inside an almost croissant-like crust, buttery and flaky, served with a side of horseradish aioli.
23 Terminal Ln., Owls Head. 207-594-0018.
Price Range
Breakfasts $4.50–$7.50, lunches $8–$11.
Flight Times
Open Friday–Wednesday, 7 a.m.–3 p.m. Keep in mind: the first-class hand pies take 15 minutes to bake, so leave time before takeoff.
Family Affair
Both Erin and Casey Dominguez — who got married this spring — had worked in restaurants in the past. And for help running the counter, they often enlist Erin's mom, Carla Armbruster, who has a home in Thomaston.
Vestigial signage for Observation Area Snacks leads to the Salty Owl, where visitors gaze out the big windows at the private planes and commercial props — Cape Air shuttling to and from Boston, Penobscot Island Air running mail to remote towns. But the café doesn't feel like an airport restaurant so much as a neighborhood café that happens to be in an airport.
Sure, metro airports have gotten in on the good-food game, but their finest in-terminal eateries can't help feeling impersonal — everyone's just passing through, after all. The Salty Owl is different. It's a place to linger, where you can drop in for the occasional coffee or establish yourself as a regular, where you can get to know the owners or catch up with neighbors. Regardless, do try one of those pop tarts, like the one stuffed with figs and white cheddar, and hang out a while, watching the flights come and go.