July is high time for indulging in Maine's favorite food: Lobster. Jillian and Malcom Bedell, founders of the acclaimed food blog From Away, have a whole chapter devoted to lobster recipes in their new cookbook, Eating in Maine: At Home, On the Town and On the Road. Herewith, four luscious recipes for the crustacean-loving crowd. Plus one blueberry dessert for good measure.
Photos and recipes by Malcom and Jillian Bedell
Lobster Tom Kha
Jillian
Serves 6
The recipes I consulted for making tom kha coconut soup called for galangal and kaffir lime leaves, neither of which I could find locally. So I made do with a prepackaged Thai red curry paste made by Thai Kitchen, which contains both, as well as garlic and chile. I could and perhaps should have used the lobster shells to make a rich stock, but the soup didn't suffer much. Also, slowly warming the stock and coconut milk with the aromatics helps deepen the flavor. I undercooked the lobster by maybe a minute so that it wouldn't get gummy when I later added it to the soup. This soup requires a bit of tasting and adjusting of seasonings as you go. I use "lite" coconut milk because the full-fat version freaks me out. Whenever I get tom kha at my favorite Thai place, it is full of oddly buoyant mushrooms that bob and float and somersault. In this recipe I used sliced shiitakes, which add a good earthiness. And finally, noodles! Hooray, noodles. About the lemongrass: I used a meat tenderizer to smash it, which was both fun and fragrant.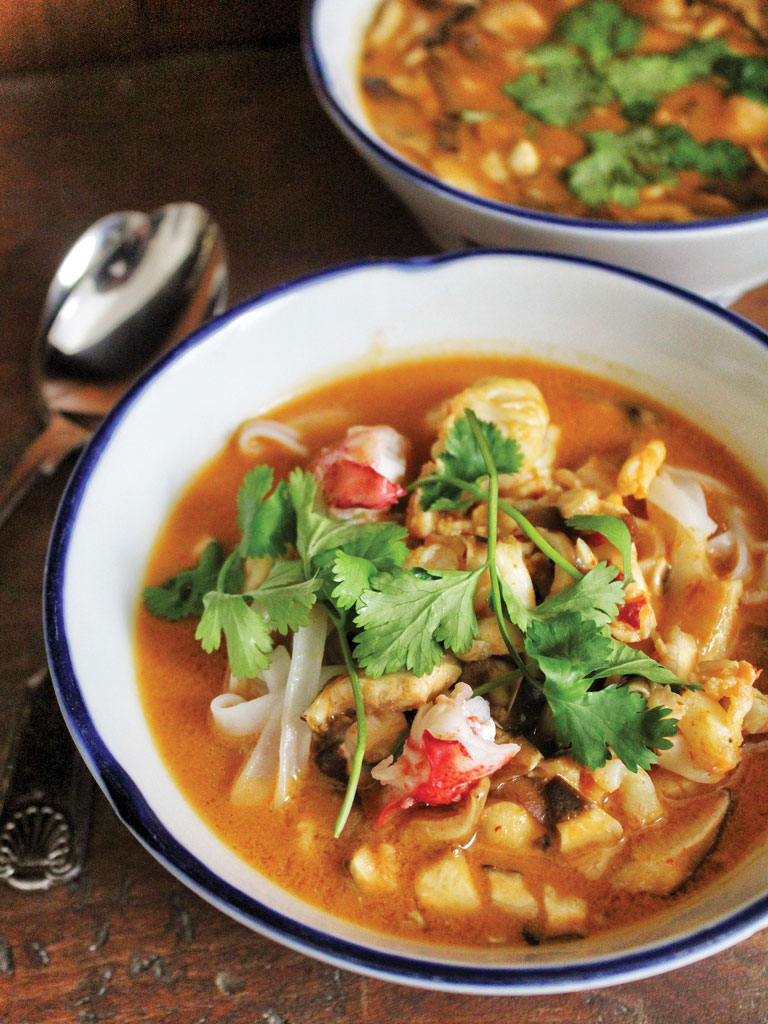 2 tablespoons Thai red curry paste
One 14-ounce can lite coconut milk
2 cups vegetable stock
2 stalks lemongrass, chopped into 4-inch pieces and pounded flat
Two 1-pound lobsters, steamed 6 minutes, shelled, and cut into bite-size pieces
1 to 2 tablespoon(s) fish sauce
1 teaspoon granulated sugar
2 tablespoons lime juice
4 ounces shiitake mushrooms, roughly chopped
Cilantro, for garnish
Rice noodles (optional), cooked according to package directions and tossed with a bit of vegetable oil
1. In a large soup pot over low heat, whisk the red curry paste into the coconut milk and vegetable stock. Add the lemongrass, and let the mixture steep while you prepare the lobster. Turn up the heat, and bring the soup to a boil. Add the fish sauce, sugar, and lime juice, tasting and adjusting seasoning if necessary. Add the mushrooms and reduce the heat to low. Add the lobster meat and cook until just warmed through, about one minute more.
2. Garnish with cilantro. Serve with rice noodles if desired.
Warm Maine Lobster Dip
Malcolm
As an appetizer, serves 4–6
There's a delightful 1950s vibe about this dish, a certain something that makes me want to put on a ruffled apron with a pair of high heels. And what is that something? It's cream cheese — specifically, cream cheese mixed with seafood and served hot. I know, I know. It's hardly haute cuisine. The first time I ordered it, at the sea-level dining room of Cook's Lobster House on Bailey Island, it was mainly out of morbid curiosity. The term "lobster dip" on its own isn't terrifically appealing, but it also doesn't sound like something that could be truly bad. Their version is served in a bread bowl and, like most things at Cook's, is excellent exactly half the time you order it. That first batch was a winner, a combination of succulent Maine lobster swimming in a thick cream sauce that bubbled and dripped over the edges of a crusty bread, which we tore apart and hungrily devoured. It wasn't until my second exposure to this dish, served to me by a dear friend well versed in classic Maine cooking, that the pieces began to fall into place. "Cream cheese," he explained. "It's a huge pan of lobster and cream cheese." I'm ordinarily not crazy about using lobster as an ingredient, preferring to enjoy it naked and on its own. In this case, though, a 13-by-9-inch glass baking dish of the stuff, along with an entire sliced baguette, vanished in minutes.
The hot sauce adds a touch of light pink color and spice, but by all means, you can leave it out. It's a great way to stretch the meat from just a few lobsters into enough food to serve with a loaf of bread at your next swingin' party.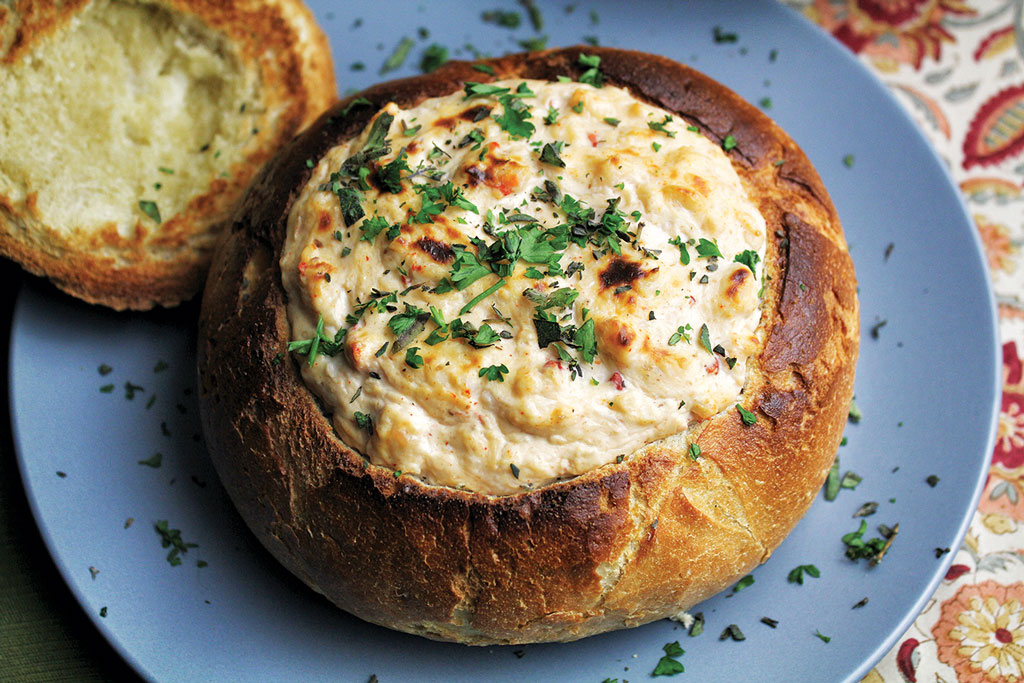 Two 1½-pound live Maine lobsters
16 ounces cream cheese, softened
2 shallots, minced
1 clove garlic, minced
1 tablespoon horseradish
1 tablespoon Worcestershire sauce
⅛ teaspoon cayenne
1 teaspoon Sriracha or other hot sauce
Salt and pepper to taste
1. In a large stockpot, bring an inch of salted water to a boil. Add the lobster and steam, covered, until the shells are deep red, about 10 minutes. If the pot boils over, leave the lid off a crack to allow some steam to escape. Let the lobster cool, then crack the shells and remove the lobster meat, including the tails, claws, and knuckles. Tear or chop the lobster meat into small pieces, and set aside.
2. In a small bowl, combine the cream cheese, shallots, garlic, horseradish, Worcestershire, cayenne, Sriracha, salt, and pepper. Add the lobster meat and mix well to combine. Transfer to a glass baking dish and refrigerate for at least 2 hours.
3. Preheat the oven to 375 degrees. Cook uncovered about 25 minutes or until the lobster dip is hot and bubbly. Serve with bread, crackers, vegetables, or right off your finger.
Lobster Fra Diavolo
Jillian
Serves 2
The landed value of Maine's lobster harvest was $350 million in 2012. The ground fisheries are gasping; shrimp are on the ropes; scallops and urchins have been overfished; green crabs, warm-water invaders, are decimating the clam flats. Without King Lobster, it seems, Maine's coastal villages would shrivel and die. All hail Homarus americanus; long may he crawl.
We've steamed lobster, of course, and served it straight up with drawn butter, corn on the cob, clams, and a baguette for numerous dinner parties. We've made lobster clubs, a lobster dip, and Maine lobster rolls complete with homemade buns. For a special evening's feast for two, however, we went with Lobster Fra Diavolo.
Fra diavolo is Italian for "brother devil" and refers to one of the ways in which medieval monks self-flagellated during Lent. Really, though, it just means "spicy bits all up in yo' mouth."
This dish turned out to be magic for a number of reasons. It was buttery (though there was no butter) and creamy without any cream. The sauce seeps into the lobster, and the lobster imparts its flavor to the sauce. It's wonderfully, artfully messy. There's red sauce on your face and wine glass and napkin and somehow your ear, and you are so incredibly happy and grateful for this dinner at your own dining room table.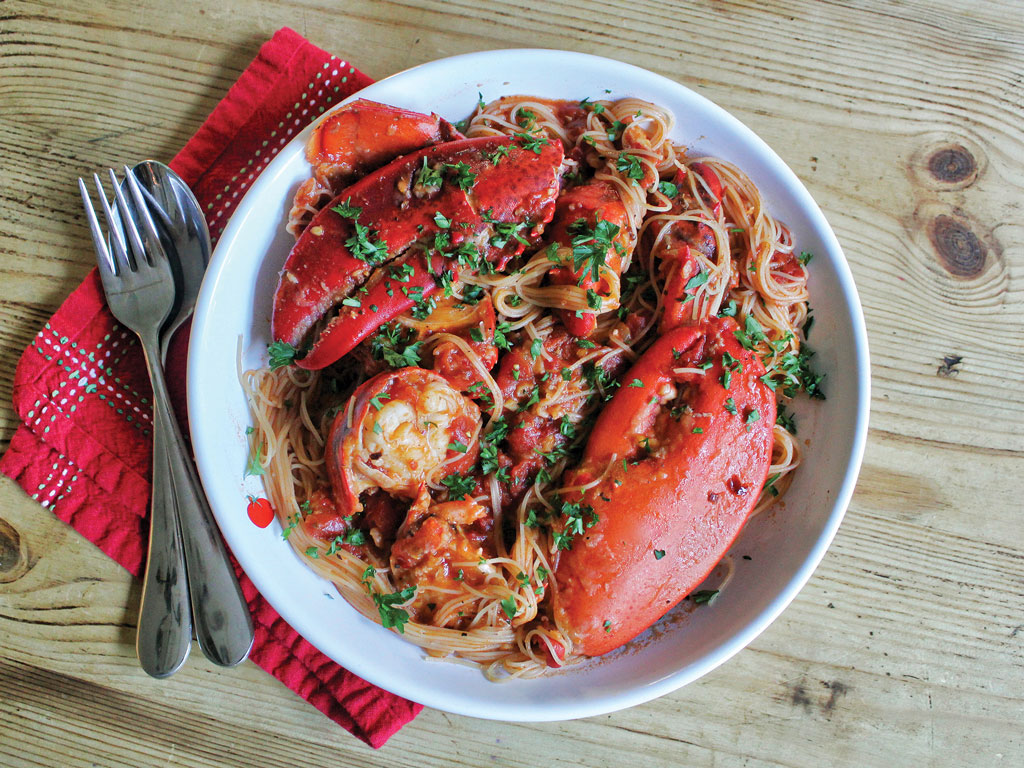 ¼ cup extra-virgin olive oil
1½-pound lobster, tail cut into 4 pieces, claws cracked, knuckles separated from body
¼ cup all-purpose flour
1 teaspoon crushed red pepper flakes
1 teaspoon dried oregano
3 cloves garlic, finely chopped
1 tablespoon tomato paste
¼ cup white wine
½ cup fish stock
14-ounce can peeled tomatoes in juice
1 bay leaf
Kosher salt and freshly ground black pepper, to taste
½ pound angel hair pasta, cooked
1 tablespoon chopped parsley
1. In a stockpot or Dutch oven, heat the olive oil over high heat. Dispatch the lobster by driving a knife straight down through its head, between the eyes. Remove the tail, claws, and knuckles. Cut the tail into four pieces, twist the knuckles to remove from the claws and bodies, and strike the claws with the back of a knife to crack the shell. Toss the lobster pieces in flour, shake off the excess, and add the meat to the pot. Cook until the shells turn red, about 4 minutes. Transfer the lobster pieces to a plate; set aside.
2. Add the red pepper flakes, oregano, and garlic to the pot; cook until the spices bloom, about 3 minutes. Add the tomato paste and cook until lightly caramelized, about 2 minutes. Add the white wine and cook until almost evaporated, about 2 minutes. Add the stock, tomatoes, and bay leaf, and bring to a boil. Reduce the heat to medium-low, and cook partially covered until the sauce thickens, about 20 minutes. Return the lobster to the pot, and cook until the lobster is cooked through, about 5 more minutes. Add the pasta and toss with the sauce. Transfer to a large serving platter; sprinkle with the chopped parsley.
Lobster Macaroni and Cheese
Malcolm
Serves 8 to 10
I've never been one to fall all over myself at the mere mention of lobster mac and cheese. Maine lobster doesn't need to be dressed up or have its flavor improved, and a combination of lobster with cheese doesn't appeal to me. Mainly, though, rich chunks of sweet lobster meat covered in a heavy, sticky, gluey cheese sauce just seems too excessive. Not long ago, however, we found ourselves with a surplus of leftover lobster meat chilling in the refrigerator. What's more, an unseasonable storm came to town, turning the week cool, gray, and rainy. Suddenly the occasion seemed perfect to cook a decadent macaroni and cheese with plenty of big chunks of lobster. My go-to mac-and-cheese recipe, which uses sharp cheddar and gruyère, wouldn't do for making lobster mac and cheese. Those strong cheeses would bury the flavor of the lobster. I eventually settled on a combination of white cheddar, fontina, and mascarpone. The fontina melts beautifully and has a mild flavor that doesn't compete with the lobster. The mascarpone adds silkiness and just the lightest touch of sweetness. Finally, finishing the dish with lots of big, buttery, fresh breadcrumbs and another layer of cheese ensures lots of golden-brown crunchy bits after baking. The resulting lobster mac and cheese is light and creamy, and allows the flavor of the lobster to shine through just as it should.
16 ounces cavatappi pasta
6 tablespoons unsalted butter, divided
8 ounces fontina cheese, shredded
4 ounces sharp white cheddar cheese, shredded
4 slices white sandwich bread
¼ cup all-purpose flour
4 cups milk
8 ounces mascarpone cheese
3 tablespoons brandy or cognac
¼ teaspoon cayenne pepper
¼ teaspoon freshly grated nutmeg
Salt and freshly ground black pepper, to taste
16 ounces cooked lobster meat, cut into 1-inch chunks (meat from approximately five 1 ¼-pound lobsters)
3 tablespoons chives, minced
2 scallions, sliced
1. Preheat the oven to 375 degrees. Bring a large pan of salted water to a boil over high heat. Add the pasta and cook, stirring occasionally, cutting the cooking time on the package in half. Drain the pasta and set aside.
2. Combine the shredded cheeses in a bowl, and toss well to combine. Set aside.
3. Melt 2 tablespoons of butter in a microwave or in a pan over low heat. Remove the crusts from the bread and discard. Tear the remaining bread into tiny bits and place in a small bowl. Add the melted butter and toss to coat the breadcrumbs evenly. Set aside.
4. In a large saucepan or stockpot, melt the remaining butter over medium heat. Add the flour and cook, whisking constantly, until the flour mixture is smooth and just starting to darken.
5. Slowly whisk in the milk and simmer, whisking frequently, until the sauce has thickened, about 10 minutes. Remove the pan from the heat, and stir in 2½ cups of the shredded cheese mixture, the mascarpone, and the brandy.
6. Add the cayenne and nutmeg. Stir until the cheese is melted and incorporated. Adjust the taste with salt and pepper as needed. Add half the lobster, half the chives, half the scallions, and the cooked pasta to the cheese sauce. Stir well to combine.
7. Transfer the mixture to a 9-by-13-inch baking dish.
8. Sprinkle with the fresh breadcrumbs and the remaining shredded cheese mixture. Bake until golden brown and bubbly, about 30 minutes. Let cool for a few minutes, and finish with a sprinkle of the remaining lobster, chives, and scallions.
Fourth of July Ice Cream Pie
Jillian
Serves 8
Celebrate Independence Day the way our forefathers intended — with cake-flavored ice cream and syrupy fruit. Berries are abundant, ripe, and tart this time of year and make perfect complements to the sweet dairy and the crumbly graham cracker crust of this red, white, and blue frozen confection. I wish you all a wonderful, safe, gleefully excessive Fourth.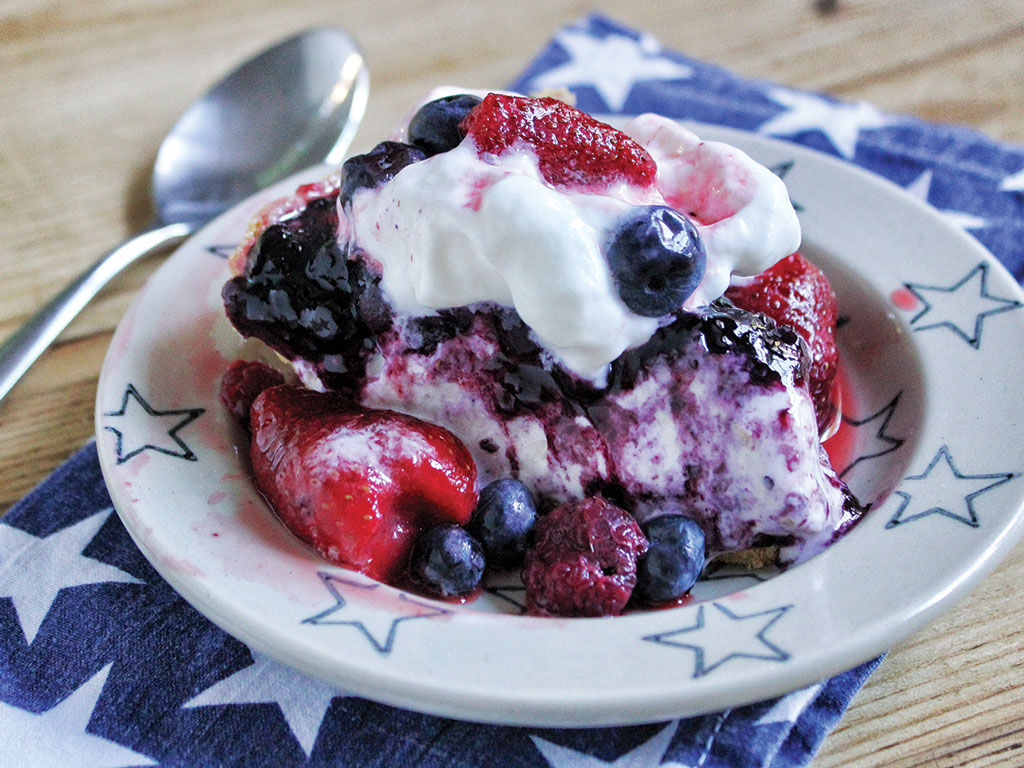 3 cups strawberry ice cream, softened
2 cups blueberries
¼ cup granulated sugar
¼ cup water
1 teaspoon fresh lemon juice
1 graham cracker pie crust
Whipped cream
Strawberries and raspberries, for garnish
1. Soften the ice cream on the counter. Meanwhile, bring the blueberries, sugar, and water to a boil. Turn down to a simmer and reduce the fruit, about 5 minutes, stirring occasionally. Add the lemon juice and allow the mixture to cool.
2. Spread the ice cream into the pie crust with a rubber spatula and freeze. When the blueberries cool, spread them over the ice cream and place the pie back in the freezer for about 3 hours. Top with the whipped cream, fresh strawberries, and raspberries, and serve.
Excerpted from Eating in Maine: At Home, On the Town and On the Road by Jillian and Malcom Bedell (Tilbury House Publishers, Thomaston; paperback; 288 pages; $22.95).