Tempo Dulu
163 Danforth St., Portland
207-879-8755
www.tempodulu.restaurant
By Elizabeth Peavey
Photographed by Meredith Purdue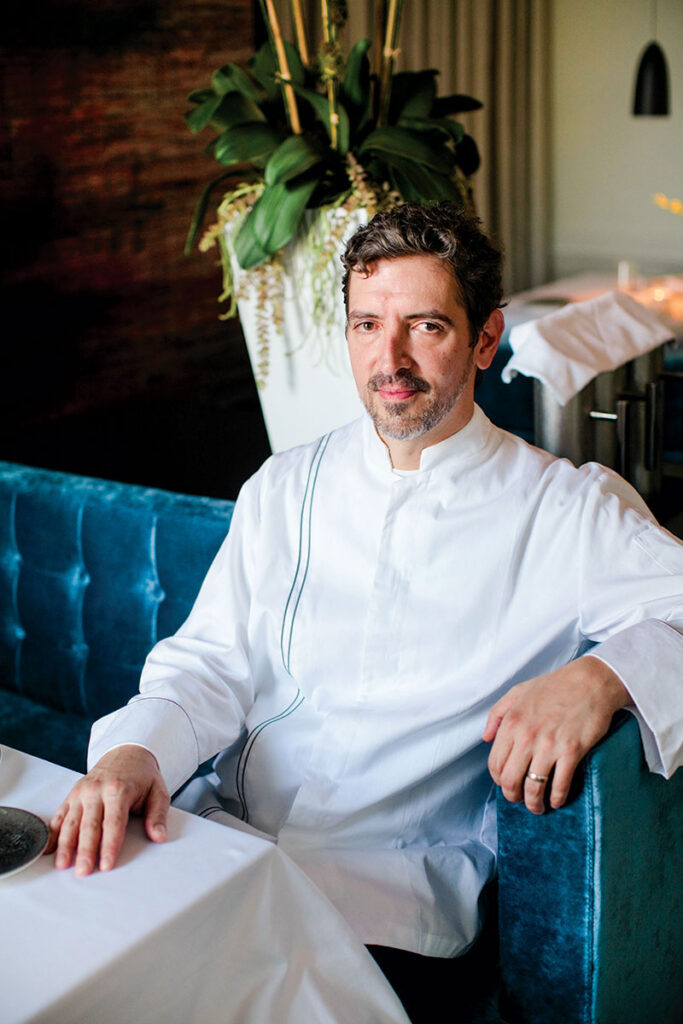 [A]s you ascend the granite steps festooned with lanterns, the door opens as if by magic, and the maître 'd welcomes you into the grand hall. The scent of incense and the sound of pulsing electronic music fill the air, and instantly the Portland you know falls away behind you. Welcome to Somewhere Else.
That's exactly the transcendent experience co-owners Raymond Brunyanszki and Oscar Verest want you to have at the Danforth Inn's new restaurant, Tempo Dulu, which features the cuisine of Southeast Asia — Vietnam, Thailand, Malaysia, Singapore, and predominantly Indonesia. When it opened in June, Tempo Dulu (Indonesian for "the good old days") was lauded in the blogosphere as revolutionary and nonpareil, and for good reason: executive chef Lawrence Klang is shaking diners' socks off — with what many of us consider street food.
An award-winning, Cordon Bleu–trained chef with international repute, Klang came to Tempo Dulu from Natalie's, the resident restaurant of Brunyanszki and Verest's Camden Harbour Inn. But first, he rambled around Southeast Asia, working with renowned chefs to delve into flavors and preparations. He returned with his proverbial pockets filled with magic.
Meanwhile, Brunyanszki and Verest put the Danforth Inn through its own transformation. The stately if not stodgy rooms have been funked up with custom-made modern furniture and contemporary Asian art. Crazy chandeliers add to the dramatic atmosphere — there's one that could double as an oversized Chanel chapeau, a sparkly number that would look right at home in Zsa Zsa Gabor's boudoir, and another fashioned out of living moss (it has to be occasionally spritzed). The entire lighting system is computerized and goes through 20 different settings throughout the evening. "Intimate islands of light" is how Brunyanszki describes the look it creates for each table.
Ladies and gentlemen, this is pure theater.
Online Extras
Start the show with a cocktail in the lounge, where mix master extraordinaire Trevin Hutchins plies his craft. The showiest of his concoctions — the Jakarta, a smoky take on a rye Manhattan — begins with a glass placed over a burning pile of spices. The glass is upended only at the last minute when the drink is poured. The Jim Thompson, served in a delicate teacup and topped by a cloud of rose foam, may look like one of the froufrouiest drinks going, but the gin potion beneath packs a wallop.
Begin the next leg of your journey in one of the three dining rooms, where you receive a flurry of attention: A hot towel is tonged. Menus are presented. Water is poured. A mango puree amuse-bouche arrives in a shooter glass topped with a lime-chili foam and bloomed basil seeds that pop like caviar on the tongue. The chili foam ignites a small conflagration in your mouth that is quickly extinguished by the sweet puree.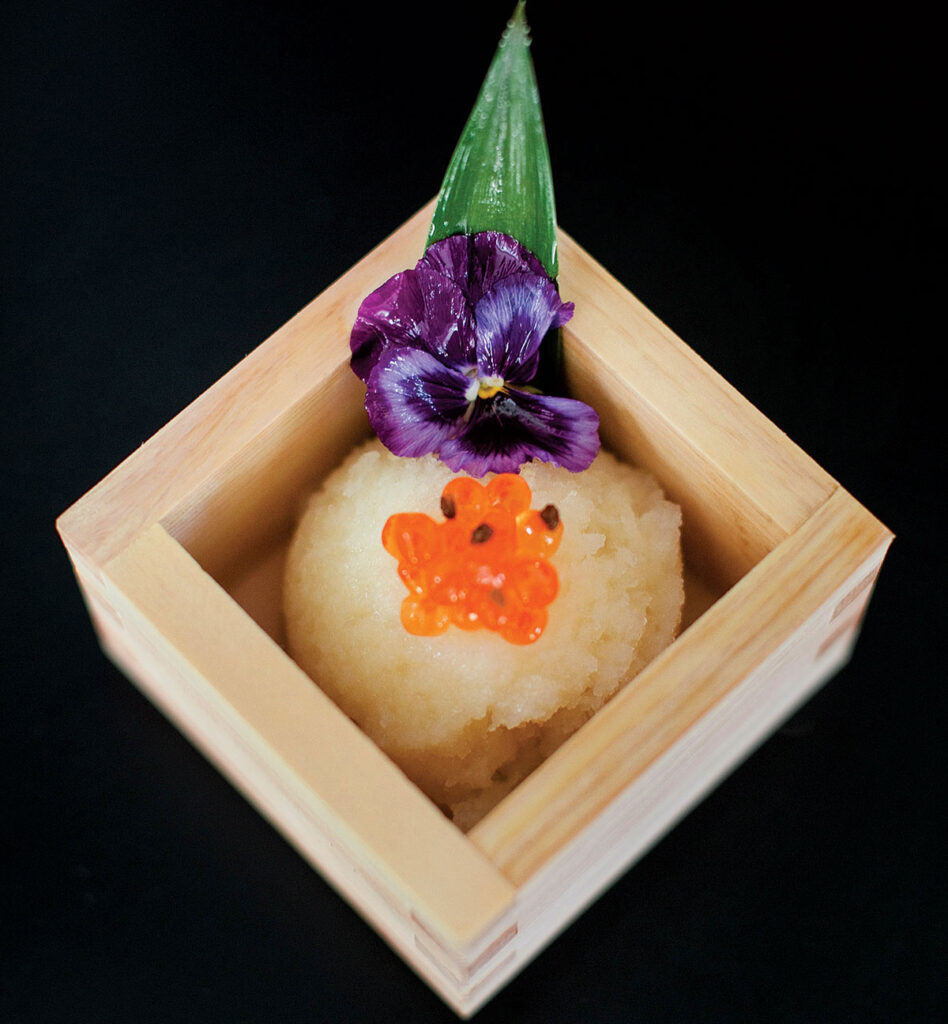 Diners have three options: a $67 three-course menu, an $87 chef's tasting menu, or the $98 lobster-tasting menu. Brunyanszki does not flinch when I ask if these prices might scare off diners. "Every choice we've made was made to tell a story," he says. "And we can't tell that story with an entrée and a glass of water. It may sound pretentious, but it's not. We're trying to create an experience the diner has never had before."
The chef's menu begins with a silky green papaya soup garnished with strands of lemongrass and a submerged blob of tomato confit to stir in. A fried lobster spring roll (containing a nice piece of knuckle) and accompanying fois gras satay provide your next collision of texture and flavor: the crunch of the roll, the chewiness of the lobster, the melt-in-your-mouth fois gras — all sparked by the spice of Indonesian peanut sauce.
Service is an orchestrated dance: flatware is changed with every course, napkins are replaced when the diner leaves the table. The men wear blue jackets with white cuffs, a design inspired by the Han dynasty. To offset this formality, the coats are paired with kicky blue sneakers.
The main course of the tasting menu is presented family style, and the dishes — delicate banana-leaf steamed halibut, the smoky wok-charred squid, deeply spiced and sweet Beef Rendang Padang, and exquisite medallions of Sumatra lamb in a complex curry — quickly cover the surface of a table-top food warmer. But wait, there's more: rice, both yellow and white, ramekins of pickled vegetables, chicken satay, a hard-boiled egg covered in sambal, the house's chili sauce. What follows is a feeding frenzy of such duration it accommodates several lighting changes.
Your trio of mini desserts includes an Indonesian spice cake topped with coconut ice cream and a passion fruit panna cotta — each beautifully presented on a white tray in individual divots.
Soon, you will have to descend those front steps and return to whatever life you checked at the door. But as your waiter brings you yet one more warm towel, you can almost hear the rustle of palm leaves and the smell of jasmine, and you bask in the fact that, for the time being, you are still gloriously, deliciously away.
[button content="See More Food Features" color="black" text="white" url="https://downeast.com/category/food/" openin="_self"]
---
Download this issue or get it in print.  The digital version of Down East delivers the best of Maine travel, culture, food, and homes & gardens to your tablet every month. Plus you'll get a first look at the online extras! Try it for six months for just $12.99.