Mill 67
61 Washington St., Sanford
207-324-6767
By Michaela Cavallaro
Photographed by Meredith Perdue
[I]n Maine, old and new often exist side by side — or even closer. A historic Grange Hall hosts yoga classes, a red-brick elementary school becomes condominiums, an 1820s home sits around the corner from an angular modern dwelling. We love our history, these situations seem to say, but we're certainly not stuck there.
[accordion] [item title="Online-only pics from Mill 67″][rev_slider mill67][/item] [/accordion]
Some of the most intriguing interplay between past and present occurs in the mills that once anchored many Maine towns. Entrepreneurs are endlessly tackling these hulking industrial spaces, reimagining them as engines of vitality, community, and commerce. That's exactly what Jim Paquette has in mind at Mill 67, his gorgeous new restaurant in the Sanford Mill.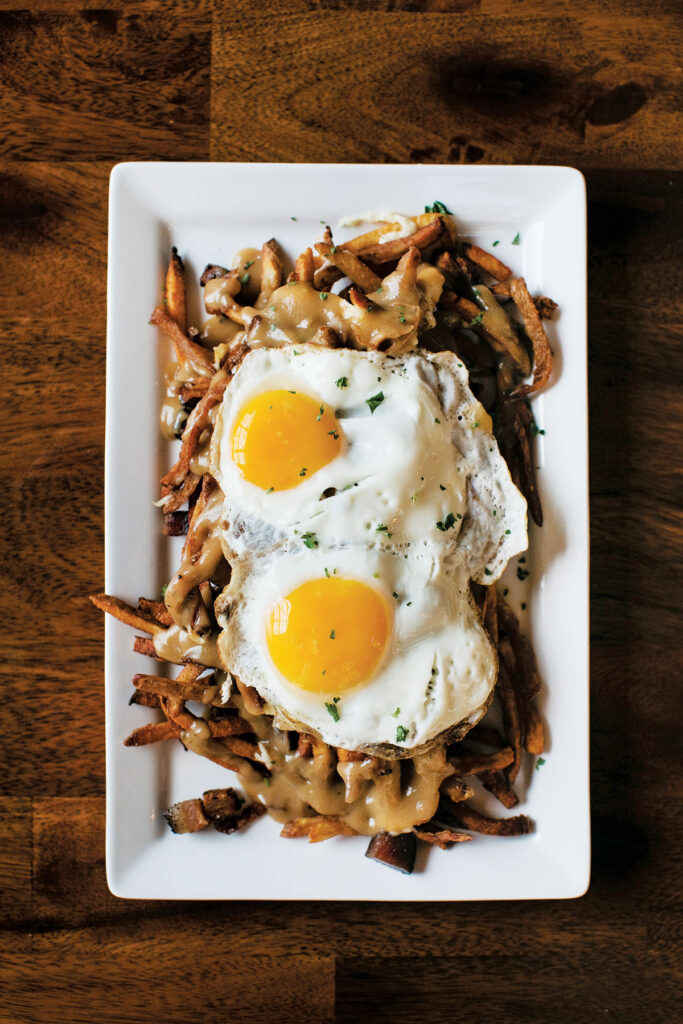 At just 35, Paquette has owned Backstreet Grill, a mainstay in downtown Sanford, for a decade. In the wake of the financial crisis and drawing on his background as a corporate restaurant manager, Paquette had expansion on his mind — and, like many savvy entrepreneurs, he was headed for the coast. But then Northland Enterprises, which had worked with the city of Sanford to rehab its oldest mill, approached him about opening a restaurant in the building. "When I first walked in, I couldn't believe what an aura it had," Paquette says. "It was old and empty — just concrete and brick and dust. I wanted to hang out in the space and drink a beer."
Paquette quickly overcame his concerns about competing with himself — Backstreet Grill is just three blocks away — and dove into the project, ultimately designing a comfortable and genuinely striking restaurant interior. Like other successful mill-based restaurants — Brunswick's Frontier, Saco's Run of the Mill — Mill 67 embraces its industrial past rather than papering over it, with enormous windows overlooking the Mousam River and exposed wood, brick, and pipes.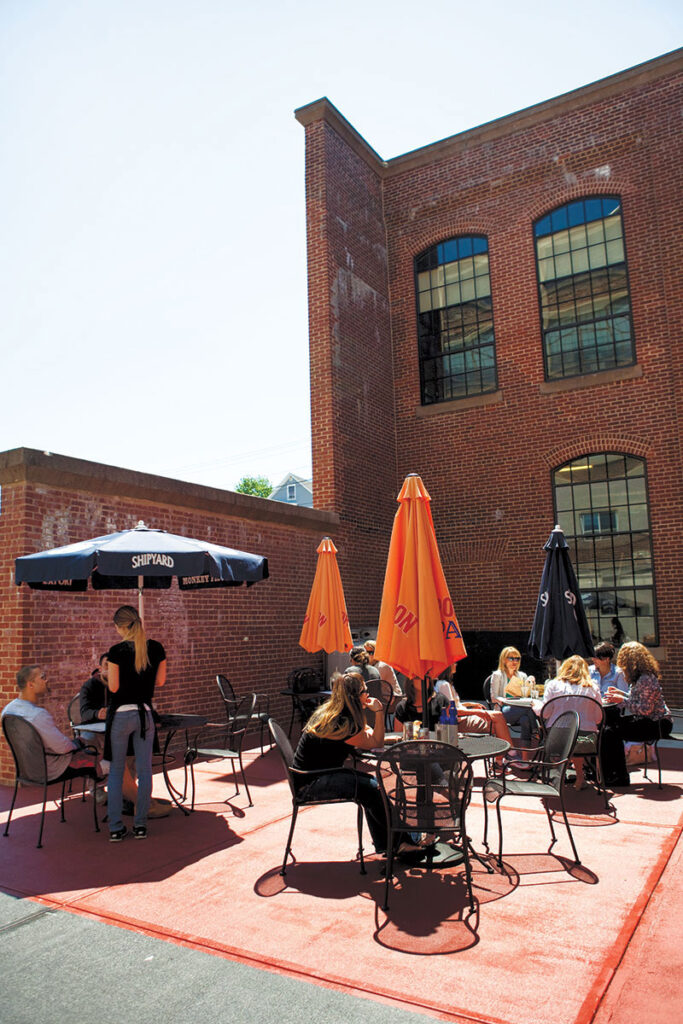 While some mill spaces can feel vast and a little empty, Mill 67 manages to be cozy and inviting — you can sit at the long bar, or at tables high and low in either the bar area or along the wrap-around windows. Given Paquette's original reaction to the space, it's no surprise that the beer list is strong, with plenty of Maine brews to choose from. The specialty cocktail menu, however, veers toward the sweet and sticky.
The menu at Mill 67 — the name is a nod to the mill's opening in 1867 — is heavy on the comfort food of Paquette's Franco-American heritage. On a recent visit, duck poutine was an irresistible appetizer special. A heaping pile of crispy shoestring fries was covered with just-salty-enough gravy, a smattering of cheese curds, and bite-size pieces of duck — a somewhat nouvelle twist on the classic dish. In a half-hearted nod to healthy eating, we also ordered a salad. But executive chef Matt Enking's philosophy about portion size seems to be that bigger is better, so any health points we might have gained were promptly eliminated by the enormous tangle of Boston lettuce, blue cheese, grape tomatoes, and red onion that appeared alongside the poutine.
My Pepe worked in a tannery in Biddeford for his whole life. For me to be able to open my second restaurant in a mill was really cool.
Mill 67's entrée list ranges from pizza, burgers, and panini to an array of risotto dishes, seafood pie, and baby back ribs. The execution varies a bit — a burger ordered medium-rare was rather well done on arrival, although a dish of moist meatloaf and mashed potatoes was hearty and satisfying — and service isn't up to the standard you might expect given the striking surroundings. Fortunately, Mill 67's prices are reasonable, perhaps leading diners to be more forgiving of the inconsistency than they might if faced with a bigger check.
"We're known for the ambiance and our drinks; the food is secondary," Paquette admits. "But the chefs have stepped it up. We want to be not just a beautiful location, but a place that focuses on food quality and presentation."
In the meantime, Paquette is making good on his goal to run a hip new eatery that draws people to downtown Sanford for dinner. "My Pepe worked in a tannery in Biddeford for his whole life," he says nostalgically. "For me to be able to open my second restaurant in a mill was really cool."
---
Get the best of Maine Travel, Food, Culture, and Homes & Gardens every month, with a subscription to Down East, the Best of Maine. Gift subscriptions available.