Looking for some ways to enhance your holiday feast? Some of our favorite local purveyors show us new ways to deck the table and offer tips on entertaining during the holidays.
Circa Home & Vintage's Holiday Table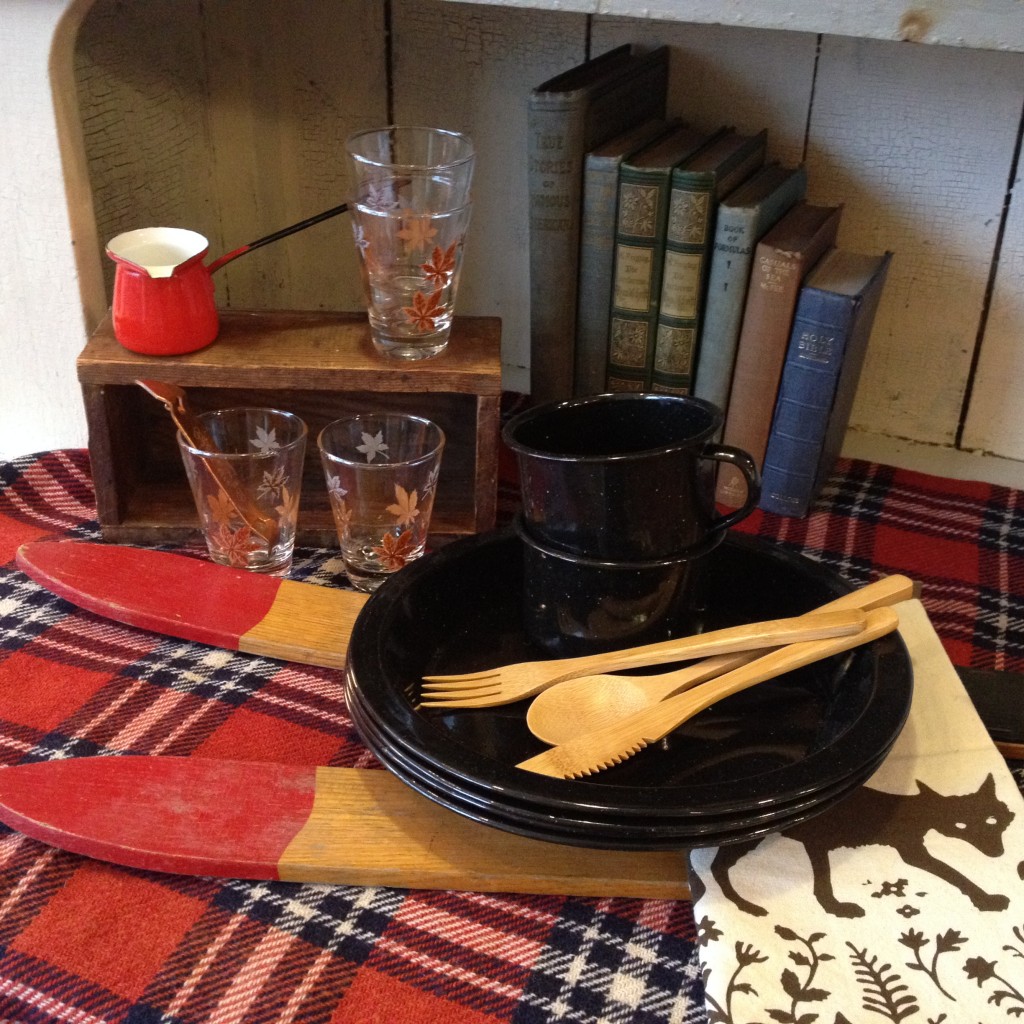 What's on your table:
This is how I picture my imaginary rustic camp kitchen table would be outfitted during the cold, Maine winter months. Vintage wool blankets pulling double-duty as a table cover, rugged enamelware dishes, vintage sporting decor, and books. Always books.
Design Inspiration: Nature and literature
Entertaining Style: Bits of nature and simple vintage touches blended with contemporary clean is my go-to look.
Tips for Decorating: Pick a color scheme and stick with it. Different patterns, textures, and sizes will all blend together if the colors are similar. Also, If it makes you smile, you nailed it.
Circa Home & Vintage
247B Congress St.
Portland, Maine
(207) 899-0198
Portland Flea-For-All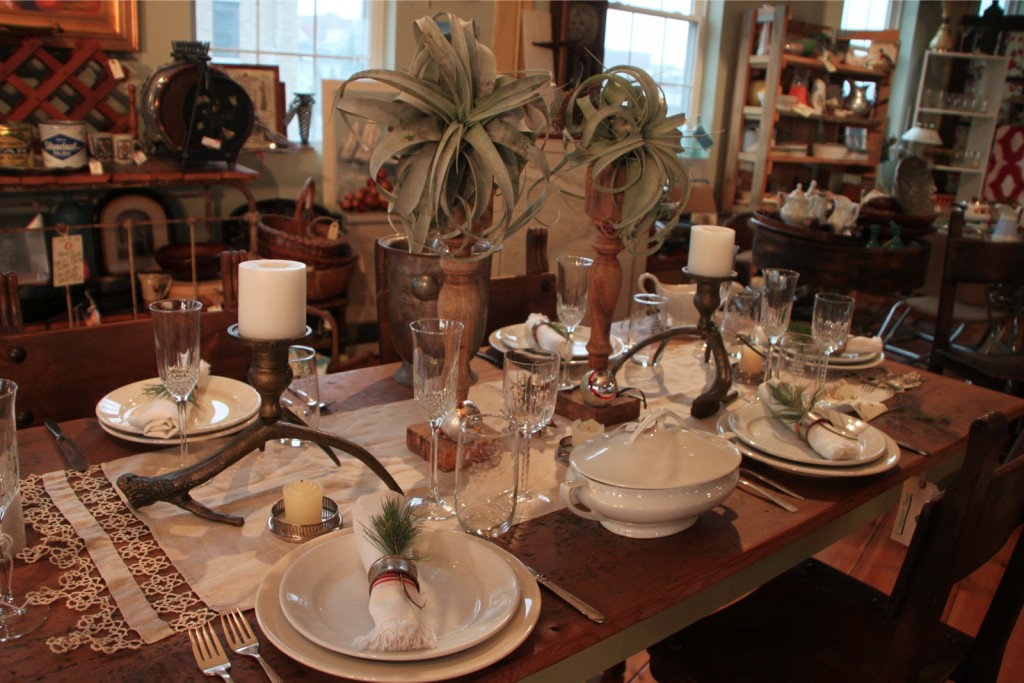 What's on your table: Bronzed antler candle holders and architectural spires create the textural backdrop for vintage ironstone plates and cut glass stemware. The look is pulled together with an antique linen table runner and live air plants, which create motion and lighten the rustic feel of the farm table.
Design Inspirations: Vintage eclectic. Design seems to be trending more towards mixed collections and crossover time periods. People don't collect sets of antique china the way they used to, so our tables usually reflect the fun of pulling together different styles and eras on a single palette.
Entertaining Style: Casual and eclectic — much like our guests. Our store (and home) have an open door policy, so we try to create a warm environment where people feel at ease and well cared for. We want our tables to feel alive. Here, we based the styling around the amazing organic feel of the Tillandsia Xerographica plants, but brought it back home to Maine winter by incorporating the aged bronze antlers.
Tips for decorating: Make sure you've got the basics, but don't be afraid to improvise for the rest. We generally pick a color scheme and pull coordinate things from around the house to enhance our table. Always have something fresh and alive, and invest the time in setting good lighting.
Portland Flea-for-All
125 Kennebec St.
Portland, Maine
(207) 370-7570
My Sister's Garage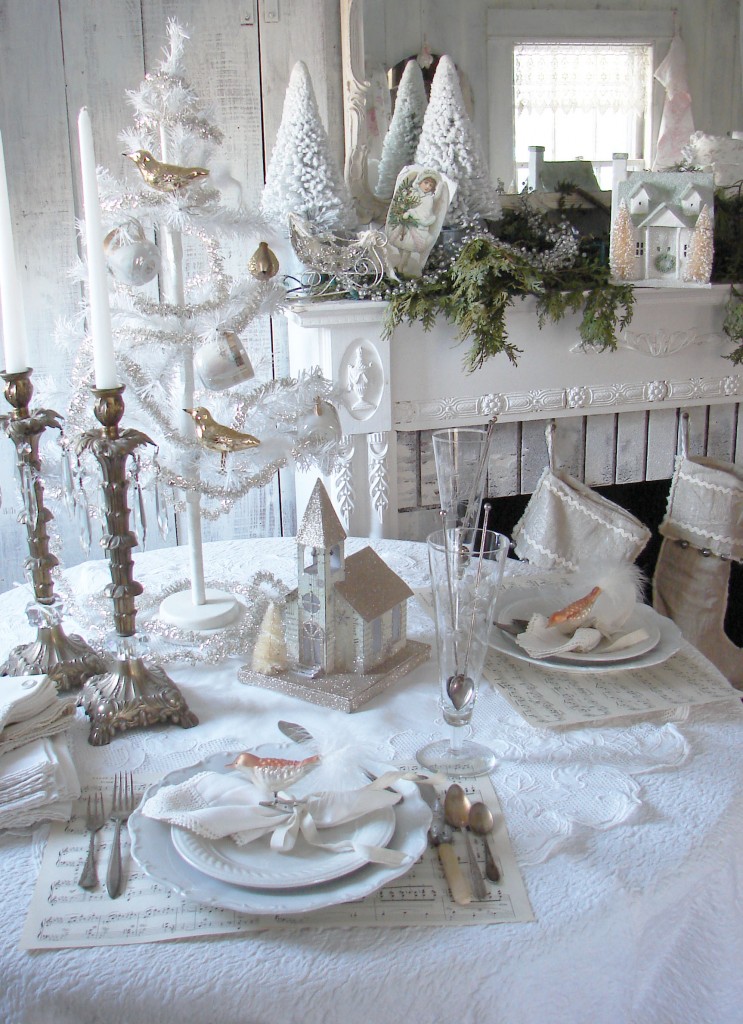 What's on your table: We're dreaming of a vintage white Christmas with crystal candlesticks, handmade linens and glam Christmas decor.
Design inspirations: Rachel Ashwell, Audrey Hepburn, and DIY ingenuity!
Entertaining style: At ease. Do the prep work before but enjoy the moment-the host sets the whole tone!
Tips for decorating: We love old Hollywood style with a twist. Be playful like our sheet music placemats and teacup ornaments and create something memorable because it stands out!
My Sister's Garage
610 Roosevelt Trail, Windham, ME 04062
(207) 892-2268
Kate Lowry Designs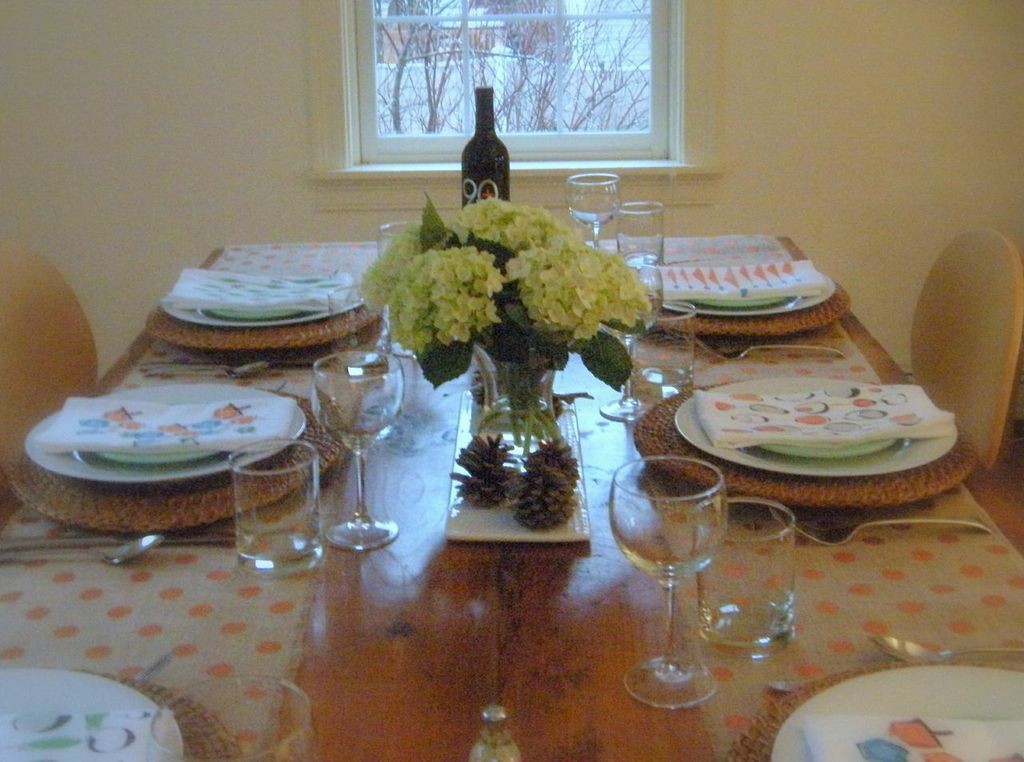 What's on your table: I placed two jute runners, accented with orange dots, under the two rows of place settings, leaving the center of the table exposed. Each setting is layered with a wicker charger, a simple white dinner plate and topped with vintage Fire King Jadeite salad plates. Covering the salad plates are 6 different whimsical napkins that I designed, with abstract images of tree ornaments, dreidels and a menorah. Flatware and glasses are simple and modern. The centerpiece is a glass vase filled with hydrangea, atop a modern white porcelain tray to add contrast. I've also placed some pinecones and bark around the base.
Design inspirations: Inspiration comes to me from anything that I find aesthetically appealing, which could be art, tools and hardware, junk, a piece of clothing, the bark falling off a tree or fruit at the farmers market. I get many ideas from things that have texture and natural patterns.
Entertaining style: My style is very eclectic and often has an artistic component. And it's always simple. I strive to create settings that are a little unexpected.
Tips for decorating: Stand back and look at the entire setting often, throughout the time you're creating your space. The eye is naturally drawn to symmetry and repetition, so make sure the whole scene feels harmonious. Understated is almost always better. Mix up styles and colors and don't fall into the "bed in a bag" syndrome where everything matches. Use items you love, simply because you love them.