Game Theory
Chef Troy Mains isn't just the brains behind the inventive menu at the Harraseeket Inn's award-winning Maine Dining Room — he's also a longtime hunter. Here, he shares with us two much-loved recipes and some wisdom from the woods.
Photographed by Mark Fleming
Chefs thrive on the daily chaos and pressure of the kitchen. Hunting, on the other hand, involves a quiet chaos that centers me. It allows me to slow down, breathe deeply, and spend time with my dad, Charles, who taught me how to hunt and how to be a man. I love the meat, but there's more to hunting than that. There's a bond with nature and with your prey that's very Zen. Hunting has taught me about how to fail and keep going. Too many people are swallowed by their failures — by a "miss," as we call it in the woods. But how you recover from a miss — whether it's a missed a shot or a burnt pot on a busy night — that's what defines you as a chef, a hunter, and a person.
— Chef Troy Mains
Pheasant Pot Pie
Serves 6
3 whole pheasants
2 stalks celery, diced
2 carrots, diced
1 large onion, diced
½ pound (2 sticks) butter
2 tablespoons truffle oil
4 tablespoons chopped garlic
1 cup flour
⅓ cup chopped rosemary
⅓ cup chopped parsley
⅓ cup chopped chives
½ cup cream
zest of 1 lemon
puff pastry, to cover pie
1 egg, beaten
To make the stock, preheat the oven to 350 degrees. Roast the pheasants for about 40 minutes, until crisp and golden brown. Allow to cool, then remove the meat from the bones and reserve. Place bones in a 6-quart stockpot and cover with water. Simmer over medium heat. Chop the celery, carrots, and onion, and add just a handful to the stock. Let cook for one hour at medium-low, then strain.
Place a large braising pan on the stove over medium-low heat and begin to melt the butter and truffle oil together. Add the rest of the diced vegetables and the chopped garlic and cook for about 10 minutes. Then add the flour, making a blond roux with no color, mixing gently. Reduce the heat to low and add the stock. Whisk all the lumps from the sides and let the mixture cook slowly to develop flavor. Add the picked pheasant meat, then adjust the heat to allow the mixture to come to a boil in order to thicken. Add rosemary, parsley, and chives and then the cream and lemon zest. Preheat the oven to 350 degrees. Once the mixture has thickened sufficiently, transfer it to an oven-proof casserole dish and cover with the puff pastry. Brush with a little egg for a sheen. Bake for 15 to 20 minutes, until golden brown. Let rest for 10 minutes before serving.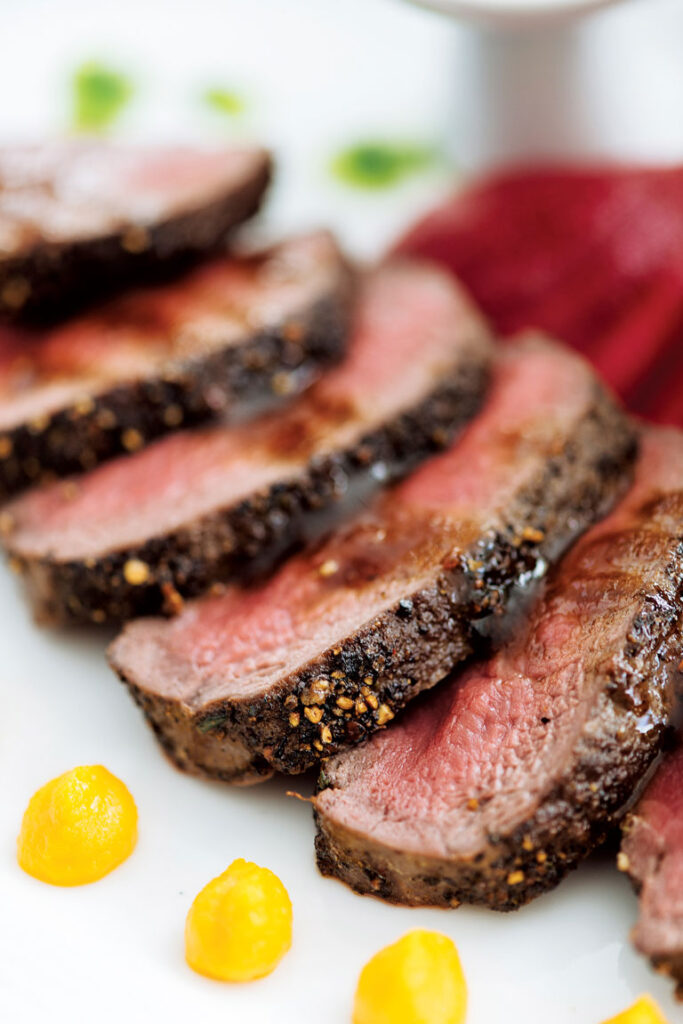 Peppered Venison Tenderloin with Braised Carrot
Serves 1
1 large carrot
3 cups orange juice
one (5-ounce) venison tenderloin
2 tablespoons coarse cracked pepper
1 tablespoon salt
2 tablespoons canola oil
2 tablespoons butter, melted
6 sprigs fresh thyme
Preheat the oven to 350 degrees. Place the carrot in an oven-proof pan and cover with the orange juice. Bake for one hour until soft. Meanwhile, season the tenderloin with pepper and salt. In a cast iron skillet, heat the canola oil and sear the venison on both sides for three minutes each. Baste with the butter and thyme and let rest on a cooling rack for approximately 20 minutes. Slice only when ready to serve.
Taste more of Chef Mains's game recipes in February at the Harraseeket Inn's annual Wild Game Festival. For more information, visit harraseeketinn.com