A York County Autumn
FROM FARMS TO FOOTPATHS, FIVE WAYS TO LOVE THE FALL IN MAINE'S SCENIC SOUTH.
Jake Roche and Lindsey Perry of Ogunquit's River Lily Farm.
By Bridget M. Burns | Photographed by Douglas Merriam
[dropcap letter="A"] fall foliage ramble along the York County back roads shows off a classic northern New England tableau: stone fences flanking narrow roads, weathered barn gables and small-town church steeples, quiet ponds and deep woods full of golden birches, scarlet maples, and purple ashes. After another busy summer season, the coastal towns are beginning to quiet, and the fields and farm stands are brimming with the fruits of the harvest. For our money, there's no better time to explore southern Maine — and no better starting point than this tally of a few of our favorite fall sites and celebrations.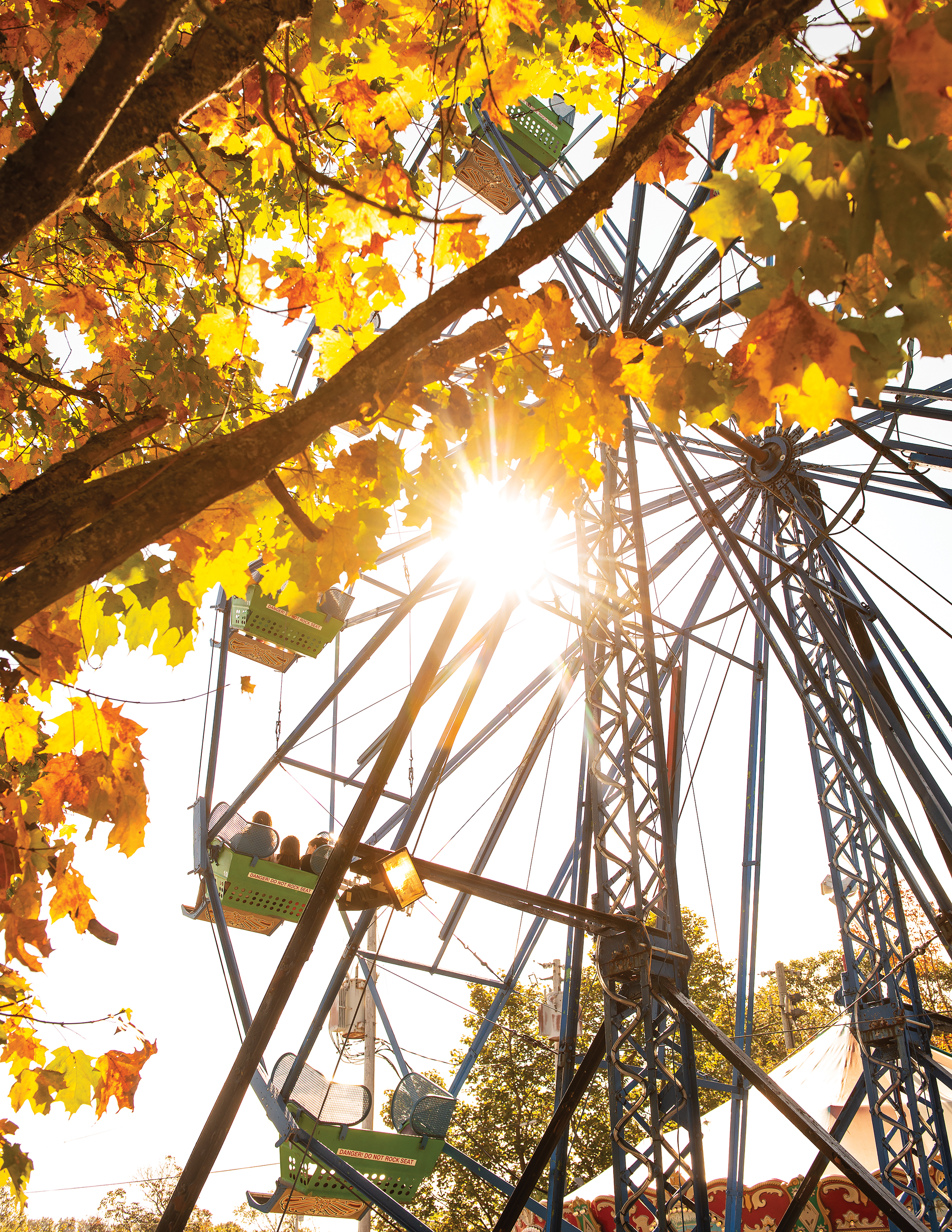 Ferris wheel at the York Harvestfest.
Hit The Road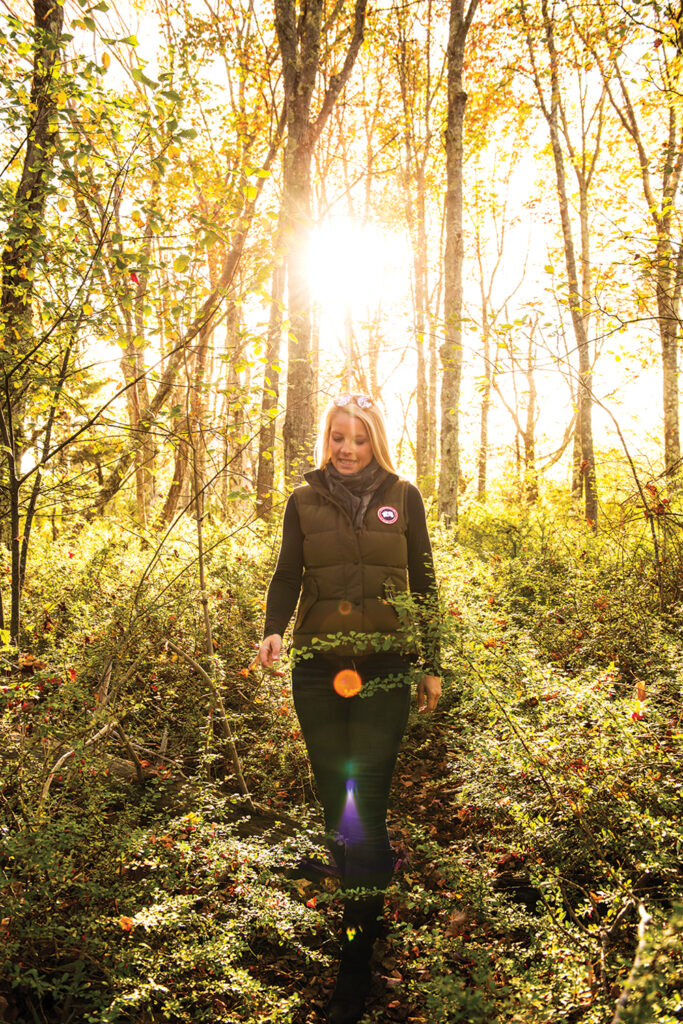 Route 111, between Biddeford and Alfred, is among the county's most scenic drives, 14 or so miles with lots of farmland scenes (and smells). Leave the turnpike at exit 32 and head west. When the route ends in Alfred, hang a right to see master pumpkin carver Maurice Auger's latest eye-popping squash sculpture in front of the Gile's Family Farm stand (139 Waterboro Rd.; 207-324-2944).
Between Kennebunk and the Berwicks, Route 9 winds 22 miles past farms and forests, with plenty of color and a few handsome old barns to put in the foreground of that Instagram pic. Peruse pumpkins at Kennebunk's Snug Harbor Farm (87 Western Ave.; 207-967-2414) and say hi to bison grazing at Hackmatack Farm (538 School St., North Berwick; 207-632-0618), just behind Hackmatack Playhouse (one of those handsome old barns, now a summer stock theater).
Route 5 runs northwest from Saco to the county line in Cornish, 33 miles of prime leaf-peeping (along with a handful of roadside toilets-turned-planters in Limerick — a funky foreground for your foliage shot). Be sure to pull over at Waterboro's Little Ossipee Pond to catch the reflection of trees on water.
Pick up Route 35 in Kennbunk and head north to Hollis for heavily wooded stretches that alternate with open fields (keep your eyes peeled for deer). In later October, you'll catch the row of former captain's mansions on Summer Street in Kennebunk, known for their elaborate jack-o'-lanterns, front-yard faux cemeteries, and huge spiders scaling the Federal-style architecture.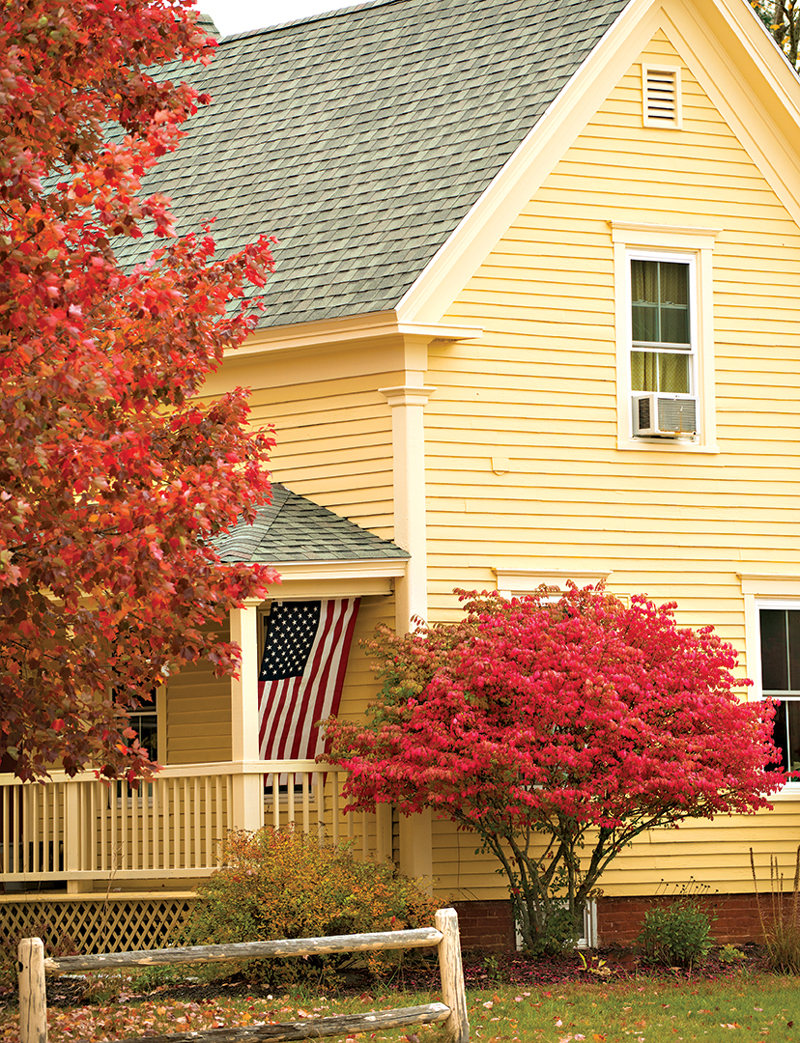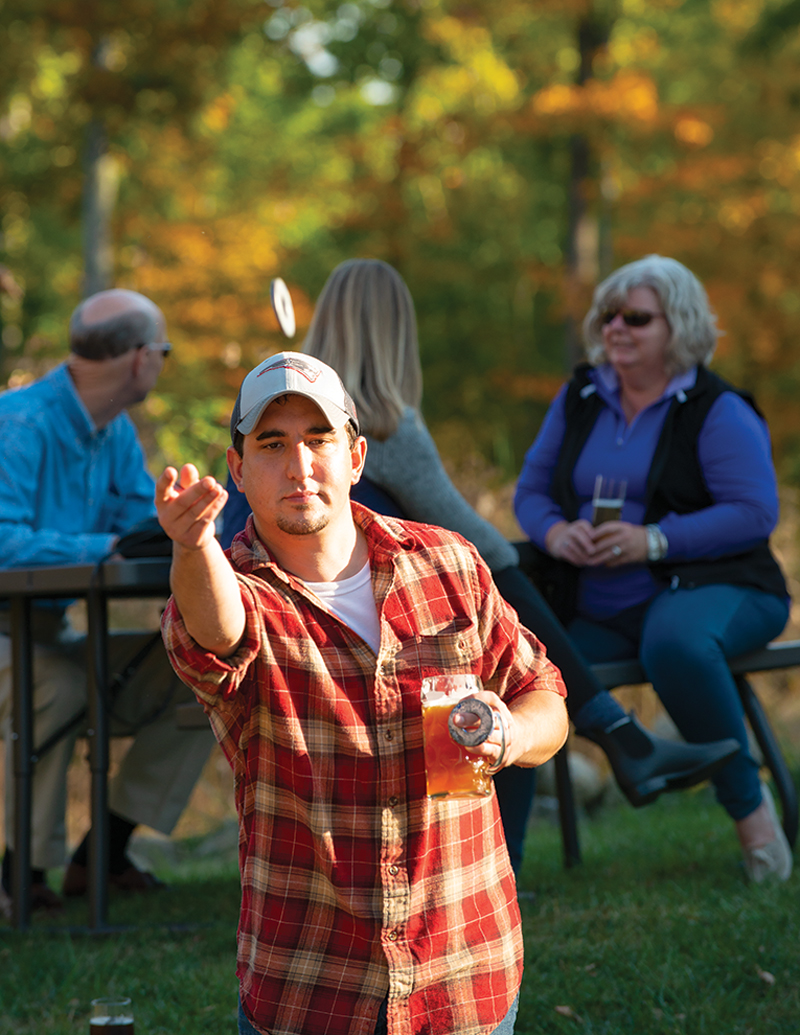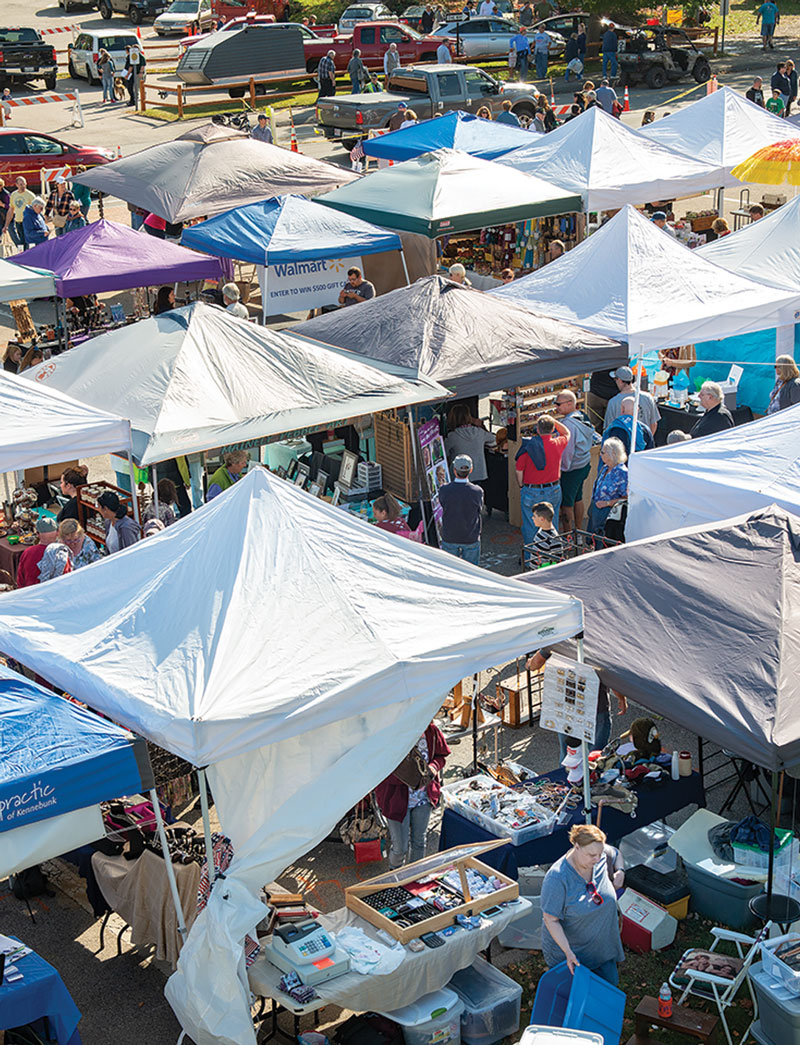 Front porch in Alfred, lawn games at Gneiss Brewing Company, crafters at the York Harvestfest.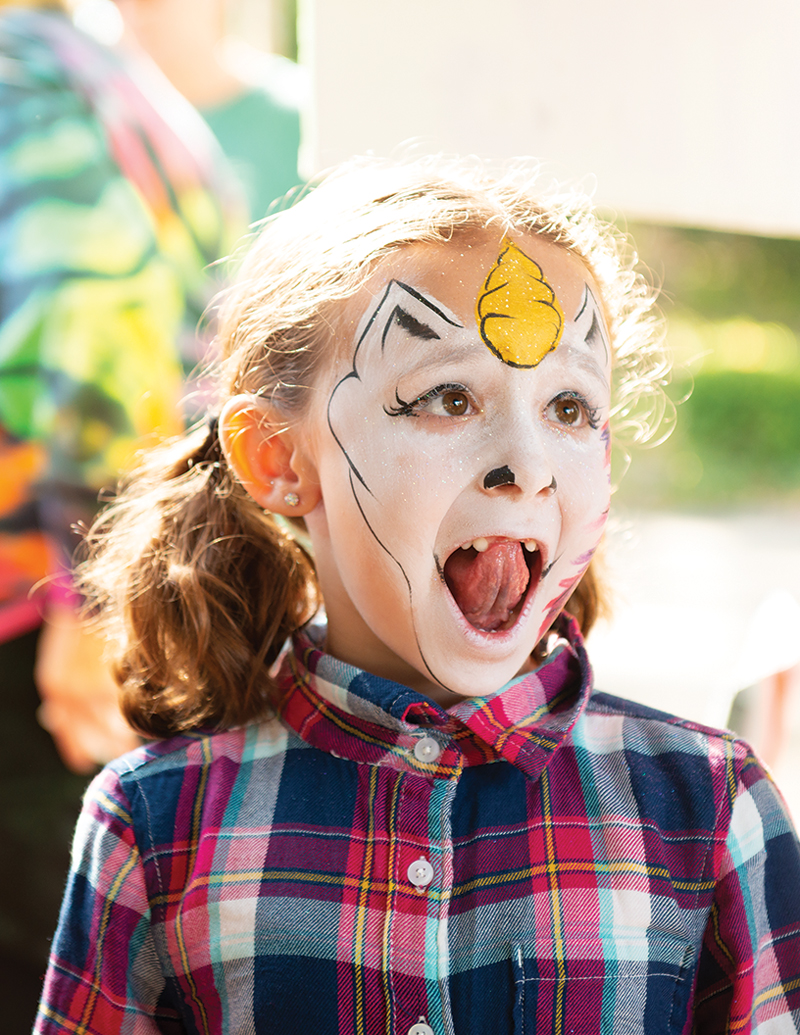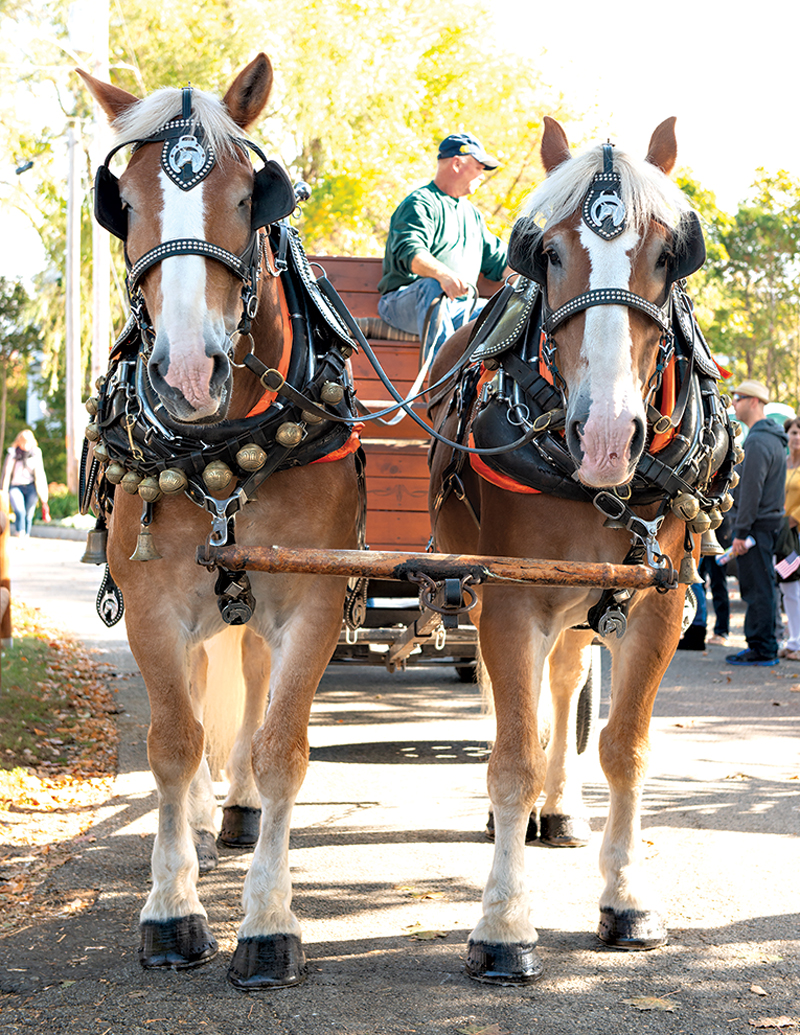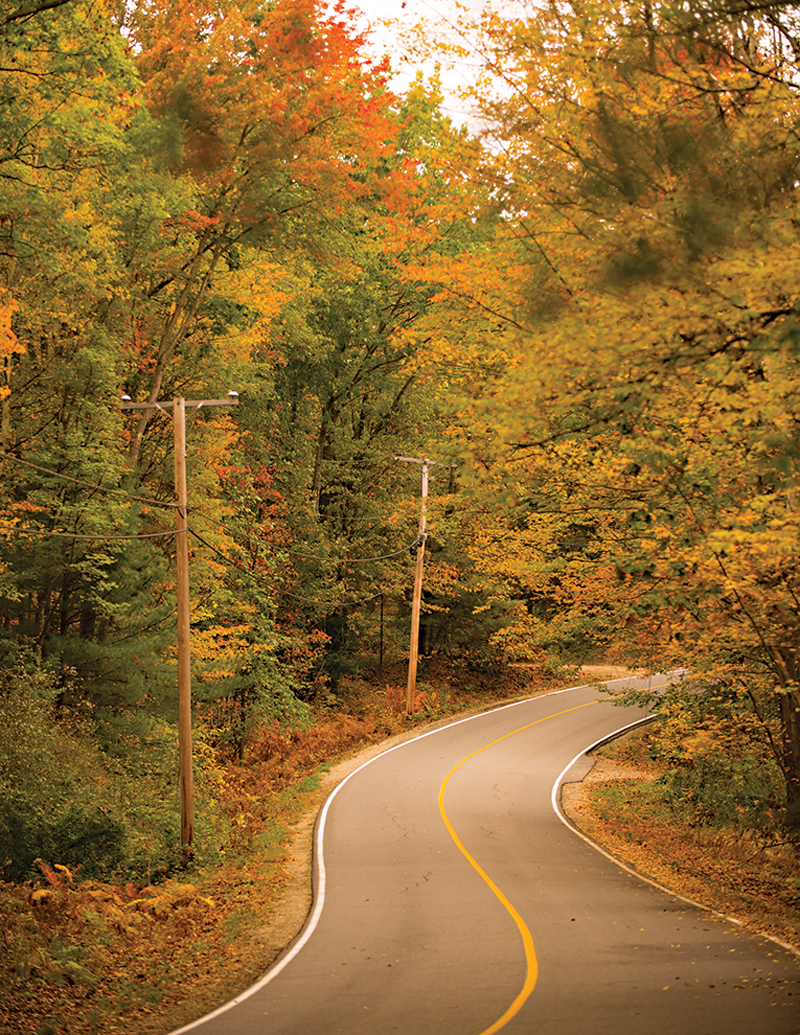 Face painting and wagon rides at the York Harvestfest, a scenic side route along the road to Alfred.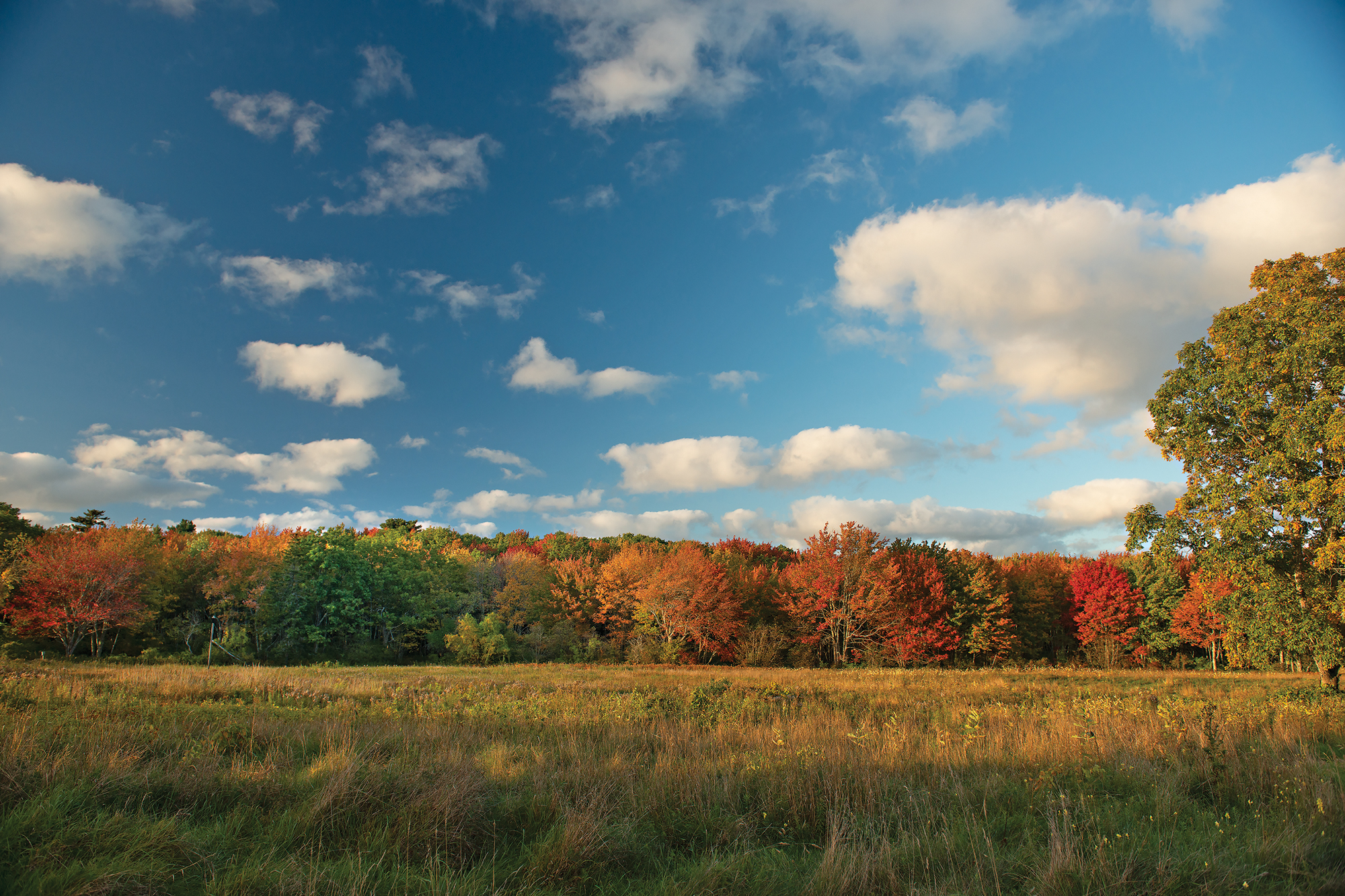 Woods meets meadow at the Wells Reserve at Laudholm.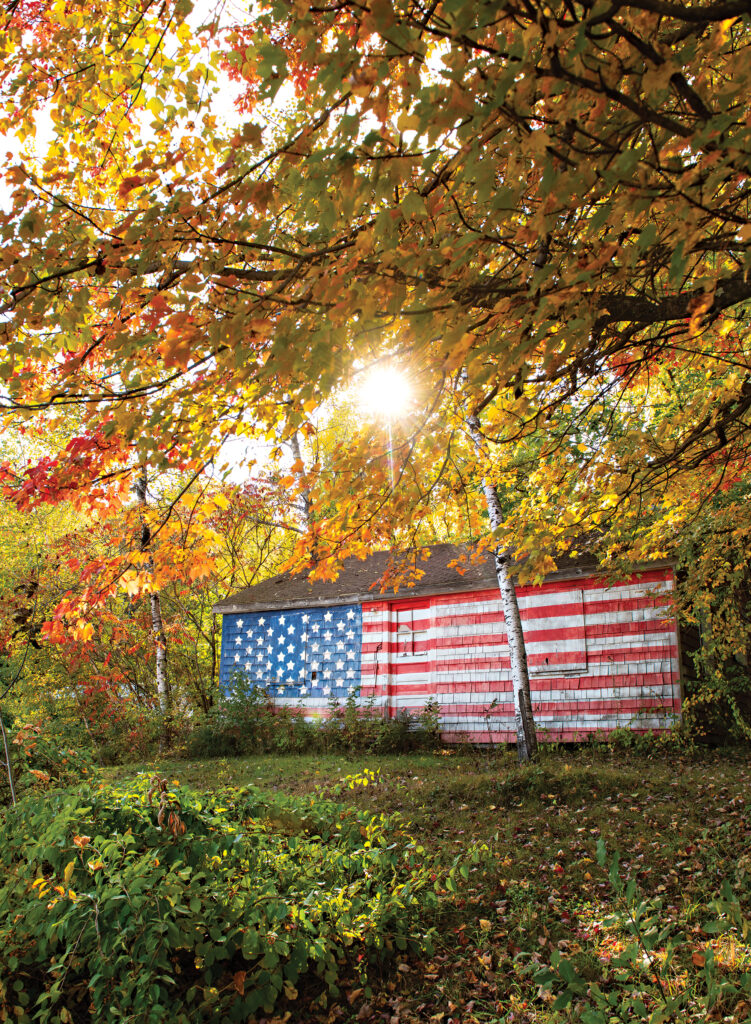 Visit a Woodsy Biergarten
Fall is the perfect time for a crisp, clean German lager (um, the Bavarians don't throw a Julyfest), and Gneiss Brewing Company (94 Patterson Rd.; 207-793-0046) in Limerick is the perfect setting for an al fresco Helles, Märzen, or Kölsch. Dustin Johnson and Tim Bissell founded their German-style brewery on 8½ acres of Johnson's family land, way out in the williwacks. Now, as Portland runs out of garage bays with floor drains, they've found their bucolic spread becoming a destination, with its shaded picnic tables, horseshoe pits and cornhole boards, and a passell of pigs that turn over the land and eat the brewery's spent grain (ask about bacon). The garden and tasting room (yep, there's an indoor space too) are open Friday through Sunday, and Gneiss celebrates its sixth anniversary with live music and food on October 12, 2019.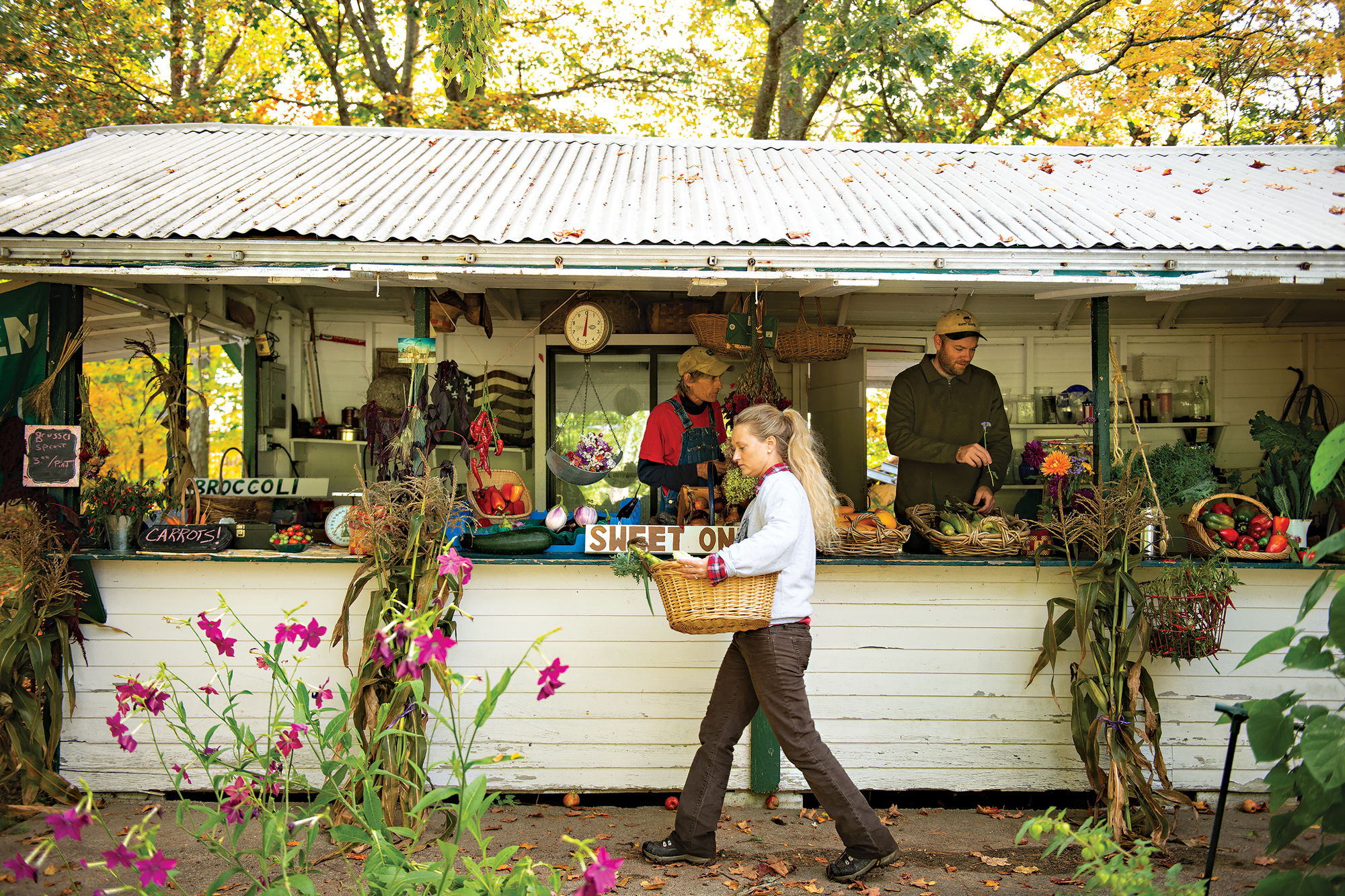 River Lily Farm stand in Ogunquit.
Get Festive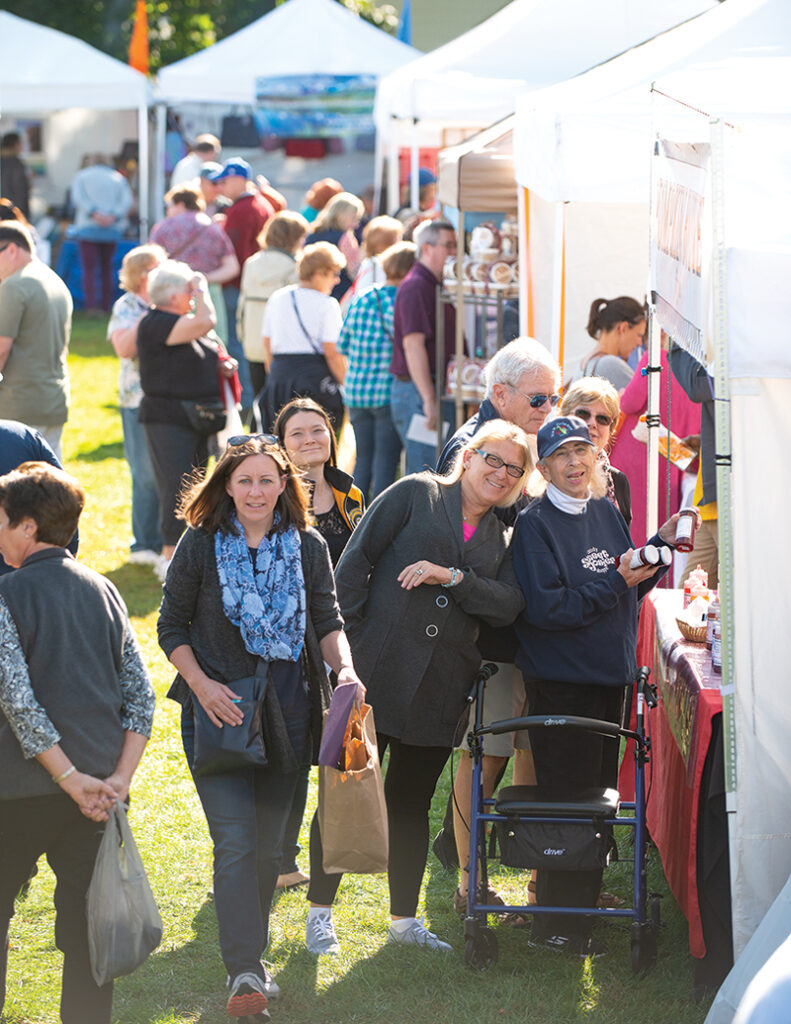 Want that bird's-eye foliage view? Buy a ticket for the Ferris wheel at York Harvestfest (207-363-4422) on October 19, 2019. Enjoy all five fall-festival food groups (fried dough, lobster rolls, big pretzels, ice cream, and kettle corn) while browsing the big draw: more than 100 booths and tents with juried wares from local crafters and other vendors. Plus, live music and a mini kids' fest with face painting and wagon rides.
The high-heel dash is the highlight of the 16th annual Ogunquitfest (207-646-2939), October 25-27, 2019. Crowds cheer costume-clad (and scantily clad) men and women sprinting through Perkins Cove on (at least) 2-inch heels, benefitting the Frannie Peabody Center in support of HIV/AIDS programming in Maine. There's also a classic car show, a costume parade, kiddie pumpkin decorating, and more than 75 vendors selling art, crafts, and more in the main-beach parking lot. Entries in the annual scarecrow contest stay up around town for a couple weeks after the fest.
A fall foliage ramble along the York County back roads shows off a classic northern New England tableau.
Get Active
The woods around York's Mount Agamenticus (Mountain Rd., 4 miles west of Rte. 1) explode with color in the fall, and the view from an observation tower up top is stunning in peak season. Trails are friendly to hikers and mountain bikers, with terrain to suit both beginners and advanced riders. Novice bikers might make an out-and-back trip along the western half of the Ring Trail, less than a mile of none-too-steep biking through showy hardwood stands, then hike the last quarter-mile on the steeper Vulture's View trail. More confident bikers can pedal the whole 1.5-mile Ring Trail loop. Rent bikes in Wells from Wheels N Waves (365 Post Rd.; 207-646-5774), where the staff can offer tips for good foliage rides.
The Wells Reserve at Laudholm (342 Laudholm Farm Rd.; 207-646-1555) offers short, easy hikes with big payoffs: a trail through quiet, colorful woods might lead to a tidal marsh and Laudholm Beach beyond. Nothing's steep here, so trails are friendly for kids and jogger strollers (no dogs or bikes, please). Interpretive displays fill you in on tree species, wildlife, and the role of estuaries.
Bright-red sumacs flank a mile-long boardwalk trail through the peatlands of the Saco Heath Preserve (173 Buxton Rd.; 207-729-5181). Bonus: the bog's acidity level makes the standing water uninhabitable to mosquito larvae, so you won't be pestered by Maine's unofficial state bird.
In Alfred, a short paddle on the Littlefield River starts at Brothers Beach Town Park (Waterboro Rd., 1.8 miles north of Rte. 111), on Shaker Pond, and meanders through a vibrant foliage corridor. Watch for raptors as you paddle south to the pond's outlet and follow the mostly narrow, braided stream some 3 miles to an old dam (where the river meets Kennebunk Road). Take out there or paddle back the way you came.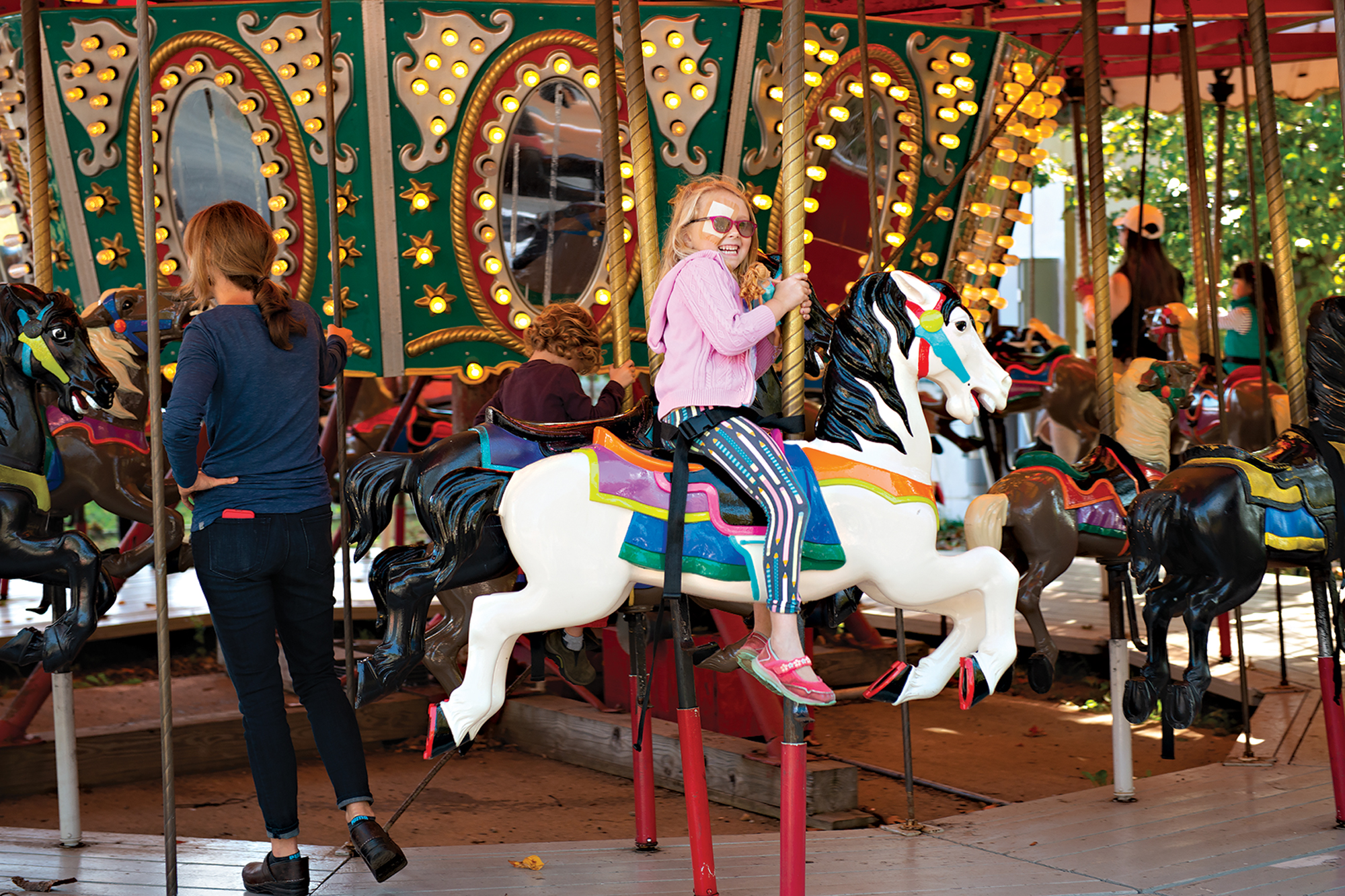 Carousel and pumpkin carving at York Harvestfest.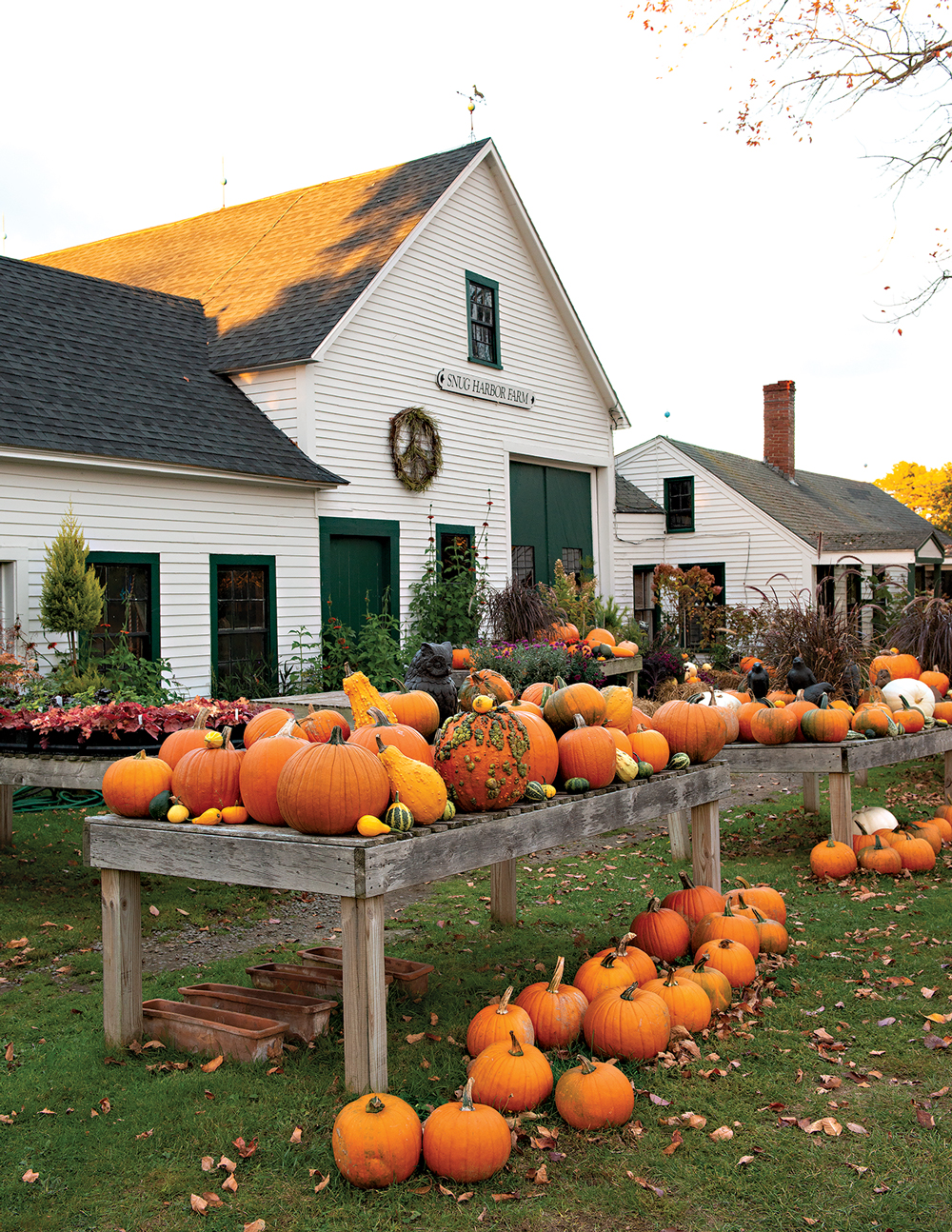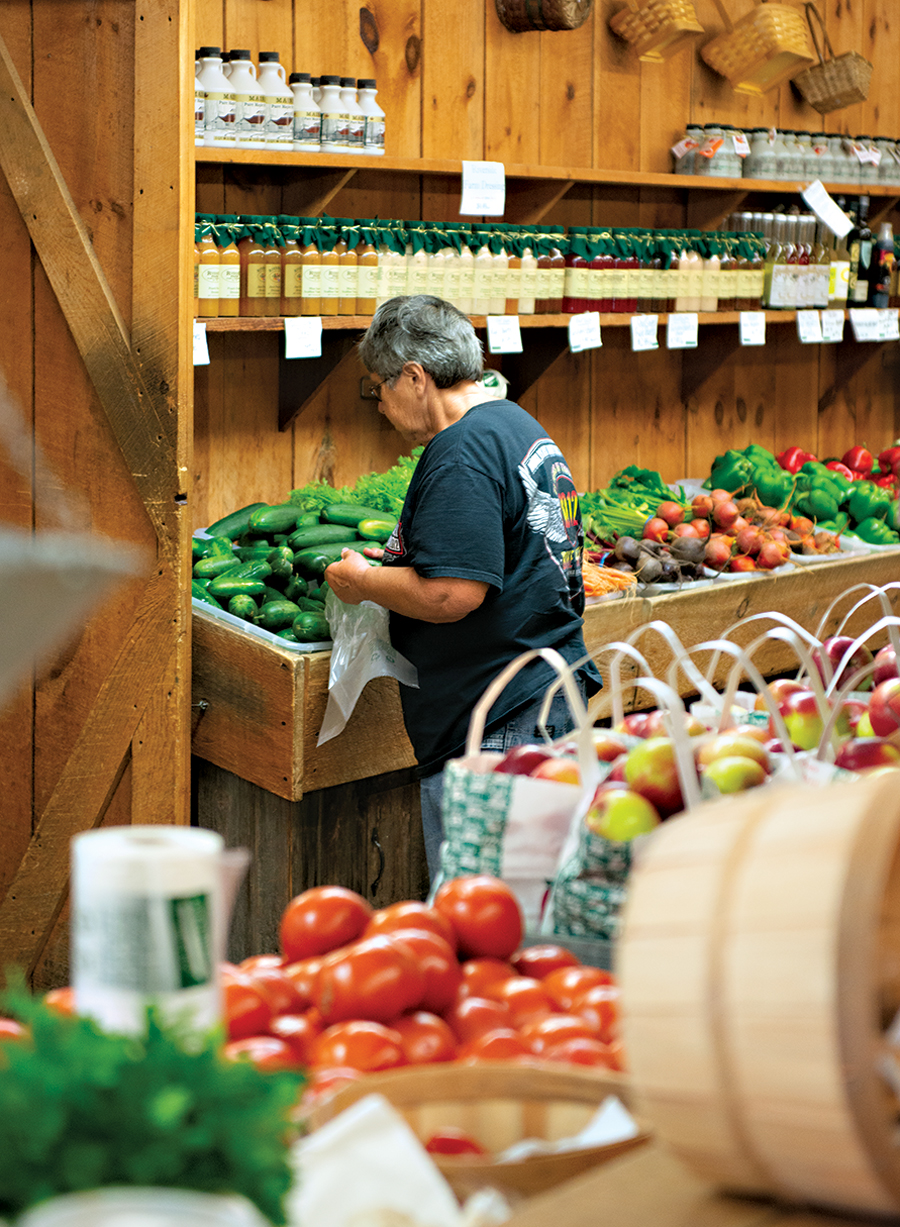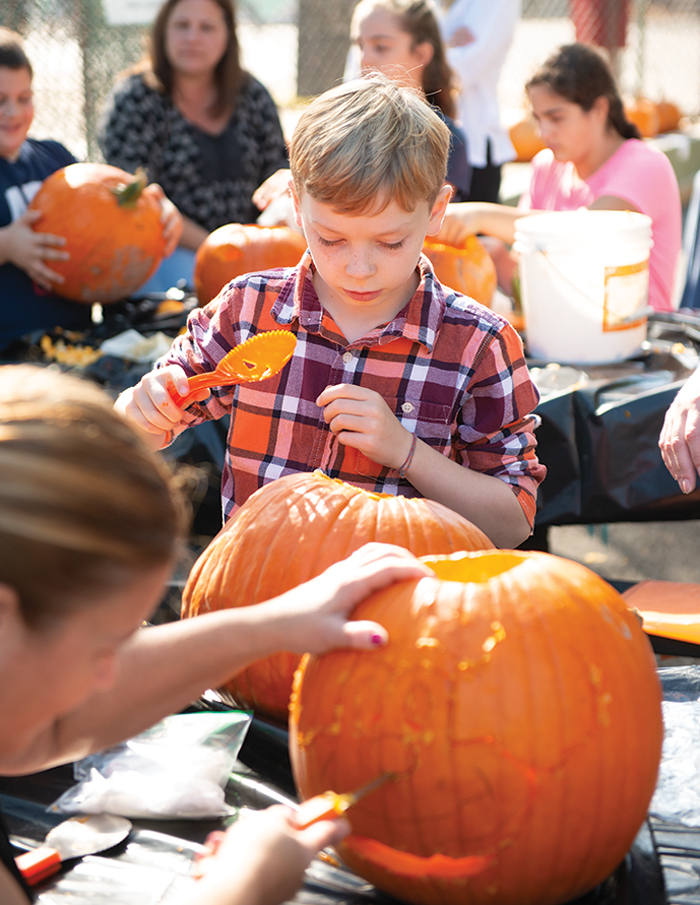 Pumpkins at Kennebunk's Snug Harbor Farm nursery and greenhouse, produce shopping at North Berwick's Riverside Farm Stand.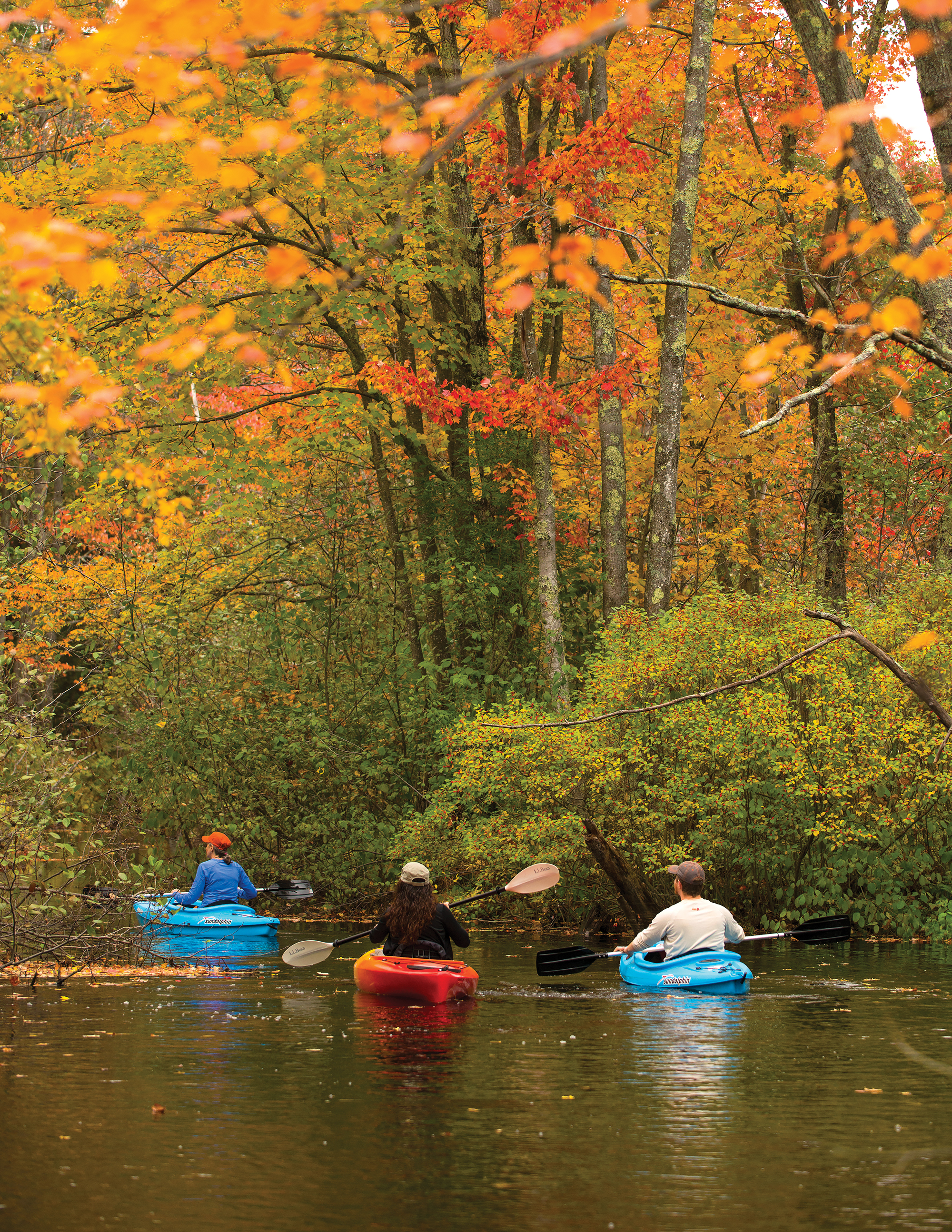 Paddlers on Alfred's quiet and twisty Littlefield River.
Head to market
Established in 1672 (!), Ogunquit's River Lily Farm (329 North Village Rd.; 207-337-4238) is a 100-acre spread run by Lindsey Perry and her husband, Jake Roche. Stop by their farm stand for fresh produce, pumpkins, dried flowers, and gardening advice from Lindsey's dad, Farmer Phil. Bring cash, and don't put off a visit — the stand closes with the first hard frost.
North Berwick's Riverside Farm Stand and Greenhouse (323 Elm St.; 207-676-2868) is the outpost of another long-established farm, run by the same family since the 1740s, now the pride of Dave and Lorraine Tuttle. Find produce, cider donuts, homemade breads, soups, and yummy chicken potpies. And don't leave without grabbing one of Farmer Dave's old-fashioned sodas (we recommend the sarsaparilla) for your leaf-peeping drive.