Food & Drink
The best of Maine food and dining.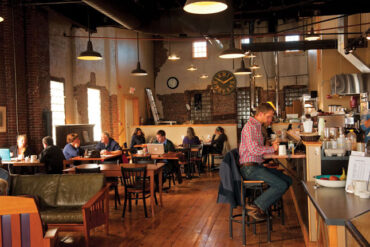 A new wave of specialty roasters is redefining the state's favorite beverage for a new generation of coffee enthusiasts.
By Michael Burke   
Photographed by Mark Fleming Soup For You! Cafe 222 Broadway, Farmington, 207-779-0799 Over here is a young professor; over there the physical therapist who worked on my...
Aroostook County potato farmer Jim Gerritsen leads organic growers' fight against genetically modified foods.
In her new book, Sandra L. Oliver, food columnist for the Bangor Daily News, gathered recipes from readers across the state that are sure to inspire this holiday season.
By Elizabeth Peavey   Photographed by Douglas Merriam 76 Pleasant 76 Pleasant Street, Norway 207-744-9040. 76pleasantstreet.com One might be forgiven for having modest expectations when searching out 76 Pleasant Street for the...
[columns_row width="third-and-two-thirds"] [column] [P]ortland has been discovered. In recent years the national...
Brunswick's Best New Restaurant By Nancy Heiser   Photographed by Douglas Merriam Tao...
Maine oysters are prized by chefs and gourmets around the country. Now Mainers are discovering them, too.