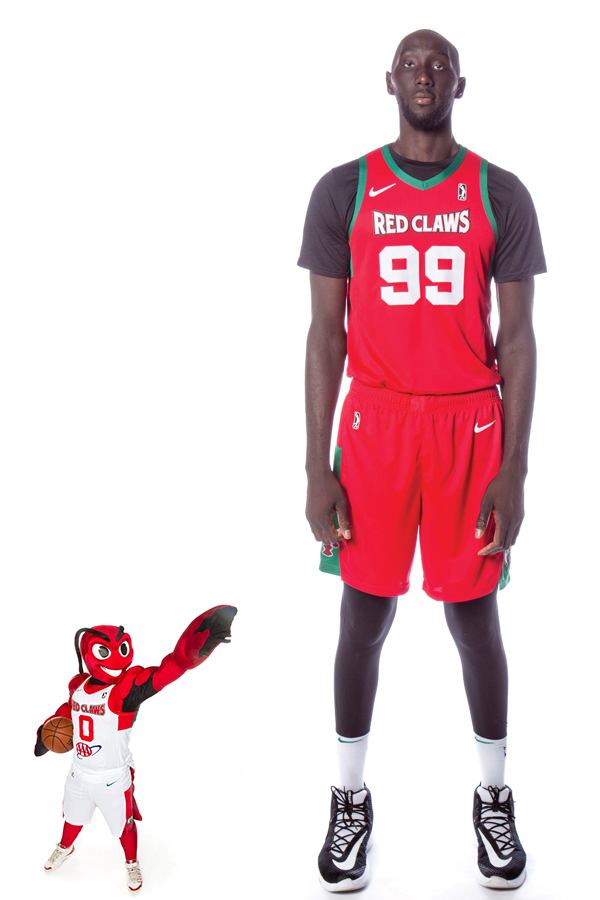 By Joel Crabtree
Photographed by Rich Obrey
After years of slumping attendance at Red Claws home games, fans packed the Portland Exposition Building few weeks back, as they have all season long. "Tacko better be playing tonight," one of them said, shuffling through a crowd before tip-off against the Westchester Knicks. Variations on the sentiment echoed around the arena — everyone wanted to see Tacko Fall take the court.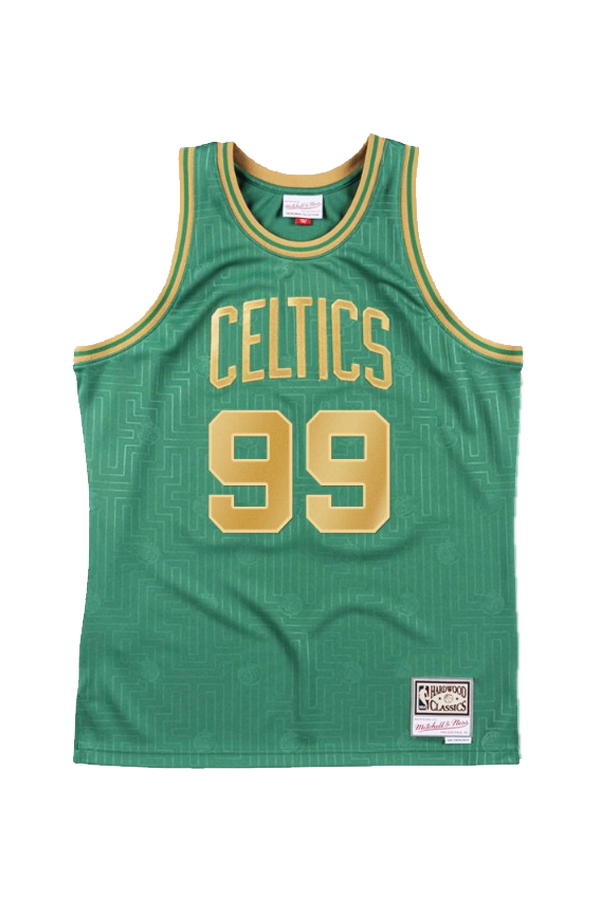 Born in Senegal, Fall moved to the U.S. as a teen, took up basketball, and got an athletic scholarship to University of Central Florida, where he posted respectable but not eye-popping numbers. In the 2019 draft, every NBA team passed on him. Then, the Boston Celtics signed him as a free agent to a one-year deal and sent him to the Red Claws, their G League affiliate.
The previous season, the Red Claws sold out 10 of 24 home games at the 2,417-seat Expo. This season, as of press time, they'd sold out 12 of 14. A rookie with an unremarkable résumé isn't usually a big draw at the ticket counter, yet fans started buying up Fall's number 99 jerseys, wearing taco costumes to games (a homonym joke), and raining chants of "We want Tacko!" down on head coach Darren Erman whenever Fall was on the bench. The reason for the 24-year-old's instant popularity is, for one thing, that he can dunk a ball without so much as jumping.
At 7-foot-5, he towers over everybody around him, on and off the court (the average NBA player is 10 inches shorter; the next-tallest Red Claws player is 6 inches shorter). He is, therefore, a menace around the rim. In one game, he pulled down 14 offensive rebounds, a Red Claws record, and he blocked six shots in two separate games, a total more typical of an entire team than a single player.
Fall missed a handful of Red Claws games this season, called up by the Celtics to fill in for injured players. Against Westchester, he was on the floor for only 17 minutes, partly because he would be dressing for the Celtics the next night. When the home side gave up an easy basket, a middle-aged man shouted from the stands, "Tacko would have blocked that!" Whenever Fall entered the game, hundreds of cell-phone cameras traced his every move.
It's not often that so compelling a prospect passes through a sports market as tiny as Portland's, but passing through is always the goal.
Some teammates and coaches have publicly expressed concern that he's burdened with too much attention. They say that while he's working hard to hone his footwork and ball handling, fans and media fixate solely on his height. Fall, though, is magnanimous about it all. After the Westchester game, a 116–106 loss, I found him sitting quietly at his locker before heading to Boston. "When you have so many people rooting for you, it's just a blessing," he told me in his low, soft voice. "I think it's bigger than basketball."
After this season, Fall is a free agent again. He could wind up with another NBA organization, he could play overseas, or he could be back in the Celtics system, possibly in Portland. Red Claws fans would, one suspects, be happy to have him. But part of the allure of watching him play has been the hope of witnessing what turns out to be just the beginning of a long NBA career. It's not often that so compelling a prospect passes through a sports market as tiny as Portland's, but passing through is always the goal.
For the past six years, Richard Giguere, of Auburn, has held Red Claws season tickets. "Tacko is amazing," he said during the game against Westchester, accompanied by his 9-year-old son, Zack. "He's always given my son high fives. It means a lot. If Tacko spends 10 years in the NBA, when Zack is 20 years old, he can say, 'Hey, I remember him from Portland!"
The NBA and the G-League have indefinitely suspended their 2019–2020 season due to the coronavirus pandemic. View Fall's current stats here.