By Brian Kevin
Photographed by Toan Trinh
From our March 2015 issue
R
ecently, David Mallet wrote his first song in three years. It's a tribute to the first farmers in Maine, the men who cleared the land one acre at a time, men who Mallett refers to as "giants." At any given moment, the 63-year-old Mallett has snippets of dozens of songs playing in his head — jumbles of chord progressions, stray phrases he's known to walk around repeating to himself — but to put something down on paper and call it complete, that's a rarity of late. It's a far cry, anyway, from his Nashville days, back when Mallett sometimes churned out 50 or 60 songs in a year.
It isn't that Mallett has been unproductive — far from it. In the last three years, he's put out two records: 2012's Greenin' Up, a collection of new recordings of his older songs about rural life (plus three new ones), and this winter's The Horse I Rode In On, a tribute disc that finds Mallett covering his influences, folks like Bob Dylan, Gordon Lightfoot, and Kris Kristofferson.
He still plays 40 or 50 shows a year at everything from theaters to coffeehouses to private parties. When he's home in Sebec, there's no end to the small, domestic tasks that might keep his mind off of songwriting: something always needs fixing in the 100-year-old farmhouse that Mallett shares with his wife, Jayne Lello. There are bills to pay and an inventory to organize of the CDs he sells at his concerts. Mallett is a pretty prolific Facebooker, posting tour updates, photos, and press clippings to his official account and a steady stream of liberal-progressive memes and links to his personal one — sometimes a dozen or more in a day. He tends to the horses he runs on his 200 acres, and when summer rolls around, he tries to coax some vegetables out of the garden behind his house.
It was gardening that launched Mallett's career, in a sense. His 1975 agrarian ballad "Garden Song" has become an undisputed folk classic. John Denver had a mild hit with it in 1979, and A-list folksingers like Pete Seeger and Arlo Guthrie are among the innumerable others who've recorded and performed it. "Garden Song" has since inspired a children's book and become a summer camp standard. Even if you don't recognize the title, just reading the first verse may well summon the melody:
     Inch by inch, row by row, gonna
make this garden grow.
     All it takes is a rake and a hoe and a
piece of fertile ground.
     Inch by inch, row by row, someone
bless the seeds I sow.
     Someone warm them from below, 'til
the rain comes tumbling down.
If your average man on the street recognizes David Mallett by name, it is probably on account of "Garden Song." Around Maine and among folkies, he is also known for his origin myth: As a plucky, 23-year-old songwriter playing New England bars, the Maine-bred Mallett learned that Noel Paul Stookey of Peter, Paul and Mary had bought a house in Blue Hill. The young songwriter cold-called the veteran from a payphone in Ellsworth and told him he was on his way over with a demo tape. Stookey liked what he heard and ended up producing Mallett's first three records, and he shared "Garden Song" with the legendary Pete Seeger.
That was in 1975. In the 40 years since, Mallett has released 16 albums, and music critics have extolled him alongside some of the all-time greats. A New York Times reviewer once wrote that Mallett's work "harks back to the earnest ambitions and heartfelt melodies of Willie Nelson and Johnny Cash." The Boston Globe proclaimed that Mallett "echoes the troubadour side of Gordon Lightfoot and the utter honesty of Guy Clark." "Mallett, at his best," wrote another reviewer, in the Richmond Times-Dispatch, "can stand toe-to-toe with Lightfoot [and] John Prine." At one time or another, it seems, Mallett has earned favorable comparison to damn near every big-name notable in American songwriting.
And yet somehow, Mallett himself never became a big-name notable — although a case can be made that he deserves to be.
F
or David Mallett to be popularly known as the folksinger who wrote "Garden Song" is a bit like the Beatles being remembered as those British lads who sang "Love Me Do." Sure, Mallet has had his share of middling efforts, like any prolific songwriter. His most fervent odes to seasons, beautiful roses, children's laughter, etc. may strike some listeners as overly earnest, and the production on a few of his '80s records has not aged well. But Mallett's catalog contains some masterpieces of American songcraft. "You Say That the Battle is Over" is one of the great post-folk-revival protest songs, its poetry masking a sardonic bite that's missing from the version John Denver popularized. Mallett's driving, Neil Young–influenced "Hard Light" captures perfectly the mood of wistful intimacy between one-off lovers who know the morning means goodbye. In "Off the Ground," which he co-wrote with Danny O'Keefe, and which Alison Krauss later recorded, Mallett sings of a would-be pilot with dashed dreams, evoking a country-western melancholy so moonshine pure, it upstages the saddest of steel guitars.
I arranged to meet Mallett recently before a concert, in the green room of the Strand Theatre in Rockland, to talk about some of these songs and the long, sometimes jagged arc of his career. When we set up the interview, I kidded him that it might be good practice for a hybrid concert-and-Q&A he's performing this month at Portland's One Longfellow Square, fielding questions from the audience as part of the third annual State of the State event on March 21, a celebration of Maine's music scene.
A small-statured guy prone to dressing comfortably in flannel and jeans, Mallett has the short-boxed beard of an old farmer, a thatch of white-blonde hair that parts to the side, and a deeply creased forehead, so that he often seems to be looking at you skeptically. For an old folkie, he is surprisingly animated — spritely, almost — rarely sitting still and pulling at regular intervals from a large paper cup of decaf coffee.
"I quit the real stuff about five years ago," Mallet says, gesturing at the cup. "I'm kind of wound up anyway, and I used to live on that shit. I was drinking ten cups a day forever, man. I lived on it."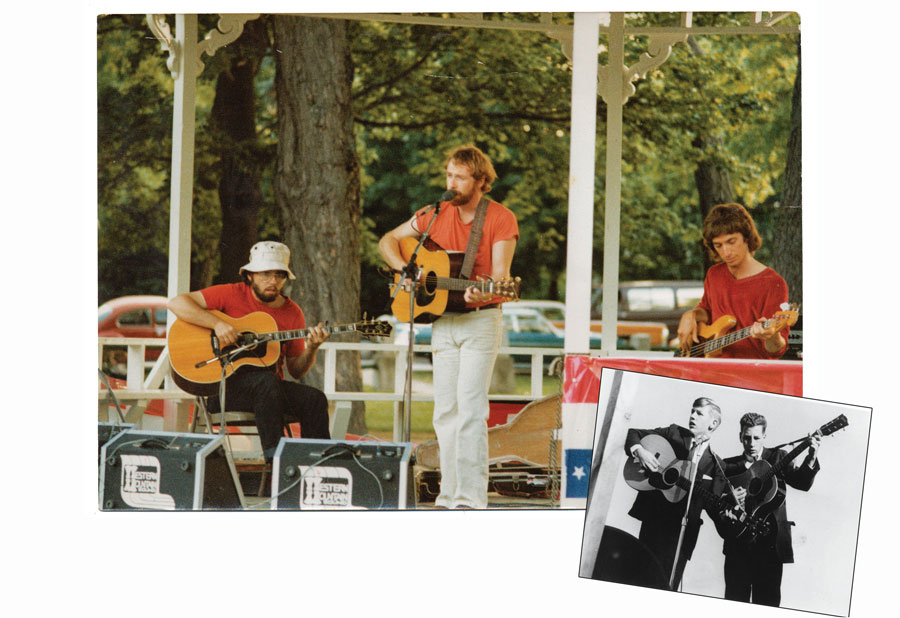 I start to mention the last Down East profile of David Mallett, written almost 30 years ago, but Mallett needs no reminder. "It was in 1986," he says, without hesitating, "right before I left for Nashville."
Mallett's career is perhaps best understood as consisting of three chapters: before Nashville, after Nashville, and the decade he spent there as a Music Row songwriter between 1986 and 1995. The "before" phase kicked off well before Noel Paul Stookey and "Garden Song." As a teenager who'd grown up on the Kingston Trio and country radio, Mallett played around Maine in an acoustic duo with one of his four older brothers, gigging at parties and opening for local acts like Maine country star Dick Curless. By the time Stookey came into the picture, Mallett had long since honed his chops, and Maine is as much a presence in his early songs as guitar, harmonica, and the singer's warm baritone. Tunes like "Fire" and "Haying Song" draw from Mallett's Sebec upbringing — the story of his grandfather's farm burning to the ground, the lessons he learned cutting hay as a kid. They're big on rural and naturalistic imagery, and they're sung with a kind of old-soul nostalgia.
"David's music was so rich, visually," Stookey recalls today. "I felt like a teenage girl sometimes when I would go to a David Mallett concert, not because I was so in love with his persona, but because I was so touched by his vulnerability."
Mallett started touring nationally, and John Denver recorded several of his songs around the turn of the '80s. In '83, he cut his first album without Stookey, at a big studio in Boston that seemed like a spaceship compared to Stookey's home setup. (The studio brass once asked Mallett to leave so that Aerosmith could come in and record. Mallett remembers asking, "Who the hell is Aerosmith?") In 1985, Mallett was invited to play the newly relaunched Newport Folk Festival alongside acts like Joan Baez, Bonnie Raitt, and Taj Mahal. It was in Newport that he met a Nashville producer named Jim Rooney, who invited him to cut his next record with an A-list of session players in the Music City.
Within a year of making that record, Mallett had a realization, summarized thusly by that 30-year-old Down East profile: "If his musical career is to continue to grow, [Mallett] must leave his roots and point his guitar toward a wider audience . . . At least, that's what he feels. And so do his business manager, press agent, and three booking agents. Likewise, the music moguls in Nashville say the time has come for David Mallett to leave the narrow genre of folk music and seek his fortune in the mainstream."
S
o Mallett, his wife, and their two toddler sons left the Maine woods for a bungalow in a working-class neighborhood in central Nashville. Mallett took up as a songwriter for Rooney's start-up music publishing company, Forerunner Music. Gradually, he settled into the classic routine of a working Nashville songsmith, touring on the weekends and sporadically recording his own stuff while trying to churn out hits for other artists. In the evenings, he played pick-up gigs with a round robin of stellar musicians and found himself running with peers like Lyle Lovett and Nanci Griffith.
"It was like going to college," Mallett says. "I got to meet players I've been listening to forever. I think it honed my songwriting and made me more aware of my shortcomings."
The songwriting corral at Forerunner was a windowless cellar in an old house on Music Row, where he and other writers sucked coffee, strummed guitars, and scribbled on legal pads before heading into a studio upstairs to cut demos. The writers often collaborated, and one of Mallett's friends and writing partners was a folksinger from upstate New York named Hal Ketchum, who'd come to Nashville by way of Austin, Texas. Ketchum admired Mallett's literate style and nose-to-the-grindstone work ethic. He liked to get under the older songwriter's skin by teasing him about politics, and he kept an eye on the Malletts' house when the family returned to Maine in the summers.
"I always admired David's true sense of poetry," remembers Ketchum. "He was just a terrific craftsman — almost serious to a fault, at times."
As a Nashville songwriter, Mallett had some enviable cuts, with country stars like Emmylou Harris, up-and-comer Marty Stuart, and then-red-hot Kathy Mattea recording his songs. But he was claustrophobic in the city and, worse yet, felt pressure to conform to what Nashville wanted from its potential stars. At the insistence of publicists, he started recording as "Dave Mallett" instead of "David." He felt pressed to bill himself as a country singer rather than a folksinger, and his records from the mid-'80s onward get noticeably twangier. The distinction had always been pretty meaningless to Mallett, who grew up loving old-time country and doesn't care much for categories (today, he says he's probably best filed under "Americana," a line-straddling label not in vogue at the time), but he felt conflicted about working someplace where "folk" was a dirty word, where "anything that wasn't 10-gallon hats was regarded as socialist."
To hear Rooney tell it, some of that pressure may have been self-inflicted. Mallett's former producer remembers passing the studio one morning to hear Mallett casually rehearsing a strikingly beautiful song called "Summer of My Dreams." Rooney asked Mallett if he'd written it over the summer in Maine, but Mallet said no — it was something he'd been working on for a couple of years.
"How come I've never heard it?" Rooney asked.
"Well, that one's not for Nashville," Mallett said.
In the early '90s, Nashville was undergoing a metamorphosis. Johnny Cash had been let go by Columbia Records. "Achy Breaky Heart" was on the horizon. Country's sound was becoming more polished, and the most radio-friendly artists were selling records on a game-changing scale. In 1990, one of Mallett's fellow writers at Forerunner collaborated on a couple of songs for the sophomore album of a young hotshot named Garth Brooks. That record, called No Fences, sold 17 million copies and is often cited as the album that ushered in the "new Nashville." In 1991, Hal Ketchum put out his first Nashville record — a couple of its tracks co-written with Mallett — and became an unexpected overnight country sensation. He was inducted into the Grand Ole Opry in 1994 — the same year that Mallett's friends Jim Rooney and Nanci Griffith won Grammy awards for a record they made together.
In the early '90s, Nashville was undergoing a metamorphosis. Johnny Cash had been let go by Columbia Records. "Achy Breaky Heart" was on the horizon.
Meanwhile, Mallett's closest thing to a hit was a song called "This Town," from a 1993 album of the same name (Mallett's seventh). It didn't get much radio play, but the music video made the rotation on Country Music Television. It's a catchy-enough country rocker in the mold of a George Strait anthem, a street-level tour of Nashville calling out the Music City's contrasts: homeless folks in a town crawling with limos, rough-and-tumble roadhouses patronized by flush college kids, a billion-dollar music industry cashing in on a working-class rep. Listening to "This Town" today — when so much of country music seeks to reinforce a particular identity, one with little room for limos or college kids — it seems obvious that Mallett and Nashville were an awkward fit.
"It was a song of social statement," Mallett explains, sipping his decaf in the Strand green room. "All these people mixed together in this great big swill hole — it's too inclusive for country music."
Mallett stayed in Nashville for one more year and one more record. Then, in 1995, he and his family headed home to Maine.
"I remember him being really kind of embittered," says Ketchum, "because he went there to make a mark. In my mind, he did. But I think he felt like he let himself down on some level, which I don't concur with at all. Toward the end, I remember him being just like, 'What the hell am I doing down here?'"
T
he next time I sit down with David Mallett — he is "David" again now, having left "Dave" behind in Nashville — it's at a diner called the Nor'easter in Dover-Foxcroft, down the road from Mallett's home. He used to come here in the mornings as a kid to grab an English muffin and a Pepsi before school, and he all but orders me to get the clam chowder, which he says is the best in Maine.
It's been two decades since Mallett left Nashville, and if the experience left him angry or disappointed, it's hard to get him talking about it now. "I think I accomplished there what I was meant to accomplish," he says, twirling a spoon in a cup of decaf. "I wanted to be more in control of my career and not wait for somebody else to tell me I was good."
Returning to Maine, he says, was "celebratory." He'd never doubted that he'd raise his kids here. The family moved into the Sebec farmhouse of his childhood, where today, Mallett keeps a writing room full of books, the LPs he obsessively collects, and a piano from the 1890s. He's continued making records — first with Massachusetts-based Rounder Records, now self-releasing on his own label — and he's never stopped touring, which he says is in his blood ("it's like being a truck driver — same muscles").
These days, Mallett's sons, Will and Luke, are touring as well, as two-sixths of the Portland-based Americana-rock combo The Mallett Brothers Band. Mallett's proud of them. He's had occasion to join them onstage, and they've played and recorded his songs. Last spring, the University of Maine awarded Mallett an honorary doctorate. He's excited about The Horse I Rode In On, which is quite a good record, with some of the same loose, creative energy that makes Johnny Cash's career-reviving series of covers albums so enjoyable. In short, there's been little to feel disillusioned about — though at least one old friend thinks Mallett's Nashville experience left scars.
"I think he got a little bitter by virtue of it," says Noel Paul Stookey, with whom Mallett has remained close. "And I'm not sure that's so bad, because now that he's back, maybe he'll start writing about his Nashville experience with the fresh revelation that self-deprecation sometimes can bring."
In a sense, he already has — some of Mallett's best work from the last 20 years is infused with the melancholy of a man taking stock of his calling and aspirations. In "Off the Ground," on 1995's In The Falling Dark, he sings: Don't raise your hopes, I hear so many say. The higher they get, the closer they are to flying away. The title track from 1999's Ambition is even more plainspoken: Ambition, you're my best friend and my worst, 'cause you lead me to the fallow field and cut me like a curse. On 2003's Artist in Me — which the Associated Press called one of that year's best records — Mallett's reflective title track asks, Why do I fly, why do I fall? and Why make my living being lonely right out loud?
Some of Mallett's best work from the last 20 years is infused with the melancholy of a man taking stock of his calling and aspirations.
Songs like these offer a meditation on a fear, not just of failure, but of never even knowing success. Of "never getting off the ground." Of sowing seeds that never sprout. It's one reason that Mallett's audience connects to his music so profoundly. Because if you've never felt this anxiety — as a professional, or in a relationship, or as a parent — then you are a lucky person indeed.
The waitress brings chowder, and Mallett is right — it's exceptional. As we eat, he mentions that he's ready to start working on a new batch of songs. "I've finally reached a stride," he says, "where I'm pretty confident in what I do."
That doesn't sound like a man who worries about being "lonely right out loud," I point out.
"Well, I'm old now," Mallett says, and he sets down his spoon. "You learn to keep it quiet more." He picks up his decaf and wraps his hands around the mug. "Writing is always a lonely job," he says quietly. "To get to the real meat of the matter, you have to go into a place that's kind of dark. You know what Sophia Loren said? 'If you have not cried, your eyes can't be beautiful.' Wow, you know? One of the most beautiful women in the world said that."
When we've finished, Mallett shakes my hand briskly, like he hasn't just said something incredibly poignant, and shuffles out to the parking lot. I watch out the window as he embraces an old-timer in a hunting cap who can't be a day under 90. Then he climbs into an old Ford pickup and drives off. Only later does it occur to me: we never even talked about "Garden Song."