[infobox maintitle="What Maine summertime event are you most looking forward to?" subtitle="" bg="black" color="white" opacity="off" space="60″ link="https://shop.downeast.com/product/down-east-magazine-may-2015/"]
---
Here are some responses from our readers.
We always try to be in York the July Saturday when Stonewall Kitchen puts on its pancake breakfast with their various syrups and berries, washed down with great coffee. We always meet strangers, and everyone is so friendly. We usually top it off by strolling across the yard to the farmers market, completing a perfect morning!
– Bob, West Lebanon, New Hampshire
Jumping off the bridge into the water in Damariscotta Mills — too epic for words!
– Judy, Waldoboro, Maine
The sun setting at my cottage on Branch Lake in Ellsworth! Can't wait to get there — the views put my world back on an even keel.
– Becky, Topsham, Maine
Four-wheeling in western Maine. Allows you to go off the beaten path and find beautiful spots to explore.
– Kerri, Farmington, Maine
I am most looking forward to that first footstep crossing the threshold into our summer camp on Rangeley Lake in Oquossoc. Sublime.
– Doug, Scarborough, Maine
Ogunquit's sandcastle contest and lifeguard games. And beach days.
– Noelle, Watertown, Massachusetts
Every summer, I look forward with great anticipation to the grandkids visiting!
– Joan, Old Orchard Beach, Maine
---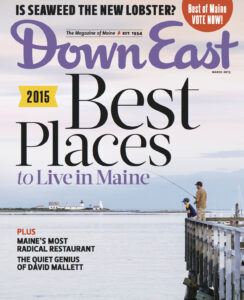 Kindle your memories of Maine summers, with a subscription to Down East, the Best of Maine. Gift subscriptions available.
Reader images (above) by lawdoc. See more reader submitted photos here.